Copyright LindaHoodSigmonTruth.com May, 2009 – 2014  All rights reserved.
TUESDAY, SEPTEMBER 16, 2014
Below is an article regarding Barbra Streisand and her dubbing one of Elvis' hit songs.  She says nice things about Elvis.  Also, a friend called me this evening to tell me that she will be on the Good Morning America show tomorrow morning.  My friend said that she saw a little teaser preview of what she will be saying tomorrow and looks like she has a sweet memory of meeting Elvis.  I thank my dear friend, Bobbi ,for making me aware of this.
Barbra Streisand: 'Elvis duet is special moment'
Veteran singer BARBRA STREISAND was overjoyed to perform a 'duet' with ELVIS PRESLEY from beyond the grave, hailing the moment as "special".
The Way We Were hitmaker sings along with The King on his hit ballad Love Me Tender for her new album Partners, which also includes duets with other iconic performers such as Stevie Wonder, Billy Joel, and Lionel Richie.
Streisand admits she felt honoured to work with such a galaxy of stars on the record, but her track with Presley was a moment to remember.
She tells Sky News, "You know, I had met Elvis when I opened the International Hotel (in Las Vegas) in 1969 and then two weeks later Elvis came in. He came to my opening night and I came to his opening night, but to sing with him now virtually, around his track, was kind of special to me, because I thought he was so special. There's something right about that because we did have this connection twice."
<<<<<<<<<<>>>>>>>>>>
WEDNESDAY, SEPTEMBER 17, 2014
Below is an excerpt from an article which gives us an inside view of the events of Dec. 4, 1956 when the "Million Dollar Quartet" spent an afternoon in the Sun Records studio just having fun and singing  just for the enjoyment of being together.  I loved reading this.  We saw a performance of the play "

Million Dollar Quartet

" several years ago and were just blown away by how good the show and all of the performers were.  I highly recommend it to anyone who has an opportunity to see one of their shows.  (I assume that they are still touring.)
Below is the link to this full article which is published by Billboard.com:
Million Dollar Quartet shines a light on the historic events of Dec. 4, 1956. At Sun Records that day, there was a

Carl Perkins

recording session scheduled. But it turned out to be much more than that, as Sally Wilbourn — who worked at Sun Records — remembers.
"I had been packaging records on

Jerry Lee Lewis

' release of 'Crazy Arms,'" she recalled for The 615. "Jack Clement was there helping Sam, and in walks Elvis Presley with two or three people. He asks if he could come in. He walks in, and everyone was glad to see him. He had been gone since he signed with RCA and had two or three gold records. Carl had 'Blue Suede Shoes' by that time. Johnny [Cash] was on his gold record with 'I Walk The Line,' and Jerry Lee's had not been released."
Lewis was playing on the Perkins session but was not yet well known outside Memphis. Sam Phillips wanted to share the new music from the Louisiana native with the crowd that had turned up that late fall afternoon. "He played Elvis and Johnny Cash — who had stopped by — Jerry Lee's record of 'Crazy Arms.' He wanted Elvis to hear it because Elvis had been impressed with Jerry Lee's piano playing." Presley definitely became an instant fan, recalls Wilbourn. "He was interested in everything else he had done. As he was leaving, he wanted to know if I had another Jerry Lee record, and I did. So he left with the record."
The Perkins session turned into a musical free-for-all, with each artist joining in the afternoon's festivities. "Everybody just stopped and was talking and laughing. All four of them had grown up in the church, and knew the words to every gospel song that had ever been recorded. I don't think you could come up with one that they didn't know the words to. That had been their music all their lives. That's how it started. They sang gospel music all afternoon long. It was a fun day for all of them. They'd stop, talk for a while, and go back to singing."
Though Phillips had sold Presley's contract to RCA Victor a year earlier, the Sun founder had an idea of what might be happening that afternoon. "Sam told Jack to turn on the machine and let it roll," said Wilbourn. "They moved the microphones to where it would pick them up better. He knew something special was going on with it, even though he knew he couldn't do anything with it."
The session came out in bootleg form in 1981 but wasn't officially released by RCA until the summer of 1990. A once-in-a-lifetime day at 706 Union? For sure, but Wilbourn says nobody knew it at the time. In fact, the Sun staff was working so hard to make a living that making "history" or "magic" was the last thing on anyone's mind. In fact, there was not even a camera inside the Sun office.
"Sam did call the newspaper. He felt it may have been the only time they would be together in the studio. He called Bob Johnson with the Memphis Press-Scimitar, and told him what was happening. So he came and brought a photographer with him. Otherwise, we would have never had a picture. The next afternoon, he wrote a column about the session, and he termed it the Million Dollar Quartet. That's how the session got the name."
All in all, the session started at 1 p.m. and was over at 5. Just another day at the office? Not so, says Wilbourn, who still works with the Phillips family. "I was very privileged with a lot of things that I was able to see and be a part of. Now, to me, it's one of the great events of my life."
<<<<<<<<<<>>>>>>>>>>
WEDNESDAY, SEPTEMBER 17, 2014
I do want to apologize to everyone that I was mistaken in the mention I made above that Barbra Streisand was going to be on the Good Morning America show this morning.  I taped it myself and fast forwarded through the show and did not see her on there. 
<<<<<<<<<<>>>>>>>>>>
THURSDAY, SEPTEMBER 18, 2014
Want to share with everyone that Jesse phoned me this afternoon.  He is doing all right.  We didn't get to speak too long as he was preparing to leave for an appointment.  No news to post from our conversation…just talked about some day to day things.
<<<<<<<<<<>>>>>>>>>>
SENT TO JESSE THROUGH THIS POINT ON FRIDAY, SEPTEMBER  19, 2014
<<<<<<<<<<>>>>>>>>>>
SATURDAY, SEPTEMBER 20, 2014
The photo shown below is such a lovely one of Elvis'/Jesse's mother, Gladys, that I wanted to share it here so that I will remember to send a copy to Jesse in my package to him next time.
Miw Harley via Pinterest
SUNDAY, SEPTEMBER 21, 2014
Below is a video of Alan Osmond, of The Osmond Brothers, brother to Marie and Donnie, who tells about a Book of Mormon which was given to Elvis who read and made notations in it.  Following this video, I will share a lengthy article which goes into more detail of this same happening.
Elvis Presley writes a note to "Help his daughter Lisa!"
I would like to refer everyone back to the article which I posted above this past Sunday…the one about the

Book of Mormon

which belonged to Elvis and his notations in the margins.  Last night, I received a very interesting and complimentary Email from a good friend, S.  Those who have been following my Current News and Events pages for some time will recall that S. was a very close friend of Ms. Shirley Mason, the graphologist who was called in to analyze Jesse's handwriting on his letters to Hinton for the book, etc..   Below are the links to two of my pages regarding the handwriting analysis results where you may read about Ms. Mason…who was a court recognized document examiner.
S. Emailed me regarding the above mentioned article which I posted last Sunday.  Below are some excerpts from S's Email to me in which she pointed out some very significant things about the date on which I posted my article.  I state here that I honestly have no knowledge of the inner workings nor beliefs of the Mormon faith.  I do, though, have a very favorable impression of their religion based solely upon the lives of those prominent people who are devout Mormons, i.e. the Osmonds and the Romneys.
Below is some of that which S. wrote to me.  I wrote to S. asking her permission to share some of her Email on my site for others to enjoy.  I send my heartfelt gratefulness to S..

Dear Linda, I just wanted to remind you that today, September 22, it has been 5 years since Shirley Mason's passing. I miss her so. She would have loved your article about the Book of Mormon you posted on the 21st,with Alan Osmond. I did too of course. She loved that book. And I believe I did mention it in her obituary. I saw the video last year with Alan and was very excited to hear the story and that,the special Book of Mormon is in safe keeping now. Also, I feel this is

Very Important !!!

You posted this on September 21, the
VERY DAY

the Gold plates (Gold Records) were discovered!!! Which Elvis mentioned. An angel named Moroni came to the young man named Joseph Smith. Four years in a row on that date!! Then led him to the plates that were later translated to the Book of Morman!!! This is no coincidence!!!! Shirley Masons stroke was Sept 21st..she died the next day. What a miracle and perfect timing. For you to put that beautiful article about the Osmonds and Elvis' beliefs. God is so good! On the

very

day SEPTEMBER 21, 1823 is when it all began..and on into the night of September 22. The angel spoke to Joseph..gave him instructions and biblical words. Shirley loved telling that story!!
All I know is that Shirley had a nice gift from you..she would have loved it!!! Thank you so very much!! Hope all is well, God bless you, Love and prayers, S...

<<<<<<<<<<>>>>>>>>>>
WEDNESDAY, SEPTEMBER 2, 2014
Edgar Cayce's Thought for the Day
Friendships are only the renewing of former purposes, ideals.
     Reading 2946-2
<<<<<<<<<<>>>>>>>>>>
My dear friend, Wanda June Hill, wrote the following comments to me regarding the article which I posted above regarding Alan Osmond and his family knowing Elvis and the Book of  Mormon .  I feel so very privileged to have her share her thoughts with all of us.  She has so many wonderful memories of Elvis just being himself and not the superstar image.  But she also has so many treasured and precious memories of seeing him so many times on stage where he was transformed into the most magnificent entertainer this world has ever seen and probably will ever see.
Wanda wrote: 
Sent: Sun, Sept 21, 2014 9:14 pm
Subject: The Mormons…

Hi, thanks for putting that onto your site.  He was fond of their mother, mentioned she resembled his mom in some ways and he liked her eyes a lot.  He also gave the boys some costume advice and helped them get in with the guy who made his…and he went to see them pretty often, took his daughter to meet them and wanted to read about their religion. 
He loved to read about all different kinds and pick out the similarities and quote the scripture about God saying he had many other branches etc… and he explained the branches were the various other teachings of God etc…of which the Mormon religion was only one of many others.  He liked to compare religions and find similarities and repetitions' that he said "abounded in all…"
I wish I could remember all of his "preachings" and "sayings" but I can't…he was gifted and would have done well as a pastor or evangelist preacher.  Boy the crowds he would have drawn!  He said several times that he felt like he had failed his mission, had not done enough to bring God to people's lives and that singing gospel was his true calling but he had not fulfilled it because of management issues and contracts…
My heartfelt thanks to Wanda for giving me permission to display the above text from her Email.
<<<<<<<<<<>>>>>>>>>>
 SENT TO JESSE THROUGH THIS POINT ON FRIDAY, SEPTEMBER 26, 2014
<<<<<<<<<<>>>>>>>>>>>
SATURDAY, SEPTEMBER 27, 2014
Just saw that there is a copy of the book by Hinton and Jesse for sale on Ebay.  This is not the best price that I have ever seen; however, it is a better price than most others on Amazon.com, etc. have been in the past.
The Truth About Elvis Aron Presley: In His Own Words, Donald Hinton, Jesse Garon
Price:  

US $77.95

  BUY IT NOW with FREE shipping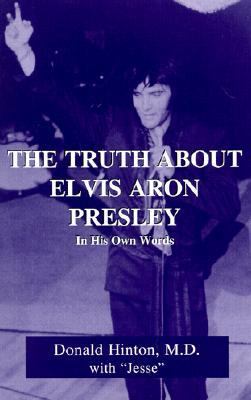 <<<<<<<<<<>>>>>>>>>>
Jesse phoned me this afternoon to wish me a Happy Birthday…and, of course, his call did add a huge amount of "Happy" to my day.  He said he was doing "not too bad" today.  We only visited for a few minutes this time.  In the context of our conversation regarding a topic which he brought up, Jesse told me

again

that his so-called "friends" from back before 1977 "told lies about me".  I told him that I do know that they did that and that it just infuriates me.  One can only hope that God will place such a heavy burden on their consciences that, before they leave this earth, they will correct the lies they told and apologize to

everyone.

 
<<<<<<<<<<>>>>>>>>>>
I HAVE CREATED THE NEXT CURRENT NEWS AND EVENTS PAGE FOR THE MONTH OF OCTOBER.  PLEASE CLICK THE LINK BELOW TO NAVIGATE TO THE NEW PAGE.
<<<<<<<<<<>>>>>>>>>>
Copyright LindaHoodSigmonTruth.com May, 2009 – 2014  All rights reserved.