MONDAY, JULY 29, 2013
Notice:  I apologize that you will find some of the photos and images missing from this page.  I shall be working to replace those as time and health allow.  These images were lost when my old web site, for which I had paid two years in advance, was closed the first of last week.  My paid in advance subscription ended and I requested that the old site be closed.  The loss of these images was unexpected as this is a stand-alone site and should have had

no

linking to my old site whatsoever.  This was evidently an error made by the staff of my current web host.

Thank you for your patience and understanding.
F

RIDAY, MAY 20, 2011
I received a message in response to the article which my good friend wrote earlier this week on my

 Current News and Events – Page 8

  regarding the fakes out there who are pretending to be Elvis under various names, i.e. Jon Burrows (NOT the Jon Burrows listed on Jesse's new CD), Jon Cotner and John Smith.
Another friend writes the following regarding Jon Cotner. I thank this friend so very much for sharing the accounts of personal experiences with Jon Cotner:
I LOVED that letter your friend wrote about the different 'fake' Elvis' out there on the internet. He really hit the nail on the head about Jon Cotner! OH MY! Your friend said basically 'IF" Cotner was Elvis (in hiding) …wouldn't he still be creative musically and still creating music? (Sic) Either writing music, or singing, or both? But Cotner can ONLY and WILL only sing Elvis songs that Elvis sang up to 1977! And, I can verify that! For two and a half years, being on that Forum, I also went to every time he opened his Paltalk Chat room. I only missed one time in two years. He always sings Elvis requests the people in the room ask him to. 
Now 'IF" he were Elvis , you would have to assume ,that being in hiding so many years , he has had an excellent chance to have time to himself to 'write' NEW songs (as he never wrote any before ) and to sing new songs. What I mean is if Cotner was Elvis, you'd almost expect him to say something like "Well folks, I have been working on this NEW song and I'd love to share it with you all here tonight."! But Cotner has NEVER done anything NEW or NON- Elvis music. And, before your friend wrote that statement…I had never thought about it. BUT ITS SO TRUE! Your friend is BRILLIANT! 
One thing I DID notice about Cotner …is that he DOES NOT have Elvis' laugh. They say a person laugh is unique like fingerprints. I have heard Elvis laugh on various interview video's on YouTube…and Cotner NEVER laughs like that.
I will tell you this: about the Christmas Eve (Dec. 2009) Jon Cotner (remember… keep in mind many think he is 'Elvis' in hiding!) …Jon posted he would open his Paltalk room on Christmas Eve at 7pm for 1 hour, …and many on the forum and elsewhere CANCELLED their Christmas Eve plans with family to wait next to the computer to listen to Jon Sing. Well, he made everyone wait from 7pm till Midnight! And, he 

never

showed up… never opened the room. No explanation! Just had someone post on his forum 'after' 12am …that he would do it some other time!!! He made people wait 5 LONG hours!!! Nobody could believe it! He hurt so many people…people waiting to hear who they believe is 'Elvis' …and he stood them up…ON Christmas! I can tell you many were so hurt thinking "Elvis" did this to them. He actually makes Elvis look bad! Like he is inconsiderate of other people and their feelings or something. Now, I told people…Elvis would never do this to the fans he loved…he was a professional…and Elvis had been ill and still performed many times…he would not do this to people. He loved and cared about others! (This was also one of those moments when the old light bulb goes on in your brain and logically YOU KNOW, NO WAY, is this Elvis! It was one of many things that told me no way this guy could be Elvis.) I just wanted to share this story with you to show you that he has done stuff like this to many people.
<<<<<<<<<<>>>>>>>>>>
Another point which I wish to make about Jon Cotner is this: He has claimed credit occasionally for being the voice on the 

Sivle Nora

 album…which is a complete lie.
Several people have written telling me that he is now selling CD's of his so-called "Bible Study" for rather high prices. There are the names of two different women rumored to be the women who are, or have been, selling these CD's in his behalf. I understand that he has put out 3 CD's so far. He is attempting to further convince people that he is Elvis by doing these "Bible Studies"…how low can he go…using Elvis and the Bible to make ill-gotten gains!!
<<<<<<<<<<>>>>>>>>>>
My message posted on the messages too Jesse board earlier today:
Linda Hood Sigmon


05-20-2011 12:47:49 PM EST
Hi Everyone:
Thank all of those who have posted their lovely messages to Jesse this past week. I will be mailing them out today. Please do continue posting any time you wish.
I am doing this message board in order that he can enjoy hearing from his fans without feeling obligated to do anything. He may read them at his convenience with no pressure upon him at all. Thank all of you for taking part in this endeavor. I appreciate your help and I know that Jesse appreciates hearing such loving thoughts from his fans.
I feel that his first concern has always been what his fans think of him after his leaving. He once asked me, many years ago, if I thought that people are disappointed in him. I thought it over for a minute and told him that no one else has any right to be disappointed in him because no one else has lived his life. Later on, he asked my closest friend (to whom I introduced him) if she thought that the fans are mad at him. So, I hope you will all take this opportunity to reassure him that you do love and respect him and that you do understand why he had to do what he did. I do hope that my web site is helping people to do that.
With love to all, Linda
SUNDAY, MAY 22, 2011
I want to share the Edgar Cayce Thought for the Day for today.
Think on This …
. . . there are no short cuts to knowledge, to wisdom, to understanding–these must be lived, must be experienced by each and every soul.
Edgar Cayce Reading 830-2
<<<<<<<<<<<<>>>>>>>>>>
I ask that everyone, please, remember that I have lived my proof that Elvis is alive and is Jesse. There has not been a single day since the spring of 1988 in which I have not given much time and thought to my research which I have done to prove (or disprove) to myself that Elvis did not die. Then in 1992, when I received my very first correspondence from Elvis himself, my search was finally completed. I had proven to myself that he did not die long before that day…but that was the day that my research/search ended. Since that day, Elvis…now Jesse…has proven to me time after time that he is Elvis Presley.
I share the above with my visitors because I want everyone to understand that there has been no short cut for me and there can be no short cut for those reading this. One must be very committed to proving it to themselves. It cannot be just a passing interest which only generates a touching upon the surface of things.
I ask that those who visit my site, if they are truly interested in the facts and truly love the man (not just the image), please do read every page of my site and watch every linked YouTube video which I have supplied as proof of my written words. This is the only way that you may come to understand the truth which I am sharing….Elvis'/Jesse's truth…not just my own.
I see so many bits and pieces of information out there based on just a very light perusal of my site. Just visiting parts of my pages and then going out there to attempt to refute my facts, is not doing justice to Elvis/Jesse, me nor my web site.
MONDAY, MAY 23, 2011
Jesse phoned me yesterday afternoon and we had a very nice phone visit. He is doing fine…went bicycling yesterday and was enjoying a Roy Orbison boxed set of CD's and DVD which I sent to him recently.
I will be posting some information from our conversation very soon…when I have it typed and ready to post.
<<<<<<<<<<>>>>>>>>>>
Below are several excellent comparison photos of Elvis with the photo of Elvis/Jesse with Benjamin.  I have these posted elsewhere on my site,  but they are so good that I want to share them again, for those who may have missed them earlier.
TUESDAY, MAY 24, 2011
Today I have set up a new page on my site. The title of this page is THREATS AND OTHER INAPPROPRIATE COMMENTS.
Footnote:  I have chosen not to carry forward the above titled page onto my new web site.  The following is left on here for information purposes only.
On this page, I have copied the threats and comments which were posted on my message board this morning. Any further threats will be added to this page. The following is my notice to those parties behind the recent attack on my web site and the threats of future attacks:
I have set up a page titled THREATS AND INAPPROPRIATE COMMENTS today on which all threatening or disrespectful messages posted on this board will be saved for legal purposes. Coincidentally, the current issue of the Reader's Digest carries an article detailing the very fact that messages posted on a message board under fake names or anonymously most certainly can be traced 

for legal purposes

. You may view my THREATS AND INAPPROPRIATE COMMENTSpage along with the Reader's Digest excerpt from that article on my THREATS AND INAPPROPRIATE COMMENTS page. If you don't believe my article, you may pick up a copy of the current June/July issue of the Reader's Digest to see with your own eyes.
The threats posted earlier certainly don't put forth an image of someone who is following Jon Cotner's so-called Bible Studies. Such childish tactics.
I DO KNOW WHO RECENTLY ATTEMPTED TO DESTROY ONE PAGE OF MY WEB SITE…A WORD TO THE WISE IS USUALLY SUFFICIENT…
The earlier messages threatening to shut down my site, which came on the heels of the recent hacking into my site, certainly do constitute criminal activity. Your messages have all been read and will now be copied to my page titled THREATS AND INAPPROPRIATE COMMENTS where one and all may read them. I will print them off for Jesse to read as well. This message board is open to the public to write messages to Elvis who is now Jesse. You may post anything you wish on here, but all messages which are not of a respectful and caring nature addressed to Elvis/Jesse will be removed from this board and 

may

 be moved to the page titled THREATS AND INAPPROPRIATE COMMENTS. This will continue as long as I deem appropriate. I will tell you, though, that if the number of inappropriate messages becomes cumbersome, they won't be available for public display on the THREATS AND INAPPROPRIATE COMMENTS page, but will be saved for legal purposes of proving identities. You are welcome to express your opinions, but they will not remain on this message board. There are people who have made it their obsession to go from site to site and message board to message board to, in some manner, cause these sites to close down…they then brag about their success. The sites they have managed to bully into closing are about the topic of Elvis being alive. I want to make one thing perfectly clear to one and all: There is one BIG difference in my site and those which failed to survive. That difference is that I have Elvis Presley, who is now Jesse, himself personally supporting me and my site. For that reason, my site is stronger than any such site that has existed in the past.
The new page is devoted to threats directed at me and my web site. They are being saved to that page as evidence. Law enforcement can trace messages which are posted on the Internet on 

any

site. Hacking into web sites is a criminal offense.
I will not be bullied into removing any word from my web site which I know to be the truth.
FRIDAY, MAY 27, 2011
FOOTNOTE TO THE ABOVE NOTICE REGARDING MESSAGES POSTED ON OUR MESSAGE BOARD:
I want to apologize to all of the wonderful visitors who support my site for my over-reaction to the threats and the hacking which took place to my site.  I have reworded my posted messages regarding the troubling actions of just a handful of people.
Someone posted two very vile messages to me before those messages which I displayed…on that same morning.  There was a very disturbing graphic of the devil along with declarations that "Linda is going to hell….."  I was already very upset by those two messages which I had already deleted just prior to the threats which you have all seen.  So, when the threats appeared….right on the heels of my site being tampered with, I did over-react.  I do apologize.
Law enforcement can trace your IP numbers,  but this would only happen  if there is illegal tampering or threats posted.
Everyone is welcome on the message board and may post under whatever identity they wish.  No one will ever know your identity unless you post something threatening illegal activities, etc.
TUESDAY, MAY 24, 2011
OK, people. Today has been an exceptionally bad day for the message board…a board intended for messages of love and support to Elvis.
THERE IS ONE POINT THAT I DO WANT TO STRESS…THUS THE CAPS…I AM NOT YELLING. LOL
I HAVE NO CONTROL OVER THE MESSAGES THAT APPEAR ON MY BOARD UNTIL I SEE THEM AND THEN I HAVE THE OPTION OF DELETING THEM IMMEDIATELY. THERE WERE SEVERAL VERY NASTY GRAPHICS AND MESSAGES POSTED EARLY TODAY. SEVERAL PEOPLE HAVE WRITTEN ASKING WHY I POSTED THOSE THINGS. I WANT TO BE SURE THAT EVERYONE UNDERSTANDS, THAT ANYONE CAN POST ANYTHING ON THE BOARD….I CANNOT STOP THEIR APPEARING. BUT, REST ASSURED, THAT THOSE VILE IMAGES AND MESSAGES EARLY TODAY WERE DELETED AS SOON AS I SAW THEM. I CAN'T MONITOR THE BOARD 24/7. BUT I DO CHECK IN ON IT FREQUENTLY.
I will post below the latest onslaught of doubters and naysayers. I want to be sure that everyone who visits my site sees these.
I can only tell every one of you that Jesse is Elvis. I have not been "duped". 19 years of being in touch and over 23 years of research have proven it to me time and time again.
I do not tape his calls. I never have and I never will. Dr. Hinton did tape his calls and turned them over to Eliza's attorney who then sent them off to a woman in the UK to have the voice distortion cleaned up so that they could use them for the case. Those tapes have been cleaned up a bit and are now being held by a lady in the UK. That was just one of the ways Dr. Hinton betrayed Elvis.
I have shown his handwritten letters to Dr. Hinton and myself repeatedly. No other place has as much of Elvis's handwriting…before nor after 1977.
It hurts his feelings because people make fun of his beautiful photograph with Benjamin. He has seen the hurtful comments. How do you think Dick Van Dyke ended up sitting on a lawnmower with Lisa Marie's little Benjamin in 1994???? I have shown comparison photos of Benjamin to prove that it is the same little boy.  Some people are too blind to see that the face of the little boy is the same but with longer hair at times.
These comments are so ludicrous that they do not even warrant a response from me and certainly not from Elvis/Jesse.
What is wrong with you people????  Elvis did not and does not owe any one of you even one syllable of contact or explanation about anything.
He wrote the book for the fans and Hinton caused it to be trashed.
I will not shut down my site just because many people refuse to see and believe the truth. I work untold hard hours maintaining this site out of the goodness of my heart and because of Elvis's kind approval, permission and support. Totally for free to everyone.
I have told everyone, countless times, if you don't believe me and you don't believe in Elvis/Jesse, then just don't come to my site. How simple is that?????? Jesse himself voiced that very opinion to me when we spoke last Sunday when were discussing the attackers….If people don't believe; just don't come to this site.
I do not tie people down to stay on my site nor play any tricks to get people to come. It is a free country. What exactly are your motives for coming on my site and attempting to tell me that I am so stupid that I don't know with whom I have communicated for over 19 years?   What do you hope to accomplish? Would you be satisfied if I shot my computer and burned my 19 years worth of letters, cards and gifts which I have…would that make you happy???
I believe that many of the naysayers are acting out of jealously because, deep down inside, they do know that I am Elvis's close and trusted friend. Believe me, I do know how blessed and fortunate I am to have his friendship. Only God knows how much it means to me. I would not work this hard for anyone else in the world as I do on this web site…a site which I do out of love for him and to honor him…the man, not the superstar image. While I only asked for his permission to use my real name to defend myself and thus developed a web site,  I constantly strive to show what kind of man he really is as opposed to the negative image that some of his former family members and associates have portrayed.
I will post the most recent onslaught of messages below for all to see. I will no longer address nor acknowledge any further messages of this type. They will be deleted immediately with no notice being given to them.
I will keep the message board up for Elvis/Jesse. He does enjoy hearing from the fans. He enjoyed the Christmas and Birthday messages so much. He told me that he would autograph photos for people if they sent them to him…he said my friends came first. So, I did invite 13 people to send their photos to him through me. Everyone received their photos back autographed. It was a lot of work for me to process the mailing to and fro. But I did it gladly for Elvis/Jesse and for the people who wanted to have his autograph.
I must insist that no one post on the message board again except when writing messages to Jesse. The board is not intended for unkind and critical messages to me. Again, those types of messages will be deleted and not acknowledged in the future.
I have already asked Jesse and told, on my site, that he said that some of the Orion songs are him. Jimmy Ellis covered for Elvis so that he could still record and perform occasionally. I have provided links to some of those songs. I own the Orion albums, just about all of them, and I do know the difference in the two voices. I have furnished links to the Sivle Nora songs and told the history of the 1981 speaking tape.  I have bits of several of the Orion songs which play for a few seconds at the opening of several of my pages.  One example of my expenses is the fact that I pay $20.00 per year per each of those little sound bites so you may hear things like Elvis singing with Jerry Lee and Jerry Lee saying at the end of the "What'd I Say?" song "Man, you're with it tonight, Elvis".  All you have to do is turn your speakers up high and you can clearly hear what he says.  This song was recorded 

after

 1977.
It does make me sad that so many people refuse to accept and rejoice that Elvis did not die and that he is still in touch with me and with the fans through me.
I could go on "preaching the truth" for hours on end. But, I won't waste any more of my time doing so.
Here are the "thoughts" shared on the board today:
Ginger
05-24-2011 6:57:26 PM EST
05-24-2011 6:57:26 PM EST
PLEASE NOTE: THE PHOTO DID NOT COPY AND PASTE, I HAVE ASKED GINGER TO SEND THE PHOTO AGAIN VIA THE MESSAGE BOARD.
Linda, I have attached this photo of Dick Van Dyke. It speaks volumes without saying a word. I feel bad for you. Jesse has been deceiving you. Sorry my friend, THIS PICTURE OF DICK VAN DYKE HAS NOT BEEN ALTERED. Sorry to show the obvious, Ginger
FOOTNOTE:
 Since Ginger has not supplied me with another copy of her photo of Dick Van Dyke, I have located a very clear one (shown above) for all of you to compate to Elvis/Jesse. Elvis/Jesse and Dick Van Dyke do share the enlongated chin and their laugh lines are similar. I love Dick Van Dyke and watch him on TV every chance I get. But, he ain't no Elvis folks…and that ain't him in the photo with Benjamin!!! 
---

concerned
05-24-2011 6:52:40 PM EST
Linda, do you think priscilla presley or lisa marie presley ever view your site? These posts I read under your threats page seem like mad family members or something like that. You can almost feel the emotion and distaste for your jesse. Do you think there's a chance you have been mislead by this jesse? I'm not so sure about your jesse anymore. Is there something more you can provide? I do believe your a good person, but I think its time for jesse to show some real proof.
---

Ginger
05-24-2011 6:35:02 PM EST
Dear Linda, I am an avid follower of your site and often have found it quite interesting, and I follow daily. Today I am perplexed. Why are all these people posting these nasty comments. Of course, being only human, I couldn't help but read. It begs the question, Why haven't you given us any REAL PROOF? I mean, I was thinking ELVIS/JESSE WOULD NEVER HAVE STOPPED SINGING, CAN'T WE HEAR SOMETHING, ANYTHING HE MIGHT HAVE SANG TOO YOU?? If you just give us something, even small, these naysayers will go away. And as for the picture of Jesse/Elvis, honestly it looks nothing like him, and I have a really hard time believing that Elvis with that beautiful face would have ever had plastic surgery, and if he had, do you really think he wanted to look like Dick? And when I look at older pictures of Dick Van Dyke, that picture is definitely Dick with some kind of photo shop. Like the other guy said, you can't fake the eyes. Elvis' eyes were not quite that blue. With kindness, just thinking out loud, Ginger.
---

concerned
05-24-2011 6:18:18 PM EST
Dear linda, I see there's been a lot going on since I last visited your website, I feel bad that some people go to far. But why not clear the air and let one of your many conversations with jesse be posted for the world to hear. Also can jesse provide a song or two for us to hear? That would be nice, don't you agree? As for the picture of jesse, I would agree with the above post that looks like dick van dyke with some kind of elvis overlay. Anyway, I wish you well, but I'm starting to wonder myself, have you been decieved? I think your a good person, I'm just not sure jesse is elvis. Just my thoughts.
---
As for the requests for a more current photo of Elvis, it is not going to happen. Why? Because his life is in danger if he is recognized and he worries even now about someone recognizing him even from the 1994 photo.
I don't know how I can state things any more clearly than I already have time and again. He has told me who is behind the death threats.
There are perfectly logical reasons why he allows me to be his "voice" rather than family members. Think about it a while, folks. I am sure the obvious reason will pop into your minds. The key word is "media".
Recently, I was invited to appear on a TV show in Canada. When I discussed it with Jesse, we both decided it was not a good idea. Jesse worried that it would cause even more attacks upon me. I personally did not want to do the show at all…no way do I want to do 
any
 TV interview ever. The reason that I am mentioning this event here is because, when Jesse and I discussed the possible TV interview, he said emphatically "
I don't want the photo to be shown on TV again
". I asked him at that time if he wanted me to remove the photo from my site and he said that I could keep it. But, to be honest, after all of the unkind and unappreciative attitudes generated by his precious photo, perhaps I should just remove it from my site. I have provided so many side by sides proving that the bone structure and the laugh lines, etc. are identical. I have explained before that he wrote me when he gave me the original copy of the photo that he had some plastic surgery done. He later told me on the phone "
I didn't have that much done
."
I think that people just can't wrap their minds around the fact that he lost weight, regained his health and let his hair turn white…that plus a little plastic surgery…plus the 17 years which had passed between 1977 and 1994.
He has no intention of ever returning to being "Elvis" and therefore changing his face was not that big an issue.
Dr. Hinton and his associate pressured Elvis/Jesse to give them a current video when they were pedaling the book. Jesse wrote to me and told me about their pressuring him and wrote me "I don't think I can do that." and I agreed with him "No! Don't do a video". The reason for that decision was because the photo with Benjamin was already 7 years old when the book came out. Even though the photo is now 17 years old, he still worries about being recognized. A current photo or video showing exactly how he looks to this day would greatly endanger his life plus it would place even more restrictions upon his freedom than he already has now.
I want to clarify something one more time: 
I set this web site up for the sole purpose of refuting the lies which had been spread about me 
on the Internet since the book came out in 2001. Had Hinton not exposed his own real identity and mine, no one would have heard of or from me to this very day. However, to substantiate my truth, I began sharing evidence to prove that Elvis is alive, is Jesse and that the book is the truth. It was not my original intent to ever have my site as a source of current news about Elvis. It just slowly evolved into this because of my friendship with him.  
I am so very happy and honored 
to be able to do this, but that was not the original intention of my site…not at all.   I have never felt more blessed than when he tells me that he supports me and my web site 100% and that I am his "voice".
So much negative stuff has come to my message board in the last few days that I haven't gotten around to sharing some points from my conversation with Jesse on this past Sunday.  He did give me permission to post some of what we discussed and some things he told me.  I had planned to share that much sooner, but I have been busy with un-necessary negative situations. Perhaps, I will still share what we discussed later on.
My entire day today has been spent with the negative comments on the message board and the purchase and installation of another software program to find the source of the attack upon my site. Of course, this is just one more of many expenses generated by my site. But I will never charge anyone to visit my site. I will never make a penny off of my friendship with him.
I know that no matter what Elvis/Jesse or I say or do that people will never be satisfied. It was this very type of behavior before 1977 that made Elvis feel so alone and to say more or less to himself in his hotel room in Vegas in 1977 "Help me, Lord. I have no need of all this."
People always wanted more of him, wanted to own him, felt that he owed them his private life, no less. Even now almost 34 years later, people still demand more.
He wrote the book for the fans (in his own handwriting, no less)…but they want more.
He shares some comments with me to place here on my site….but they want more.
He has revealed some songs that he recorded after 1977…but they want more.
He shared one of the happiest moments in his life (when he met Benjamin for the very first time)in the 1994 photo…but they want more.
He submitted DNA to FOX 8 for proof that he his Elvis…but they want more.
… And people wonder why he left and why he wouldn't come back even if circumstances permitted. Think on this last paragraph for a while, please.
WEDNESDAY, MAY 25, 2011
Please note that the comment about the "bone structure" is part of the Elvis/Jesse collage which I copied from a former page on my site and is not a reference to Dick Van Dyke.
Since some think Jesse's photo is of Dick Van Dyke…here's one for a comparison. Please note that Elvis's and Elvis's/Jesse's chin is not as square as Dick's…more rounded. Also, take note of the length and shape of Dick's nose.
But, for those who are happier thinking that Elvis/Jesse is a fake and that he decided back in 1994 to fake a photo of Lisa's Ben with Dick Van Dyke…then, by all means, go visit one of Dick's fan sites. I have loved Dick Van Dyke all of my life and I think that he is a very handsome man…even more so in his senior years than when he was young.  But, that is not Dick Van Dyke with Benjamin in Jesse's photo. 
THURSDAY, MAY 26, 2011
I never thought that I would ever have to prove something so very obvious as the fact that Elvis had/has blue eyes…but here it is:
The above photo is from the book:  THE ELVIS ENCYCLOPEDIA by Adam Victor
The below excerpt is from this same book.  The photo is on page # 21; the text excerpt is from page #20.
If the photo is not enough….
I want to thank my dear friend, M. J., who I called to ask where I could have read at least one statement about Elvis having blue eyes…I knew I had read it several places but could not recall a source. She has an excellent memory and readily directed me to the pages #20 and #21 in the Elvis Encyclopedia.
Then there is this from the book ELVIS WORD FOR WORD by Jerry Osborne on page #76
Then there is this from one of my most harsh critics…Patrick Lacey:
Presley, Elvis/Elvis Eyes
Answer
Jack-
Thanks for writing. All the sources I've checked list Elvis's eye color as blue, and his license (an official document, of sorts) also lists blue. In many photos, it is very clear that Elvis's eyes are blue, unless the photos have been retouched, but that is not likely. The only discrepancy I've found is that in some close-up color photos, his eyes have a more hazel/brown appearance, which is in contrast to the "official" color of blue.
So, the official answer to your question is that Elvis's eyes were blue.
Let me know if you have any follow-ups to this, you can contact me directly at mortis4@aol.com.
Thanks.
Patrick
Note to Mr. Lacey: Please do not take my use of your statement to start a whole new war against me. I am not displaying your statement to make you look bad…only to substantiate the truth about Elvis' blue eyes. I do not, in any way, intend my use of your comment as an affront to you.
Then there is this from an Internet search done for "Elvis Presley eye color"…
"Elvis said his eyes were blue, as well as Cilla.
No doubt here:"
This comment was posted by:
Magic
Joined: Wed Sep 28, 2005 3:18 pm
Posts: 1543
(This is from the Priscilla Presley Forum site)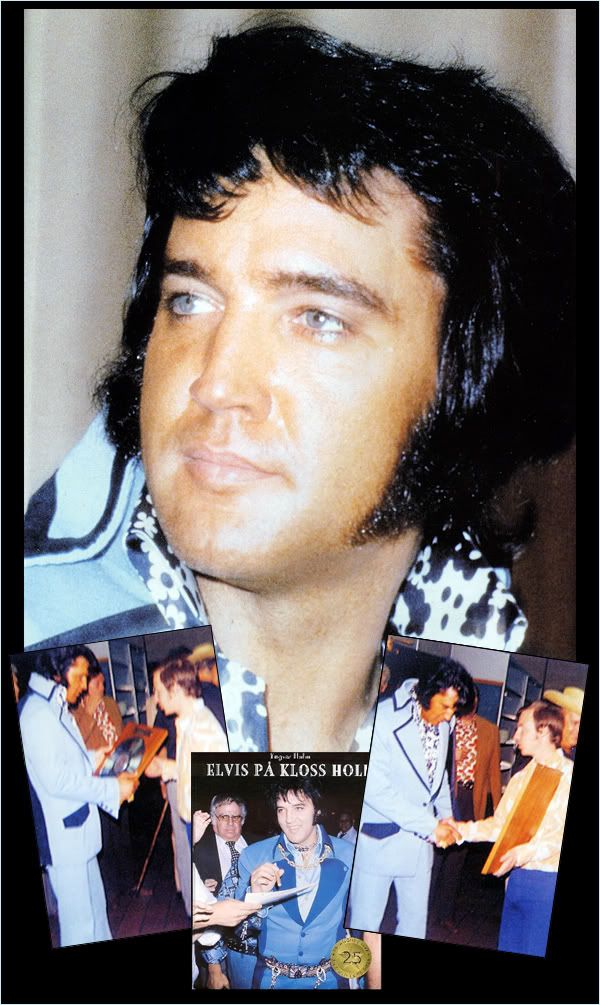 Then there is this photo:
Is this dark enough blue for ya?????
(Please take note:  The above two photos are from the Madison Square Garden press conference.  These two photos are found on the Bing Internet search by inserting "Elvis Presley eye color" in the search box.  You may see the bottom one by clicking on the links to the images which appear across the results as shown below.  I share this so each of you may follow through and see the images first hand for yourself to prove that I have not "photo shopped" the eyes and the tooth). 
All Results
1-10 of 2,370,000 results· Advanced
snr –>
Elvis' eyes were indeed blue. The apperance that they were brown was due to cloured contacts he would wear. He had these made for him to act as "sunglasses" while he …

wiki.answers.com/Q/Elvis_presley%27s_eye_color

brown appearance, follow ups, official document: Jack- Thanks for writing. All the sources I ve checked list Elvis s eye coloras blue, and his license (an official …

en.allexperts.com/q/Presley–Elvis-562/Elvis–Eyes.htm

Eye color: … Commonly referred to as "The King of Rock 'n' Roll", Elvis Aaron Presley was born in 1935 …

Discover images of Elvis presley eye color with Bing Image Search

Images of Elvis presley eye color
Also, as an aside…take a close look at Elvis's teeth in this photo.  Notice the darker tooth way back on the lower left side…maybe a crown?
And for the grand finale, we have Elvis's own handwritten letter describing the photo  when he sent it to me early in July, 1997 which was about three years after the photo was taken in 1994.  In one of his letters to me in 1992, he promised that he would send me a photo of Ben whenever he got one.  Please do take note of his comment about his "blue eyes".
I can go on endlessly proving the truth of everything on my site if that is how everyone wants me to spend my time.  Or I can spend my time showing you things which are related to him having decided to leave us in August of 1977 and things relating to him after August, 1977. i.e. the conversation which I had with him last Sunday. (A topic which I have not been able to cover due to the friction caused by the disruptive comments of a few visitors).
There is another option which I have thought of…I can just stop all current activity on my site.  Just walk away and leave it just as it is.  This is not the choice I would prefer because I enjoy so very much sharing with Jesse, each week, the new articles on my site and the new message board entries from each of you. But…
So, this concludes my "Does Elvis/Jesse have blue eyes? discussion.  Enough said????
FRIDAY, MAY 27, 2011
FOOTNOTE TO THE ABOVE NOTICE REGARDING MESSAGES POSTED ON OUR MESSAGE BOARD:
I want to apologize to all of the wonderful visitors who support my site for my over-reaction to the threats and the hacking which took place to my site. I have reworded my posted messages regarding the troubling actions of just a handful of people.
Someone posted two very vile messages to me before those messages which I displayed…on that same morning. There was a very disturbing graphic of the devil along with declarations that "Linda is going to hell….." I was already very upset by those two messages which I had already deleted just prior to the threats which you have all seen. So, when the threats appeared….right on the heels of my site being tampered with, I did over-react. I do apologize.
I want to explain that I, personally, cannot see the IP addresses of anyone who posts a message on our message board. The administrator of my site would be my web site host company. Your IP numbers are not available to me….but law enforcement could subpoena them from my web site host only if there is illegal tampering or threats posted.
Everyone is welcome on the message board and may post under whatever identity they wish. No one will ever know your identity unless you post something threatening, etc.
FRIDAY, MAY 27, 2011
LIES!!!!!!!!
FROM THE MESSAGE BOARD:
FOR ROD

05-27-2011 12:46:37 PM EST


Dear Rod, thank you for posting the truth, usually Linda "PLEASE GIVE ME HERO WORSHIP SIGMON" pulls anything relative to the truth off her site effective immediately. The truth is, Linda has had this scam going for close to 11 years. AND YES, CONTRARY TO WHAT SHE TELLS PEOPLE, SHE DOES MAKE MONEY. Again, another one of her elaborate lies. The only unfortunate part is the good hearted people on this site will never get to know the truth, until THE REAL ELVIS'S actual passing. Please don't stop posting the TRUTH. Does anyone really believe that Elvis would need Linda Hood Sigmon to relay messages to the world????? What an absolute lie, and one that can only be concocted by a delusional individual so desperate for attention and acceptance. PEOPLE PLEASE WAKE UP, YOU ARE BEING SCAMMED!!!!!! For those that say, I don't believe Elvis is alive. ABSOLUTELY HE IS ALIVE…WHAT YOUR MISSING IS HE HAS NEVER EVER EVER BEEN JESSE…That's all LINDA'S SCAM!!!JESSE IS AND ALWAYS WILL BE a figment of her imagination….Those of us that know THE REAL ELVIS….can say this without blinking an eye!!!!
Rod

05-27-2011 12:00:11 PM EST


Linda… I was just wondering why you are trying to make money off of Elvis? I know you say that your site is free and all but I have noticed that you have tapes and books for sale on this site. If I had to guess, you are probabley in working together with Dr. Hinton and others to make money off of Elvis and I think that is wrong. Just saying
I have been hoping, all this week, to post an article about the conversation which Jesse and I had this past Sunday. I intend to do so now. I know that, in view of all of the lies and turmoil caused on our message board by those who seek to destroy my site, that the comments which Jesse spoke to me will generate more anger and hostility. However, the following is exactly what we discussed which he said that I may post on my site for everyone to read.
WHEN READING THIS ARTICLE, PLEASE KEEP IN MIND THAT I WAS SPEAKING DIRECTLY WITH ELVIS PRESLEY.
Please note that the words in blue italics are quotes from Jesse as best I can recall them and from my notes:
First of all, because I had posted several negative articles about Jon Cotner in the preceding week, I wanted to ask Jesse to be sure that I was correct in what I had written and that Jon Cotner was not, in some manner, associated with Jesse. The following is written from my notes which I took down as we spoke:
I asked Jesse if he knew of a man named Jon Cotner. Jesse replied that Jon Cotner had provided a service many years ago. I said that perhaps I had made a mistake because I had posted some negative things about Jon Cotner. Jesse asked me "What is he doing now ?" I told Jesse that he is on the Internet giving people the impression that he is Elvis at times; singing and talking to people; doing Bible Studies; and selling CD's at $27.00+. Jesse said that he is "overstepping his bounds" and that the guy is a "phony".
Jesse said that he is not on the Internet in any way, neither shape nor form
. I asked about the multiple "Jon Burrows" on the Internet and, again, 
Jesse confirmed that NO ONE on the Internet giving the impression that they are Elvis is him
.
He told me to tell everyone that he would never ask for money in any manner nor sell anything.
He also told me to tell everyone that he does not contact anyone that he does not already know. If he does have any contact with anyone new, it will only be done through me.
I know that people want to believe in those on the Internet who portray themselves as Elvis in some way to really be Elvis…because they want to believe that they are actually in contact with him. But Jesse wants everyone to understand that they are all "phonies".
If Jon Cotner reads what Elvis said to me about him, he will know that I am in touch with the real Elvis Presley and that I am telling the truth because of Jesse saying that at one time many years ago he did provide a service. I hope that Mr. Cotner will be man enough to discontinue his deceitful activities and apologize to those who have been devoted to believing in him.
This will be the last article I will write regarding Jon Cotner. Any messages attacking me because of my telling the truth about him will just be deleted and retained for legal purposes.
Jesse's is the 

last word

 about Jon Cotner.
Jesse brought up the following topic and said that I may post it on my site if I wish. I know, once again, that many will doubt what I am about to post…but it is the gospel truth as told to me by Elvis Presley himself:
Oprah Winfrey is a "believer" (that Elvis is alive) and has been in contact with Jesse's people for some time now attempting to line up an interview with him for her very last show. She offered many things to convince Jesse to do her interview i.e. complete anonymity, interview to be done outside the U.S., and money. Someone at EPE even got involved. Ultimately the whole idea was "nixed".
Jesse reiterated once more that he only wants "…to live his life as his brother would have lived".
Once more, as unbelievable as it sounds, Oprah Winfrey, and perhaps her people, will know that my site is the truth and that Jesse is Elvis should any of them read this article.
Jesse tells me things to post on my site which someone out there will recognize as the truth should they read it. The things he tells me are not so much for just the enjoyment of my visitors but for the purpose of proving to someone that I really am in contact with Elvis Presley.
I asked Jesse specifically about two important topics about which I have devoted pages on my site. One of them he confirmed as actually being him and told me to keep it on my site. The other topic, he did ask me to remove from my site. He did not say that it is not him, but rather that there "has been a lot of controversy" about that topic. I told him that I would remove everything about that topic immediately from my web site and from my YouTube videos as well. As soon as we hung up, I began work on removing everything connected to that one topic.
Those are things about which we spoke that I am able to post on here. I do hope that each reader will enjoy the above. I can only tell the truth and let the chips fall where they will. I am not attempting to push the truth down anyone's throat. I ask only one thing: If you don't believe in my site, 
please
 just don't come here. That one thing is the solution to every bit of friction. Please remember that Jesse, himself, says the very same thing. Such a 
simple
 solution!
The reason that I do post things to discredit the fakes is because they are misleading people and taking from them, in some instances money, but in all instances the hopes and dreams of their followers.
I can only state once more, emphatically, 
Jesse is Elvis Presley
.
There are many, many things that Jesse has shared with me and things which I 
know
 that have
proven
 to me that he is Elvis Presley. I know so much more than that which I am at liberty to share publicly.
Those who are spreading lies that I sell things and make money could not be more wrong. I defy anyone to prove that I have ever been paid one cent by anyone in the world other than the minimal subscription fees which I charged for my newsletter in 1990-1991 and a few very small things which I offered for sale through my newsletter. As I recall, I only sold one bumper sticker and one or two  tapes back then. The tape(s) were merely to back up the written articles in my newsletters.  Once more, I only charged enough to cover my expenses.  I did not even charge enough to cover the expenses of my newsletter. I have always given much, much more than I have received. People who are honest will say that I have given away much more than that for which I have been reciprocated.
I defy anyone to show on my web site where I have ever sold a single thing or asked anyone for one cent.
THERE IS ONLY ONE JESSE WHO IS ELVIS PRESLEY
There is one more topic being discussed "out there" about which I want to set the record straight:
There is only one real Jesse…I will display below a time line of the real Jesse who is Elvis Presley:
I did my newsletter from July 1990 thru March 1991 sending copies to someone who I felt sure was friends with Elvis and would get my newsletters into Elvis's hands.
I stopped my newsletter with the March, 1991 issue. Several weeks later, I was contacted by someone who told me "He really liked your newsletter."
Later in 1991, I was introduced to someone who was personally friends with Elvis Presley.
In 1992, the person who was friends with Elvis asked Elvis to write to me. This was after having shared 
many
 phone conversations with me telling me about Elvis and also having shared copies of some of Elvis's letters to him with me. This was all done to allow me to make up my own mind if the person calling and writing the letters really was Elvis Presley. I carefully considered everything shared with me and compared things to known facts about Elvis Presley (the man…
not
 the superstar image). After much consideration, I concluded that it was, indeed, Elvis Presley.
Later in 1992 (April if I recall correctly. I don't have my post cards in front of me at this moment), I received a post card from Elvis himself. A short time later, I received a second post card from Elvis. Later in 1992, he and I began corresponding. At that time he had not yet told me that he was now Jesse. At that time, he was not allowed to speak on the phone. He had told "the boys" that if he could use the phone he would not speak.  So, several times he did phone me in the wee hours of the morning and I was able to talk to him and he would answer with beeps. He wrote to verify that it really was him on the phone along with his explanation for not being able to speak.  Years later, he began speaking with a voice distortion device.  But, even with the device, I absolutely can tell that he is Elvis Presley…after 19 years of speaking and corresponding.
In June, 1997, I introduced Elvis to Dr. Donald Hinton. The history of Dr. Hinton, Elvis/Jesse, myself and the book has been explained very thoroughly on a number of pages on my site.
The book was published in 2001.
In 2002, Dr. Hinton did an interview on FOX 8 news with Suzanne Stratford in Cleveland, Ohio. In conjunction with that whole situation, Elvis/Jesse submitted DNA in 2002 for FOX 8 to have authenticated to prove that he really is Elvis Presley. I was in close contact with Jesse when the decision to give DNA to FOX 8 was made and I was involved in that decision myself.  As I have written earlier, they did not have certified 
known
 control samples from Elvis Presley to compare to Jesse's.
Sometime around 2008, Eliza Presley became acquainted with Dr. Hinton. He was of assistance to her because she did have DNA proof that she is Elvis's half sister. He was subpoenaed to give a deposition in conjunction with her in-progress court case. During his trip to Memphis to give his deposition, he was interviewed again by Suzanne Stratford for FOX 8 news and that aired in Nov. 2008.   I have the video of that 2008 interview on my YouTube videos channel. My YouTube videos channel is TCB4EAPonefan  where you may watch 
all
 of the FOX 8 reports which span from 2002 through 2008.
In 2008, Eliza telephoned someone currently associated with Elvis (
and who was prior to 1977
) begging to be put in touch with Elvis/Jesse. Eliza taped the phone call and made copies. I will only say that her contact with this person…whose identity I will 
never
 reveal…did ultimately cause someone currently associated with Elvis/Jesse to call her. Jesse was kind enough to eventually contact Eliza himself…that is how she got the letter with Elvis's DNA on it. He was also kind enough to speak with her on the phone and sent her gifts as well. He autographed notes to people at her request, etc.
I will state here that I, personally, have had contact with two people who have in their possession copies of the telephone call which Eliza made to the person from Elvis's past, 
before 1977
, who told her that "
no way
" would he have him (Elvis/Jesse) call her; but then this person 
did tell Elvis/Jesse about Eliza
 which did result in Eliza's contact with Elvis/Jesse. I can name the name of the person on the phone with Eliza, as well as the names of the two people who have told me that they have copies of that tape. One is here in the US and one is in the UK. Again, I will 
never
reveal their identities.
Eliza, herself, told me about this whole thing. But, the reason I know that it is true is because one of the people who has a copy of this tape told me, over the phone, that "I have it right in front of me on my desk" and told me exactly what the person said to Eliza. This person, to whom I was speaking, just brought the subject of the taped phone call up during our conversation.  I did not ask about the tape…I did not know that this person even knew about the tape.  The person with whom I was speaking is a public figure.
The lady in the UK who has the tape now has also written to me the exact quote that the person on the phone said to Eliza. Again, the tape is now in the hands of a different person from the person who Eliza told me had the tapes of Dr. Hinton's calls.  Again, I did not even know that the person in the UK even had the tapes now. I did not even know that the person who contacted me even existed.  This person contacted me via Emails and brought up the subject of that one important tape while speaking to me about the Dr. Hinton's tapes.  This person wrote to me because of their having all of Eliza's tapes.
I want to place proper emphasis on the fact that the person who was associated with Elvis 
before 1977
 getting in touch with the 
Elvis who is now Jesse PROVES THAT JESSE IS ELVIS PRESLEY
. If you discount everything else…you have to see and recognize that 
only the real Elvis Presley would be in contact with someone who was associated with Elvis before 1977 and who is still associated with Jesse to this day
.
I became acquainted with Eliza during May of 2009. She had made so many efforts to come in contact with me through various avenues and I had refused to do so. But, finally in May, '09, after Ms. Rowe set up a web site page filled with false accusations against me and tying me into what she called "
The Hinton Crew
" which supposedly included myself and Eliza, I did accept a phone call from Eliza because we were both being victimized on that web site. Up until that day, there had 
NEVER
been any contact between myself and Eliza. I 
only
knew of
 her through others.
I befriended Eliza because of the personal crisis's in which she was embroiled. She did furnish me with copies of every single DNA result which she had obtained plus copies of much correspondence related to her obtaining the DNA results. I still have those copies and have them locked away safely. I agreed not to make them public or share copies because, at that time, her court case was in progress. I honor that promise still and will continue to do so. I did not ask Eliza for those copies, she voluntarily shared them with me freely because of my closeness to Elvis/Jesse.
In the winter of 2009-2010, Eliza became sidetracked by a fake Jesse on Twitter. This took place because Jesse had called me in Oct. 2009 and asked me to tell Eliza to stop…meaning her pursuit of proving that he is alive.  For a time she did stop. Jesse would not speak with her about it and that is why she was so easily taken in on Twitter. She so desperately wanted to be back in touch with Jesse. Jesse did send a Christmas gift to her that December through me. I do have all of the Emails between Eliza and myself documenting exactly what took place regarding Jesse asking her to stop and the Christmas gift, etc.
Eliza and I dissolved our contact very early in 2010 shortly after the fake Jesse on Twitter episode.
Later on, last year, Eliza either was taken in again by a fake pretending to be Elvis to her or she concocted a story that she was in touch with "the real Elvis" and that he was supporting her and that he was going to "come out". I have no way of knowing which scenario took place. I do know only thatthe real Elvis/Jesse was not supporting her. I stated this on my site. Even after her court case was derailed, some people still do not accept what I had been telling them all along.
Eliza's court case was finally derailed in January of this year. I have stated previously, on my site, the circumstances under which her case was derailed and the reason. I won't go into that again. Suffice to say if Jesse were not Elvis Presley this would not have been accomplished.
So, this is the time line of the one and only Elvis/Jesse Presley who I have personally known since the spring of 1992 and who I still know and love to the present day.
I do hope that this step by step timeline will put a stop to the conflicting stories about there being 3 or 4 "Jesses" involved. There is only one real Jesse and that is the man who was Elvis Presley and who has been in contact with me beginning in the spring of 1992…as a result of my sending my newsletters out in 1990-1991.
I will close this long.g.g.g.g article with Jesse's own words and wishes spoken during our conversation on Sunday, May 22, 2011:  "I just want to live my life as my brother would have lived."  Thus what you have right here in front of you is the whole story.
Thank you for taking the time to read all of this.  I do hope that this will sink in and stop some of the arguments that are rampant on the Internet.  For those who do wish to continue harassing and arguing, I ask only that you please DO NOT VISIT MY SITE AGAIN.
FRIDAY, MAY 27, 2011
I received several very kind letters from friends regarding the controversy over the Dick Van Dyke photo controversy.  Below, I am sharing three of the Emails I received. My heartfelt thanks to these very dear friends.
Noddy from Australia writes:
Hi Linda,
I am sorry to hear that you are getting some not very pleasant messages on your message board for Jesse now as I really thought that all that drama was over, obviously NOT.
It seems a lot of people think that Jesse is Dick Van Dyke. Above Linda, I have found a photo of Dick Van Dyke at the age of 84 years old alive and well to this day, I also will say that the photo of Jesse with Benjamin, Jesse's face is long and at the bottom of his chin it is thinner than Dick Van Dykes as you will see and also Dick Van Dykes nose is very different to Jesse's and another point I noticed is that Jesse always had a bow in his top lip and Dick Van Dyke doesn't at all. It is a lot wider that Jesse's.
I just want to point this out to you with regards to Ginger sending this message on your board 
And when I look at older pictures of Dick VanDyke, that picture is definitely Dick with some kind of 

photo shop

. Like the other guy said, you can't fake the eyes. Elvis' eyes were not quite that blue. "With regard to his blue eyes Linda, I think that when you get older the color of your eyes may change slightly like they have in that picture of Jesse and Benjamin. I myself can see that Jesse's eyes are very pale compared to the younger photos of Elvis being so blue but I think it is a natural process of aging that causes them to diminish in color to what they were in earlier years for Elvis and for us all.
When I saw that photo I sent it off to a friend of mine who is excellent with Photo shop and Indesign on the computer. I myself honestly thought that he would say to me that that photo of Jesse and Benjamin has been Photo shopped  but to my pleasant surprise he said that it was the real thing and

no

 Photo shop was involved in it at all.
I just thought that you might like that little bit of information and it might help the non believers out there and if you want to put that on your site about the photo then please do so and maybe add this photo of Dick Van Dyke as well and Jesse's again so fans can see the differences in both these men.
Oh, my gravy Linda, Like we don't know where this comes from. There is only one person who has ever said that the picture looked like Dick Van Dyke and we know who that is. Only her followers refer to that picture in that manner. I am so sorry for all the mess you are getting.
 I was thinking on the picture. Not only nose and chin texture of the hair is different and where do you ever see Dick Van Dyke with pork chop sideburns like Jesse!!!
Good morning Linda…You addressed this very gracefully!….Good job girl
I too cannot see how anybody would mistake Dick for Jesse???…..Elvis was always very "cheeky" and of course with age, fleshy cheeks would sag atop the smile lines…I hope your readers notice that Elvis and Jesse BOTH have fleshy cheeks and that the muscle action in their photos is creating a definite line that curves from the nose toward the ears….NOTHING like that is evident on Dicks photo…Dick has always had a thinner face with flesh clinging CLOSER to the bone….AND may I point out that there is absolutely NO HYPER-PIGMENTATION AROUND the eyes on the photo of Dick Van Dyke, and the hyper- pigmentation is present on the photo of Jesse as is characteristic to Elvis….Certainly, people have better powers of observation than this…As always, thanks SO much for sharing…you did an awesome job of showing the difference!…If people thought that was Dick instead of Jesse before, I think they will now change their minds…At least one would hope so, unless they are optically challenged…lol….Lotsa Love….Deb
SATURDAY, MAY 28, 2011 1:38 AM
URGENT MESSAGE!!!!

I just posted the following message on our message board warning visitors of a virus on our message board.
PLEASE DO READ THIS IMMEDIATELY.
URGENT NOTICE: I just discovered that one or more of the irate visitors who have posted on our message board this past week have infiltrated my message board with a virus. I discovered it tonight when I copied your messages to Jesse and transported them to my Word program in order to enlarge the print for easier reading before printing them off for Jesse. It did not show up right away and that is why I did not know to tell you about it until now. At first, it wasn't quite apparent what had taken place. My security system caught the attached virus(s) when I began to enlarge and work with the contents of the message board in order to get the messages aligned onto the individual pages of my Word document. The virus shows up as Javascript…. So, if your security system shows anything beginning with those prefix, DO NOT OPEN OR DOWNLOAD IT. I want to tell everyone who comes onto my message board, though, PLEASE DO NOT COPY THE CONTENTS OF THE MESSAGE BOARD PAGE AND SAVE IT INTO YOUR COMPUTER. I am afraid that your security program may not capture and stop it as my program did. I am so sorry for all of the trouble others are causing on our board. They should be ashamed of themselves.
Thank all of you for your patience and understanding throughout all of these threats and attacks. With love, Linda
PS:  I believe that the only way to rid our message board of this virus, at this point, it for me to just delete all of the messages on the board up to the point where I printed them off for Jesse tonight and start with a clean board.  It will take me a while to get this accomplished as it must be done one message at a time.
Once this is accomplished, then you may start fresh posting your messages.  I will just keep a close check on the new messages and test them for viruses as they are posted.  This way we can prevent this from happening again and also catch the perpetrator of the virus infection "red handed" if they attempt to do this again.
I am so very sorry to have to do this, but I can think of no other way, right off the top of my head, to correct this danger and clean our board of the virus.
THE MESSAGE BOARD IS NOW OPEN ONCE MORE AND IT IS SAFE TO POST.
i HAVE FINISHED CLEANING THE MESSAGE BOARD OF THE CONTAMINATION FROM THE VIRUS WHICH SOMEONE PLACED ON IT.
I DID FIND THE QUICKEST WAY TO CLEAN THE BOARD WAS TO JUST TAKE IT BACK TO LAST FRIDAY, THE 20TH WHICH WAS THE LAST TIME THAT I COPIED THE MESSAGES TO MY WORD PROGRAM.  I KNOW IT WAS CLEAN ON THAT DAY, BECAUSE MY WORD PROGRAM DID NOT SHOW ANY PROBLEMS LAST FRIDAY WHEN I PRINTED THE MESSAGES TO JESSE ON THAT DAY.
IT BROKE MY HEART AS I HAD TO DELETE THE BEAUTIFUL MESSAGES AND PHOTOS WHICH EVERYONE HAD POSTED ALL OF THE PAST WEEK.
I SINCERELY APOLOGIZE TO EVERYONE FOR EVERY POST WHICH I HAD TO DELETE.  I HAVE TESTED THE MESSAGES WHICH ARE ON THERE NOW AND THEY ARE CLEAN.
EVEN MY OWN MESSAGES WHICH WERE POSTED AFTER THE CONTAMINATION STARTED, CARRIED THE SAME VIRUS AS EVERYONE ELSE'S WHO POSTED AFTER THE VIRUS WAS IN PLACE.  SO, I HAD TO REMOVE MY OWN MESSAGES AS WELL.
THE GOOD NEWS, THOUGH, IS THAT I WAS ABLE TO GO AHEAD AND PRINT OUT ALL OF THE MESSAGES TO SEND TO JESSE.  I JUST WAS NOT ABLE TO GET THEM PROPERLY ALIGNED SO THAT THE NAME OF THE WRITER OF EACH MESSAGE  APPEARED ON THE SAME PAGE ON WHICH THEIR MESSAGE BEGAN.  BUT HE WILL HAVE THE PAGES IN ORDER AND WILL CERTAINLY BE ABLE TO TELL WHO WROTE EACH MESSAGE…JUST SOMETIMES THE PERSON'S NAME AND THE DATE AND TIME OF THEIR MESSAGE IS AT THE BOTTOM OF ONE PAGE AND THEN THEIR MESSAGE STARTS ON THE NEXT PAGE.  HAD I NOT ATTEMPTED TO CORRECT THIS, I WOULD NOT HAVE BECOME AWARE OF THE VIRUS.
I WILL DO MY VERY BEST TO MONITOR THE MESSAGES AND TEST THEM ON MY WORD PROGRAM AS WE GO ALONG SO THAT IF SOMEONE DOES INFECT THE BOARD WITH A VIRUS AGAIN, I WILL CATCH IT BEFORE IT CONTAMINATES TOO MANY OTHER MESSAGES THE WAY IT DID THIS TIME.  THIS WAY I WILL BE ABLE TO PINPOINT WHOSE MESSAGE CARRIED THE VIRUS ALSO.
PLEASE DON'T LET THIS STOP ANYONE FROM POSTING ON THE BOARD.  I CERTAINLY DON'T WANT TO LET THE TROUBLEMAKERS DESTROY OUR MESSAGES TO JESSE BOARD.
THANK YOU AND MY APOLOGIES TO THOSE WHOSE BEAUTIFUL PHOTOS AND MESSAGES WERE LOST IN THE CLEANING PROCESS.  BUT, JESSE WILL GET TO SEE THEM ALL AND THAT IS THE MOST IMPORTANT THING…THAT IS THE REASON FOR THE MESSAGE BOARD.
PLEASE FORGIVE THAT THIS MESSAGE IS IN ALL CAPS.  I AM NOT YELLING AT YOU. 🙂
I JUST HAD THE HEADLINE IN ALL CAPS AND STARTED TYPING THE MESSAGE AND WAS INTO IT A LITTLE WAY WHEN I REALIZED IT WAS STILL IN ALL CAPS.  IT IS 3:35 AM AND AFTER WORKING ON MY WEBSITE NON-STOP PRETTY MUCH ALL DAY, I AM JUST TOO EXHAUSTED TO DO ANYTHING OVER. I AM SURE THAT THERE ARE SOME PEOPLE OUT THEIR LAUGHING THEIR HEADS OFF AT THE TROUBLE THEY HAVE MADE FOR ME.
BUT I AM JUST AS TENACIOUS AS ANYONE AND I WILL NOT GIVE UP.
SATURDAY, MAY 28, 2011
My friend, Jim, wrote the following to me, late yesterday afternoon, after reading my article about what Jesse told me about Oprah trying to get the interview with him for her last show. I no longer watch Oprah's show at all and did not watch her last show this past week.
Jim's Email to me arrived pretty soon after I posted my article about what Jesse told me to post on my site. But, I am so very far behind on reading my Emails (1970 and counting unread…) that I did not even see Jim's Email until way into last night. But here is a copy of the heading from Jim's Email, so you can see that he did indeed write to me AFTER I posted the article about Jesse's comments about Oprah and her desire for the interview with him for her very last show.
Below is the heading from Jim's Email to me with most of our Email addresses erased to protect our privacy.
Subject:

Hi Linda…

Date:

5/27/2011 5:41:04 P.M. Eastern Daylight Time

From:

heartbreak
"I was reading your website update for today…Friday, May 27th….You had stated that Oprah, is a "believer"…..which makes sense to me now, after what she stated on her last show the other day…that Elvis Presley was the interview "that got away"…….when the media reported that the other day, it did not make sense to me, as Oprah's show did not start until 1985….if one were to think along those lines….George Washington and Abe Lincoln, were possibly interviews that "got away" too….
Do you think Oprah "knows"…..she is, at least it appears, very close with Lisa Marie"I thank Jim, from the bottom of my heart, for writing to tell me this because I would never have known what Oprah said about the interview with Elvis which never took place.
I know now that Jesse told me that I could post this on my site, when he called me last Sunday late in the afternoon, because he wanted me to publish it BEFORE her last show aired…which is exactly what I would normally have done. I usually post all of his comments, which he allows me to post, very soon after we speak. But when he asked me to remove the one topic from my site, I began working on that project immediately after we hung up. Because that topic not only included one whole page of nothing but that topic, it was also interspersed throughout my site and therefore I had to go through every page of my site to locate each instance and delete it. Then, I also had 6 YouTube videos related to that one topic. Because I have never deleted a YouTube video before, I could not find how to delete one in a frantic hurry, so I went through each one and erased the titled and changed the title to read "THIS VIDEO HAS BEEN REMOVED"; then I removed all of the descriptions; then I "locked" each video to "private" so no one could any longer view them. Then later when I had a little more time, I went back and did figure out how to actually totally remove them and did so. All of this took me through most of the day on Monday. Then the attacks started on the message board Tuesday morning, when I had planned to sit down and write about my conversation with Jesse, and that side tracked me for the rest of the week until yesterday, when I was finally able to get Jesse's comments posted.
Oprah's comment on her last show, Wednesday, that "Elvis Presley was the interview "that got away"……. is referring to what Jesse was telling me. That is why he emphasized that so much when he spoke to me. He told me that no one else knew about the negotiations which had been taking place for some time. Had I posted his comment Sunday night, as I normally would have done and certainly should have done, her comment on Wednesday would have been proof and confirmation of what he said to me…in that Oprah was NOT EVEN DOING A SHOW BEFORE 1977.  It would have proven that Jesse is Elvis because he knew about the insider negotiations.  He even told me the name of the person at EPE who spoke to Oprah or her people about the interview.
I apologize to you, Jesse, from the bottom of my heart that I did not follow through as quickly as normal on what you told me to post.
footnote on Sunday, May 29, 2011
:
 I have since come to understand that Oprah 

did not 

make the actual comment on her last show.  Evidently, she made the comment earlier in May of 2010 during an interview.  The news media just brought that comment back into focus when writing about her last show.  But, I still regret that I did not get Jesse's comments posted

BEFORE

 her last show.
The first reason for my delay in posting was because I sprang into immediate action to get the one topic totally deleted. I have always said that if Jesse wanted something removed from my site, "it would be gone in a flash". So getting the deletion accomplished was my first priority after we spoke.  The second part of the delay, we have the troublemakers on the message board to thank for that!!!!
I have one way of proving what Jesse told me, on Sunday late in the day, to a few of my supporters. Ironically, earlier on last Sunday, I had posted a news article which asked the question: IS OPRAH A SCIENTOLOGIST?  (The reason I posted the Oprah news article was because it included a video of her with P. P. and Lisa Marie).
When Jesse gave me his information about her trying to get the interview with him, I asked Jesse if he thought that I should remove the post about Oprah and Scientology before I posted his new information about Oprah. Jesse said that he thought that it would be best if we did remove the earlier article. Those who saw the Oprah question on this page last Sunday may have wondered why I removed it without explanation.
If any of you still have a copy of my last Sunday's posted question and article about Oprah, I would appreciate it if you could send it back to me so that I may post it again to prove that I did have the Oprah Scientologist question on here earlier last Sunday before Jesse phoned me late on the afternoon of that same day along with your statement that it did disappear later on Sunday with no explanation from me as to why it just vanished.
Those who have my Email address may send it to me in that manner. If anyone can write their statement to the validity of the Oprah article being on here last Sunday and then disappearing late on Sunday without explanation, but do not have my Email address, please just write a statement to that effect and post it on our Messages to Jesse message board.
Thank you to everyone…especially to Jim who made me aware….
I found an instance where Oprah made the same comment mentioned in the Email to me yesterday.  I don't know if there are other places where this has been reported or not.  But, here is what I found myself:
The morning of the interview had been filled to overflowing. I'd already taped the show and done an hour-long radio program with Gayle King. So by the time Gayle and I—and my cocker spaniel, Sadie!—joined the women in my office, I couldn't have been more ready to kick off my shoes, let down my hair and dish.
Oprah: This is so exciting—I'm glad you're all here, especially since it usually feels like there are only about five people left in the world who I haven't already chatted with. You can ask anything—it's impossible to embarrass me, and there's no wrong question. So who wants to start us off?
Ellyn Shull: I'll start, if I can go back to what you just said. After interviewing so many people, are there any who got away, and who are the ones you still want to talk to?

Oprah: Who got away was Elvis Presley. When I was a kid, I always wanted to talk to Elvis. Another was Jackie Onassis. I had the pleasure and honor of meeting her—I actually ate her clam chowder at my friend Maria Shriver's wedding shower. There's a picture from the shower where I'm….
Here is the link to this interview if you would like to read the entire interview with Oprah:www.oprah.com/omagazine/Oprah-Gets-Interviewed-by-O-Readers
This interview was done in May, 2010 in her own magazine O during which her readers got to ask her questions.
So, since some of us did not get to hear her say this on her final show the other day as was reported in the media, we do have documentation here that she had said this very same thing once before.
footnote on Sunday, May 29, 2011
:
I have since come to understand that Oprah 

did not 

make the actual comment on her last show. Evidently, she made the comment earlier in May of 2010 during an interview. The news media just brought that comment back into focus when writing about her last show. But, I still regret that I did not get Jesse's comments posted

BEFORE

 her last show.
footnote to the Oprah article:
SUNDAY, MAY 29, 2011
My dear friend, Kathy, sent me the following news article about the Oprah comment.  This article is from the official Elvis site – Elvis.com.  Here is the link:  www.elvis.com/news/detail.aspx  This refers to the above interview which I posted last night…from Oprah's magazine O.  My gratefull thanks to Kathy for sharing this.
News Item
Elvis Was "Interview that Got Away" for Oprah
May 25, 2011
Oprah Winfrey's final show airs today after 25 monumental years on daytime television. As she looks back at her more than 4500 episodes, Oprah is also talking about her minor regrets. When asked by a fan recently if there was anyone Oprah wishes she could have interviewed, her first answer was the King of Rock 'n' Roll.
"Who got away was Elvis Presley" says Oprah. "When I was a kid, I always wanted to talk to Elvis. Another was Jackie Onassis."
footnote on Sunday, May 29, 2011
:
I have since come to understand that Oprah 

did not 

make the actual comment on her last show. Evidently, she made the comment earlier in May of 2010 during an interview. The news media just brought that comment back into focus when writing about her last show. But, I still regret that I did not get Jesse's comments posted

BEFORE

 her last show.
My friend, Jim, who sent me the original Email about Oprah's comment, sent me the following in response to my question  to him about where the quote from Oprah ran in the media.  Thank you so  much, Jim, for helping me with this:
The news media, had made a big deal,about her comment about Elvis, being the interview "that got away"….I heard it from several different media outlets….one article I did see mentioned Elvis…and Jackie Onassis….now that interview got away, as Jackie "O", died in 1994…that is quite possible that Oprah had tried in vain, to get to sit down with her…the poor woman passed away, thus, she did "get away"………Elvis on the other hand had "passed" a good 8 years before Oprah's show even began airing….so in that context, her quote about Elvis, makes absolutely no sense.
<<<<<<<<<>>>>>>>>>
My friend, Susan, Emailed me today to say the following regarding the Oprah topic:
Good day Linda , Yes I did indeed see where you had posted, is Oprah a scientologists? Last Sunday 5 – 22 – 2011, you also sent it to me that very day. I did read it in that email and also went into your web site and read it again.  But a few days later, as I was reading your current page number 9, I saw it wasn't there anymore.  I didn't understand why you had removed it,  but thinking you must have had your reason for doing that I didn't question it.  I didn't see Oprah's last show now that I know she said the interview that got way was Elvis Presley sure was sorry I missed that.  You know I feel many in Hollywood know the truth about Elvis. Take care my friend, Love Susan.
MONDAY, MAY 30, 2011 – MEMORIAL DAY
I wish to thank all of the men and women who are currently serving in our nation's military. Thank them for the personal sacrifices they are making to protect our country from harm and to preserve our freedom…a freedom which we sometimes take for granted. I ask God to protect each and every one of them.
I also wish to thank every person who has served in our nations military in the past…both during war times and in peace times.
Let's all remember today to say a hearty "Thank you!!!!" to the people we know who are presently serving as well as those who have in the past.
I want to thank Elvis/Jesse for the time he spent in the late '50's serving in the army. Everyone who served with him remembers what an exemplary soldier he was. I have never heard anyone say anything but glowing words about Elvis the soldier.
Today, I want to share something that Elvis/Jesse did while serving in the army. A friend called me yesterday afternoon to share an account which he heard someone, who served with Elvis/Jesse in the US Army, report yesterday on the Elvis Radio Station on Sirius.
This person said that Elvis/Jesse never accepted any of his army pay while serving. Each time his check arrived, Elvis/Jesse refused his pay and donated it back to the United States. The fellow soldier said that he joked to Elvis/Jesse saying that if he couldn't use the money that he would take it. Elvis/Jesse said "no" he was giving it back to the US. Elvis/Jesse's feelings were that he was making money while he was in the army and the nation could use it.
To put this into perspective, and to appreciate the generosity that this gesture took, we have to recall that when Elvis/Jesse was drafted into the army, he did not know if he would be able to pick up where he left off to continue his recording and movie career when he returned. He had no way of knowing the magnificent career that he had awaiting him upon his return to civilian life. Looking at things from his personal perspective back then, he had no way of being sure that he was not going to need that money himself when he left the military.
So, hats off to you Jesse for your service to our country. You are my hero today and every day!
In that same vein of thought, I want to share another beautiful example of Elvis/Jesse's philosophy about giving. We toured Graceland, back early on when they still had nothing but a live tour guide directing the tours…back in the 80's. We learned something really special during one of those tours…and I don't recall if this is still on the recorded tours or not. In the "hall of gold", at one end of the trophy room, there is a large plaque on which is shown some of the many charities to which Elvis/Jesse donated each year. The tour guide said that Elvis/Jesse never took any of his donations off of his income tax returns because "that spoiled the spirit of giving".
What a wonderful example he set for everyone in the manner in which he lived his life and the way he treated his fellowman.
He no longer lives a lifestyle that affords him the same opportunity for giving as he once did. But, I can tell everyone that he is still that same kind, generous and caring man that he always was. As he has stated, he can no longer give away Cadillacs or the extravagant jewelry that he did when he was still "Elvis"…but his generous heart beats on.
MY NEWEST MESSAGE POSTED ON THE MESSAGES TO JESSE MESSAGE BOARD:
Linda Hood Sigmon
05-30-2011 2:37:08 PM EST
Hi All:
Virus scan completed…so far so good.
Now that I have had more time, I have pinpointed the day on which the virus attack took place and the EXACT spot on that day where it first appeared. It was on Tuesday, May 24th. Therefore, I do have a record of the threats which were posted on that day BEFORE the virus appeared.
These threats may be viewed on my THREATS AND INAPPROPRIATE COMMENTS page…for those who care to view them. Just take note of the May 24 threats and other subsequent inappropriate comments made that same day.
There is a common thread which runs through ALL of the messages posted. I won't explain that thread here and now, but I do want the guilty parties to know and understand that I do know who you are and the connection that exists between all of you.
Even though these threats were posted under totally fake screen names, my site administrator does have access to the IP numbers of those who posted these messages which are nothing more than admissions of guilt. Everyone who posted the threats and anyone who posted between these threats and the exact spot that same day BEFORE the virus actually appeared is considered a part of this attack…except those people who I know and trust.
I DO still have ALL of the messages saved which were posted on that day…even those which include the virus.
There IS a common thread which links these messages all together. It has not been overlooked by me.
I say all of this to forewarn one and all that this type of tampering will not go un-noticed nor un-reported in the future.
I am now doing the virus scans frequently throughout the day in order to exactly pin-point the source of any future attacks of this nature and I will know EXACTLY who is guilty.
This way, everyone may feel totally at ease posting on this board. The guilty will be instantly spotted. Likewise, should an accidental virus be transmitted, I will recognize that it is from someone who is NOT a part of this common thread.
Also, this most assuredly was not just an "accidental" virus infection. Had it not come immediately on the heels of the posted threats, there would perhaps have been that possibility. But, as I said, there is a common thread among those who posted that day between the threats and the point at which the virus appeared.
As an aside, I would also like to say that there was a specific event related to this message board which triggered the HACKING into my current news page immediately following this event. So, as I have stated, I do KNOW the parties involved in the hacking which destroyed almost three weeks of work on my Current News and Events page 8. This caused me to work non-stop for many hours until the wee hours of the morning reconstructing my material. As you know, I cover a lot of ground in three weeks, so it was a vast amount of material to reconstruct. So, I hope that this person has had his fun because it did not take place without my knowing exactly who did the HACKING.
Once again, this same common thread was noted by me in that HACKING attack. HACKING is of a whole 'nother category of Internet crime and is punishable by law. A word to the wise….
Thank you, to all those who love Jesse. as well as those who support me, for posting. I welcome everyone to post messages of love, respect and support on here for Jesse. I do know that, in the past, Jesse has also specifically appreciated and passed his thanks along to the ladies who have posted their letters of support on my current news pages in the past. Both he and I appreciate all of you so very much.
With love,
Linda
NOTICE OF ARTICLE REMOVAL
Because Jesse and I had agreed that I would remove the article regarding the possibility that Oprah is a scientologist before posting his information when we spoke on Sunday, May 22, 2011, I will be removing that article very shortly as I only inserted it again to prove his having given his information about Oprah to me on the date that I reported when I finally had a chance to post his information on Friday May 27th.
SOME VERY GOOD POINTS MADE:
My good friend, Deb, has written the following article for me to post on here to share with my readers…my critics in particular.  My heartfelt thanks to her.
I find it a amusing that naysayers keep posting the same complaints about Linda over and over… "IF" anyone is qualified to make such accusations, then get your name out here as Linda does, please show your credentials, please present your evidence as TRUE authorities have done..By using a screen name, you appear unsure of yourself…If you know something we don't, please come forward with evidence that indicates that Elvis is dead…To prove your TRUTH, it would mean that your evidence does NOT have DISPUTED INFORMATION attached to it….Cannot be done can it?..It's a given that this is a "slippery issue on both sides" and the one person, meaning Jesse, that could clear up all the questions is NOT going to do it, for some good reasons of his own. I for one, understand his reasons.
The evidence that points to Elvis being alive, out weighs the evidence that says he is dead, in my educated opinion…Our court systems do what they call "exhaustive research and investigation" ..If it is good enough for our court/justice system, we should be able to apply it to any mystery we seek an answer for..Just keep looking!!..Multitudes have come to the conclusion that Elvis is alive, including authorities, such as the owner of a lab who tested DNA for Eliza Presley….The autopsy?……Death certificate?…Both of those are in question as the writing matches Elvis's…People have been trying to prove for years that Elvis is FOR SURE dead…so far NOTTA…as in notta-nuff evidence to convince me and a lot of other people, including authorities like Paul Weist, a recognized document examiner…Paul states that Elvis filled out his own death report…His credentials are also posted in this video, along with his conclusion…

One thing that many naysayers have against Linda, has a HUGE HOLE in it!…Many places I have read that people called the FBI and asked if Shirley Mason ever worked for them and the FBI said "NO"…No way is this true!..The FBI would not give out information on ANYBODY who works there, PAST OR PRESENT, due to data privacy laws…I called my daughters place of work to ask if she is working!…they tell me it is "against data privacy laws to divulge that information"…lol…Shirley Mason, the graphologist who held 3 certificates in the field of graphology, has an obituary and it says that she worked at the FBI in Kansas City for 10 years and that her work was used in the court systems…Family can do as they please because they are not bound by data privacy laws… WHY would family make the claim if it was false?…..please check it out… I found 2 obituaries and they say the same thing…
http://heartlandcremation.cyteworks.com/?post_type=Obituary&p=25632
http://www.examiner.net/obituaries/x1991992448/Shirley-Mae-Mason
Her certifications can be viewed here…

Linda Sigmon can be her own "devils advocate"….She understands WHY it is difficult for the public to believe Elvis is alive …She believes in facts/truth and presents both sides of many issues…For example, she sent a copy of Jesse's signature from his book to an Autograph Authentication company that carries credentials….The company gave her a certificate of Authenticity….THEN she sent in the book itself so they could do their authentication again….At that point, the SAME company changed their words because the book was published after 1977, they did not know that at the time of the 1st authentication….AND of course, Elvis died in 1977….Don't you find this company's reaction amusing?…I do!..The point is, she did not have to post both sides of the outcome, but she did because she is HONEST…..You can view this here: AUTHENTICITY DOCUMENT PROVES JESSE'S AUTOGRAPH WAS WRITTEN BY ELVIS

As for Jesse, he gave his DNA to FOX 8 to prove that he is Elvis..He is NOT responsible for mixed up or faulty tissue samples left at the clinic…Jesse/Elvis obviously believed that they would match or he would not have agreed, it is that simple…If you know anything about labs, you know that tissue samples are mislabeled/lost all too often…Google it…I typed in "report on mislabeled tissue sample" and found a SLEW of information and law suits!..One site is entered below please search further as there are so MANY…
http://www.knowerror.com/know_error_blog/mislabeled-biopsy/
For those who find it difficult to believe that Elvis would or could just disappear and get away with it, I have to ask why that is?…People do it everyday….9 years ago my neighbor disappeared without a trace!…He went to work and NEVER came back, left a wife and 5 kids…Everybody assumed he was dead for years…then he called his sister!…He has left no paper trail, chances are he will NEVER come out.. either…My neighbor is just a regular Joe who didn't have any money or the help of influential people to pull it off….He made it work, and you think Elvis couldn't?…For all we know, he could be Jesse's roommate!…lol…
Maybe the next time you decide to make a statement to discredit Linda, you should also post the information to your research that WILL back up your statements..(WARNING! ..you may find the evidence that convinces you that he is NOT dead after all!)…
Nobody is being conned by Linda's website, that is ridiculous!..People come to a conclusion after answering the SAME question with information from many sources….
Linda and I came to the same conclusion, based on information available, LONG before Jesse came forward and there are thousands of us who believe the same thing, way BEFORE Linda started her site…Linda's website backs up what I have ALREADY learned…The FBI has tons of cases they cannot solve!…Do you also discredit the FBI?…Yet people continue to expect the common public, who BELIEVE Elvis is alive, to be able to PROVE 100%, without a doubt that Elvis is alive and living as Jesse??….And again I ask, WHY would that be expected?
It comes down to "evidence" and "burden of proof"…That is why courts rely on the votes of 12 people to make a decision and pray they make the RIGHT one…Yet people are showing up on Linda's message board, offer no "convincing" evidence and then call her a liar…If you do have this evidence, PLEASE send us a link to your website/links with 100% proof that Elvis is dead, and that Linda and Jesse are cons…Don't forget the evidence that proves to what they will gain by this con??…A con is for personal gain….In this case I ask, WHO benefits and HOW ??….While you are busy proving that Elvis is truly dead, please include the evidence that proves WHO killed JFK, why the documents are sealed??.. and WHAT is the reason for the all the secrecy around Area 51?….It would be nice to have those things cleared up as well!…
Let each individual make their own decision and put away the attacks…Linda is a good person, a good friend to Jesse and a good friend to me….Please use your intelligence and common sense and let all of God's Creation do the same…I want readers to know that Linda is not a liar and Jesse is not some goon who thinks he is Elvis!…Linda would have figured that out eons ago…There is nothing wrong with stating WHY you believe what you do, but WHY is it necessary to do it here and then attempt to slander Linda and Jesse? for….Please remember that it is everybody's God given CHOICE to believe what they do for their OWN reasons and not yours alone…
EUREKA!! I HAVE FOUND EXACTLY WHICH MESSAGE ON OUR MESSAGE BOARD CARRIED IN THE VIRUS!!!!
The following is my message which I just posted on the message board:
Linda Hood Sigmon
05-30-2011 11:31:14 PM EST
Hi once again:
It really was not time for another virus check though I can tell you that all is going along beautifully. I thank each of you for posting your wonderful messages.
Eureka!!! I have now pinpointed the exact Email which implanted the virus on this message board. The message was posted at 11:17:56 on Tuesday AM on May 24th.
I do know the identity down to the screen name and user name shown. So, the person who thinks that because it ran in "piggy back" on their message only to show up in the very next message posted…your cover is now blown.
This is just for that person's knowledge and to show others that these childish tactics will not work on my message board nor on my web site as a whole. This person also thought that because they posted only a two line message of sweetness and light that they would not be caught. Guess again!!
Now that I know who it is, I can piece together their history on another message board and their ties to others who have been attacking me as well. Please do stop wasting your time on me. As stated before, this site will not be taken down nor destroyed because I have Elvis Presley himself behind me. Love to all sincere visitors and posters, Linda
TUESDAY, MAY 31, 2011
"Rod" has insisted that I display his message for everyone who visits my site to read. So, here it is permanently displayed:
Rod
05-31-2011 1:48:58 PM EST
I don't think anyone on here is being bullied. The fact is, Linda's site is claiming that Elvis Presley is alive and living under the name of his dead twin brother Jesse and she can't prove her case. All this mean is SCAM. Look Linda…if you don't want to be called a scammer, then do the right thing and prove that Jesse is Elvis. Think about people… come on… you were not born yesterday. If this was Elvis and wants to be left alone, why would he alow Linda to say that he is alive?? Is that so hard to understand?? The fact is, Linda has tapes and books listed on her site for sale and that is all this woman is out to do and that is to make a buck. Linda.. Why don't you leave this message up so people can read it and make their own mind up. Some people don't have enough sense when it comes to stuff like this. Don't get me wrong, I believe that Elvis is still alive, but he does not have contact with anyone and he is not allowing this woman as his voice. Just think about people and wise up cause here are are a few things you all need to understand. First of all, any one can mimmick a voice. I have done Elvis voice my whole life and sounded just like him. Funny how the voice on the tape has only been studied by one perfesional. He could have been paid money to say that. Same way with the so called hand written letters from Elvis. Just one so called perfesional took a look and said, that it was elvis hand writting. A little odd huh? Why not get many to study these voice recordings and hand written letters?? I think that would make more sense, when trying to prove that Elvis faked his death and that he is very much alive. Oh yeah… the man and boy on the ridding mower… The boy does not look anything like Lisa Maries son. Could you not find any pictures with the same age? No.. all you get is a picture when he was younger and a picture with him a few years older. As far as the old dude on the mower… Does not look like Elvis at all. Not only that… Photo cropping in th ethings these days. Anyone can take a piture of a person and do all kind of neat stuff with it. That is all that is folks. Don't get me wrong. Linda and droctor Hinton has done their homework.. Oh yeah… The Ali photo.. Not Elvis at all. Do your homework people!!
<<<<<<<<<<>>>>>>>>>>
Here is my response to Rod which I just posted on the message board:
Linda Hood Sigmon
05-31-2011 3:36:11 PM EST
Hi Rod: OK…I will leave your message up for everyone to read if that will make you satisfied. YOU DID POST THE SAME IDENTICAL MESSAGE TWO TIMES. I did delete one of them. You are completely out of line coming on this board when I have said time and time again to ONLY POST MESSAGES OF LOVE AND SUPPORT FOR ELVIS/JESSE. Is that so very hard to understand? Everything on my site is absolutely the truth…EVERYTHING. I have time and time again told every single visitor in bold statements: If you don't believe my site, then just DON'T COME HERE. YOUR STATEMENT THAT I AM SELLING BOOKS, TAPES OR ANYTHING ELSE ON THIS SITE IS AN ABSOLUTE LIE. I CHALLENGE YOU TO SHOW ME ONE SINGLE SOLITARY INSTANCE WHERE I HAVE EVER LISTED ANYTHING FOR SALE ON HERE OR ANYWHERE ELSE. PLEASE DO PRESENT THE PROOF THAT I HAVE NOW OR EVER SOLD ANYTHING. I HAVE NOT AND WILL NOT EVER SELL ANYTHING OR TAKE ONE PENNY FROM ANYONE. I have displayed OTHER PEOPLES THINGS for sale along with the links to those sites when I come across something relevant to my site which I think my visitors may be interested in purchasing. I have explained why Elvis left in 1977, he explained it all in his book as well, I have time and again shown most of the letters which he wrote in the book and told the entire history of Elvis becoming Jesse more than once. WHAT EXACTLY DO YOU WANT ME TO DO???? WHY ARE YOU EVEN HERE ON MY SITE MUCH LESS ON MY MESSAGE BOARD TO ELVIS/JESSE???? You are not now, nor will you ever be serving any purpose by coming here. I will not ever close down my site nor will I give into those cowardly bullies who represent Jon Cotner, etc. who post threats (SEE MY THREATS PAGE DISPLAYING EVERY THING THEY SAID) or infect my message board with viruses. I shall also copy and paste your message on that board as well as on my current news and events page if that will satisfy your need to spread your lies in front of those who visit my site. Consider it done. If you could possibly have any proof of what you are writing, please feel free to pay to operate your own web site to display your 23 years of research and your findings to back up what you are saying as I am doing…along with your full name, etc. as I am doing. This is my final words of acknowledgement to you.
TUESDAY, MAY 31, 2011
…on a much more interesting note:  I came across a site which lists all kinds of movies for sale.  I see that they have avery good number of Elvis and Elvis related movies for sale.  The prices are fantastic on those which I perused.  If you just type is Elvis in the search box, you will see all kinds of goodies.  One in particular is THIS IS ELVIS – The two disc special edition.  Here is the link to this item:www.cheapestdvdprice.com/prices/085391150022-this-is-elvis-two-disc-special-edition#new_used. I think you will remember all of the important information about this movie which I have displayed previously tying it to Orion Pictures.
Also, I plan to place a new article on here (as soon as I stop fighting with troublemakers) about another Orion movie that is very big on Elvis clues.  It is Robocop 2.  I have to attempt to copy the significant parts from VHS tape onto a DVD in order that I can present it on YouTube for proof of that which I write about it.  As hard as I always work to document just about everything, I still have people calling me a liar.  This is, of course, very aggravating and frustrating.  But, I certainly won't stop sharing that which I already have on here and whatever else comes to my memory from all of the things that I have found and have learned…plus what Jesse gives me permission to share on my site.
Robocop 2 has one scene in it where the good guys go into an old building and there is a "shrine" of some sort.  In that "shrine" , there is first a beautiful photo of Elvis from the '68 Comeback Special; then a coffin with another photo of Elvis above it.  If that is not enough, a song in the movie "The Kid Goes Wild" is co-published by Little Elvis, and to cap it all off Linda Thompson has a tiny bit part in this movie as "the lady with the baby".  How's that for an Elvis and Orion Pictures connection!?
Here is the link where one may buy this movie (at the same site as the one shown above for THIS IS ELVIS):www.cheapestdvdprice.com/search/robocop-2
I hope to get around to preparing the YouTube video in the next few days.
Below are some pieces of information from Internet Movie Data Base at IMDB.com
Link: www.imdb.com/title/tt0100502/
Please note that songs listed here (and in the movie credits) cannot always be found on CD soundtracks. Please check CD track details for confirmation.
"THE KID GOES WILD"
Performed by Babylon A.D., Courtesy of Arista Records, Inc.
Written by DEREK DAVIS, JACK PONITT & VIC PEPE
Published by BMG Songs, Inc., Little Elvis, Musical Jack, Ponti Music, Perfect Pen Music,
Warner Bros. Music Corp. (ASCAP)
WEDNESDAY, JUNE 1, 2011
My dear friend, Pat wrote me tonight to tell me that the documentary Elvis – A Generous Heart is airing again this week on the Documentary channel (Channel 267 on DirecTV).  It will air on Thursday June 2 at 12:00 PM and on Saturday June 11 at 6:00 PM.  It is so.o.o.o.o good!!
ROBOCOP 2 – cont'd.
I ran into some technical difficulties in getting my video loaded onto YouTube for public display.  I am so sorry because it is so good…the Elvis scene is just so impressive…the camera pans in close up on the photos of Elvis, the guitar and the coffin with the photo of Elvis above it.,,the coffin scene ain't pretty though.  In the "shrine" scene there is also a large photo of Mother Teresa and another smaller picture which I believe is Jesus.  Then there is the cast credit to Linda Thompson and Little Elvis in the soundtrack list.
****footnote: I have managed to capture some screen shots of the Elvis photo, guitar, coffin, etc. and have saved them as photos which I have inserted at the very end of this article. Please do check out these for visual proof.
For those who are able to get the MGMHD channel (DirecTV channel #562), I see that Robocop 2 will air once more on Friday, June 10th at 1:40 PM.  If you are able to catch this when it airs or tape it, you will be so happy that you did just to see these Elvis clues.  I suggest that you tape it in order that you may pause during the most significant scenes and to be able to read the credits closely.
If you are able to catch this movie on another TV channel or buy an inexpensive copy of it, you will be well rewarded for your interest. It is one of the most significant Orion – Elvis clues.
The plot focuses around the police fighting a drug cult and the associated crime…topics of great interest to Elvis in the past.
To further substantiate that it really is the same Linda Diane Thompson who was Elvis's long time girlfriend, I am going to insert below some of her personal profile and filmography from 
Internet Move Data Base
.  Here is the link to that page of their site:  
www.imdb.com/name/nm0860419/
This is a very interesting profile to view in and of itself.
ROBOCOP 2 — SCREEN SHOTS OF SIGNIFICANT SCENES AND CREDITS PERTAINING TO ELVIS:
I was able to upload the video to YouTube, but because I taped it on the VCR/DVD from the TV airing on the MGM channel, MGM copyrights prohibit my showing it to others. So, only I can watch my video of it on YouTube. I copied some of the YouTube screen with my above photos so everyone can see that I really did upload it to YouTube. (I have to prove every detail to keep my detractors at bay.) LOL
THURSDAY, JUNE 2, 2011
My heartfelt thanks to my closest friend and sister-by-choice, M. J., who loves Jesse just as I do….
JUST A NOTE TO LINDA'S DETRACTORS…
After Jesse's call to Linda on Sunday, 5/22/11, she phoned me later that evening to share their conversation with me. He DID tell her that talks between Oprah Winfrey and his people had been ongoing, to hopefully secure him as Oprah's final show interview. Thankfully, that did not come to fruition.
I know that the majority of fans scoff at the idea that Elvis is now Jesse, but stop and think just how very logical that it is for this to be fact…
You have a beautiful, young wife, joyful with the knowledge that she is going to have a baby. As her pregnancy progresses, she "knows" that she was carrying twins. Imagine when, in the wee hours of the morning of 1/8/35, with rain beating hard on that shotgun shack at 306 Saltillo Rd. in Tupelo, with 2 midwives present and an accomplished local doctor (over 900 deliveries)…that beautiful, young wife's joy turning to heartbreak as her firstborn child comes into the world stillborn. But yes, her "knowledge" is real. And 30 minutes later, she delivers her first son's twin brother, alive and well, with blue eyes and blonde hair.
The surviving twin grows up straight and tall, told lovingly by his mother and father too, that he had taken over his deceased twin brother's soul and spirit. He was special, having the power of 2 people. Infused with all the positive attributes that baby Jessie might have had, as well as his own.
Always told, by his beautiful, young mother of the twin brother he never knew in this world, but how they knew one another before, living, being, growing together in her womb, under her loving, and gently beating heart.
This knowledge, this fact, would ring so strong, so true with him, that from an early age, "He'd run up to you as soon as you'd come into the house," telling you right quick, "I had a brother."
Can you see people, his pain, his longing for his twin, the twin brother that did not survive? Why did he survive and not baby Jessie? Was it something that he had done to his brother inutero that took his twin's life? How can he make it up to baby Jessie, to give him the life that he had not had? How can he allow his brother life, this gift given to us all by a loving, heavenly Father? Is there a way to complete baby Jessie's life, to prevent his being stillborn, to give him his life? Perhaps, he can give his twin brother, HIS life? Perhaps, he can give this gift, this totally loving, unselfish gift of himself to his twin, for had not his twin done the same for him? Remember, he has survived. Yes, this is baby Jessie's time…
This is baby Jessie's time at a life, to live simply, yet beautifully, the normal, everyday life of a man rich and full with virtue from God, blessed by God. Just a normal, everyday man, but one who had had a world famous brother. A brother, who yes, did fulfill his mother's vision to become something so special, so good, to lead, to become a great leader of men. A brother that the world would know so well, that only his first name would bring recognition the world over. But that was then, and this is now, and this is Jessie's life.
Yes, a simply beautifully normal life for a stillborn babe, whose spirit, whose presence, transcended both time and matter, who was always one with his surviving twin, and finally how that surviving twin chose to so unselfishly, so lovingly, to give him, HIS life…
With love and thanks to Jesse, and Linda…
MJ
reference:
Baby, Let's Play House, Elvis Presley and the Women Who Loved Him
By Alanna Nash
Elvis The Early Years 2001 Fact Odyssey
By Jim Curtin with Renata Ginter
FRIDAY, JUNE 3, 2011
My heartfelt thanks to another dear friend, Pepper.  She has provided me with words of encouragement and support at the times when I have needed it the most.  She wrote the following letter for everyone to read…especially my critics who have written lies about me and my web site.
Hi Linda,
I shy away from getting involved in stressful situations, but sometimes I believe it is best to simply dive in knowing I will always come up breathing. LOL. I hope I get to the point and not ramble, but I can't guarantee anything.
I am grateful that I was lead to you and your site nearly a year ago. I have read every page you have written; sometimes more than once. It has all been so fun and interesting. One day I read that Elvis was still living and that he was now using his twin's name. I have always been amazed that you share so much information and that you document everything. I know that you have never insisted that your readers believe you. On the contrary, I surmise that you don't care one way or the other. You simply tell us that you know he is alive so that we will know. You spend countless hours researching and posting your information….not because you have to and not because Elvis/Jesse says you have to. He simply told you he didn't care if you told the world he did not stop breathing on August 16, 1977….at least not permanently….and that he is still living. I'm not sure why this is a problem for some readers.  It is so clear to me. Of course in the early years only a few could know his plan because he couldn't accomplish it alone. After that he had to stay in hiding as best as possible; especially when he had a humongous bounty on his head. Wouldn't anyone do the same thing in the same circumstance? I think so.
And for those who say Elvis/Jesse certainly wouldn't choose Linda/Shuma Hood Sigmon or Dr. Donald Hinton to confide in. Well, why not? He did. Why is that so difficult to believe? Most of us don't know you other than how you represent yourself on your website. And most of us see you as an honest, caring, loving person. Why is it so difficult to think Elvis/Jesse would see you any differently? Your friendship didn't happen in a split second. But, I think it is fantastic that through the years your friendship developed; you felt at ease with each other and trust was one of the results that blossomed. That's what makes it so 'special', and now you are willing to share your knowledge with his many fans because you knew it would be a great gift for us.
And then someone recently said…more than once….that you have your website only to make money. Where on earth could they possibly get that thought?  I suppose someone could have got them all riled up saying that is what you do, and they jumped in like an idiot without checking it out. Don't you hate it when that happens? I don't know why they said it or why they think it, but I can testify to your readers that not once have you ever sold anything on your website. However, in some of you articles' you have told us about a book that you thought we might like to read or a movie that you recommend if we would like to see for ourselves information you have posted. I for one am thrilled that you do this, because I would never have known about the book or movie without you bringing it to my attention. I have found several items on Amazon for very reasonable prices and you certainly made nothing from Amazon or me for any of those sales. I'd like to think it is a case of a simple misunderstanding, but with such harsh, hurtful, and hateful words I'm sure that it isn't.
Like I believe someone said you are delusional. Delude means mis-lead, deceive, and trick. You have not done this at all. You are simply stating facts, as you know them, and sharing the information with your readers. And you are not basing your information on 'pure' fantasy and fiction. For Pete's sake you document nearly everything you post. In fact you spend way too much time on your site, and I imagine you do because now Jesse wants the masses to know he no longer wants to be known as Elvis Presley, and you want to help him convey his feelings. He is aware that the majority of fans remember him as a young entertainer, and obviously almost thirty-four years later he has changed…as we all have. Jesse is real…he is not imaginary.
And to the person who referred to him as an 'old dude' on the mower….he was around sixty when that picture was taken. Check out those muscles. Look at his physic. And the hands…look at his hands. The hands are certain to give him away. His hands are large and rough; perhaps because he practiced karate. The first time I saw the picture I was sad…I was sad because it was obvious he had plastic surgery, and maybe it wasn't extensive, but it certainly changed him to look nothing like Elvis when I first saw it. I immediately noticed his hands and then I knew it really was Elvis. The more I looked at it I recognized the eyes, and of course Linda brought us up to date with the picture comparisons of bone structure, and now there is no doubt in my mind that it is a picture of Elvis/Jesse with his grandson, Benjamin.
I am sorry that Elvis thought he had to go through the surgery to keep from being recognized. I kept thinking, 'Why mess with perfection?'I'm glad he didn't have the surgery before we met or I probably would not have recognized him. I am amazed that anyone thought the picture is Dick VanDyke. I don't see a likeness, but for the grey hair and the smile. But even though someone thought it was not Elvis/Jesse, it certainly does not justify cruel, hateful, hurtful remarks. When you reach sixty take your picture and compare pictures. I'm betting you won't be in nearly as good shape. I will be seventy-seven September 29 and through the years I have learned those who criticize many times wish they hadn't because it comes back to bite em,' so be careful what you say about another person.
As for the grandson not looking like Lisa Marie's son….well, I guess it is a matter of opinion, because I see a definite likeness; enough so that I don't question it. First of all Linda could only compare him with the pictures she had and secondly it would have been impossible to compare him with a teenage picture because many little boys and girls look nothing like they did in their younger years.
Now you may question why I believe Linda to be telling the truth. I am not being tricked. I am not senile. I am not being scammed and neither is anyone else….at least not by Linda. She is not a fraud. She is totally honest. She says what she means and means what she says. She has not one reason to lie to her reader's. I don't like to see anyone mistreated, but especially a person who is kind, caring, and loving. Linda isn't trying to win an award and she has chosen not to earn one cent for her website. I for one would be more than happy to pay a small annual fee to have access to her website; say sixty dollars. Five dollars a month is a bargain for all that she shares and in my opinion she wouldn't be making money off of her friendship with Elvis….she would simply be paid a bit for all the hours she works and for paper and ink supplies plus postage. I'm betting many readers are unaware of just how hard she works and she continues to even when she is experiencing pain and can hardly function. She does this for us, her readers' because she knows if she didn't make her message board active we would have no way to stay in touch with Elvis/Jesse and because she is totally dedicated to him.
And believe me when I say she knows it is 'the Elvis Presley' that she is sharing with us. She would not waste her time on an imposter and if it was an imposter, she would have been aware of that many years ago. No one is scamming her. Elvis could use any name; George, Jerry, Adam, Sam, Michael, etc. And it wouldn't change who he is, but he chose the name of Jesse, his twin, it makes sense to me.
And don't you imagine he is still the fun loving person he was when he changed his lifestyle? I imagine he is and that he is still ornery. But he wouldn't be the same, because he no longer is dependent on drugs. He does not have a grueling schedule, and I imagine he eats fewer hamburgers.' It seems to me when he got into a different kind of work it would have been fun and rewarding to him. That would have changed his outlook on life.  I hope he has retired by now regardless of how young he feels because there's a lot to say about retirement.
Linda has proven he is alive with all the information on her website and I know he was living March 12, 1988. Elvis and I shocked each other around three-fifteen that morning because we were led to walk on the same aisle facing each other. It was a major shock for me. I believe his was a minor one. He had probably experienced that several times before our unexpected encounter.  But apparently he got uncomfortable with so many people recognizing him which made him get surgery. Some of you, no doubt, know he did not like the outcome of his surgery, so that was another major change he had to get used to and accept. One thing I have learned this past year is; it wasn't easy being Elvis.
Now for the person or persons who say Linda has not proved that Jesse is Elvis…I say they have not read everything she has posted to her website nor have they read, 'The Truth about Elvis Aron Presley: In His Own Words", written by Dr. Donald Hinton with Jesse. To tell Linda if she doesn't want to be called a scammer she needs to do the 'right thing' and prove that Jesse is Elvis. Gads! She has.
This same reader asks, if Elvis wants to be left alone, why would he allow Linda to say that he is alive? And he goes on to ask, is that so hard to understand? Well apparently it is for him. Now I ask, is it so hard for him to understand Elvis/Jesse doesn't necessarily want to be alone, but he can't come out among us and live freely because he may still have a bounty on him and because fans just simply would not let him have privacy? He couldn't handle it when he was 42. It's for sure he couldn't handle it now at the age of 76, and who on earth would expect him to? Jesse is not senile either, so he is still able to make decisions. It would be very difficult for him not to have contact with anyone…and yes….he welcomes Linda to be his voice.
As for the comment, 'Anyone can mimic a voice….some can, but more can't. I'm one who can't. And this guy may do a god job of sounding like Elvis, but Elvis has such a unique, beautiful voice…no one can mimic him…exactly. And I can't believe anyone would expect a tape be 'studied' by more than one professional person. I imagine it is quite costly to have a voice authenticated. Maybe he would like to fund the cost of additional professionals. And as far as accepting a fee to lie about the results of the work done; get real. No one would take their profession so lightly. Anyone doing this kind of work would have great character and take pride in their expertise; they would not lie. And yes, the same thing applies to handwriting experts. I've never heard of getting a second opinion and there isn't anything wrong with it, but they are going to come to the same conclusion, so then what. How many confirmations would it take for you to accept the fact it is Elvis's voice and Elvis's handwriting?
Well, I didn't ramble, but I sure said a lot….sorry folks. It was just important for me to get this said. If you don't like what I wrote or don't agree on some issues, please don't beat me up. I'm glad I wrote this for the 'Current News and Events Page'. If I would have disregarded Linda's request to keep the message board strictly for messages to Jesse….I would have opened an oversized can of worms.
Lastly, I am going to comment on a statement a reader made. He or she told Linda, "Your followers are becoming fewer." Honestly! Where on earth did that come from? I'm keeping tabs on the numbers at the top of Linda's home page. It seems to me the numbers are growing very fast, and I think it's great. Please Linda…continue to persevere. Your dedicated, hard work does not go unnoticed.
Sincerely my friend, Pepper
FRIDAY, JUNE 3, 2011
For those who are new to this page or new to this site:  I have a message board open to the public to post messages to Elvis/Jesse.
Everyone is welcome to post as much as you like.  But, only messages to Elvis/Jesse, please.  The following is the link:
SATURDAY, JUNE 4, 2011
I want to share the Edgar Cayce Thought for the Day with everyone.  I try my very best to magnify the truth, the good, and to overcome the false through this web site.  With the help of God, I hope that I am making some headway in doing so for Elvis/Jesse.  There is so much false information about him in the world.  I wish everyone could know him as I do…the true man…not the "image".
Think on This …
Thus the purpose of each experience is that the entity may magnify and glorify that which is good. For, good is of the one source, God, and is eternal. Then as an individual entity magnifies that which is good, and minimizes that which is false, it grows in grace, in knowledge, in understanding.
Edgar Cayce Reading 2599-1
Association for Research and Enlightenment.
LIES!!!!!!!!!
You may view the full complaint and my response at the above link.
FOOTNOTE: WEDNESDAY, JUNE 8, 2011: 
When this complaint came up in my current Google News Alerts for today, I thought that the complaint had just been filed. However, when I went back to read the comments posted in my defense, I see that the original complaint was actually filed on 18th of Mar, 2011. Had, I noticed the date of the complaint earlier today; I would not have made an issue of it. Please forgive this oversight on my part. I am still glad that it came to my attention in order that I could post my own rebuttal. Again, I thank my wonderful friends who stepped forward to defend me and the truth which I share about Elvis/Jesse.
WEDNESDAY, JUNE 8, 2011
I want to thank my dear friends who posted their comments of support for me on the above site in response to the complaint filed against me.
Below are the comments which they posted:
8 hours 12 minutes ago by Bobbi
If what you state is correct, this website you are so concerned with is opinion based only. Everyone under law is given the freedom of opinion –including you. You have given your opinion and I for one just wish to ignore it as is MY right. You do not have the right to tell me what to think. While you state this whole site is lies and nothing has been proven, you have yet to PROVE anything she has written is a lie. So I guess we are back to square one. Why is it so hard for people of your GREAT intelligence to just stay away from something you claim is so bogus, lies and just not true? I don't understand. If the fans that follow Linda are being fooled and chose to I guess it is your opinion that we are way beyond stupid and can not be helped any way so why do you bother?
How much time do you devote to people who REALLY do damage to people in this world? Do you really think that people are damaged by entertaining the fact that Elvis is alive? How silly. I believe that there could be life on other planets, I believe In God and Jesus, among many other things. Things that can not be proven. My Choice–what is it to you or anyone else for that matter.
You have admitted to selling things and making money from your relationship (which I have seen no proof of by the way nor do I care to see any). Linda, makes nor asks for ANYTHING from anyone. So what scam is there.
How many conversations have you ever had with Elvis Presley to know or not know what he would think or do? I think that would be the same as me NONE. So your insight is the same as you claim Linda's to be –NONE.
Why can't you just leave the ones of us that want to believe ALONE. When you get that email from someone begging for your help to get away from Linda, because she has them tied down and is water boarding them into coming to her site or embracing her thoughts and she just won't leave them alone then help that person! For the rest of us who sit down at our computers and type in that web address or a site on Elvis being alive and there are many that have NOTHING to do with Linda we do so because we WANT to. Use all that intelligence doing good not evil and let us as some are so proud of saying "get what we deserve'.
Why do you care so much what others do.
Here's fair you maybe your correct in everything you say and Elvis may be deader than a door nail–now what? What's your fight about —I don't get it. I will still believe Linda, think she is a wonderful person and be grateful to call her my friend forever.
I think you will find out that if you go on your merry way believing what you wish, doing what you wish without bringing Linda up or caring about the rest of us losers your name would never be mentioned.
Maybe in there lies the real problem. GREATNESS will not be ignored I guess lol.
5 hours 49 minutes ago by Loretta Ann Pereira
I think its wrong to base our facts 'only' on what the media has told us. It proclaims that Elvis Presley died on August 16th 1977. I will not argue that fact. I do believe that the' image' that Mr. Elvis Aron Presley 'created' for the public's entertainment and enjoyment DID indeed "DIE" (ie. was laid to rest, retired, no longer in commission..etc I believe too that because of the vast magnitude of his Fame, unlike any of that time period, I believe Mr. Presley felt is necessary, and felt perhaps it was the only way to have a normal private life…was to let go of his former self, so to speak, and in essence, 'die to self'…and become someone else and take on a new name, the new name being Jesse Presley. This is NOT a new concept by any means . Its actually biblical. Where a person, lets go of their former life, sins, etc, repents, and become a New Creature. They die to SELF, BUT ARE VERY MUCH ALIVE AND BREATHING.!!! And, its also Biblical that people are RE-NAMED. In The Bible, Saul after conversion became …PAUL, etc. I acknowledge that I am looking at this from a Christian perspective, but just to show that THIS SPIRITUAL CONCEPT of dying to self, re-nameing one's self has been around 2000+ years, if not longer …and its not seen in any way as weird or unethical. If this is what Mr. Presley chose to do, in his own way, to start a new life…then it was his decision to make and no one else's.I think its sad that people attack Linda Hood Sigmon the way they do. I want to state that I find Linda Hood Sigmon to be a very kind, rational, thoughtful Human Being . She certainly does not deserve all the harassing and attacks that come her way, just because she has stated she is in contact with the Man whom the world all knew as Elvis Presley. I find that none of her accusers can disprove (beyond a shadow of a doubt ), that she isn't talking with the Man now know as Jesse (aka Elvis Presley ) None of her accusers are, I doubt, even close to her enough to know any of her private business. So, to me, it appears that her accusers and naysayers, continue to harass her out of sheer boredom in their own lives and probably jealousy too. It sad to see so many adults acting that way. I mean, you would think that people would be happy to know Elvis /Jesse is alive and well, and has reached out and is talking with Linda and is sharing bits and pieces of his life .And, that she is kindly sharing that part of her life with others. She does not have to do that..and I think its wonderful that she does !I think that the proper thing to do here would be to just not read Linda's website if it personally bothers others too much. It amazes me how people will call Linda a liar and a fake…yet they return again and again OF THEIR OWN FREE WILL to read what she posts only to argue the SAME THING over and over again. Linda cannot change her position on the matter as she is telling the truth ! She does not owe anyone the burden of proof, as the internet and her website is NOT a court of Law.She is not on trial here. She has page after page of info. and facts, that hopefully people will take time out to read ..AND THEN MAKE UP THEIR OWN MINDS. If after having read everything Linda has to offer, and they still don't believe ? Then its time for them to move on quietly down the road, conduct themselves in an adult manner, and just believe whatsoever they wish to believe about the so called death of Elvis Presley.Thank you for your time in allowing me to have my say on the matter.Loretta Ann Pereira
4 hours 55 minutes ago by Pepper Ritter
It is easy for me to trust what Linda Hood Sigmon says on her site because she has no reason to lie and because she is sharing what she knows about Elvis/Jesse or at least some of what she knows. I have read every word on every page that she has shared with her readers and she has never once said she is Elvis/Jesse's only friend. If she even felt like she was why would she share her knowledge? She wouldn't even want to be his only friend. What kind of friend would that be? They both have scads of friends. And it doesn't make any difference to me if Elvis/Jesse considers me his friend. We have only met once, but had we never met wouldn't necessarily mean we weren't friends.It's all in the heart, and I know Linda, Elvis/Jesse, and me have big hearts and lots of compassion for others…we don't have to know or be a friend to someone to have these feelings for them.We wish nothing but good things to everyone, and we include everyone in our prayers…including the person who is talking so unkindly to Linda. I don't know why, but it appears you have a vendetta against Linda.Is it simply because she has told us that Elvis didn't die and has changed his name to Jesse, or is it more than that? Perhaps we could clear up this situation if it is a simple mis-understanding.Don't you think it would be worth the effort? Life is just too short to have ill feelings for anyone especially when it involves such a sweet, kind, loving spirit as Linda. I guess you haven't read that the one and only time I met Elvis was March 12, 1988.It was a major shock for me and I imagine a minor shock for Elvis. It was around 3:15 in the morning. He was so handsome. Was in great shape, and treated me like he was a true southern gentleman. I read the book he allowed Dr. Hinton to write and I knew then that he was still alive in 2001. I didn't hear about the book until last year. It was by reading the book that I heard about Linda Hood Sigmon (Shuma) and I wan't to get in contactt with her to tell her my story. It took a bunch of effort, but it happened.Next was reading all the fascinating information on her website. It realy is nothing but the truth. She spends lots of hours of her time to share all this with us…and for free.I am not scamming or being scammed…Linda is not scamming or being scammed and Elvis/Jesse is not scaming or being scammed. I just wish everyone could believe Elvis did sneak away from us and has used names other than Elvis Presley since August 16, 1977 and that now he uses the name, Jesse. I testify to anyone who is interested…MY WORDS ARE TRUE. Sincerely, Pepper Ritter
When this complaint came up in my current Google News Alerts for today, I thought that the complaint had just been filed. However, when I went back to read the comments posted in my defense, I see that the original complaint was actually filed on 18th of Mar, 2011. Had, I noticed the date of the complaint earlier today; I would not have made an issue of it. Please forgive this oversight on my part. I am still glad that it came to my attention in order that I could post my own rebuttal. Again, I thank my wonderful friends who stepped forward to defend me and the truth which I share about Elvis/Jesse.
WEDNESDAY, JUNE 8, 2011
I have recently become aware of a YouTube Channel which has some of the more rare videos. This is the channel name:  alstrada's Channel www.RareElvisPresley.com.  Below are two of the videos which I have enjoyed very much.
Footnote:  Unfortunately, YouTube has cancelled Al Strada's account.  What a shame as he had hundreds of very special and rare videos.
THURSDAY, JUNE 9, 2011
I wish to share the Edgar Cayce Thought for the Day once again. It is very difficult to be strong enough not to allow the attacks of others to provoke words of retribution from me. I understand why Jesse has told me that my only response "shall be LIES!!!!". But, being only human, there are times when I feel that I must refute the lies written about me. Only God can sort everything out. I do try my best to handle each day properly
I do remind my detractors that they too shall meet that which they so unjustly speak about me, Elvis/Jesse and the truth which I share on my web site. God knows that everything on my site is the truth.
Think on This …
. . . those that find fault with others will find fault in themselves; for they are writing their own record–they must meet, every one, that which they have said about another; for so is the image, the soul of the Creator in each body, and when ye speak evil of or unkindly to thy brother, thou hast done it unto thy God.
Edgar Cayce Reading 487-17
I enjoyed viewing and listening to what Jesse Jackson had to say about Elvis.  I do not agree with some of the things which Mr. Jackson has done and said…but I do like what he said about Elvis in the following YouTube video:
This video is owned by:  kingluella10
Here is the clickable link:  youtu.be/tEI5JfqeBoY
The title of this video is:
Jesse Jackson on Elvis Presley
FRIDAY, JUNE 10, 2011
Once more, sharing the Edgar Cayce Thought for the Day.  May God grant us all the grace to live by these words:
This e-mail was sent out in HTML format. If you can read this, then your e-mail reader doesn't support HTML. –>
Think on This …
And as ye give, so may ye receive. For with what measure ye mete, so is it measured to thee again. Make this clear in the experience of all.
Edgar Cayce Reading 1823-1
Become part of the legacy.

<<<<<<<<<<>>>>>>>>>>
I just found that a copy of Jesse's book is listed for sale on EBay. Because I know that some of my visitors have asked about buying Jesse's book, I am going to share the link to this item below.
PLEASE NOTE: I AM NOT SELLING THIS BOOK; I DO NOT KNOW WHO IS SELLING THIS BOOK: I NEVERSELL ANYTHING ON THIS SITE NOR WILL I EVER SELL ANYTING ON THIS SITE.
I see that the proceeds of this sale goes to Goodwill Industries in Indiana. It is for sale as BUY IT NOW with free shipping for $64.90.
The Truth About Elvis Aron Presley: In His Own Words, D

Item condition:
Good
Time left:
29d 03h (Jul 09, 201111:41:45 PDT)
Price:

US $64.90
| Shipping and handling | To | Service | Estimated delivery* |
| --- | --- | --- | --- |
| Free shipping | United States | | Between Tue. Jun. 14 and Mon. Jun. 27 |
Goodwill Industries of Northeast Indiana Inc.
Certified for eBay Giving Works since 2005. MissionFish nonprofit ID 8123.
Goodwill changes lives by providing opportunities for people to build independence.
Location: Fort Wayne, IN 46804
Web address: www.fwgoodwill.org
Item specifics – Nonfiction Books
Condition:

Good: A book that has been read but is in good condition. Very minimal damage to the cover including scuff marks, but no holes or tears. The dust jacket for hard covers may not be included. Binding has minimal wear. The majority of pages are undamaged with minimal creasing or tearing, minimal pencil underlining of text, no highlighting of text, no writing in margins. No missing pages. See the seller's listing for full details and description of any imperfections.

See all condition definitions

– opens in a new window or tab

… 

Read moreabout the condition

Publisher:
Amer Literary Pr
ISBN-10:
1561676764
Subject:
Biography & Autobiography
ISBN-13:
9781561676767
Topic:
—
Format:
Paperback
Language:
English
Publication Year:
2001
Special Attributes:
—
Detailed item info
l version="1.0″ encoding="utf-8–>
Size

Length:

88 pages

Height:

8.5 in.

Width:

5.3 in.

Thickness:

0.2 in.

Weight:

4.8 oz.
A good friend shared the following rare photo with me recently and I think others will enjoy it as I did.  It is a photo of Elvis shopping.  It appears that he may be wearing the Federal DEA emblem on his jacket…though it is difficult to tell for sure.
SATURDAY, JUNE 11, 2011
I just came across this rather weird story which is told by Alice Cooper…not someone whose words I would normally pay any attention to.  But, since this is about Elvis, I decided to read it just to see what he had to say.  It starts out sounding pretty strange but it has a wonderful Elvis ending to it which I just love.
Alice Cooper: 'Elvis Asked Me To Put A Gun To His Head'

artist: alice cooper
date: 06/09/2011
category: 

general music news
Alice Cooper has revealed that upon meeting Elvis Presley for the first time, The King handed him a pistol and told him to put the gun to his (Elvis's) head. Speaking to London's Daily Mirror, Cooper said the incident occurred in 1971, in Elvis's penthouse suite in a Las Vegas hotel.
"Elvis took me into the kitchen, opened a drawer, and pulled out a loaded pistol, telling me to put it to his head", Cooper said. "I recognized it straight away – a snub .32. I didn't know what to do. I had this gun in my hand and was expecting one of his security [people] to come in any second, see me holding a weapon and shoot me dead."
Cooper continued: "A little voice in my left ear was telling me, 'Go on, this is history, kill him, you'll always be the guy who killed Elvis'. In my other ear was another voice saying, 'You can't kill him, it's Elvis Presley – wound him instead, you'll only get a few years!' A fraction of a second later Elvis did a flying kick on the gun, and sent it flying, before tripping me and pinning me to the ground by my neck, announcing, 'That's how you stop a man with a gun'."
My thanks to Jim who wrote to provide some background information about the above photo of Elvis while he was shopping:
I saw that rather neat photo you posted today…the black & white one…..
I believe that is a "kempo" karate patch,on that running suit.. and not a D.E.A. although we do know he did wear those also…..
I remember reading a story about that photo….it was taken in a sporting goods store….and the owner/manager became quite annoyed at the crowd that gathered after they realized that it was indeed Elvis, shopping there….Elvis did not care for the "attitude" from the owner/manager….and abruptly left the store….I have seen another photo after Elvis had exited the store…..and you could tell from the look on his face, he was not very happy.
For some time now, I have received Emails from a number of people who have watched and listened to some YouTube videos of someone pretending to be Elvis speaking.  These videos are done by an imposter…they are not really Elvis.  If I had to guess, I would say that the speaking voice is probably Jon Cotner.  It is cruel of the frauds to con people into believing that Elvis is actually on the Internet in any manner.
Elvis/Jesse has told me himself that he is not on the Internet in any manner whatsoever.  His security team does not allow him use of the Internet because it is dangerous.
This phony has a number of videos on YouTube presently.  I will provide the link to one of them below.  In this particular tape, he is speaking about Dr. Hinton.   The channel owner is: jrushelvis's Channel
Jon Cotner has been known to do at least one CD in which he is pretending to be Elvis speaking about events after 1977.  I believe that this was the first CD which he sold.  The speaking voice on these YouTube videos sounds very much like Cotner.
I have read private comments which Cotner has made about Dr. Hinton and Jesse…very unkind and untrue comments.   So, if this is Cotner on these YouTube tapes, then he is playing both ends against the middle…
I am considering displaying some private Emails written by Jon Cotner as well as some private messages written by one of his followers in order that everyone may see and understand why I exposed Cotner for the fraud that he is.  It was not un-provoked as I was being attacked by several of the people who chose to believe in Cotner for at least the past two years.
Below is the link to just one of the fake tapes.  There are a total of 17 of these tapes which have all been placed on YouTube over the span of the past 6 months.

In Kerr's Sporting Goods Store in Beverly Hills sometime in 1974 – it seems something got Elvis upset…Apparently, several fans noticed Elvis and asked for autographs. The owner wasn't to happy about this and said so to Elvis, which upset Elvis, and he and the owner had a few words…
From Steve M from the FECC message board – I'm sure that second pic is one taken outside the store, not 100% on that. I think the photographer was pissing Elvis off inside the store but Elvis declined to act out of respect for the store, but when the photographer persisted outside it seems Elvis got mad. Thing is Elvis was not one to object to his photo being taken, it's almost like he became immune to it or became so complacent with a camera being somewhere near him that he didn't notice it. I'm sure the photographer said something in order to generate a reaction from Elvis so that he could take a picture of the moment.
Thanks to Marc H. from ElvisFotos.de
My further thanks to Jim for furnishing the above article about the photo of Elvis shopping.
SUNDAY, JUNE 12, 2011
Think on This …
When fear of the future occurs, or fear of the past, or fear of what others will say–put all such away with this prayer–not merely by mouth, not merely by thought, but in body, in mind and in soul say: "Here am I, Lord–Thine! Keep me in the way Thou would have me go, rather than in that I might choose."
Edgar Cayce Reading 2540-1
SUNDAY, JUNE 12, 2011
The following beautiful account of an event during one of Elvis's shows in 1975 was posted on our message board this morning.  Another poster requested that I add this story onto my site in order that people could see it always.  I am doing so below.
Also, another poster added the exact location of this event and wrote the following for those who wish to look into more about this event:
Elvis on Tour
06-12-2011 12:28:19 PM EST
Linda, we were on tour, that happen in Norfolk Virginia July 20, 1975 elvis was in a very good mood. just google it and you can read the rest of the story. Peace
I extend my heartfelt thanks to Nerida for posting this article and to the person who provided the location of the event.
Nerida Langdon
06-12-2011 2:38:38 AM EST


Hi Dearest Jesse/Elvis, In this photo above with this message I am sending to you, I am sorry that I haven't got the name of the place where this photo was taken with you only the day, month and year so hopefully you can turn back your clock and remember this wonderful time in 1975 and this darling little blind girl. It has been a little while since I spoke with you so I just thought I would like to jog your memory a little bit something which happened on July 20th 1975, while you and your band were fooling around in between songs, you noticed the cutest little girl standing on the side end of the stage. You walked over to her and noticed she was blind. You kneeled down and moved the microphone away so the crowd could not hear what you were saying to her. The crowd respectfully sat silently, trying to hear a word, with no success. The little girl stood there with such confidence, you kissed the scarf and touched her eyes and head with it, then giving her the scarf you then hugged her emotionally as if you did not wish to let her go or out of your sight. Thereafter you dedicated the rest of the show to her. True to character, it is rumoured after the show, you got the best specialists in the world and privately without the parents knowing who was paying for her medical treatment, you had her treated with some positive results. I do hope that with the positive results that she can see now and realise that you were the person who helped her and I am sure she would be ever so grateful today knowing that Elvis Presley was the one who helped to pay the medical bills. Jesse, this just shows me and your fans exactly why we respect, love and care about you the way we did back then and we do today and also when I see and read with my own eyes what you did for this little girl and family I will admit that it brings tears to my eyes as I am sure it did to yours when that incident happened in 1975.I do hope with this little bit of information I have found for you that you can remember that special day or evening. There are not many celebrities out there today that always showed how much you loved and respected your fans the way that you did Jesse, because back then right up to 16.8.1977 and beyond you never forgot where you came from and the love of your fans were the people that put you on the map and out into the big world as a superstar then, but now you are just a normal person living the life of Jesse Presley who had a famous brother. What a man you were Jesse and I am sure you are today as well, you will be someone who will remain in my heart, mind and soul forever and ever. If when you read this and hopefully you remember this as well then maybe you might be able to mention to Linda that you do remember this situation and she can let me know by emailing to me and to let me know what you said about this. Sending you all my love Jesse, and keep well, and safe always. Lots of Love to you, Nerida XXXXXXX
MONDAY, JUNE 13, 2011
I am sharing, again, one of my YouTube videos which I would like everyone to view.  It refutes the lies and allegations made.  Please take note of the conclusion of the DEA investigation:
FOX 8 May 24,2004 excerpt of followup to reports done in 2002 regarding Dr. Hinton and Elvis/Jesse
Also, I ask that everyone please watch one of my other YouTube videos to see much more substantiating material proving that Jesse is Elvis:
ELVIS IS ALIVE – NOW JESSE. DNA PROVES THIS. FOX 8 REPORT 2008
I see that many of my visitors are not taking advantage of the substantiating proof which I have provided via my YouTube videos.
My YouTube channel name is: TCB4EAPonefan.  I feel that it will be very helpful to your understanding of the series of events that have taken place heretofore if you view all of the FOX 8 reports.
Please remember that Jesse was in contact with Suzanne Stratford regarding a meeting with her.  This meeting was sabotaged by Dr. Hinton's associate who intercepted the contract which was to have been sent to Jesse…a contract between the FOX network and Jesse.  This contract would have guaranteed Jesse total anonymity and safety.  Dr. Hinton's associate told Jesse lies about Suzanne to discourage Jesse's contact with Suzanne.  Remember, that the channel number is "8", thus Jesse's choice of this TV station.
This autographed post card is available for sale from the following person.  He also has other authentic Elvis articles available.
LARRY PATRICK P.O. BOX 1106 CONWAY,AR. 72033 PHONE: 501-329-2157
Rare Elvis letter to Buckinghamshire fan to be auctioned
 The thank you letter from Elvis is being auctioned in Northamptonshire
A rare thank you letter from Elvis Presley, discovered by the family of a lifelong fan after her death, is to be auctioned.
The letter says: "Dear Yvonne, thank you so much for the lovely Christmas card and magazine and a Merry Christmas and a Happy New Year! Elvis Presley."
The letter, found in Bucks, is being auctioned at JP Humbert, Towcester, Northamptonshire, on 23 June.
It is estimated to sell for between £2,500 and £3,000.
Written in blue ball point pen on cream paper, the folded letter has been verified as having been written by Elvis Presley.
Experts could authenticate his signature at the time of writing, and also by examining the type of paper it would have been written on, auctioneer Jonathan Humbert said.
He said: "The family of Yvonne, who was a lifelong Elvis fan, were clearing her estate and found this in her handbag.
'Original fan'"Bearing in mind Elvis died in the late 70s, it seems it has been in her handbag ever since.
"We think it's probably circa early 1960s, his writing changed through his career and it became more and more spurious, but it's authenticated by other signatures of the 1960s."
 The letter from Elvis was found in the Buckinghamshire fan's handbag
The rare letter was sent to Yvonne because she had been in communication with Elvis for years and was one of his original fans.
Also included in the auction is a facsimile letter from Graceland to fans.
In this, the name Yvonne has been added in what appears to be Elvis' hand. It was written just before the filming of Blue Hawaii in the early 1960s, Mr Humbert said.
A portrait photo of Elvis with a facsimile signature saying "Thanks Elvis" is included in the sale
WEDNESDAY, JUNE 15, 2011
Today I am sharing another Elvis clue found in an Orion Pictures movie.  The following is from the 1985 movieDESPERATELY SEEKING SUSAN.
The Elvis mention is found in the script itself this time.  The following excerpts are from a transcript of the movie script:
But I bet he'd love it
if I swapped it for the boots.Deal.Gorgeous, isn't it?It used to belong to Elvis Presley.Wanna try it on?
All right.
Desperately Seeking Susan Script taken from a transcript of the … It used to belong to Elvis Presley… And she's got this green and gold jacket …
Storyline
Bored Roberta spots a regular personal ad in the paper titled 'Desperately Seeking Susan'. She heads off to New York, following one of the ads, and finds Susan. When Susan sells her jacket, Roberta – trying to emulate her mystery ad writer – buys the jacket and wears it. Little does she know someone is looking for the jacket – and its owner…
IMDB.COM
begin TOP_RHS –>
Production Companies
Distributors
Below is a photo of the jacket which is a focal point of the movie:
 begin TOP_RHS –>
Of course, this jacket did not actually belong to Elvis.  In fact, earlier in the movie I believe, it is stated that it belonged to Jimi Hendrix as well.
This is another of those examples of the little "Elvis cameos" in the Orion movies.  Many Elvis connections were very bold and in-your-face obvious while others such as this were just little subtle reminders.
THURSDAY, JUNE 16, 2011
Our friend Nerida, who posted the wonderful article about Elvis/Jesse with the little blind girl recently, has now posted a very sweet message on our message board regarding Elvis in 1958 when he posed with the little girl with polio. Nerida has shared these wonderful photos for everyone to enjoy…the two below are more rare than the one which most of us have seen.
Nerida shared the following facts about this event:
This is also the words that were said about you once again being the wonderful, kind, considerate person you were then and are today."Elvis Presley: January 8, 1958 eight year old Mary Kosloski had a date with Elvis Presley Jan. 8, 1958, and he kept her waiting for more than two hours. The Collierville girl, who was the national March of Dimes poster child in 1955, seemed to forgive all when Elvis appeared and told her: 'If you were 10 years older, honey, I wouldn't let you go".
The pair was photographed with teddy bears and pandas Elvis was sending to the National Foundation for Infantile Paralysis for auction during an upcoming fund drive.
This is another beautiful example of Elvis/Jesse the great human being…love always showed through his smiles.  His smiles are like rays of sunshine.
FRIDAY, JUNE 17, 2011
This is in follow up to the beautiful article which Nerida shared with us about Elvis and the little blind girl above.  At the suggestion of the kind person who posted to tell us that it took place in Norfolk, VA and that if we Googled it we could read all about it, Nerida and I each did just that and found some more beautiful photos from that event.
Below is one of the articles which we located.
This article is from:  Elvis Australia : www.elvis.com.au
Elvis Presley: Norfolk Scope July 20, 1975
During the July 20, 1975 show, between songs Elvis was joking around and giving out scarves when he noticed a little girl standing on the far left of the stage. He walked over and knelt down on one knee in front of her. Realising she was blind, Elvis held her hands and spoke to her for a few minutes. The audience could not hear as he kept the microphone away from his mouth. He then kissed his scarf and touched both her eyes with it. When he was finished he took the scarf and held it to the child's face. The little girl stood there with complete confidence in what Elvis was doing. The girl had been blind since birth.

Elvis hugging a young child – who is blind

Elvis hugging a young child – who is blind – Charlie Hodge looks on.
In line with the wonderful train of thought which we have been following recently, I want to share some information about a wonderful book about Elvis. I have had this book since it was published in 1992 and I love it so very much.
This book is based strictly upon all of the wonderful kind and generous things which Elvis did for so many individuals and charities. I must go back and read it through once more since it has been many years.
I so highly recommend it to everyone if there is any way to still purchase this book. I have no idea if it is still available and I haven't done a search to determine its availability just yet.
Below are some scans from the cover, the autographed page in the front of my book by the authors, the comments of those who knew and who love Elvis on the back. It truly is a beautiful tribute to Elvis's generous, loving, and caring spirit and heart. What a great humanitarian Elvis/Jesse is. What a magnificent example he set for us all.
I want to mention once more the philosophy with which Elvis made all of his donations to the charities:  He never deducted  his donations from his income tax reports because he said that it "spoiled the spirit of giving".
There are many quotes throughout the book and the above is one of those.  I say"Amen!!!" to Bruce's comment.
Here is the address from which I ordered my book.  I doubt that it is still active, but I pass it on just in case.
Memphis Explorations
P. O. Box 41134
Memphis, TN 38714
My good friend, Bobbi, wrote to say that she did a search on the Internet for the book
The Best of Elvis
 and found several copies available. Here are the sites which have it for sale: Ebay, Amazon.com and she found 4 more at a web site called Abes books. Bobbi says that they are all reasonably priced. Thank you so much for sharing this info., Bobbi.
SATURDAY, JUNE 18, 2011
I came across a letter which Elvis wrote to a fan and an impersonator in July of 1977. I enjoyed seeing this and thought that perhaps others would as well. I love the manner in which Elvis spoke of this person mimicking him.
Of course, there is much discussion as to whether this letter was actually written and signed by Elvis.  It is my opinion that Elvis dictated the letter to one of the secretaries and then signed the typed letter.
The following is a memo of recommendation written regarding Elvis's visit to Washington, D. C. during which he volunteered his services to our country.
PLEASE SCROLL TO THE BOTTOM OF THIS PAGE FOR SOME OF THE NEW ADDITIONS
*******************************************
FRIDAY, JUNE 18, 2010
IMPORTANT NEWS UPDATE
TODAY I AM PRESENTING MATERIAL WHICH WILL PROVE THAT ELVIS WAS INDEED A FEDERAL AGENT. THE PROOF IS IN THE FORM OF WORDS SPOKEN BY ELVIS HIMSELF ON STAGE ON TWO SEPERATE OCCASIONS.
I am displaying below a close up photo of the Federal Narcotics badge which was presented to Elvis by President Nixon. As you will see, this badge was engraved specifically for Elvis, with his name upon it.
Others have given the impression that it was only a honorary badge given by President Nixon because Elvis wanted it for his badge collection…just something which President Nixon handed over to Elvis during their visit in the Oval Office. His name engraved on his badge indicates otherwise.
This photo is from the book "

Elvis By The Presley's

" page #184.
This is a fantastic book which everyone who loves Elvis should own.
Below is a copy of the cover along with the link to Amazon.com where you will find it at a discounted price. Some books are less than $10.00 which is a huge bargain.
Quoting Priscilla from page#185 of this book:
"Maybe Elvis the federal agent seems a long way from the Elvis who longed to be a guru like Daya Mata. But looking back, I don't think so. Elvis wanted to transcend into another dimension. When it was spirituality, he wanted to be the spiritual leader who could help the most people. When it was law enforcement, his motivation was the same. He couldn't be ordinary. He wasn'tordinary.
…He asked the President for a short cut to becoming an agent. Where Daya Mata couldn't accommodate him, Nixon could and did."
So, here we see that Elvis' desire for the badge went way beyond just being a new item for his collection. He wanted to BE a Federal Agent.
Below you will see that he did indeed become a Federal Agent:
On page #217 of the above book: you will see this clearly stated by Elvis himself. You will also see that this is an entire page…the first page in Chapter Thirteen. The Presley's would not have placed this quotation so prominently in their book were it not the truth.
Also, further down I will post from another book quoting from Elvis's own words that he was a Federal Agent.
***********************************
Below you will see excerpts from another book which is titled:
"ELVIS WORD FOR WORD…What he said exactly how he said it…."
This wonderful book was written by Jerry Osborne. I also recommend this book to every Elvis fan. I have had it for a number of years and treasure it. It is so refreshing to read words which Elvis himself spoke without anyone putting a "spin" on the things he said.
This book can be purchased at Amazon.com. Here is their listing of this book as well as the link to their page:
(
7
)
From the above book (on page #290) you will see that Elvis stated unequivocally that he had been a member, for five years, of the International Narcotics Enforcement Officers Association. Not only that, Elvis read (on stage) from a plaque awarded to him by that association in recognition of his outstanding loyalty and contributing support of narcotic law enforcement…
Continued onto the next page:
I bought Mr. O' Grady's book because of Elvis's recommendation. I bought my copy on EBay…a used book. I don't know if the book can still be found in book stores…but I doubt it.
Below is the front cover of the book as well as an excerpt proving that page #166 is about Elvis just as Elvis said. This is the page which Elvis referenced in his statement on stage after introducing John O' Grady to the audience.
ELVIS WAS ACTIVE WITH FEDERAL AGENCIES
Recently I read a response to a question asking if Elvis did actively work with the government…DEA, etc. This question was answered in a rude and arrogant way. I will have to refer to that article to be sure of the exact wording of the question and the response. ..but essentially the response was "If he was, show me the proof."
First of all there most assuredly is proof. At Graceland, there is a Certificate of Appreciation awarded to Elvis Presley in 1976 by the Bureau of Alcohol, Tobacco and Firearms on display.
Maria Columbus (who was the president of one of the longest running fan clubs) received the following letter in response to her questions regarding the above mentioned certificate. This letter is dated Nov. 29, 1982. This letter acknowledges Mr. Presley's help by providing cover for an agent who traveled with his band.
Below is a copy of that letter:
Below is the response to a second letter which Maria wrote asking for more information and details about Elvis having provided cover for a government agent. As you will see, it was made clear that there would be no more information to share on this topic.
The following copy is of a portion of a memorandom to President Nixon regarding thanks to Elvis after his visit with President Nixon in Dec. 1970:
Below is another excellent photo of Elvis wearing his DEA Staff jacket:
Below is another photo of the same emblem.  This is a clearer copy of a photo which I have displayed previously:
Below is a beautiful photo of Elvis with some fans while wearing his police uniform in Memphis:
A good friend called today to tell me that, just for fun, he had colored Jesse's hair and eyebrows black in order to compare the photo with photos of Elvis from the 70's and was amazed to see how much more recognizable Elvis is when viewed from that perspective. So, I have hurriedly colored a black and white copy of Jesse's photo and will insert it below along with a good comparison from the 70's.
This is strictly for fun and not to be judged for my amateurish endeavor at the art work. LOL
Not very much difference when one considers that Elvis/Jesse wrote to me that he had had some plastic surgery done.
Doesn't he look great as a very youthful grandfather at age 59 in 1994!!!
SUNDAY, JUNE 19, 2011
Brand new video just added on YouTube – Uploaded by alstrada on Jun 18, 2011
This YouTube channel is owned by Al Strada and he has over 350 videos on YouTube.  I highly recommend that you check out his entire channel.
This is an amazing video of some very interesting archives.  Enjoy!!!!
Graceland Archives Secret Room
Here is the clickable link:
Here is the link to a beautiful Elvis web site.  Be sure to check it out.  Fantastic stuff!!!
Here is the link to a YouTube video of Jerry Lee Lewis and Dennis Quaid who played Jerry Lee in the Orion Picturesmovie Great Balls of Fire.  Enjoy!!!  If you haven't seen this movie, please do so.  It was a vital link in the continuation of the Orion the singer/Orion Pictures history.
This video is owned by:  JerryLeeLewisTV
Jerry Lee Lewis & Dennis Quaid -Great Balls of Fire
Also, below is another YouTube video of a duet between Jerry Lee Lewis and Dennis Quaid from the soundtrack of the movie Great Balls of Fire the Orion Pictures movie.
Uploaded by TWR003 on Oct 15, 2010
Jerry Lee Lewis & Dennis Quaid – Crazy Arms (Great Balls Of Fire Soundtrack)
Here is the clickable link:
Below is still another Jerry Lee and Dennis Quaid YouTube related to the Orion Pictures movie Great Balls of Fire:
Jerry Lee Lewis And Dennis Quaid Live New York 1989 Breathless
Below is one more video from the Great Balls of Fire Orion Pictures movie:
Here is the clickable link:
For those who may not have followed all of my material regarding the Orion the singer continuation into the Orion Pictures history.  I ask that you please go back and read my prior pages devoted to the topic of Elvis/Jesse and Orion.  Here are the links to those pages: www.lindahoodsigmonstruth.com/page42,
The song "What'd I Say?" which you are hearing in the background on this page was part of the Orion the singer material which was recorded and released after Aug. 16, 1977.  At the end of this song (if you turn your volume way up) you can hear Jerry Lee say "Man, you're with it tonight, Elvis". 
MONDAY, JUNE 20, 2011
My friend on Facebook, Bernice, shared a video which I just loved seeing. It is from the movie Men in Black and is the tunnel scene. During this scene Tommy Lee Jones plays an Elvis song…Promised Land, this is one of my very favorite songs. During the playing of the song, Will Smith says, "You do know Elvis is dead, right?" Tommy replies, "No, Elvis is not dead he just went home". Enjoy!!!
Men in Black – Tunnel Scene
Uploaded by Inzume on Mar 5, 2011
Clickable link:
TUESDAY, JUNE 21, 2011
My friend, Jim, has just notified me that the videos of Mike Joseph detailing the photo of Elvis in the Pool house door which he took have been removed from YouTube. I am so sorry for the inconvenience caused by these videos, to which I have provided links, no longer being available to view.
I shall attempt to locate other copies of Mr. Joseph's interview to which I may provide links.
footnote:
I have located another copy of the Mike Joseph interview on YouTube and have restored the videos on my prior pages:
For those who may have missed this earlier, here is the link and info which I just posted today:
You may view my entire page devoted to the pool house door photo at:
lindahoodsigmonstruth.com/page32
Below is a video of Mike Joseph, indeed, declaring that he had photographed Elvis Presley sitting in the pool house door watching the fans walking past his "grave". Thus, proving that Mr. Joseph was lying when he spoke on the Larry King interview. He was "gotten to". 
The Elvis Files – Part 2
AmKonDOTnet
 – this is the owner's channel on YouTube. My heartfelt thanks to this person.
You will be able to see this at about 3:50 in the following video:
For those who may have not seen the Larry King interview with Gail Brewer-Giorgio and Mike Joseph (which I referenced above), I will insert the link to my own YouTube video of this show in order that you may see that Mike Joseph did lie in every aspect of his statements on the Larry King show.
Here is the clickable link:  youtu.be/hOHniua-Tuk
ELVIS IS ALIVE. 1978 POOL HOUSE DOOR PHOTO.
Once again, you may view all of my YouTube videos at my channel:  TCB4EAPonefan
I just came across a YouTube video which is taken from the Elvis On Tour movie filming.  It is really good and lets us hear Elvis talking about things.  Here you may hear him talk about his speech at the Jacycee's Outstanding Young Man award ceremony.  I think everyone will really enjoy this:
Here is the clickable link:youtu.be/AIWU78SnDdM
This video is owned by: ElvisIsStillRockin
Elvis On Tour (Through My Eyes) Chapter 44
I see that this YouTube channel has many, many of these same type of videos.  You may enjoy checking out this channel's other videos as well: ElvisIsStillRockin 294 videos
The following is the channel owner's description of these videos…this is what makes his videos so special and rare:
Here's a special edition of the 1972 concert tour documentary film. "Elvis On Tour." This is a bootleg DVD I'm uploading. I didn't produce or edit this video at all! I'm only uploading and sharing it with Elvis Fans like myself! It contains a lot of unreleased, rare. alternate, and released footage from the film. I hope you enjoy this DVD as much as I have!
-Luke Jakes
WEDNESDAY, JUNE 22, 2011
There is a collage of wonderful photos and the accompanying story which are shared on FaceBook by Elvis Lives
at this link:farm5.static.flickr.com/4009/4467768106_b09f9819fb_o.jpg 
If the collage appears very small in your Internet Explorer window, just click on the collage and it will become large.
Once again this is of Elvis wearing his police badge…as shown in my earlier photo from this same time.  This took place at a gas station across from Graceland in Oct. 1976.  These are beautiful photos of Elvis having a good time with the fans while out riding his motorcycle with Linda and accompanied by some of the boys.
Be sure to click on the link above.  I know you will enjoy seeing these photos.
Longest span of No. 1s on the Billboard 200
Elvis Presley had his first No. 1 46 years, 5 months and three weeks before his last one. The King's first No. 1 album was "Elvis Presley" (first week at No. 1: May 5, 1956) and his most recent No. 1 album was "ELVIS: 30 #1 Hits" (last week at No. 1: Oct. 26, 2002).
<<<<<<<<<<>>>>>>>>>>
June 26, 1977- Elvis makes his last ever live stage appearance when he appears at the Market Sqaure Arena in Indianapolis.
<<<<<<<<<<>>>>>>>>>>
Gentlemen, What Would You Like is photographer Al Wertheimer's title for this low-light photograph of Elvis Presley and his cousin, Junior Smith, ordering breakfast. As Wertheimer pointed out, it looks like Elvis is more focused on the waitress than the menu. The photograph is part of the exhibit "Elvis at 21, Photographs by Alfred Wertheimer," at the Clinton Presidential Center.
<<<<<<<<<<>>>>>>>>>>
http://images.icanhascheezburger.com/imagestore/2008/11/2/e670fad6-8b28-4a11-a70f-a07d9a8e7586.jpg –>

The Statue of Liberty Totally Looks Like Elvis, the king of rock and roll
<<<<<<<<<<>>>>>>>>>>
This is such sad news…looks a lot like our own yard and grounds due to recent extreme storm.
Elvis Lives shared the following on Facebook:
Storm hits Graceland – Memphis was hit by a horrible storm last Thursday night and the Graceland mansion & grounds received damage. The mansion had minor damage while the ground lost five of it's trees, four of which were big and visible to visitors. The Racquetball building narrowly missed a direct hit from one of the tree's and the mansion lost power and was running on generator power most of the day
"There are no coincidences…everything has a meaning."   Elvis
Elvis Of Liberty ?
April 15, 2008 04:30 PM EDT
About twenty years ago, I bought a postcard that has a photograph of the face of the Statue of Liberty on it. The caption on the back of the card reads:
" Face Of The Statue Of Liberty Before Assemblage At Bedloe's Island, 1885 Photographer Unknown"
The instant I looked at this postcard, I knew I had seen that face somewhere before. The face of The Statue Of Liberty when viewed all by itself, looks exactly like Elvis Presley. Just when you thought all the mystery surrounding Elvis is history, we now have to wonder just how old Elvis really was , or should I say is ?
See for yourself and judge……..
Miracle of Synchronicity…more food for thought:
Statue of Liberty Face Totally Looks Like Elvis Presley by emmettcullen
I know I am on a roll here…but my fascination with, and beliefs about, the correlations between Elvis, the Statue of Liberty and the word "Liberty" in Elvis's life have been a constant in my life for many, many years. Once more, as Elvis often said "There are no coincidences…everything has a meaning."  I, too, believe this with all my heart. I have shared my observations about the Statue of Liberty with Elvis/Jesse since back in 1992. This goes much deeper than just the facial resemblance.
Check out the photo and the caption which I display on my Introduction page.  This is one line from a poem which I wrote for him over 20 years ago. lindahoodsigmonstruth.com/index.php
With the noble face of Liberty, his glorious voice set the masses free.
THURSDAY, JUNE 23, 2011
A sad day…one more step farther removed…..
no content –>
It's official: Leon Black's Apollo Global Management owns CKX, the company that billionaire Robert F. X. Sillerman created to capitalize on TV hits including American Idol and So You Think You Can Dance, and the licensing rights to Elvis Presley and Muhammad Ali. The final price came to about $510 million or $5.50 a share. In CKX's heyday, in May 2005, the stock sold for close to $30. Apollo will have its hands full: CKX must negotiate a newIdol deal with Fox, and develop plans to fix up Graceland, Presley's former home that's now a tourist attraction. Sillerman, who amassed his fortune trading radio stations and concert venues, now is building Function (x), an investment firm that plans to focus on media and entertainment ventures with special attention to digital and mobile technologies.
There is this from another article:
The sale was more or less a foregone conclusion for more than month. Last May, Apollo obtained the support of The Promenade Trust, the sole beneficiary of which is Lisa Marie Presley and which is the company's partner in Elvis Presley Enterprises, and Robert F.X. Sillerman, the company's largest stockholder.
Once more, Elvis Lives on FaceBook has shared a wonderful display of some of Elvis's law enforcement badges along with a brief history of each one.  Please do visit to enjoy seeing this and to learn more about Elvis's love of law enforcement work and his respect of those who do that type of work.
EP Police Badges
farm3.static.flickr.com
FRIDAY, JUNE 24, 2011
I just came across a YouTube video of the very last song which Elvis performed on stage.  This was on June 26, 1977 at Market Square Arena in Indianapolis, Indiana.  Bear in mind, when you watch this, that he knew this was his very last live performance on stage as Elvis Presley.
Wasn't he just magnificent!!!
Elvis Presley Last Song Performed On Stage 6/26/77
Can't Help Falling In Love – Audience film from Market Square Arena, Indianapolis 6/26/77. Last on stage footage of The King.
Uploaded by classicwax on Sep 30, 2008
Please take note that he chose a number "8" day for his last performance…2+6 = 8.
I'll be explaining more about these images shortly…they are part of another Orion Pictures article which I am in the process of putting together.
This article is continued on Current News and Events Page 10 @ lindahoodsigmontruthofficialsite.com/page64
The truth is the truth and never changes….
Think on This …
Wherever Truth is made manifest it gives place to that which is heaven for those that seek and love truth!
Edgar Cayce Reading 262-87
<<<<<<<<<<>>>>>>>>>>
FRIDAY, JUNE 24, 2011
THIS PAGE IS NOW FULL AND I HAVE STARTED A NEW PAGE TITLED

CURRENT NEWS AND EVENTS PAGE 10

AT THE FOLLOWING LINK: