THURSDAY, NOVEMBER 1, 2012
Someone else has added one of Jesse's new songs (from the CD)  "

Every Breath You Take"

onto Youtube:
Here is the link for those who would like to enjoy this visual with the song:
This video was Published on Oct 31, 2012 by
Fan King
httpv://youtu.be/RB2OCFvQbTM
Also, there is another such video made from "

Wanna Be Startin' Somethin'

"
This video was Published on Aug 23, 2012 by

bettboo24
httpv://youtu.be/ti3Teun3qpk
Unfortunately, those who are not blessed to know the truth are being extremely harsh and critical…as usual.
If anyone from our site would like to contribute some comments supporting the truth in response to these videos, I would, as always, appreciate it.
I know that Jesse enjoys our standing up for his songs.
<<<<<<<<<<>>>>>>>>>>
FRIDAY, NOVEMBER 2, 2012
There is still time to educate oneself about the true Obama and the plans which he has for turning America into a communist nation with a dictator.  That is why the dictators from other countries are endorsing Obama.
O.A.F. LLC Reports Despite Mainstream Media's Attempts To Silence It,

2016: Obama's America

Is The #4 Best-Selling DVD In The Nation
O.A.F. LLC
Last modified: 2012-10-29T20:27:33Z
Published: Monday, Oct. 29, 2012 – 1:26 pm
LOS ANGELES,

Oct. 29, 2012 — ABC REFUSES TO AIR AD FOR DVD DURING DEBATE; APPLE'S ITUNES DENIES PLACEMENT ON FRONT PAGE
LOS ANGELES,

Oct. 29, 2012 /PRNewswire-USNewswire/ — The blockbuster hit film "2016: Obama's America," which grossed more than $33 million at the box office is currently the #4 DVD in the United States, according to Nielsen VideoScan in spite of continued efforts on the part of the mainstream media to block its path.
"Love him or hate him, you don't know him." 2016: Obama's America is the definitive account of how one man's past could redefine a nation and where we will be in 2016 if Obama remains in the White House.
Also, there is still time to watch the other fantastic documentary movie of the truth about Obama and his plans for America.  You may rent it on Youtube for $4.99 for 72 hours.  Below is the link:
DREAMS FROM MY REAL FATHER
httpv://youtu.be/7IgxSM9X5IQ
I urge every American to watch these two movies so that you may be an informed voter on next Tuesday.
Then there is this short video just for good measure…the real Obama…
Obama Mocks & Attacks Jesus Christ And The Bible / Video / Obama Is Not A Christian
httpv://youtu.be/Hi-V_ilJu0w
<<<<<<<<<<>>>>>>>>>>
SATURDAY, NOVEMBER 3, 2012
My good friend, Jan sent the link to the following Youtube video this morning.  I have always loved this song…it is so relevant and perfect for the things America is facing today…the suffering caused by the hurricane and this very crucial election facing us next week.  We all must pray and trust that God will take care of us all.
httpv://www.youtube.com/watch?v=kYO5Z7UUNcc&feature
<<<<<<<<<<>>>>>>>>>>
SUNDAY, NOVEMBER 4, 2012
BREAKING NEWS – MORE PROOF ABOUT OBAMA'S LACK OF CHARACTER
A good friend to our site contributed the following on our blog page today.  This is the first that I have heard of this and I am so very appreciative to Doris for sharing this with all of us.
The White House has asked Lockheed-Martin NOT to issue notices of lay-offs until December (after the election) .
Wake up people! Can it be anymore clear who we are dealing with? Obamamaniac will do anything to get re-elected and if he does….God help America.I just cannot understand how he keeps getting away with this kind of crap!!
Lockheed Martin is going to lay off 123,000 defense workers due to Obama's downsizing of the military. This hit the Drudge report yesterday. This is true!
The law requires Lockheed to give 60-day notice to all to-be-fired employees within 60 days. That drop dead date would be November 1st. Since this would be bad for the election, Obama has promised that our government would cover all Lockheed severance packages to fired employees if Lockheed would not release the names and locations of those losing their jobs until after the election!
Send this to all you know since it will never show up in the news. This posting is from a defense contract newspaper called The Hill. Read details below:
http://thehill.com/blogs/defcon-hill/industry/259517-graham-says-hell-block
This says it all!!
Please take the time to read the full report about this unethical, if not illegal, move by the President of the United States.  He has no respect for the office of the presidency himself.
Please stop and look around at what else he has been doing to slant things to make him look better during the last several months.
Why do you think that he has lied, and had members of his administration to lie, about the attack which killed our ambassador and three other Americans in Libya?  Why do you think that he says that an investigation is on-going?  The answer is obvious, he does not want the official report to come out until

AFTER

the election.  Even though he and his staff KNEW while it was taking place that it was a terrorist attack launched to coincide with the date of 9-11.  They not only KNEW but REFUSED to send aid to our fellow Americans.  He has continued to say in his campaign speeches that Al Quida has been diminished.
Also, if you recall the jobless numbers report which came out back during the time of the debates which suddenly showed a drop in jobless numbers from over 8% to slightly under 8%.  Did you know that the reason for the sudden drop was due to the fact that California did not submit their numbers.  California has one of the highest jobless rates in the country.  Obama has ties to people in California…communists.  Why would the federal government go ahead and issue the report without waiting to get California's numbers??
So, as you can see this man will stoop to anything to stay in office to carry out his evil agenda for our nation…and for us.
Please do pass on the article about the coercing of Lockheed-Martin to not release the announcement that they are laying off 125,000 employees on Jan. 1st.  Layoffs which are taking place as a direct result of Obama cutting funds to the military.  Also, I assume the money which he plans to use to pay off the fines for not giving the mandatory 60 days notice will be coming from our tax payments to the government…or perhaps he plans to borrow it from China and just add more to our staggering national debt which he has grown so massively during his little less than 4 years in office.

This man should be impeached if he is re-elected…or maybe even impeached between Nov. 7 and Jan. 21.
Here is the full article referenced above as well as the link to the article:
Sen. Graham: Obama move on defense layoff notices 'patently illegal'
Sen. Lindsey Graham (R-S.C.) says that he will do anything he can to block the Obama administration from reimbursing defense contractors for severance costs if the firms don't send layoff notices to employees.
The Obama administration issued guidance Friday that said defense firms' costs would be covered if they have to layoff workers due to canceled contracts under the across-the-board cuts set to take effect Jan. 2.
The layoff notices have become a politically charged issue because
they could have come just four days ahead of the election

because of a 60-day notice

required by federal law

for mass layoffs.
Graham and other Republicans were livid after the Obama administration issued the guidance on Friday telling contractors that their legal costs would be covered due to canceled contracts under sequestration,
but only if they did not issue layoff notices before sequestration occurs — and before the November election.
"I will do everything in my power to make sure not one taxpayer dollar is spent reimbursing companies for failure to comply with WARN Act," Graham told The Hill in a phone interview Monday. "That is so beyond the pale — I think it's patently illegal."
<<<<<<<<<<>>>>>>>>>>
MONDAY, NOVEMBER 5, 2012
A new contributor to our blog page posted a message stating that they do not think that it is Elvis singing on the new CD of 15 songs.  Naturally, this comment did not sit well with me at all in view of the fact that I know Jesse so well and that he personally told me that it is, indeed, him on the CD.  Plus the fact that I do not know how anyone can listen to this wonderful CD and NOT know that it is Elvis.
Galen, who is a very good friend to our site, wrote a response to this derogatory comment about Jesse's CD which carried more punch than my own response did.  I asked Galen for permission to share his comment here for everyone to see and enjoy.
My heartfelt thanks to Galen:
GALEN

@burq44

: To all that visit this wonderful site, YES, it is indeed Elvis Presley on the CD he goes by the name of his twin brother, It is very hard for the folks today too understand , He did what most southern plantation owners did after the Civil War, they would berm up a mound of dirt and put a headstone with the owners name , birth, and death so when the union troops came to arrest the owners they would be turned away. In Elvis 's case he had no other choice, stay as Elvis and die, or get booed off stage, He buried the "image", an began a "new" life, I guess some people would say in real time he "punked the world", back to the CD you can bet your bottom dollar it is Elvis, the voice was identified using the horizontal and vertical wave lengths of Elvis voice pre 1977, songs used were That's All Right Mamma, Big Boss Man, Elvis is Back Rap, Heartbreak Hotel when just theses songs were overlapped, on too one screen " PERFECT MATCH" Later all the songs were tested, and the results were the same. Like Linda said he's 77 yrs old today and still loves his fans as always. And That's the Truth the Whole Truth and nothing but the Truth so help me GOD. Hope this helps! Sincerely GALEN P.S. His CD would brighten Every Elvis fans Christmas stocking this Christmas!
 <<<<<<<<<<>>>>>>>>>>
Just want to let everyone know that Jesse did phone me on Sunday, late afternoon, but I missed his call and he left a brief message and said he would call again.  I had been in the house all day but finally made myself go walking for about half an hour and Jesse called while we were gone. 
The Drs. have advised that I should walk everyday for my various health issues.  But, I can certainly say that talking with Jesse would have certainly made me feel better than that walk did!! Ha, ha.

He did phone my closest friend M J after he failed to reach me.  She said that he is fine and they had a good conversation.
So, I am just happy to know that he is OK…that is all that really matters.
<<<<<<<<<<>>>>>>>>>>
TUESDAY, NOVEMBER 6, 2012 
*****ELECTION DAY*****
 The following is an Email which Gov. Romney is sending to those who have supported him.  I want to share this with everyone who may still have any doubts about voting for Gov. Romney.
He is a good man; a loving husband and father; a man who has a deep devotion to God and to our nation; a man we can all be proud of and look up to;  a man who can be a REAL President to our country.
Please search your hearts, minds and pray for God's guidance as you vote today.
Jesse says that he will be rooting for Gov. Romney…that is very high praise coming from Jesse.  I trust Jesse's judgement about this as I do many things in my life.
Linda,
Tomorrow is Election Day. These last few months, I've watched our campaign become a nationwide movement.
It's not just the size of the crowds — it's the depth of our shared conviction, the readiness for new possibilities, and the belief that we can do better than we've done these past four years.



I am asking for your vote tomorrow — because it matters for your family and our country's future.
Throughout my life, I've led turnarounds of every kind. I pledge that Paul Ryan and I will bring real change to America from Day One. We have a plan that will deliver a real recovery.
Our children will graduate into exciting careers that are worthy of their qualifications. Our seniors will be confident that their retirement is secure. Americans will have good jobs, good pay, and good benefits. Our veterans will come home to a bright future. We will have confidence that our lives are safe and our livelihoods are secure.



If you are ready for that kind of change — if you want this to be a turning point in America's course — join us and vote Tuesday for the kind of leadership that these times demand.
This is the most important election of our lifetime — and every vote counts. If you have any questions about where to vote,

please visit our website

.
Linda, we have to win this for America — and with your vote, we will. We are hours away from the better future America deserves.
Thank you,
Mitt Romney
<<<<<<<<<<>>>>>>>>>>
URGENT GOOD NEWS…
There is a copy of Jesse's book for sale on Ebay for a starting bid of  only $29.95  Below is the link and information.

 It says it is in good condition.  This is the cheapest I think I have ever seen for a copy.
Nov 12, 2012 11:39:25 PSTNov 12 11:39:25 PST
US $29.95

Enter US $30.95 or more

Since this one is open for bids, it may go too high though.



---
Est. delivery between Thu. Nov. 15 – Fri. Nov. 23
Sold by
100% Positive feedback
***********************************
Also, I see there is another copy also now listed on Ebay for $75.50 which isn't too bad comparatively considering recent prices we've seen.
---
<<<<<<<<<<>>>>>>>>>
Take a look at the following video and think "Is this really the first couple I want in our White House?"
Michelle Obama's "All this for a damn flag" shown at three different
speeds:
http://youtu.be/OJgWMI0hch8
httpv://youtu.be/OJgWMI0hch8
<<<<<<<<<<>>>>>>>>>>
WEDNESDAY, NOVEMBER 7, 2012
My dear friend, Lucilia shared the following news article with me on Facebook…I loved seeing it and want to share it here:
<<<<<<<<<<>>>>>>>>>>
Wednesday, November 7, 2012 @ 12:24 AM
I don't think I am being premature when I post that it appears that Gov. Mitt Romney has lost the election to the incumbent.  This is not a loss for Gov. Romney…this is a loss for America and everyone who loves the nation we have enjoyed for so long.  
All we can do now is to begin planning and preparing the best we are able for the hardships which will come in the next 4 years.  Hardships from which our once great nation will most likely never recover.
My great grandmother had a saying which I think fits this particular outcome perfectly:  "One fool makes many."
Never underestimate the power of ignorant people in large numbers.
My heart could not be more broken and heavy.
May God help us all.
<<<<<<<<<<>>>>>>>>>>
Lord, how I wish this were true:
<<<<<<<<<<>>>>>>>>>>
From Facebook…such a magnificent photo of the most magnificent human who has ever walked on this earth:
Charlotte, NC. February 20th 1977
<<<<<<<<<<>>>>>>>>>>
My dear friend Lucilia also shared this very rare photo with me on Facebook.  She points out the TCB on the microphone.  I have never seen this fantastic photo before.  Thanks to Lucilia.
 <<<<<<<<<<>>>>>>>>>>

Posted on 1 Nov 2012 A controversial anti-Obama filmmaker has had his private financial accounts hacked into and the information used by a George Soros-linked journalist who may be part of a "dirty tricks" campaign against GOP presidential candidate Mitt…
Soros-Connected Reporter Targets 'Dreams' Filmmake…
Posted on 29 Oct 2012 Press Release October 29, 2012 DFMRF, LLC Soros-Connected Reporter Targets 'Dreams' Filmmaker –…
Soros Giving $1.5 Million To Democrats' Supe…
Posted on 28 Sep 2012 The Washington Post: "George Soros, the liberal billionaire investor who has largely laid low during the 2012 elections, announced $1.5 million in pledged donations Thursday to a trio of super PACs backing President Obama and congressional…
Soros-funded PAC Started Todd Akin Controversy
Posted on 3 Sep 2012 The controversy over Missouri Republican Senate candidate Todd Akin's abortion comments was started by a George Soros-funded Democratic Party Super-PAC and the "bait" was taken by Republican Party officials who wanted him out of the race…
Read more: 
<<<<<<<<<<>>>>>>>>>>
I expect that half of our nation needs to ponder this Cayce Thought For The Day considering that our votes were negated in the election.  It is difficult to put things into a spiritual perspective when one knows that the leader of our nation and the free world is a Muslim and a communist/Marxist.  May God help us all to get through that which is coming.  I know that Rev. Billy Graham is very sad today also as, for the first time ever, he spoke out against a Presidential candidate by putting a full page ad in the Wall Street Journal condemning Obama's policies.
Think on This…


Know that whatever experience ye have in the material sojourns for a purpose. Know that it is not by chance that ye are in a material or earthly consciousness in the present. For know that all activities of the mind, of the body, must be based upon SPIRITUAL things.

Reading 1754-1
<<<<<<<<<<>>>>>>>>>>
Here is a video Emailed to me by Rick Thomas.  It is funny one. LOL
Linda
I know it's an up hill battle to prove to people Elvis/Jesse is Alive. but the Answers are Everywhere! please post this video!
httpv://youtu.be/dcoLzs6wegw

 Rick Thomas
<<<<<<<<<<>>>>>>>>>>
I came across a very good documentary about how much Elvis influenced so many entertainers and others.  I really enjoyed it and I think you will also.  It is shown in full on YouTube and is almost an hour long…an enjoyable hour.
The Influence of Elvis Presley [ COMPLETE Documentary ]
httpv://youtu.be/636V3uY87ck
<<<<<<<<<<>>>>>>>>>>
SENT TO JESSE THRU THIS POINT ON THURSDAY, NOVEMBER 8, 2012
<<<<<<<<<<>>>>>>>>>>
FRIDAY, NOVEMBER 9, 2012
Those who are new to the topic of Elvis being alive may enjoy watching these two excerpts from the video

Is Elvis Alive?

  This consists of the TV special with Bill Bixby and Gail Brewer-Giorgio which aired following the release of Gail's New York Times bestseller book by the same name in 1988.
Published on Nov 5, 2012 by
ElvisAaronPresleytcb
on YouTube.
httpv://youtu.be/Dp5AjcPd5Wc
<<<<<<<<<<>>>>>>>>>>
SATURDAY, NOVEMBER 10, 2012
oday a new contributor to our video board page sent a video which they had created to help prove that Jesse is Elvis.  This kind person took a photo of Elvis and placed it over the photo of Jesse with Ben.  As you will see, they are a perfect match on all the points.


I have faced enormous skepticism about the fact that it is Elvis in the photo with Benjamin.  Even though, I have displayed photo comparisons of Elvis's face and body which to the naked eye are proof.  Along with photo comparisons of Benjamin which again match the photo with Jesse.
This person has done a point by point proof that the face of Jesse does indeed match a photo of Elvis perfectly.
Please take a look and share this with your friends who may still be having trouble seeing the truth.
ELVIS IS ALIVE – Photo evidence examined.
Published on Nov 10, 2012 by

L Griffiths
"Is Elvis alive? I am no crazed fan but I grew up with Elvis' music around me. I have always been interested in the truth, in every aspect of life, so when I found this evidence, I wanted to do as much as I could to examine it scientifically. I was shocked at what I discovered. See for yourself and make up your own mind."
httpv://youtu.be/FQoc68yKklo
I so very much appreciate L. Griffiths for producing this video of evidence to support the truth which I am telling.
Also, we have another similar video which I have had posted on this site for a long time.  Surely the two of these together will convince some of those remaining skeptics.
Elvis is Jesse and this proves it.
Uploaded by

TheBojo44

on Dec 24, 2009
httpv://youtu.be/qdpMuybhfA8
Once more, my heartfelt thanks to both of these kind and diligent people.
<<<<<<<<<<>>>>>>>>>>
Below is the link to some newly discovered film footage of Elvis during his Madison Square Garden performance in 1972.
Enjoy!!
<<<<<<<<<<>>>>>>>>>>
Today's

Edgar Cayce's Thought For The Day

is so very true…music has the power to comfort, encourage, calm, inspire, rejoice, and keep us company through all the events of our lives.  This is especially true of Elvis music.  My philosophy is that, when it comes to singers, there is

Elvis

and then there are "all those others".
Think on This…


Music should be a part of each soul's development.

Reading 2780-3
 <<<<<<<<<<>>>>>>>>>>
UNDAY, NOVEMBER 11, 2012
Good video, good song…
"Loving Arms" –

Elvis Presley

(Elvis & Linda) In High Definition
Published on Oct 28, 2012 by
Don Wilson
"This video was made especially for Linda Thompson and Elvis' fans. The concert photos of Elvis were taken by me in March 1974 (c) I hope you enjoy this video. – Don Wilson
"Loving Arms" As Recorded by Elvis Presley on RCA Records is available from BMG/Sony Records."
httpv://youtu.be/FtoaIk76VbA
I have heard Linda state in interviews that she would never love anyone the way she loved Elvis.  I wonder if Linda has come to realize why he had to drive her away in 1976.  I am certain it was because he knew he could never pull off what he was planning to do if she were still with him.  She loved him so much and watched over him so closely.  If it had been she who discovered the body on the bathroom floor, she would have immediately screamed for help and tried to revive him herself. 
Unlike, Ginger Alden, who took apx. an hour to fix her hair and makeup before calling down for help; who (

after

discovering Elvis' "body") phoned her contact at one of the tabloids (without identifying herself) to alert him that something big was going to be happening at Graceland; who later called the same journalist at 2:30 to tell him that Elvis was dead…this time identifying herself…BEFORE he was pronounced dead at the hospital.  Jesse wrote in his book that he chose the most naive person he knew to find his body and that she almost waited too long.  Elvis had an injection to make him appear dead.  The body switch evidently took place in the bathroom after she saw him and before the EMT's arrived…this is my understanding…

Linda would have NEVER fallen for any of it.
Linda has said that she chose to leave him in 1976…however, Linda's brother Sam has stated that Elvis called him aside for a private conversation and told him that it was ending with Linda because he wanted Ginger now.  I believe this was part of his plan for August 16, 1977.
Elvis stated that Linda wanted marriage and children and he knew he could not give her that.
<<<<<<<<<<>>>>>>>>>>
MONDAY, NOVEMBER 12, 2012
I know that Jesse has printed  notes to a

very

few people and I thought that those few people would like seeing such a good example of his hand printing.
Elvis Presley's set list scribbled on the back of an envelope is set to fetch a King's ransom at auction
Scrap of paper used as Elvis' notepaper is due to sell for £4,000

It name-checks Roy Orbison and Engelbert Humperdinck

Document is 'fascinating insight' into Elvis' work
Fuelled by adrenaline, Elvis Presley grabbed the first scrap of paper to hand to scribble down his set list before a show in Las Vegas.
Today that hastily-written scrap – actually an envelope – is tipped to sell for £4,000.
The King jotted down the running order of 15 of his hit songs ahead of the 1976 concert.
On the reverse he jotted down the words 'Introduce Engelbert (Humperdinck) and Roy Orbison'.
Left, the set list scribbled on a hotel envelope by Elvis Presley, and right, a reminder on the reverse side for him to introduce singers Roy Orbison and Engelbert Humperdinck
This was a reminder for him to give a shout out to the two famous singers who were in the audience at the gig at the Hilton Hotel in Vegas.
The songs Elvis performed during the show included his classics Jailhouse Rock, Blue Suede Shoes and Can't Help Falling In Love, which was his finale.
Elvis' stage director and musician Charlie Hodge afterwards found the envelope lying around backstage after the concert and kept hold of it.
The piece of paper is now to be sold at auction accompanied by a letter of provenance from Hodge, who died in 2006.
Hodge explained the set list was a way of keeping track of the time Elvis was on stage during the concert.
He wrote: 'I served as Elvis' stage director and personal aide.
'I would hand Elvis his scarves and water while on stage, help him with his set lists and also sang harmony on stage with Elvis.
Typical pose: Elvis performing his famous kneeling position during a performance in 1974
'This Las Vegas Hilton envelope was a list of songs that Elvis had written out in his own hand for one of the shows

at the

Hilton… for Elvis' last engagement there ever in December 1976.
'It was my job to keep track of how much time we had been on stage and this list of songs was kind of a way to keep track.'
The white envelope, that measures 7.5ins by 3.7ins, is being sold by Julien's Auctions in Los Angeles.
Auctioneer Darren Julien said: 'This item comes with very solid provenance. The handwriting is perfect and undoubtedly that of Elvis.
'This simple document gives us a fascinating insight into how Elvis almost chose at the last moment which songs he was to sing and in what order almost hours before he went on stage

.
Roy Orbison  and Engelbert Humperdinck  were given a shout out by Elvis at the 1976 show
'On the reverse Elvis wrote "Introduce Engelbert, Roy Orbison" who were evidently in the audience for his performance.'
Elvis' last show in Vegas took place on December 12, 1976, and his last ever concert was on June 27, 1977 in Indianapolis in the US.
He died of a heart attack August 16, 1977.
The item is to be sold at auction on December 1
<<<<<<<<<<>>>>>>>>>>
WEDNESDAY, NOVEMBER 14, 2012
The Elvis Aloha fan mosaic has been completed and one can now locate their photo in the mosaic at the link below.  Here is the link to my own photo…
http://fanmosaics.com/elvisaloha/search/go/9xH
Here is the link where everyone may look up their place in the mosaic by
entering only your Email address.
See Where Your Photo Fits into the New Aloha Fan Mosaic
November 09, 2012
The finished mosaic is just lovely.
<<<<<<<<<<>>>>>>>>>>
WEDNESDAY, NOVEMBER 14, 2012
I'm sure that most of us try to live by this beautiful admonition…but sometimes it is very difficult to give out love and hope while being viciously lied to/about and attacked by our fellowman.
Think on This…


There is today, every day, set before thee good and evil, life and death–choose thou. For only self can separate you from the love of the Father. For it should be manifested to thee that thou art conscious in a living world, aware of suffering, of sorrow, of joy, of pleasure. These, to be sure, are the price one pays for having will, knowledge. But let that knowledge be spent in a way and manner to help others. For as ye do to thy fellow man ye do to thy Maker.

Reading 3581-1
 <<<<<<<<<<>>>>>>>>>>
THURSDAY, NOVEMBER 15, 2012
I just learned that Monte Nicholson who wrote the book

THE PRESLEY ARRANGEMENT

  back before Gail Brewer-Giorgio published her book,

IS ELVIS ALIVE?

has written another book. 
The title of the new book is 

THE ELVIS CONNECTION

.  It is scheduled to be released very soon by the end of this year.I will insert below the link to his web site where you may order his first book or pre-order the new book.  His web site shows that he still has a small number of autographed copies of The Presley Arrangement

available.

Many of you will recall that Monte Nicholson was a former law enforcement officer in California who was shown photos reportedly taken of Elvis alive

AFTER

he was pronounced "dead".  The man who showed Monte the photos eventually lost touch with Monte but, IF I REMEMBER CORRECTLY, he later denied that he had shown the photos to Monte.  That was the beginning of Monte's experience in the Elvis Is Alive topic.
You may also recall that he appeared on the filmed TV show with Gail Brewer-Giorgio and Bill Bixby which aired back in the very early 90's. 
You  may see him on YouTube in some clips from

THE ELVIS FILES

.  He may be in some of the videos which I have linked from this site.  Do a YouTube search for

THE ELVIS FILES

to see him.
EXTRA! EXTRA! The Presley Connection, the sequel to The Presley Arrangement is scheduled for release in late 2012! 
Monte and I are not acquainted other than that I did buy an autographed copy of his first book

THE PRESLEY ARRANGEMENT

back in the day.  I was nothing more than an Elvis fan who ordered his book.

I did send him an Email of introduction tonight after coming upon his web site and the information about his new book.  I explained my 20 years of friendship with Elvis, who is now Jesse, to him and invited him to my site.  But, I don't know if he will accept what I wrote him or not.  I never know from person to person who will recognize the truth and who will reject it.
Below is a copy of his autograph in my hardback book which was published in 1987.
I have located a YouTube video with Monte in it. 
Here is the link: 
httpv://youtu.be/kR5sUh2dAW4
Uploaded by

AmKonDOTnet

on Feb 29, 2008
Here is a freeze frame from this video showing Monte so you will have no trouble catching  him if you scroll through the video…he is at the almost 1:00 minute mark.
<<<<<<<<<<>>>>>>>>>>
The Christmas lights will be turned on at Graceland this Friday evening (the 16th) and you may watch the lighting ceremony live on Elvis. Com.  It will begin at 6:00PM CT.
Here is the link to the article about this event:
There is also a beautiful video of  baby Lisa Marie at her first Christmas with Vernon playing Santa.  Some really sweet footage of Elvis with little Lisa.  This video is accompanied by Elvis singing "

Santa, Bring My Baby Back to Me

".  This will get you in the mood for the holidays.  Below is the link to this page:
<<<<<<<<<<>>>>>>>>>>
I have just spent a long time on the front page of this site making some clean up efforts to get things better arranged.
Those who are new to this site may wish to review the front page again. That page is very long and has been updated so many times over the years as new information has become available.
It still is not anywhere near perfect in the order of articles…but hopefully it will be a little better.
Heretofore, it had gotten shuffled father down on the page by some of major news articles which I have added.
Also, I have created a whole new page dedicated to just these announcements.
TERMS OF AGREEMENT FOR THOSE WHO VISIT THIS WEB SITE.
I do urge everyone to review this notice…especially those who are still followers of the con artist Jon Cotner.  I believe that they have perhaps overlooked these stipulations when visiting my site.
They may not like to abide by these regulations of my site, but if they don't, they can stay off of this site.
<<<<<<<<<<>>>>>>>>>>
FRIDAY, NOVEMBER 16, 2012
My dear friend, Bobbi, shared the following adorable video with us on our blog page.  It is so precious and I want to share it with everyone here.  I am copying this to a DVD so that Jesse may enjoy it also.
httpv://youtu.be/ypzI3uF3h1c
Published on Nov 14, 2012 by

DrHardyHD
<<<<<<<<<<>>>>>>>>>>
Below is a song sung by Jimmie Ellis…who was Orion.  This is a tribute to Elvis and you get to hear Jimmie sing in his own natural voice.  I think those of us who are very familiar with all of the Orion songs can make a distinction between Jimmie's voice and that of Elvis.  I have not heard this song before and thought others would enjoy it and provide a good example of Jimmie's voice for comparison.
Published on Oct 9, 2012 by

ElvisAaronPresleytcb
Tribute to Elvis Presley King Of Rock & Roll By Jimmie Ellis
httpv://youtu.be/yLU6FCp0X-0
Also, here is another song which is a good example of Jimmie Ellis's own voice:
Orion- If That Isn't Love
httpv://youtu.be/-1UPf2wz-uw
Below is one of the Orion songs which I have always believed is really Elvis.  See what you think:
Orion- Long Tall Sally
Published on Jul 24, 2012 by

Elvisorion56
httpv://youtu.be/tCz2-XfYLP8
Keep in mind that Jesse told me, himself, that I was correct about some of the Orion songs actually being by him.
<<<<<<<<<<>>>>>>>>>>
DON'T FORGET THE CHRISTMAS LIGHTING CEREMONY TONIGHT AT 6:00 CST / 7:00 EST
Watch Graceland Holiday Lighting Ceremony Live!
Experience the magic of the holiday season when the holiday lights come alive for another year at Graceland in Memphis on Friday, November 16, at 6:00 p.m. CST.
When you see all of those beautiful blue lights come alive, pause to remember why the blue lights were specifically chosen by Elvis back when this part of the decorations began…think ORION  and the BLUE star RIGEL and his conversation in which he said "where I am from…my other home".
<<<<<<<<<<>>>>>>>>>>
SATURDAY, NOVEMBER 17, 2012
After reading the following Edgar Cayce admonition in the
Thought for the Day
, I have made a decision to no longer argue nor fight with anyone no matter what manner of lies they tell about me.  As Jesse once told me "
Your only answer should be the word "LIES
"
."
I have fought so hard to expose those who are frauds and who are taking advantage of unsuspecting fans who have false illusions about Jon Cotner, etc.   It is all to no avail.
Cotner's followers do not want to know any more about him than what he himself tells them…albeit cloaked in contradictions, aliases, etc.  So, today, I shall remove my page regarding their lies about me.  If there are those who choose to believe this man and his followers rather than my truth as exhibited on my over 80 pages, then so be it.  
Those who discount Elvis, who is now Jesse, in favor of Cotner aka Bob Cox aka Mystery Man, etc, then that is their choice.  It is their loss not the loss of myself nor Jesse.
Being a Libra, I have a very strong sense of justice and it is my natural inclination to speak out against lies and deceit.  But, there are some battles that are not worth the time and stress which they cause myself and others.
I have been considering this for the last few days and when today's
Thought for the Day
appeared for  today, I knew what I must do.
I thank everyone who has come to my aid in these skirmishes with the liars and fools of this world.  We have all fought a good battle.  Vengence is mine sayeth the Lord.
Think on This…


Arguments will seldom change the aspects or the views of any. And truth itself needs no champion, for it is of itself champion of champions – and needs no defense; only for self to live according to that which IS the truth!

Reading 1669-1
<<<<<<<<<<>>>>>>>>>>
SUNDAY, NOVEMBER 18, 2012
I apologize that I am late posting the news of Mr. Lansky's death on the site.  I read of it when it took place, but was busy and distracted with other things related to the site.  I am very sorry to hear of his passing.  I know that Jesse will feel sad too.
Bernard Lansky outfits a young Elvis Presley in 1956 at his Memphis shop, Lansky Bros. The rock 'n' roller shopped there the rest of his life.Bernard Lansky/ The Associated Press
Bernard Lansky, 85, of Memphis, Tenn., who helped a young Elvis Presley establish his signature clothing style of pegged pants, two-toned shoes and other flashy duds in the 1950s, died Nov. 15. He and his brother Guy started a business selling Army surplus goods after World War II, then opened a high-fashion men's store. Other entertainers, including Johnny Cash and ZZ Top, and fans also favored Lansky Bros., which supplied Presley's burial suit. (Elvis was telling a close friend what he was going to be buried in long before August 16, 1977…but, I seem to recall what he said about the origin of the suit being different from this report.  Although, my memory may be wrong.)
<<<<<<<<<<>>>>>>>>>>
Another very good admonition from the Edgar Cayce Thought for the Day:
Think on This…


Then the awareness in patience, for this entity, is to become more and more aware of thy relationship to the Creative Forces. Do not grow anxious because those about thee deny thy faith. Only live it and be it; not in finding fault with others, not in condemning others.

Reading 3459-1
<<<<<<<<<<>>>>>>>>>>
Below is the link to a very nice film of Lisa Marie speaking about how the UK and the world appreciates her Dad.
httpv://youtu.be/0VUmP6chCPE
<<<<<<<<<<>>>>>>>>>>
The event Friday night of turning on the Christmas lights at Graceland was beautiful.  I did watch all of it on line.  It was reported that there were 18,000 fans in attendance.
Below is a photo of Graceland in lights…"…it's Christmas time in Dixie, Graceland's all in lights…"
Photos of

Elvis' Legacy

on Facebook:

Also, you may see more photos as well as a video on Elvis. Com at:
Complete raw video and photos from tonight's lighting ceremony are now available on Elvis.com…

http://elvis.ly/fmCkB
Also, there is a time lapse video of the inside of Graceland and the tree being decorated which is fun to see:
<<<<<<<<<<>>>>>>>>>>
If there is anyone who wants a copy of Jesse's book, I don't think you will ever come across a better buy than this one on Ebay. 

THE BUY IT NOW PRICE IS ONLY $20.00 WITH FREE SHIPPING.

  It doesn't get any better than that.
Here is the info and the link:
2d 18h (Nov 21, 201205:37:19 PST)
Price: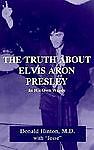 <<<<<<<<<<>>>>>>>>>>
SUNDAY, NOVEMBER 18, 2012 @7:00 pm
I just got off the phone from speaking with Jesse.  We had a good visit.  We commiserated about our respective ages and aches/pains, etc.  But he is doing pretty well.  He has taken a little 3-year-old neighbor boy under his wing and is enjoying his company very much.  There is no mama in Nick's home and Jesse feels sad about that for the little boy.  He is hoping to get some things together for him for Christmas.  We discussed the outcome of the election and our mutual concerns for our nation.  He would like to have the new box set of his Madison Square Garden performance "

PRINCE FROM ANOTHER PLANET

" and so I am ordering that for him tonight. He didn't give me any news for the site this time.  As always, I am ecstatic to have been able to speak with him.

<<<<<<<<<<>>>>>>>>>>
TUESDAY, NOVEMBER 20, 2012
Here is a video of a secret room at Graceland where all of the Christmas decorations are stored.  Some are ones that belonged to Elvis.  I enjoyed seeing this and hope everyone will also.
Secret Room Houses Elvis' Christmas Decorations
httpv://youtu.be/2e-_hlrpTVg
<<<<<<<<<<>>>>>>>>>>
There is another auction of Elvis memorabilia scheduled to start taking bids on Nov. 28th.  One of the items is a note printed by Elvis on two sides of the page.  On the auction site, they have this note displayed, so once more I thought everyone would like to see his printed note.
This may very well be the last note that Elvis Presley ever wrote. Elvis wrote this two-sided note to Charlie Hodge on August 16th, 1977, before retiring to his bed in the morning. Some time later Elvis passed away. This one sheet of paper has Elvis Presley's handwriting on both sides. On one side Elvis has handwritten six songs that he wanted to perform on his upcoming tour. On the other side Elvis has written a note to his friend and musical director, Charlie Hodge, simply stating "Charlie, Make sure you get these – I want to do them." Elvis gave the note to Dick Grob to pass on to Charlie Hodge, and is referred to in Dick Grob's book "The Elvis Conspiracy." Accompanied by letters from Charlie Hodge, Joe Esposito, David Stanley, Danny Calderaro and Greg Page. Very good condition. Comes with a Gotta Have Rock & Roll™ Certificate of Authenticity.
Current Bidding

Minimum Bid:

$12,500.00

Current Bid:

$0.00

Estimate:

$25000 – $35000

Number of Bids

:

0

This auction is not open for bidding yet. It will open on 11/28/2012
Also, to be auctioned is an acknowledgement card sent to someone who had sent an expression of sympathy when Elvis "died".  As you will see, as late as March 10, 1978, Vernon sent out this printed card using the one

A

in Elvis

Aron

Presley.
An original "Elvis Aron Presley" sympathy card that was sent on behalf of his family upon his death to a fan who had written them with their sympathy. His father, Vernon, has signed on the inside. The 5 x 3.5 white card is embossed with black lettering and is accompanied by the original envelope it was mailed in that it post dated March 10, 1978. Comes with a Gotta Have Rock & Roll™ Certificate of Authenticity. Very good condition.
Here is another of Elvis's hand printed items.
Elvis Presley has written the names of his two friends, and fellow performers, Vikki Carr and Glenn Campbell in blue ballpoint pen on the front of this Las Vegas Hilton will call envelope. The envelope held tickets for his show. The front of the envelope has been detached from the back, so it comes as a 7.5 x 4 single sheet. With a very tiny .25 tear at the top and a crease in the middle, in overall very good condition. Comes with a Gotta Have Rock & Roll™ Certificate of Authenticity.
<<<<<<<<<<>>>>>>>>>>
WEDNESDAY, NOVEMBER 21, 2012
I just enjoyed this video so very much after seeing it posted on Facebook by Mickey Moran.  I think it will put a smile on your face to watch this.  Elvis's laugh is so infectious and his smile so irresistible…gotta put you in a good mood.
Elvis Presley

/ Fun Moments
httpv://youtu.be/yqEYRyTUvUs
<<<<<<<<<<>>>>>>>>>>
THURSDAY, NOVEMBER 22, 2012
I want to wish everyone a very happy and blessed Thanksgiving Day here in the USA.  Please remember to pray for our nation at this critical point in time.  May God continue to bless America.
<<<<<<<<<<>>>>>>>>>>
These are two very interesting items which belonged to Elvis related to his involvement with the local law enforcement in Memphis and Shelby County.
<<<<<<<<<<>>>>>>>>>>
FRIDAY, NOVEMBER 23, 2012
A very dear friend to our site, Lucilia, sent me a very astute observation which she has made about the smile of Elvis compared to the smile of Jesse.  I had noted the smile lines matching before…but Lucilia zeroed in on one specific part of Jesse's smile which matches that of Elvis perfectly.  I will display Lucilia's images below with her matches circled in red ink.  I thank her from the bottom of my heart for her help as always.
At this point in time, after all the many examples which I have displayed on this site which prove that Jesse is Elvis, I must conclude that those who still refuse to accept the truth are those who, for their own personal reasons, simply

do not want

to believe that Elvis did not die and that he is Jesse.
Anyone who can view every document on this site, view the images, view the linked videos, listen to the 15 songs on the CD, view the handwriting, and logically look at all the details and facts surrounding the events leading up to August 16, 1977 and following that date and still not accept the truth, is simply in

DENIAL

because of one agenda or another.
<<<<<<<<<<>>>>>>>>>>
In a day that is filled with chaos remember to randomly smile at people…hold doors open…let people go in front of you in traffic. A little kindness goes a long way and you never know you could make someones day. Share this with family and friends to remind them to do the same.
John is one of my favorite people…he brings so much joy and spiritual enlightenment to this dark old world.
<<<<<<<<<<>>>>>>>>>>
WEDNESDAY, NOVEMBER 28, 2012
Now, here is a nice Christmas gift for any Elvis fan…
Christie's Pop Culture Auction
By Scott Reyburn – Nov 27, 2012 2:08 PM ET
Elvis Presley's Rolex
The sale of 160 lots includes an 18-carat gold Rolex watch given as a Christmas present to Elvis Presley in 1976, a U.S. dollar bill signed by Andy Warhol and a promotional poster for the Sex Pistols' 1977 single, "God Save The Queen."
Left, a fine and rare 18ct. gold- and diamond-set automatic calendar wristwatch with bracelet, by Rolex, manufactured in 1976.
The back is engraved "ELVIS MERRY CHRISTMAS YOUR PAL COL. TOM PARKER."
Estimate: $10,000 – $13,000
<<<<<<<<<<>>>>>>>>>>
SENT TO JESSE THROUGH THIS POINT ON WEDNESDAY, NOVEMBER 28, 2012
<<<<<<<<<<>>>>>>>>>>
footnote regarding the above watch:
My good friend Lucilia learned via Facebook that the above watch is not authentic and it was removed from the auction.
This was posted on Facebook as follows:
No Rolex on the auction block!
Just days after we openly doubted the Rolex that Colonel Parker had supposedly given to Elvis for his last Christmas in 1976, and after our dear friend Loanne Parker said that this item was NOT the real thing, Auction House Christie's has emailed us and confirmed that they shall be withdrawing the watch from the upcoming auction.
<<<<<<<<<<>>>>>>>>>>
FRIDAY, NOVEMBER 30, 2012
Wouldn't this be wonderful!!!!!!!!!!!
Elvis Presley could have his day — Jan. 8 — if Congress agrees
Elvis Presley, at his musical peak in 1957. (Associated Press)
By Richard Simon
November 29, 2012, 9:54 a.m.
WASHINGTON — With lawmakers singing the blues about the looming "

fiscal cliff

," why not a resolution to show their support for designating Jan. 8 as

Elvis Presley

Day?
Ten members of Congress have signed onto the resolution to show they have a big hunk o' love for the King of rock 'n' roll.
Presley, born Jan. 8, 1935, in Tupelo, Miss., died at age 42 on Aug. 16, 1977, at Graceland in Memphis, Tenn. He "remains one of the most famous American entertainers of all time whose influence on music and whose cultural impact continues today," according to the resolution.
Demand for Elvis items certainly has not faded.
One of the most requested items from the National Archives is a photograph of Presley shaking hands with

President Nixon

during a

White House

visit. And the Elvis stamp has been the most popular postage stamp.
The resolution, which "encourages the people of the United States, federal, state, and local governments, and interested groups to observe Elvis Presley Day," was introduced by Rep.

Larry Kissell

(D-N.C), who was defeated for reelection this month.
Presley's "impact on rock music, our culture and our nation is long overdue to be recognized," Kissell said in a letter to colleagues. "The story of Elvis is, in part, the story of the American Dream: answering the call of our nation and joining our military. Lifting himself up from poverty to become a successful entertainer, followed by billions across the globe. Giving back to the nation through charity benefits and free concerts."
With time running out on the congressional session, it's uncertain whether the measure will come before the House before Congress leaves.
House Republican leaders have scaled back votes on commemorative resolutions, contending such things wasted floor time needed for more pressing matters.
Supporters of the resolutions say they bring deserved recognition to individuals and groups and attention to important causes while providing moments of bipartisan good cheer in an otherwise divisive Capitol.
Let's all write our congressmen and urge them to bring this proposal to the floor before this session of congress ends.  Lord knows, our nation sure could use some good news these dark days.
<<<<<<<<<<>>>>>>>>>>
Such true words and good advice for us all.  That's how Elvis, who is now Jesse, came to be in my life and to stay as my close and dear friend…my brother.
Mickey Elvis Moran shared Give Thinking Positive A Try's photo on Facebook.
<<<<<<<<<<>>>>>>>>>>
Jesse phoned me tonight and we had a nice visit.  He is doing pretty well.  He traveled to another state and spent a week there.  He had just gotten back home and was tired from the trip.  He enjoyed the weather during his visit.  He said that he really liked watching the DVD which I sent to him of "

Prince From Another Planet

".  There was footage on there that he had never seen before so he found it very interesting.  We discussed the upcoming holidays a little bit.  He expressed concern about the various forms of disbelief and rudeness which I encounter.  We didn't discuss any topics which were to be covered on the site this time.
I am sorry that I haven't any real news to share this time. I just wanted to let everyone know that I did speak with him that he is all right.
<<<<<<<<<<>>>>>>>>>
I HAVE STARTED A NEW PAGE FOR THE MONTH OF
DECEMBER, 2012
Here is the link to the new page:
 <<<<<<<<<<>>>>>>>>>>