Copyright LindaHoodSigmonTruth.com May, 2009 – 2016  All rights reserved.
I apologize to my visitors that this page is missing some photos, etc.  This took place years ago when we moved my site to my new web site host.  My former host encrypted all of my own personal material in order to make it very difficult to move it to another host.  It is a very frustrating and time consuming task to reconstruct the missing images.  Thank you for understanding.  I think you will enjoy that which is still on this page.  I thank you for visiting.
FOR ALL NEW ENTRIES PLEASE  SCROLL TO THE END OF THIS PAGE.
WEDNESDAY, JUNE 30, 2010
URGENT NOTICE:  THERE ARE REPORTS THAT SOME OF THE "LIVE" VIDEOS ARE NOT RESPONDING PROPERLY WHEN ONE CLICKS ON THE ARROW TO PLAY THEM.  IF YOU EXPERIENCE THIS PROBLEM, PLEASE HOLD YOUR CURSOR OVER THE YOUTUBE LOGO IN THE LOWER RIGHT CORNER AND YOU WILL BE GIVEN THE OPTION OF "WATCH ON YOUTUBE".  IF THERE IS NO YOUTUBE LOGO SHOWING IN THE LOWER RIGHT CORNER, THE OPTION WILL STILL POP UP IF YOU HOVER OVER THAT CORNER. WHEN YOU CLICK ON THIS OPTION IT WILL GO STRAIGHT TO YOUTUBE.  I APOLOGIZE FOR THIS INCONVENIENCE.
*****************************************************
SATURDAY, JULY 10, 2010
REPORTEDLY ELVIS

WAS

 IN KALAMAZOO IN 1988.
I have just completed the addition of the Kelly Burgess interview to my YouTube videos. This interview is presented on two YouTube videos. This is the video Part 1.
Elvis was alive and in Kalamazoo, MI in 1988. Kelly Burgess was a seasoned reporter who had previously worked for the Detroit News paper and more recently had written columns for national magazines.
She states that she did meet Elvis face to face in August, 1988 in Kalamazoo. This video is part 1 of my two part video of her entire interview in which she details the how, when, where, who and why of her visit to Kalamazoo. Please do view my Part 2 of this interview…below.
This interview is an excerpt from "The Billy Goodman Show – Elvis Lives?" I would recommend this video to everyone. I have no idea where it could be found presently. I purchased my copy of this show back in 1988…so I have had it for 22 years. Below is the front cover of the video box.
THE FOLLOWING IS THE CONTINUATION OF THE ABOVE INTERVIEW.
ELVIS WAS IN KALAMAZOO, MI IN 1988. THIS IS THE KELLY BURGESS INTERVIEW DETAILING HER MEETING WITH ELVIS.
Kelly Burgess was a seasoned reporter who had previously worked for the Detroit News paper and more recently had written columns for national magazines.
She states that she did meet Elvis face to face in August, 1988 in Kalamazoo. This video is part 2 of my two part video of her entire interview in which she details the how, when, where, who and why of her visit to Kalamazoo. Please do view my part 1 of this interview above.Sadly, Mrs. Burgess passed away years ago before she completed her book. However, she had already told Gail Brewer-Giorgio that she was going to discontinue her plans to investigate and write the book because she had learned some info. which was frightening.
<<<<<<<<<<>>>>>>>>>>
MONDAY, JULY 12, 2010

Below is the gold face of Jesus which Elvis/Jesse sent to me, about which he wrote in his letter above. He sent this to me in the same package as the photo of him with Benjamin. That took place in July 1997. I thank him from the bottom of my heart for this beautiful and special gift.

<<<<<<<<<<>>>>>>>>>>
IMPORTANT NEW ADDITION
SUNDAY, JULY 18, 2010
The letter which I am displaying below was received by me from Elvis/Jesse on July 6, 2002. It was written in response to a video of the FOX 8 interview with Dr. Hinton which I had sent to him. I am displaying it here for the very first time publicly. I have asked Elvis/Jesse for permission to display it on my site. He and I spoke on Friday, July 9th.My purpose in displaying it so very prominently is to put to rest, once and for all, the lie which was repeatedly told by Dr. Hinton and his associate, Linda Felix-Johnson. They told in interviews, and to people privately, that Elvis was going to "come out" by the end of 2002. I knew this to be untrue and I made them aware that I had this letter. I told them that if I should make it public, it would blow them out of the water. They totally ignored my messages to them about this matter.You may visit my two pages devoted to this topic to see my earlier detailing of these events.
So, now it is time that it be proven to the world that Elvis NEVER promised them that he was going to "come out" in 2002. You will see this in his own handwriting below. Also, you will see that he very strongly disapproved of the way Dr. Hinton was handling things and was incredulous that Dr. Hinton would even have any thoughts that he was going to "come out". I have other letters from Elvis/Jesse in which he again indicates these same sentiments…that he had told no one that he would "come out". Jesse had told me to not believe anything unless I heard him speak the words or saw it in his own handwriting.I hope that this will settle this matter. So many people lost confidence in the fact that Jesse is Elvis because of the false promises made by Dr. Hinton and his associate. I have suffered greatly because people turned on Elvis/Jesse and, by association, me because Elvis did not "come out".
Their false promises are one of the root causes of my having a web site now.
 <<<<<<<<<<>>>>>>>>>>
Just listen to this…guaranteed to make everyone feel better!
annieparadowska
<<<<<<<<<<>>>>>>>>>>
THURSDAY, JULY 22, 2010
My friend, Susan, has made me aware of a video of Joe Esposito and Charlie Hodge at the hospital on the day that Elvis was pronounced "dead".
VERY INTERESTING NEW VIDEO
The comments made by Joe in this tape are totally contradictory to every other account we have heard…from Joe himself and everyone else. The accounts given by everyone involved are at odds with each other most times.  Joe says that Elvis was found on the bed and that he had just gone upstairs to talk to him about something and found him not breathing.
Then again, sometimes, he says that he thought he heard him take a breath and that they attempted to resuscitate him until the ambulance arrived. Then again, many times he has stated that rigor mortis had set in. This is spoken to explain why Elvis in the coffin looked different than the Elvis we knew at that time…his nose was flatter.  Then we have the ambulance EMT's attempting resuscitation. They were joined by Dr. Nick who continued those efforts on the ride to the hospital and then, lastly, the efforts were continued at the hospital. Rigor mortis????
I want to emphasize that I respect Joe and that I do understand all that he has been through and how loyal he has always been to Elvis/Jesse. It took a long time for me to reach the decision to place the film of him on the Geraldo show in which he spoke "…and that's how Elvis feels about this situation" on YouTube and on my site. Same with the footage of him on Larry King with Gail regarding the pool house door photo.
I do have Elvis/Jesse's carte blanche permission to share that which I want to on my site. But, should anything on my site be displeasing to him, I will remove it immediately.
I appreciate so much that Susan shared this video with me. I had heard that Joe made this statement, but this is the first time that I have seen and heard this myself.
That all being said, please do view it with an open mind.
<<<<<<<<<<>>>>>>>>>>
 SUNDAY, JULY 25, 2010
ADDITION OF ANOTHER HANDWRITTEN LETTER
It occurred to me that, even though I have the letter below on another page of my site, I have failed to enter it onto the page with other copies of Elvis/Jesse's handwritten letters to Dr. Hinton for the book.  So, I am adding it to that page for those who missed seeing it on the first page on which I placed it.  I displayed it before on my page which proved that Elvis/Jesse knew about things long before it was public knowledge.
Prior to Christmas in December, 1999,  Elvis/Jesse wrote to Dr. Hinton and sent him several gifts for Christmas. The following is a copy of his handwritten letter from my copy of the rough draft of the book.  As you will see, he sent Dr. Hinton the pajamas which went with the robe he had sent to Dr. Hinton previously. But most importantly, he sent the pair of cuff links which Ann Margret had given to him upon completion of their movie "Viva Las Vegas" in 1964.
Dr. Hinton only placed the typewritten transcript of Elvis/Jesse's letter in the book, so I believe this handwritten letter will be something special to those who have not seen it before. Also, shown are the cuff links themselves.
Elvis/Jesse had spoken with me in advance of his trip to Graceland to pick up the cuff links. He had to slip in at night unseen to get them from his bedroom where they had been since 1964.  As you will read, Elvis/Jesse did not want them to be "sold at any auction".
 
<<<<<<<<<<>>>>>>>>>>
SATURDAY, JULY 31, 2010
Today I would like to call to your attention a book which was, in my opinion, written at the request of Elvis…through Larry Geller. This book, in my opinion, never became as well known as it should have…as did so many other books of  far less value. This book is "THE BOOK THAT ELVIS PLANNED TO WRITE!"The title of this book is THE TRUTH ABOUT ELVIS. It was published in 1980 and was written by Jess Stearn with Larry Geller.Below you will see the front and back covers as well as just a tiny bit from the book itself. As you will see this book was dedicated to

"Elvis – whose book it is"

.This book delves deeply into Elvis' spiritual quest and the knowledge which he gained from that quest. Elvis had hoped that the enlightenment which he had obtained would be helpful to others. "He wanted the millions of people he knew to profit as he had through his spiritual experiences."  I highly recommend this book. It is certainly at the very top of my list of favorites. Anyone who is interested in knowing the wonderful man (the REAL man) that Elvis/Jesse was and is will find this book very informative and so very enjoyable.You see that is what my friendship with him has always been based upon…the true man behind the image…the man who is 

so much more

than just the superstar image.After reading this book, I think the reader will have a much greater understanding…a much more accurate view upon the fact that Elvis was VERY sincere and dedicated to his spiritual interests, studies and principles… and his love of God.Unfortunately, this book is out of print (at least to my knowledge). It was put out in another printing some years ago. I gave my copy of that version to a friend as a gift. Therefore, I don't recall the exact title of that book. One should be able to search on the Internet for books by Jess Stearn and Larry Geller and, hopefully, locate that book for sale. You may also be able to locate copies of this original book on EBay. Below are the images which I mentioned above:




<<<<<<<<<<>>>>>>>>>>
Page from the Elvis Desk Calendar for Saturday, July 24/ Sunday, July 25, 2010. 

<<<<<<<<<<>>>>>>>>>>
MONDAY, AUGUST 2, 2010
Here is the link to a very thorough and informative group of interviews which were done with various people regarding the question "Is Elvis Alive?". I have previously posted a link to a portion of this site in the past, but I feel that I was remiss in not encouraging reader's to also enjoy the other interviews by Mr. James.www.classicbands.com/MysteryofElvisPresley.html
*************************************
WEDNESDAY, AUGUST 4, 2010
My friend, Susan, has written that she found used copies of the book THE TRUTH ABOUT ELVIS…(as mentioned in my article above) for very reasonable prices at Amazon.com. Here is the link to their page for those who may be interested in obtaining a copy. Susan has this book and she also recommends it highly.
<<<<<<<<<<>>>>>>>>>>
THURSDAY, AUGUST 5, 2010
Here is the latest news about Adam Muskiewicz's documentary film.
Back when Adam was starting out and offering the $3 million reward, I was very concerned for Elvis/Jesse. When I spoke to him about it, he remarked "Don't worry about it. He won't get anywhere with it." VERY ACCURATELY PROPHETIC wasn't it?!
*****************************************************
Is Elvis Still Alive?: Press Release ~ Ground Breaking Elvis Film For Sale
Press Release ~ Ground Breaking Elvis Film For Sale
Today at 4:06pm
FOR IMMEDIATE RELEASE:AUGUST 3, 2010Filmmaker Adam Muskiewicz to sell his share of the ground breaking documentary "The Truth About Elvis"(Lakewood, OH) – Filmmaker Adam Muskiewicz is selling his share of the groundbreaking documentary "The Truth About Elvis". The film digs deep inside the myths and conspiracy's surrounding the death of Elvis Presley while looking at both sides of the story.Along with Muskiewicz, Warren Zide ("American Pie", "Final Destination") and Dan Bliss (Ceo/Founder of PerfectBusiness.com) are involved with the project which has been highly anticipated since 2006. When news of it splashed, it created major interest from several distribution companies and networks.In conjunction with the movie, the website
www.elviswanted.com
offered 3 million dollars to anyone providing real proof that Elvis is still alive."I've put my heart and soul into this film. The post production is in capable hands and new projects are calling me" he said. "I'm looking for a win, win, win scenario, but I'm not going to give my shares away.""The 35th anniversary of Elvis death/disappearance is two years away, great timing to put final touches and strategic marketing. Whoever buys me out is buying in to a great opportunity" he continued."Now is the perfect time for someone to step in and take my seat at this table." says Muskiewicz. The table features Himself, Zide, Bliss, and of course Elvis, King of Rock-n-Roll, and the myths surrounding his death.Websites:
www.elviswanted.com
www.truthaboutelvis.com
ABOUT MUSKIEWICZ:
Adam Muskiewicz is a writer, actor and filmmaker who works hard to entertain and inspire. With limited resources, he has developed many conceptual films and books. He is still seeking to produce his first dramatic feature film, a project entitled "Spite."Adam is a self-taught actor and filmmaker. He has gained experience working on various projects in and around his hometown of Cleveland, Ohio. His most recent projects include an artistic piece called "Weirdo," a documentary entitled "5 G's in 30 Days" and a supporting role in the indie film "Hero Tomorrow."He has also written the books "You're Probably a Bad Person if", "101 Reasons why Christmas Gets on my Nerves", "The Snuggle Sutra", and "Why do People Put The Couch to the Road With No Cushions?" along with a musical comedic script called "Cock Tales". That is a male version of "The Vagina Monologues".Media contact:
Izzy Presley
(c) 651-285-1830
(e) izzypresley@yahoo.com
 ***************************************
FRIDAY, AUGUST 6, 2010
ELVIS  An American Legend


October 18, 1995…cover shown
below:
Within this publication there is an article
titled 50 facts about Elvis.
One of these facts has me thinking Hmmmm!??
Here is the full first page of this article:
Also, something of less importance but
interesting…this is something that most of us already knew, but it bears repeating with August 16, 1977 in mind:
<<<<<<<<<<>>>>>>>>>>
TUESDAY, AUGUST 10, 2010
My friend, Deb, has sent me a link to a web site on which a Numerology reading based upon Elvis' birth name and date of birth is displayed. You will see on this reading that it bears out the significance of the number 9 about which Elvis/Jesse told me those many years ago. It will substantiate the worksheet which I constructed and have displayed on this site.
*************************************
FRIDAY, AUGUST 13, 2010
I have received inquiries from a number of people recently regarding the question "Is Elvis coming out?". It seems that a rumor has been popping up on some message boards recently that he is planning to make an appearance.
To my knowledge this rumor is totally unfounded. I hate to see people get their hopes up as they did back in 2002 when Dr. Hinton made those same false promises.
I can only tell you what I know to be the truth. Elvis/Jesse and I communicate rather frequently…he phoned me one week ago…on two consecutive nights.

He certainly gave no indication to me, whatsoever, that he has any intention of coming out. He, once again, assured me that I have his 100% backing and that he supports me and my web site totally.
Please remember that he only wants to be allowed to live out his life privately as Jesse. I ask that those of you who love him, please don't publish statements which could cause him worry or stress. He is not the Elvis image that people remember…he is just a man who had a
very famous brother.
****************************************
SATURDAY, AUGUST 14, 2010
I just watched a lovely video of an interview regarding Elvis's spiritual life. Elvis, the inner man (not the stage image) was so very deeply interested in and so actively seeking the truth about God, the journey of his own soul, and why he came to be "Elvis". His love of gospel music was so much a part of him. It is truly amazing to stop and think that the "King of Rock & Roll" only won Grammy's for his gospel music. How very fitting! That was God's plan for him.
Here is the video. I hope you will enjoy watching it as much as I did.
The owner of this video on YouTube is TheRealjohnny2k
footnote:  I am so very sorry that this video has been removed by YouTube.
<<<<<<<<<<>>>>>>>>>>
Sunday August 15, 2010 footnote added:
I have noticed that others have commented about the fact that I, at times, refer to Elvis in the past tense…as I have done above. I do not, consciously deliberate over how I speak of him. Sometimes, when speaking of things before August 16, 1977, I do refer to him in the past tense. This is because of the fact that

Elvis,

as we knew him

, did indeed die on August 16, 1977. Elvis the "superstar" DID die that day. He was "so tired of being Elvis Presley". He stated that fact to many people so many times before he went away. He no longer thinks of himself as "Elvis". After being friends with him for so many years, he is Jesse to me…that is how he lives his life and wants others to think of him.
SUNDAY, AUGUST 15, 2010
Here is another lovely video regarding Elvis's spiritual life:
This video on YouTube is presented by mynameisalejandro
<<<<<<<<<<>>>>>>>>>>
MONDAY, AUGUST 16, 2010
On Sunday, August 8, 2010 I posted an article which I only left on my site for a very short time…just a matter of hours. I then removed it for personal reasons. I have decided to now publish it again:
SUNDAY, AUGUST 8, 2010Today I am adding another item related to Numerology. This is of a mystical nature…so I know that the skeptics will dismiss this as nonsense. But, as I told Elvis/Jesse when he asked me if I thought that people would understand him being Jesse now…"Those who look at things in a spiritual way will understand." That statement holds true for how each individual will choose to view the following.
During Elvis's 1973 Aloha From Hawaiishow, the lighting effects changed very frequently during the show. What I am about to display is a very interesting display of three of the lights superimposed directly across Elvis's forehead. The lights form the numbers 9 9 9. This takes place while Elvis is singing the words "Glory, glory, hallelujah! His truth is marching on!" You will see that the numbers appear very small and off to one side…then in the close up of Elvis's face, the 9 9 9 appears directly over his forehead.
As I previously wrote, the number 9 is very prominent in Elvis's/Jesse's life…i.e. name numbers and birth date numbers, etc. As you can see the 3 9's equal 27 which is another significant number for him which, of course, reduces down to the number 9.
Please refer to my page devoted to the topic of:
This correlates with the fact which Elvis/Jesse told me to check out recently…that there were numbers in all of his movies which were significant for him…i.e. the "1313" in Jail House Rock which equals "8". Also, the numbers in the name and date of death of Deke Rivers in Loving You, again the "8's".
Below are three images from the Aloha show in which you can see the 999 in lights across the image of Elvis's face.
A good friend pointed this out to me many years ago during the time that I published my newsletter 1990-1991. So, I cannot take credit for noticing this myself. But, after seeing it, I find it most intriguing.
At first glance one may think oh well…that is just a coincidence that the lights appear to be 9's. And if that is what one sees and believes, then that is perfectly fine. But, for those whose minds are open to the possibility that God does work in mysterious ways, it will please you to look into the significance of the number "9" and "999". Elvis/Jesse himself stated that "There are no coincidences. Everything has a meaning."
Here is an excerpt from my page devoted to Numerology in which one may see the significance of the number "9's" in Elvis/Jesse's life:
When he and I were first beginning our contact, he had someone (from his pre August, 1977 life) call and ask me for some information about myself. My birth date was one of the first things he wanted to know. When I told this person my date of birth, he said "He's going to have fun with this".
Then when Jesse and I spoke, he told me that he is a #9 also. This was something that I had not noticed up until the moment he told me that we shared the #9. My birthday is the 9thmonth and the 27th day (equals a 9). His birthday Jan. 8, 1935 also carries the #9 s. 1+8=9; 1+9+3+5 = 18; which reducesto1+8 = 9.Then the final total of all the digits in his birth date1-8-1935 = 27 which reduces to 2+7 = 9.So, he and I have the number 9 in common in our birth dates.
Below are two excerpts from "Cheiro's Book of Numbers" which has always been a favorite book of Elvis'/Jesse's. In fact Elvis was so impressed with Cheiro's work and the man that Cheiro was that he once considered making a movie of Cheiro's life in which he would play the part of Cheiro.
I am showing these pages in order that each reader may see the significance and unusual properties of the number 9.





A footnote regarding the number 9 was added on Monday, August 30, 2010.  Please scroll down to see this addition on that date.
Below you will see excerpts from several articles which expound upon the significance of the number 9 as well as the specific significance of the number 999:
As the great American anthropologist Margaret Mead once observed: 'Never doubt that a small group of thoughtful, committed citizens can change the world. Indeed, it's the only thing that ever has.'
999 – a numerological aspect:In numerology, 999 is the point of transformation the moment at which we shift a crisis in the direction of an opportunity. In Taoism, this is known as 'wei-chi', a Chinese character which means both 'crisis' AND 'opportunity…' (9.9.9 It's Time)
99999999999999999999999999999999999999999
Properties of the number 999 (RidingTheBeast)
Symbolism
The justice, the truth.

In some texts sacred or esoteric, 999 represents the infinitely large, just as 999999.
General
By undertaking circular permutations of the numbers composing the mysterious number 153, this gives place to six possible combinations: 153, 315, 531 and 351, 135, 513. And:

153 + 315 + 531 = 999 351 + 135 + 513 = 999

The number 999 is the reverse of 666, the number of the Beast of the Revelation (Apocalypse). This arithmetical strangeness demonstrates that the "power" of the Beast, 666, will be "reversed" by 153, characteristic number of the Christ,to give as result 999, symbol of the application of the divine justice…999999999999999999999
"As above – so below" first published in 1996. A.Luneng



****************************************
Numerology, as a tool for understanding, seems to have lost its importance in our scientific realm. However, it is a fact that it was implemented within the Jewish religion which is the basis of Christianity. That`s why it`s irrelevant to overlook the numerology in a religious and scientific research of the Bible.
It is a fact that Jesus attached importance to the two numbers 6 and 9, hence:
Mt:20:5: Again he went out about the sixth and ninth hour, and did likewise.
Mt:27:45: Now from the sixth hour there was darkness over all the land unto
the ninth.
Mt:27:46: And about the ninth hour Jesus cried with a loud voice, saying,


Eli, Eli, lama sabachthani? that is to say, My God, my God, why hast thou




forsaken me?




The Gospel of the Holy Twelve:82:26:When Jesus therefore had received the vinegar, he said,


"It is finished". And he bowed his head, and gave up the ghost. And it was in the ninth hour.


Acts:3:1: Now Peter and John went up together into the temple at the hour of


prayer, being the ninth hour.
Acts:10:3: he saw in a vision evidently about the ninth hour of the day an


angel of God coming in to him, and saying unto him, Cornelius.




Acts:10:30: And Cornelius said, Four days ago I was fasting until this hour;


and at the ninth hour I prayed in my house, and, behold, a man stood before


me in bright clothing,
The seal of Solomon
Known as the six pointed Jewish star, contains the old wisdom: "as above, so below". This wisdom

is reflected with the numbers 6 and 9; the number 6 seen from above is 9 and 9 seen from above is 6.
In earth, as it is in heaven
Within holy Geometry the religious subjective connects to its objective opposite – science. In

understanding this one is capable of revealing a "hidden" interactive between religion and science.

The "heaven" as symbolized with the number – 9 – is reflected geometrically in the

Star of Bethlehem

.

All its inner and outer angles when "decoded" numerologically, ends in the same number – 9. In the Revelation the number 144 (1+4+4=9) is the number both for the angel, but also the wall facing the

human kind, Rev. 21,17: "And he measured the wall thereof, an hundred and forty and four cubits,

according to the measure of a man, that is, of the angel."
The "wall" is found to be the link between the angel and man. This link is found geometrically within the Star of Bethlehem and a scientific knowledge of the earth`s crystals. The Star has 2 x 5 inner

angles ((252×5) + (36×5)) which by adding ends up in 1440 (9). The same number is found by analyzing

the 5 different forms that nature in our 3 dimentional world is made of. "Hidden" in the earth we

find that there are only 5 different but regular forms of crystals called Polyhedron (pah-lee-hee'-druhn).

A polyhedron is a three-dimensional figure bounded by plane polygonal regions. A polygonal region

consists of a POLYGON and its interior points. The polygonal regions are the faces of the polyhedron;

the edges of the polygons are the edges of this polyhedron; and the vertices of the polygons are the

vertices of the polyhedron. If the faces of the polyhedron are all congruent regular polygons, then the

polyhedron is called a regular polyhedron. The regular

tetrahedron

(triangular PYRAMID), which has

four equilateral triangles as faces; the

cube , with six squares as faces; the regular dodecahedron, with twelve regular pentagons as faces; and the regular

icosahedron

, with twenty equilateral triangles as faces;

the regular

octahedron

, with eight equilateral triangles as faces. It is only possible to create regular

crystalforms from these 3: trianglels, quadranglels, and pentagons.
Now, if multiplying the

first 4 with each of theirs proportionals – 2x3x6x10 – it makes the

number of the circle – 360 (9). Finally the 5 th. proportional, which is a proportion of 2 pyramides locked

up to eachothers squares (octahedron), and therefore has the number 4 as its proportional, reveals the number as found in the Star of Bethlehem: 360 x 4 = 1440 (9) By this we can approach both scientifically and spiritually by saying as Jesus said in Mt. 6,10: "Thy kingdom come. Thy will be done in earth (Crystals), as it is in heaven" (the Star of Bethlehem).
There is another source for understanding "In earth as it is in heaven" using numerology. The following measurements of the sun, the moon and the earth synthesizes

"in the beginning"

– was the number "999": 
The diameter in miles of:
| | | | |
| --- | --- | --- | --- |
| the sun: | 864 000 = | 8+6+4 = 18 = 1+8 = | 9 |
| the moon: | 2160 = | 2+1+6 = | 9 |
| the earth: | 7920 = | 7+9+2 = 18 = 1+8 = | 9 |
 

The sign of Jonas and "the end of time"
Jesus selected his new world based on 12 precious "stones", known as the 12 disciples.

The

selection was not casual. The 2 numbers as spoken of in the book of Daniel, by using the




same "childish" method we can "shorten the time", and the only sign given to this family




(Mt: 12:40) is revealed:




"For as Jonas was three days and three nights in the whale's belly; so shall the Son




of man be three days and three nights in the heart of the earth":

1290 = 1 + 2 + 9 + 0 = 12 = 1 + 2 = 3 (days)




1335 = 1 + 3 + 3 + 5 = 12 = 1 + 2 = 3 (nights)

Spiritually the two numbers given to Daniel cannot be applied on an exact time-calculation, as many

have tried to. Because, what is time, if not our illusion in putting the universe into a square like box

serving the speed of light as our God? No, these numbers reflects spirit and its way of thinking not

in a linear time, but in cycles. What has been will be, and what will be has already been. In eternity

there is no linear time but our illusions about time. Let`s face eternity; God doesn't think for himself

in terms like "the end of time", because being divine no such problem exists. It is only our problem,

living in a 3 -dimentional realm.

There is however, a paradox regarding the speed of light and numerology. As we know the speed of light in miles is commonly known as 186 000 pr. second. The speed of light is one of the foundations "stones" in Albert Einstein`s equation E=mc². The speed of light squared and reduced to a single equation (parable):




186 (000) x 186 (000) = 34596 (000000) = 3+4+5+9+6 = 27 = 2+7 = 9

This is the "end of time" – the end of darkness – seeing all as light, at the 9th. hour:

"And there shall be no night there; and they need no candle, neither light of the sun; for the Lord God givith them light: and they shall reign for ever and ever." Rev. 22.5.

footnote:  As an aside to the above, take note that the digits in the chapter and verse above even equal 9.
999999999999999999999999999999
The above facts are here as "food for thought". I certainly do not intend to cause any sort of religious debate. I would like for everyone who loves Elvis/Jesse to take all of this in and consider why God chose him to be "Elvis".
My love and respect for Jesse is boundless…I always strive to honor him in all that I share on this web site.
It is never my intent to offend anyone's personal religion.  If you find any thing regarding the mystical topics on this site to be offensive, then please just skip over the topics with which you do not agree and move on to the next topic on the site.  Everyone is welcome on this site.
<<<<<<<<<<>>>>>>>>>>
Wednesday, August 18, 2010
Here is another photo for comparison…just for good measure! 🙂
My good friend, Deb O., wrote the following to me recently and I agree with her. I had never taken note of this until she pointed it out. You can see what she is speaking of in the photo of Elvis with Gladys below.
Deb also wrote me today that it is apparent in the two photos of Elvis/Jesse which I posted above this afternoon.
"When people are comparing OLDER photos of Elvis with the photo of Jesse and his grandson,I am curious as to WHY is it that nobody points out the pigmentation around the eyes??…Elvis has always had darker skin around the eyes…EXACTLY like his mom (it is hereditary)….It is also present on the photo of Jesse, and his grandson.."

My heartfelt thanks to Deb.
<<<<<<<<<<>>>>>>>>>>
American King – The Elvis
Files

Described as an "Elvis Mystery Reopened".
This is the very first time that I have learned about this film being available.  In the original credits when I found it (last night) Gail Brewer-Giorgio was listed as having been the writer in the credits. But just now when I looked again, her name has been
removed…. This may have Gail's participation though…

The Elvis Files

is the title of Gail's video and one of her books. It may contain only material which many of us have already seen…I just
don't know.
At the above link, you may rent it for only $1.99 for 7 days or buy it for
$9.99.
<<<<<<<<<<>>>>>>>>>
****VERY IMPORTANT****
FRIDAY, AUGUST 20, 2010
NEW DOCUMENTATION…PLEASE VISIT MY PAGE TITLED "AUTHENTICITY DOCUMENT

PROVES

 JESSE IS ELVIS"
<<<<<<<<<<>>>>>>>>>>
FRIDAY, AUGUST 27, 2010
For those interested in the FBI investigation which was going on at the time of Elvis's "retirement", the above link will take you to the search results for Elvis in the FBI's files. Below is an excerpt from a page on which you will see the August 16, 1977 date stamped on one document. Please note that you will have to scroll down almost a whole page before you can see the data. This is a PDF file so it takes a little for it to load.
As you probably are aware, this case involved the defrauding of Elvis via a transaction involving one of Elvis's planes by a group of racketeers/mobsters. This investigation continued after the day Elvis "retired". This does validate that yes, he was involved in an FBI investigation at the time of his "retirement". Just one more stress factor in his life at that time.
Here is the excerpt from the FBI files on which you will see August 16, 1977 stamped and "Not Recorded".

As you will see, there are many pages deleted from the copies available to the public as well as many, many things which are blacked out.
I want to thank my friend, Deb O., who shared these links with me recently…these are surely more current than the paper copies which I have had since 1990.
<<<<<<<<<<>>>>>>>>>>
MONDAY, AUGUST 30, 2010
Another photo showing an example of Elvis's legitimate work in law
enforcement:

 <<<<<<<<<<>>>>>>>>>>
MONDAY 30, 2010
THIS IS AN UPDATE TO THE INFORMATION REGARDING ELVIS AND THE NUMBER 9 ABOVE:
Below is more information on the significance of the number 9. When I read these items, I can certainly see a relevance to Elvis in these words. See what you think:
Properties of the number 9
Symbolism
Number of the patience, the meditation.

Number of the harmony, it represents the inspiration and the perfection of the ideas.

It is the expression of "the power of the Holy Spirit", according to Etchegoyen.

Symbolize the plenitude of talents, the reward of the tests.

Symbol of the creation and the life as a rhythm and development.

As a product of 3 x 3, it is the expression of the perfection, the symbol of the virile power, in addition to be associated to the couple.

Nine is the number of the one who accomplishes the divine will. According to the Cabal, it is also the number of the achievement.

The freemasons have made it the eternal number of human immortality.

Being the last simple number, it is the number of finalization or finition; it is therefore the most complex, that marks the full lighting up of the numerical series.

This number was considered as sacred in Egypt and in Greece.

Number of the man, as a numeral symbol of his gestation (nine months).

Number symbolizing the nocturnal and terrestrial things, for the Aztecs.

Number of the hierarchy, represented by nine choruses of the Angels.

Represent the three divine manifestations in the three plans: world of the spirit, world of the soul, world of the matter, which gives a triple manifestations of Trinity (3 x 3).

Symbol of the multitude, and according to Parmenide, it concerns the absolute things and it is the symbol of the totality of the human being.

A favorable number, associate to the eternity.
source: RidingTheBeast.com
<<<<<<<<<<>>>>>>>>>>
THURSDAY, SEPTEMBER 2, 2010
I have just discovered the most beautiful video of Elvis which I think I have ever seen.
The film footage and the song are just magnificent.  This includes some very
rare home movies of Elvis and his family…things I have NEVER seen before.  I
hope everyone will take a few minutes to enjoy and contemplate this beautiful
song and movies.
The owner of this amazingly beautiful video
is:

BrandonJackie1978
httpv://www.youtube.com/watch?v=pljYD7ncmSU
<<<<<<<<<<>>>>>>>>>>
MONDAY, SEPTEMBER 6, 2010
Those who have visited my page devoted to the Orion material before…especially the Orion Pictures correlations, will recall that I wrote about the synchronicity of the lyrics to one of Elvis's last recorded songs "

The Last Farewell

" to the plot of the Orion movie "

Farewell To The King

". Below is a link to a YouTube video of Elvis's rendition of this hauntingly beautiful song.
I, once more, urge everyone to listen to this magnificent song by Elvis and then check out the Orion movie. You will be blown away by the many, many correlations. This song should have been the sound track for this movie. One only has to consider the similarities of the two titles to immediately see the significance relating to Elvis.
Please do take time to check this out…you will be very happy that you did. Remember how Jesse recently told us to watch all of his movies for the significant synchronicity of numbers, etc. in them. Well, if one searches the Orion Pictures movies, many, many instances of Elvis related "coincidences" will be found.
There are some special words spoken here and there in the film…such as: "I died once. It meant giving up everything…even the will to live" "

The songs will make you strong and you won't need me any more.

" Mention of

Big Boots

in reference to a little boy wearing a man's boots. Of course, Elvis's military related movie was G. I. Blues. On the soundtrack to that movie there was the lullaby type song "

Big Boots

".
Below the video, I will insert an excerpt from my movies report (Orion Pictures and others) which I compiled mostly back before I began my newsletter. As you can see, my truth has not varied one iota from the very beginning until today.
This YouTube video is owned by:

ydentjes
Here is the trailer to the

Orion Pictures

movie "

Farewell To The King

"
This YouTube video is owned by

:warmovie001


<<<<<<<<<<>>>>>>>>>>
TUESDAY, SEPTEMBER 7, 2010
Tom Jones – Jones To Headline Elvis Tribute Concert

Jones To Headline Elvis Tribute Concert
Welsh crooner SIR TOM JONES is to headline a star-studded concert paying tribute to his pal ELVIS PRESLEY to mark what would have been The King's 75th year.
The veteran singer, who struck up a close friendship with Presley in the 1970s, will be joined by acts including KT Tunstall, Mica Paris, Tony Hadley and Travis' Fran Healy for Radio 2's Elvis Forever show in London's Hyde Park on Sunday (12Sep10).
Presley's ex-wife Priscilla will be co-hosting the event and the TCB Band, who played with the Heartbreak Hotel hitmaker until his death in 1977, will provide backing music.
A fireworks display will mark the end of the concert, which will be held to pay tribute to Presley's back catalogue.
Radio 2 and 6 Music head of programmes, Lewis Carnie, says, "I am delighted that Sir Tom can join us to celebrate the music of Elvis Presley, for a night that promises to be very special."
<<<<<<<<<<>>>>>>>>>>
MONDAY, SEPTEMBER 13, 2010
ELVIS AND THE NUMBER 9
As you have read above and on my page devoted to Elvis and Numerology, there is a very strong significance of the number 9 in Elvis' numerological makeup.  I noticed two new articles which relate to that in the past few days.  One of these is in reference to the anniversary of 9-9-1956 on which he made his landmark appearance on the Ed Sullivan show.  Below are two brief articles about this fact followed by a brief article about another of the amazing qualities of the number 9.
This Day in Music: September 9
1956, Elvis Presley made his first appearance on The Ed Sullivan show, performing "Don't Be Cruel," "Love Me Tender" and "Ready Teddy" from the CBS TV Studios in Los Angeles.
Elvis Presley Biography
Famous in life, Elvis Presley has become even more famous in death as an icon of American music and TV-era celebrity. Presley hit the charts as a rock 'n roll rebel in the 1950s. His 9 September 1956 appearance on the Ed Sullivan Show (with Presley shown only from the waist up to hide his swiveling hips) turned him into one of the era's biggest stars.
Also, as I have mentioned before, the number 9 is also my birth date number…my birthday being September 27, 1946.  Thus my birth month is 9, my day of birth reduces to the number 9.  Also, I love the fact that in the year that I saw Elvis for the very first time on TV, I was age 9.  That certainly was a pivotal point in my life.  So, when I watched him on the Ed Sullivan show that night, it was a very strong number 9 day for me as well as Elvis.
The Numerology of the Number 9
Global awareness
by Hans Decoz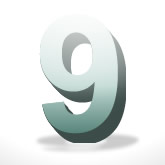 Ordinarily, I try to keep the math to a minimum when I discuss an aspect of Numerology. In the case of the number 9, however, the math highlights a philosophical observation that is unique, interesting and very revealing. So bear with me, please, because from a purely mathematical perspective, the 9 stands apart. Here is why:
When you multiply any number by 9, then add the resulting digits and reduce them to a single digit, it always becomes a 9. For example, 6 x 9 = 54, reduce 54 to a single digit by adding them together: 5 + 4 = 9. Similarly, 8 x 9 = 72, and 7 + 2 = 9. Or 23 x 9 = 207, 2 + 0 + 7 = 9, and so forth. There is nothing coincidental about this peculiarity. Try it. Any number, no matter how large, multiplied by 9 reduces to 9. From a numerological perspective, the 9 simply takes over, like the infamous body snatchers. Any number that was initially increased by a factor of 9 loses its own identity and instead takes on the characteristics of the 9. No other number has that quality.
<<<<<<<<<<>>>>>>>>>>>>
Another of my own observations about the number 9 is that any number reverted will always be devisable by 9.  In other words 18 reverted to 81 is devisable by 9…9 x 9 = 81.
MONDAY, SEPTEMBER 13, 2010Below I will display several more tid bits of movie related "clues".  The frist one has to do with Elvis having chosen the name "Orion" for some use after 1977.  Here you will see two excerpts from the cover of the soundtrack album of 2001 a space odyssey.  How many have ever taken note of the fact that the name of the spaceliner in the movie was ORION?  All Elvis fans know that the 2001 theme "ALSO SPRACH ZARATHUSTRA" was Elvis' entrance music when he stepped onto stage during all of his concerts.  Most people also know that "2001" was one of Elvis' "numbers".  He even chose his "departure" date of 8-16-1977 which adds up to 2001.  So, this is just another tiny piece of the Orion, the singer, and Orion Pictures puzzle.
<<<<<<<<<<<>>>>>>>>>>>The next images are taken from the soundtrack album of the 1988 movie HEARTBREAK HOTEL A Rock and Roll Fantasy.  This is such a precious movie.  The plot is that of some teenagers who kidnap Elvis Presley and take him home to their mother, played by Tuesday Weld, who is depressed and who is a huge Elvis fan.  As you will see below from the front of the album and the back of the video box…it is a lovely sweet sentimental movie.  The reason that I am including information about this album is because there was a huge clue in the credits on the back of the album.  As you will see some of the songs on the soundtrack were actually Elvis' own recordings.  Jerry Schilling was involved in the making of this movie.But, the most important mention in the credits is this: … (J. B. thanks in advance).  You see, Elvis/Jesse did continue to use the name Jon Burrows  in his movie related work after 1977.  Thus, the "J.B." mentioned in the credits below.  To my knowledge, he has not done this since the movies released in 1990 though.  I can hear the skeptics now saying he wouldn't use that name knowing that people knew that he used that name before he "died".  Ah, but yes, he did…at least for a time.  In fact in the very early years of my contact with him, I was actually once allowed to send mail to him addressed to Jon Burrows.  That was in the 90's….NEVER in recent years.
Here is the back cover of the video box:
In fact, a man with whom I became acquainted about one year before I was actually in contact with Elvis himself…a man who was already in contact with Elvis…was told by Elvis to go see an upcoming movie in the theater when it was released and that he would see Elvis's (Jon Burrows) name in the credits.  At that point in time, my friend was still a little skeptical and thought "Yeah, sure right!?"  Well, sure enough, he did view it in the theater upon it's release and there in *big bold red letters in the opening credits is his name.  Those who may say that it is probably just someone else with that name, must stop and say to themselves, how did Elvis/Jesse know before the movie was released that his name would be in the credits?  He did, at times, use various spellings. *Footnote added Friday, October 15, 2010.  I just played the opening credits to this movie and his name is not in "big bold red letters".  His title "Unit Production Manager" is in big bold red letters…his name is actually in big bold letters but they are very light in color.  Please forgive my memory lapse.  I haven't actually viewed this movie in probably 18 years.         There is another movie with a plot involving situations and topics which were of interest to Elvis in which his name again appears in the credits exactly the same way.  In both instances his work title is the same.Also, there was a 1979 Wonder Woman episode titled "Amazon Hot Wax".  The plot was that of a major singing star who fakes his death and was not to be allowed to come back out.  In the credits to this show, Jon Burrows is again listed in the credits with the same job title as in the two above movies.I wrote to Jesse this morning and asked his *permission to give the details about the two above movies.  I have the video boxes of both movies laying right here in front of me.  I don't feel free to share the titles of them until he says it is OK.  That is because he personally told my friend about the first one and I don't want to make public anything which he has stated privately.  The second one, I found privately on my own.
*I did obtain Jesse's OK and have posted the details of this movie below on Friday, October 15, 2010
Neither of these movies are related to Orion Pictures.
The Wonder Woman episode was shared with me by a friend who taped it off of the TV when it aired in 1979.  My thanks to Aaron Y. for this long ago gift and the many years of friendship.
TUESDAY, SEPTEMBER 14, 2010
Priscilla Introduce Tom Jones At BBC Special

Priscilla told BBC host that she thought Elvis, if alive today, may have been a priest. After that she introduced Tom Jones, who then sang RUN ON from his latest album, as a tribute to Elvis. After the song Sir Tom Jones, talked a little about his friendship with Elvis. Then he went into TRYING TO GET TO YOU. Before solo, he introduced James Burton… as an old friend. The TC band… The TCB Band, Tom Said after TRYING TO GET TO YOU. After that one, the host asked TCB and Tom to do another one. This was not planned but they did One Night With You. Really a great version, especially if it wasn't rehearsed. Tom could easily put more Elvis songs in his catalogue. I for one would like a 2 hour show. The show ended by Elvis singing THE WONDER OF YOU. Audience went crazy! Elvis Singing in Hyde Park. Priscilla came back on stage, and said *Elvis loved that song and he specially sang it for his fans. She also said that Elvis forgot his fans and he was devoted to his fans. Also that Elvis has also wanted to come to the UK to perform. Then  she thanked RADIO 2, BBC and THE TCB BABD! Priscilla is amazing, she is a lady and a very good talker.
For sure Elvis IS FOREVER and Cirque du Soleil closed the show with Suspicious Minds. What a night!
If you were not there you read this first at Elvis Unlimited.
This is an excellent Elvis web site….many, many interesting links.
*It is interesting to note that during a tribute show to Elvis in Memphis when P.P. was making her speech leading up to the introduction of "The Wonder of You", she said "He'd like to dedicate this song to you ladies and gentlemen."  I have this on tape somewhere in all of my treasures.
<<<<<<<<<<>>>>>>>>>>
Also, I found on the above web site,  a long interview with P.P. on British TV yesterday.  Below, you may watch it on YouTube.
This video is presented on YouTube by: EPEProductions
httpv://www.youtube.com/watch?v=YjakDTNOztE&feature=player_embedded
TUESDAY, SEPTEMBER 14, 2010
In the following video you will see Elvis perform while accompanying himself on the piano during one of his very last concerts…just 5 days before his final show in Indianapolis on the 26th.  This concert took place on June 21, 1977 during his "farewell tour".  As I have pointed out before, Elvis took measures to draw the fans' attention to the words of certain songs…songs with a message.  In this instance, he accompanied himself on the piano while singing the hauntingly sad "goodbye" song "Unchained Melody".  The most interesting thing which he did to further make this his "goodbye song" is that immediately upon arising from the piano bench, he closes the show and leaves the stage.  One of the very few times during his concerts when he did not close with his usual song lyrics… "Shall I stay? Would it be a sin if I can't help falling in love with you."
UPDATED INFORMATION ON WEDNESDAY DECEMBER 1, 2010
CORRECTION:
One of my visitors has notified me that I was mistaken when I wrote that Elvis left the stage after singing "Unchained Melody" rather than singing his normal closing song with the lyrics "Shall I stay? Would it be a sin if I can't help falling in love with you."  Below is "Frank's" message to me.  I appreciate very much that he wrote to correct me about this detail.  I always want everything on my site to be correct and am very glad to correct this error on my part.
Hi Linda sorry to bother, as I was looking at your website I find something that might be incorrect. On your currents events page for Tuesday September 14th 2010, you show Elvis singing Unchained Melody in Rapid City, June 21st, 1977, while filming for the CBS special that aired in October 1977. It was a u-tube video owned by thomasnando. You made reference to Elvis leaving the stage, after singing the song which was unusual, normally Elvis closed his show with the song Cant Help Falling In Love. It's not your fault but the video first aired, I dont remember exactly when, but it was a tribute show to Elvis on CBS. Anyway the video was edited to show Elvis leaving the stage after that song, The truth is Elvis actually closed the show with the song, Cant Help Falling In Love, right after singing Unchained Melody. I have sent you the link to this video. It is poor in quality, and thomasnando's was shot at different angles, while the video I am refering to has many shots of the audience.I also checked the song list from the June 19th,1977 show in Omaha, and the June 21st 1977 show in Rapid City, those were the only two shows that CBS filmed for the TV special. Unchained Melody was only sung during the June 21st show in Rapid City. I have included those links also.This should eliminate the possibility that the video on your website, and the video link I sent you are from two different shows. I love your website, I just wanted to bring this to your attention. Heres the links.
( Elvis June 21st,1977 in Rapid City) http://www.youtube.com/watch?v=0D60u1BRctE
( Song List June 19th, 1977 in Omaha ) http://www.elvisconcerts.com/concerts/Concert_expand.php?id=1140
( Song list June 21st, 1977 in Rapid City)
http://www.elvisconcerts.com/concerts/Concert_expand.php?id=1142
Thanks Always,
Frank
Below you will see the link to this YouTube video.
The owner of this beautiful video on YouTube is: tomasnando
 httpv://www.youtube.com/watch?v=oclcZis0ets
Elvis left us with so many, many "clues" before he left us and he continued to do so afterward.  One of the reasons that I became such a crusader for the fact that he did not die was and is because I loved Elvis and do love Jesse and it broke my heart to think that he did so much for all of us thinking that we all knew him well enough to recognize all he had done to let us know that he only "retired".  I could not bear the thought of him being disappointed that the fans did not recognize and appreciate his messages to us.
What a sweet wonderful man we have all loved for so very long….and always will love.
<<<<<<<<<<>>>>>>>>>>
FRIDAY, SEPTEMBER 17, 2010
I HAVE JUST POSTED A VERY IMPORTANT UPDATE REGARDING THE AUTHENTICATION OF ELVIS'S/JESSE'S AUTOGRAPH IN MY COPY OF HIS BOOK.
PLEASE VISIT MY PAGE DEDICATED TO THAT TOPIC AND READ MY NEW MATERIAL.
AUTHENTICITY DOCUMENT PROVES JESSE'S AUTOGRAPH WAS WRITTEN BY ELVIS
<<<<<<<<<<>>>>>>>>>>
FRIDAY, SEPTEMBER 17, 2010
Here is a wonderful interview with Dr. Nick.  You will enjoy this very much.  I have so much admiration and respect for Dr. Nick.  He has been such a true friend and a blessing to Elvis.
www.topix.com/video/detail/who/elvis-presley/cs-1401999
<<<<<<<<<<>>>>>>>>>>
FRIDAY, SEPTEMBER 17, 2010
ANOTHER NEW ORION MOVIE CLUE GREAT ELVIS CONNECTION – FUN TO WATCH AND HEAR!
Please do take time to visit this link and watch the film trailer for the Orion movie She-Devil.  You won't have to even pay close attention to catch the Elvis significance in this.  Just enjoy! 🙂 
Some of the Elvis tie-ins in the Orion movies are just so bold and right out there like flags waving while others are smaller things that mostly only true Elvis fans would catch.  It makes me think of the way that Alfred Hitchcock use to make tiny cameo appearances in his movies.  I have enjoyed all of this so much since 1988.  It is almost like a secret club…start checking some of them out.  But be sure to watch this trailer…you will be very pleased that you did.
www.imdb.com/video/screenplay/vi3196191001/
<<<<<<<<<<>>>>>>>>>>
SUNDAY, SEPTEMBER 19, 2010
UPDATE ON THE ORION SONG "SAVE THE LAST DANCE FOR ME" BY ELVIS
I just learned this morning that the famed Hollywood columnist, James Bacon, has passed away.  He was 96.  This saddens me because he was the journalist who wrote the column back in 1978 about the debate regarding Elvis's voice on the Jerry Lee Lewis record "Save The Last Dance For Me" which was released in 1978.  I have displayed his article before relating to the Orion the singer material.  But in honor of his death and for the sake of those who did not read this earlier, I am going to again display his column below along with his obituary.  As you will see, Mr. Bacon was a very highly respected member of the Hollywood media…liked and trusted by many big name celebrities.  So, Mr. Bacon's statement that Elvis, himself, and Red West each told him that Elvis recorded the song with Jerry Lee Lewis "to help him out" is beyond reproach.
You may see all of my "ORION" material on these three pages:
ORION – JESSE/ELVIS – DOCUMENTATION IMAGES
ORION PICTURES – MUCH OF THE MATERIAL ORIGINATED FROM ME
The following excerpt is taken from Gail Brewer-Giorgio's book IS ELVIS ALIVE?, pages 39 and 40:
"…with Jerry Lee. This is well and fine except for a story by syndicated columnist James Bacon featuring this headline":
"The mail won't stop on that column about Elvis Presley of a few weeks back. You know, the one that said Elvis was the mystery singer on the Jerry Lee Lewis record 'Save The Last Dance For Me.' (From the DUETS album.)
So far I have the word of Elvis himself and Red West, a member of Elvis'
Memphis Mafia, and both said Elvis just went into the Sun Recording
Studios in Memphis and did it.
Copyright LindaHoodSigmonTruth.com May, 2009 – 2016  All rights reserved.