Copyright LindaHoodSigmonTruth.com May, 2009 – 2014  All rights reserved.

SUNDAY, NOVEMBER 2, 2014
A friend, Noddy, shared some photos of Elvis with me recently.  Below is one special photo for which I asked her permission to display here on my site.  As you can see Elvis was proudly holding one of his badges with, what appears to be, his ID Credentials for this badge.  It is such a lovely photo of Linda Thompson as well.  I am sorry that we cannot pinpoint exactly which badge he is displaying for the camera.
<<<<<<<<<<>>>>>>>>>>
MONDAY, NOV. 3, 2014
There is some good news for fans who live in the UK

…
 Elvis Presley exhibition coming to UK
Opening at the O2 in London, the nine-month exhibition will feature a virtual tour of Graceland 
Photo: Everett Collection / REX
Elvis Presley's American Eagle jumpsuit, as well as his pink Cadillac, wallet and keys are leaving Graceland to go on display in the UK.
Opening at the O2 in London, the nine-month exhibition will feature a virtual tour of Graceland and the pool table on which the king of rock n' roll played with the Beatles.
The collection has been sourced from Graceland, the mansion in Memphis, Tennessee, where Elvis died in 1977 in his bathroom, at the age of 42.
Priscilla Presley, who was married to the star for six years, said: "Elvis meant so much to me and our daughter Lisa, but we both know that our family truly shares him with the world.
"His legacy lives on today. While each and every item contains a lifetime of memories, we are more than happy to allow these treasured memories to leave Graceland."
Other artifacts leaving Memphis include Elvis's TCB (Taking Care of Business) ring, his wallet containing photos of a young Lisa Marie Presley and his personal keys to Graceland.
Exhibition co-ordinator Nic Wastell said that "as much of Graceland as will fit into the O2" will go on show in the exhibition, which features more than 300 items.
"For people who can't get to Graceland, Graceland is coming to them," he added.
Elvis At The O2: The Exhibition Of His Life opens on December 12 and runs to August 31 2015. Tickets go on sale on Friday.
http://www.telegraph.co.uk/culture/music/music-news/11205441/Elvis-Presley-exhibition-coming-to-UK.html
<<<<<<<<<<>>>>>>>>>>
Wanda reminded me of something which appears in her book,

ELVIS FACE-TO-FACE

.  This is an admonition to which Elvis did his very best to adhere each day.  Wanda said that he kept it hanging on the wall as a daily reminder.  My thanks to Wanda for this precious insight.
Elvis – Face to Face –January 8, 2012-13


Page 10
(Elvis gave me a plaque with the Desiderata upon it; apparently it had been hanging on the dressing room wall at a studio where he had been working on a film. He told me to read it every day because it was "useful rules to live by. Practice living accordingly" he said. "And life won't be kickin' your ass because you won't be screwin' up so often.")
DESIDERATA – Elvis' rules to live by—
Go Placidly Amid the Noise & Haste, & Remember what Peace there may be in Silence. As far as possible, without Surrender be on good terms with all Persons. Speak your Truth quietly and clearly; and Listen to others, even the dull & ignorant: they too have their story. Avoid loud & aggressive persons; they are vexations to the spirit. If you compare yourself with others, you may become vain & bitter; for always there will be greater & lessor persons than yourself. Enjoy your achievements as well as your plans. Keep interested in your own career, however humble; it is a real possession in the changing fortunes of time. Exercise caution in your business affairs, for the world is full of trickery. But let this not blind you to what virtue there is; many persons strive for high ideals; and everywhere life is full of heroism. Be yourself. Especially, do not feign affection. Neither be cynical about love; for in the face of all aridity & disenchantment it is perennial as the grass. Take kindly the counsel of the years, gracefully surrendering the things of youth. Nurture strength of spirit to shield you in sudden misfortune. But do not distress yourself with imaginings. Many fears are born of fatigue & loneliness. You are a child of the Universe, no less than the trees & the stars; you have a right to be here. And whether or not it is clear to you, no doubt the Universe is unfolding as it should. Therefore be at peace with God, whatever you conceive Him to be, and whatever your labors & aspirations, in the noisy confusion of life, keep peace within your soul. With all its sham, drudgery & broken dreams, it is still a beautiful world. Be careful. Strive to be happy.
Max Ehrmann 1927 & 1954 Copyright
I suggest to everyone, who has not yet done so, that you visit the link below and download your FREE copy of Wanda's book.  It will become a treasure to you as it did for me way back in the very early 1990's when I bought a copy of her first edition.  The edition which is available for download now has some additional material included.
 Also, you will certainly enjoy reading Wanda's material on the Elvis Lighted Candle web site.  Below is the front page of Wanda's material.
<<<<<<<<<<>>>>>>>>>>
TUESDAY, NOVEMBER 4, 2014
As an addendum to the above article regarding the beautiful Desiderata, I want to share a lovely video which a friend, Nita, shared with Jesse a while back.  I apologize that I did not think of her video until this morning.  This video includes a beautifully sung version of Desiderata.
Here is Nita's accompanying message to Jesse.  
30 yrs. ago I had this poem framed and hung on my wall where I could see it everyday. Years later,I gave it to someone who I thought would like it. I had forgotten about it until I recently read that you liked it also. I am so glad I came across this video. A good reminder of what really matters in life. Nita

         
<<<<<<<<<<>>>>>>>>>>
Believing this helps us to accept the turns of events in our lives…
People come into your life for a reason
httpv://youtu.be/bLltt5cPDOc
One of the Elvis quotes which has meant a lot to me is the following:
"EVERYTHING HAPPENS FOR A REASON…THERE ARE NO COINCIDENCES."
Everything Happens For a Reason
httpv://youtu.be/zyQ5ZSMENF0
<<<<<<<<<<>>>>>>>>>>
THURSDAY, NOVEMBER 6, 2014
Evidently things are moving forward in the process of changing the names of things from "Elvis" to "

Graceland

".  I received the following Email from their official site and take note that it no longer says from "Elvis.com"…now shows "Graceland.com". 
—–Original Message—–
From: Graceland.com <info@graceland.com>
To: Linda Sigmon <LHSig…>
Sent: Thu, Nov 6, 2014 11:26 am
Subject: Elvis at The O2 Exhibition Coming Soon to London
<<<<<<<<<<>>>>>>>>>>>
Below is a news article detailing an upcoming film based upon the meeting of Elvis with President Nixon in the White House.  One film has already been done regarding Elvis' trip to meet with President Nixon.  Perhaps the producers of this new film feel that they can approach it from a different (better) angle.  Let's hope that it is treated with the dignity which is deserved in memory of President Nixon and, of course, more importantly Elvis.  It has been a long time since I watched the existing movie about this topic…but, if memory serves me correctly, I do recall there being a bit of  "humor"  interjected into it.  I recall not liking parts of it for sure.
Kevin Spacey and Michael Shannon to Play Richard Nixon and Elvis Presley in Bizarre True Story
November 6, 2014 10:07 GMT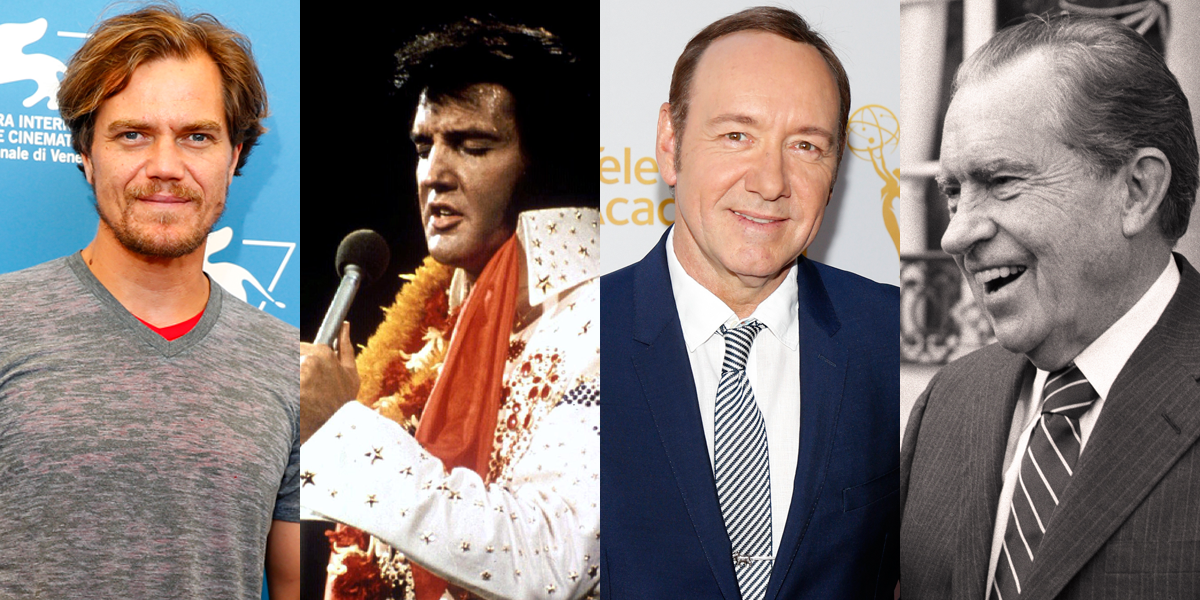 l-R Michael Shannon, Elvis Presley, Kevin Spacey and Richard Nixon. One hell of a dinner party(Reuters)
On 21 December 1970 Elvis Presley rocked up to the White House to request President Richard Nixon make him an undercover Federal Agent.
The bizarre incident will be the subject of the imaginatively titled new film Elvis & Nixon, which is set to star Michael Shannon as the rock legend and Kevin Spacey as the President according to Deadline.
Director Liza Johnson is taking the helm, working from the script by Cary Elwes and Hanala and Joey Sagal.
A synopsis for Elvis & Nixon was also released, and reads as follows…
"Two men at the height of their powers, conscious they could not stay on top forever, both ripped with fear of the inevitable, sharing one famous private moment in the Oval office. ELVIS & NIXON recounts the morning of December 21st 1970, when the King of Rock 'n' Roll (Shannon) showed up on the White House lawn to request a meeting with the most powerful man in the world, President Richard Nixon (Spacey). He had a very urgent request: to be sworn in as an undercover Federal Agent at large. This intimate moment in the Oval office between two men at the height of their powers has never been told."
Producer Cassian Elwes said of the project: "After the enormous success of The Butler I have a deep affection for films set in the White House as does the public. To work with Shannon and Spacey on this movie at the height of their careers is a dream come true."
Alex Walton of production company Bloom added: "It's almost hard to fathom this story which evolved in the oval office between these two extraordinary men. It's almost too good to be true."
Bloom is currently seeking foreign distributors for the film, which as of yet has no release date.
http://www.ibtimes.co.uk/kevin-spacey-michael-shannon-play-richard-nixon-elvis-presley-bizarre-true-story-1473444
<<<<<<<<<<>>>>>>>>>>
Elvis Presley's One Commercial:
Sixty years ago on this date, Elvis Presley recorded a song for Southern Maid Donuts. This wasn't just any old advertisement: It was the only commercial that The King would ever do, reflecting an integrity that many have forgotten he had (and rumor had it he was a huge fan of the brand, so he wasn't just doing it for the cash either).
http://www.musictimes.com/articles/14767/20141106/elvis-presleys-one-commercial-five-performers-singing-donuts-parquet-courts.htm
<<<<<<<<<<>>>>>>>>>>
FRIDAY, NOVEMBER 7, 2014

Jesse called me three times during the night last night.  Two times, his phone disconnected us before we could even exchange a single word and the third time, at 4:05 AM, we did get the call connected.  But, that darned phone of his scrambled everything he said so badly that I could not even pick out half a dozen words.  It all just garbled together.  I kept telling him that I was sorry and that I couldn't understand anything that he was saying.  I will be so happy when he gets his regular phone back so we can have a conversation.  I don't think he has any idea how the phone he is using now distorts everything.  One has to hear it to understand and believe how bad it is.  But, at least I know he was OK last night from 1:17 AM until a little after 4:05 AM.  I am so very thankful just to know that he is OK and that he thought enough of me to try to speak with me three times. 

<<<<<<<<<<>>>>>>>>>>
SENT TO JESSE THROUGH THIS POINT ON FRIDAY, NOVEMBER 7, 2014
<<<<<<<<<<>>>>>>>>>>
SATURDAY, NOVEMBER 8, 2014
I wanted to add a video to document the article which I posted a good while back regarding the Orion movie, Robocop 2;  in which there are some very prominent Elvis tie-ins.  However, after the apparent success in doing so last night, it has become apparent today that the video will not upload and play properly.  I have decided to leave my redisplay of my earlier article here for those who may have missed the original article last year.  I apologize to those who did attempt to watch the video and were met with the same frustration as I today too.

Below is my original article:
SUNDAY, OCTOBER 27, 2013
It has been quite some time since I have added any new Orion Pictures documentation to my YouTube channel.  So, I have spent this afternoon working on creating a new video proving the continued clues which were given in their movies to show Elvis fans that he is not gone and that he did continue some behind-the- scenes work in the movie industry.  He had expressed an interest in doing this type of work before he left…it has been spoken of by Joe Esposito, Nancy Rook, Larry Geller, etc.
The film from which I have extracted clues for my YouTube video this time is Orion's ROBOCOP 2.  You will see that there are three major things in this movie and in the movie's credits which are blatantly evidence put there by Elvis or those who do such things at his direction and suggestions.  It is my theory that Elvis and perhaps Col. Parker were silent partners in Orion Pictures.
First you will see a woman sitting on the curb of the street wearing a red dress and holding a baby.  This woman is unrecognizable because of the darkness, the hair falling over her face etc.  She is nothing more than an extra…who would normally not be listed in the credits of a movie.  However, because of who she is, she is listed in the credits.  She is Linda Thompson.  You may remember that I have posted Linda's biography from IMDB.com before showing Robocop 2 as one of her acting credits…
RoboCop 2  – Mother with Baby  1990
The second thing which you will take notice of is this:  Robocop walks into a huge building and he comes upon a "religious shrine" of sorts.  When I edited it, I  inadvertently left out the first image which is of Mother Teresa, but you will see a framed print of Jesus, and then…you will see a "shrine to Elvis".  It consists of a beautiful photo of Elvis, a guitar, a coffin with a skeleton in it depicting Elvis with jewelry, and with another photo of Elvis resting over the coffin.  Weird…but still a great Elvis/Orion Pictures connection.
Then we fast forward to the credits:  I have paused the credits in order that you may read the Linda Thompson credit.  The second thing in the credits to which I especially want to call your attention is this:  The song titled "The Kid Goes Wild" is shown as being co-published by "Little Elvis Music".  How 'bout that!?!
Also, the plot of this movie centers around an illegal drug and the police work of fighting this drug cult.  Bear in mind, please, the documentation which I have shared proving Elvis's hatred of street drugs and the hoodlums who push these drugs.  You will see that I have a page devoted to the topic of Elvis's federal drug enforcement work, DEA, as well as state, city, and county law enforcement agencies.  His answer to me when I asked him if it is OK that I have my pages about his involvement with the federal government and other law enforcement was "Oh, yes.  I know all kinds of people."
I hope everyone will enjoy this newest ORION proof.  As I have written before, I did ask Jesse about my having the Orion the Singer and Orion Pictures material on my site…telling him that I had always believed that some of the Orion songs were actually by him.  He responded with "Yes!".  Also, I have printed out and sent to him ALL of my pages about Orion Facts, Orion Documentation, and my last Orion page regarding most of the Orion Pictures material originating from me.  He recently told me that everything that I have on my site has been correct.  So, I do have it on good authority that I am correct about my Orion material.
I feel certain there are entities who are monitoring my web site very closely and they must be saying to themselves "My God, where is she getting all this stuff!?!  Won't she ever run out of evidence??" LOL
Here are the movie production and distribution credits from IMDB.com: RoboCop 2 (1990)
Production Companies
Distributors
Also, below I shall share the captured stills of the significant portions from the Robocop 2 video:
(1) Linda Thompson in Robocop 2,  still capture from my video
(2) Linda Thompson's name in the credits of Robocop 2  "Mother with baby".  Her's is the 6th name on the below list.

(3) Elvis "Shrine" from Robocop 2
(4) Elvis "shrine" from Robocop 2…continued

(5)  Elvis "shrine" from Robocop 2…continued
(6)  Robocop 2 still frame with Robocop and Elvis photo in same frame
(7) Robocop 2 credits:  The song THE KID GOES WILD was co-published by LITTLE ELVIS MUSIC.
Please see  the 4th line down in this still frame:

For those who would like to see this entire movie, I feel sure it can be purchased or rented very inexpensively.  I believe that Ebay and Amazon.com would be two likely places for the best prices.
<<<<<<<<<<>>>>>>>>>>
SUNDAY, NOVEMBER 9, 2014
I like this brief article…why would anyone NOT go with Elvis???  Also, the final words of this article are certainly appropriate…
Music On Only A Game
When in doubt, go with Elvis Presley. That's apparently how Only A Game's technical director thinks. Why else would this week's show feature "I Believe in the Man in the Sky," (Elvis Presley) from Don't Leave Me Now? It's odd, really. By the time the technical director was born, Elvis had been dead for some time … unless, of course, he isn't.
Elvis Presley – I Believe In The Man In The Sky
httpv://youtu.be/ndYoIQc5Mlg
<<<<<<<<<<>>>>>>>>>>
I have just succesfully completed uploading my video of the excerpts from the movie Robocop 2 onto one of my Facebook Fan Pages.  I encourage everyone to view the video on that page in order that you may see all of the Elvis clues firsthand.  I know you will love seeing it.  Below is the link to the Facebook page on which you may watch the video.

I also ask that, after you view my video, you please share it with other Elvis fans who may find it of interest.  This is only one of a number of Orion Pictures movie clues which I may be able to add to my Facebook pages.
footnote:  I have now posted a more concise version of the above video on my Facebook Fan page which is titled ELVIS IS ALIVE.  I encourage visits to see this shorter version of the video as well.  It is pared down to the bare facts regarding the Elvis clues.
<<<<<<<<<<>>>>>>>>>>
It has been a good while since this comparison between Elvis and Jesse has been posted.  My good friend Susan shared the photo of Elvis with me to be compared to the photo of Jesse.
 <<<<<<<<<<>>>>>>>>>>
SUNDAY, NOVEMBER 9, 2014
GREAT NEWS TODAY – CELEBRATION TIME
We just reached a new milepost for my web site.  600,000 visitors earlier this evening!!  My heartfelt thanks to each person who has been a part of the 600,000. 
My site is a success only because of the wonderful man about whom the site is in existence and those wonderful people who still love him just as much now as they did over 37 years ago when he retired from the public eye.
Let's keep the momentum going for Jesse who WAS Elvis Aron Presley.
<<<<<<<<<<>>>>>>>>>>
MONDAY, NOVEMBER 10, 2014
The following video is made available by:
via Dailymotion
The description of this video states:   This is Elvis one last time. In concert live on June 26, 1977 : Market Square Arena, Indianapolis, In, this is Elvis' last concert before his untimely death on August 16th, 1977. Recorded by an audience member and remastered for best sound .

I have often tried to imagine what thoughts were going on inside Elvis' head during this performance which ONLY he knew was to be his last ever in his life as ELVIS.  I am certain that he had a jumble of emotions…sadness, hopefulness, relief, dread, excitement, anticipation of his new life, etc.
From Jesse's song THE DANCE…"..how could I have known I'd ever say goodbye".
<<<<<<<<<<>>>>>>>>>>
TUESDAY, NOVEMBER 11, 2014 – VETERANS DAY
Let's all remember to thank someone for being a veteran today.  They sacrificed so much to keep our homeland safe and free.  I am saying my thanks to my sweet husband and to Jesse.    
<<<<<<<<<<>>>>>>>>>>
WEDNESDAY, NOVEMBER 12, 2014
…and look who was number 1 in this list! 
24 Celebrities Who Served in the U.S. Military
Say what you must about celebrities and their culture, but it turns out some of them are fairly decent – even heroic – human beings. Here are 24 of the most well-known celebrity veterans.
Army
1. Elvis Presley

3rd Armored Division
Years served: 1958-1960
Elvis enlisted two years after "Hound Dog" was released. He famously said, "The army can do anything it wants with me. Millions of other guys have been drafted, and I don't want to be different from anyone else."
<<<<<<<<<<>>>>>>>>>>
SENT TO JESSE THROUGH THIS POINT ON FRIDAY, NOVEMBER 14, 2014
<<<<<<<<<<>>>>>>>>>>
<<<<<<<<<<>>>>>>>>>>
SATURDAY, NOVEMBER 15, 2014
Elvis Presley painting by Andy Warhol sells for $82 million
UPI News Service, 11/13/2014 
"Triple Elvis (Ferus Type)" was one of 80 pieces up for auction at Christie's in New York. Art aficionados such as Michael Ovitz, J. Tomilson Hill, Stefan Edlis and Andrew Saul attended the event, which collected a total $852.9 million.
"It's our highest total ever," worldwide chairman of postwar and contemporary art Brett Gorvy told the New York Times. "We saw a lot of new bidders tonight from the Middle East and Asia, but the biggest and most powerful buyers were still from America."
#TripleElvis, a seven-foot tall silkscreen by #AndyWarhol, sold for $81.9 million at @ChristiesInc NYC last night! pic.twitter.com/byaZTGmSyW" One Art Nation (@OneArtNationTO) November 13, 2014
Warhol based "Triple Elvis (Ferus Type)" on a publicity shot of Presley from the 1960 film Flaming Star.
<<<<<<<<<<>>>>>>>>>>
Elvis Presley's First Recording Headed to Graceland Auction
The event next year will also include the singer's first driver's license and an autographed single
Michael Ochs Archives/Getty
Elvis Presley, age 19, on a weekly broadcast of "Louisiana Hayride" just three months after he left home for the first time, in 1954. A year earlier, he cut his first acetate, which is going to auction in January.
Last night my best friend, M J, phoned to tell me about this guy on Facebook who has published a "magazine" and has used the photo which Jesse gave to me personally as a gift in 1997 on the cover.  Several friends have also posted this guy's magazine article on my Timeline.  I thank everyone who has brought this to my attention. 
I vaguely recall this person's name, Alan Barbara, on Facebook before.  I DO NOT know Alan Barbara.   To my knowledge, Jesse DOES NOT KNOW Alan Barbara.  To my knowledge, Alan Barbara HAS NOT found Elvis who IS Jesse now. 
Below is one of the posts from my Timeline on Facebook along with my response to the friend who shared it.
Again, my thanks to everyone who made  me aware of this use of the photo which was given to me as a gift directly from Jesse in July, 1997.  I do have copies of some excerpts from Jesse's handwritten letter which accompanied the photo when he sent it to me displayed on other pages of my site.

Below you may see these excerpts from three pages of the letter which Jesse wrote to me when he sent me the photo.  You can see in his own words a description of the photo which Alan Barbara has presumed to use on his publication.
Carolyn  shared Alan Barbara's photo.
Linda Sigmon thought this May interest you as it has one of your pictures on it x
Linda Sigmon Hi Carolyn: Thank you for sharing that with me. Someone phoned me last night to make me aware that this guy is using the photo of Elvis/Jesse with Benjamin which was given to me directly by Jesse in July 1997. Unfortunately, Dr. Hinton had given copies of this photo to so many other people and they in turn had put it on the Internet before I formed my own web site. Jesse had phoned me himself in Oct. 2000 asking me to send a copy of the photo to Dr. Hinton because he needed it for the book which was being published. Up until that moment, no copies of the photo had been given to anyone.  I had only let two other people, outside of my very close family, see the photo up until that moment. It makes me sad to see others who have no right to the photo using it in this manner. No, Alan Barbara has NOT found Elvis who IS Jesse now. Much love and light, Linda.

 
https://lindahoodsigmonstruth.com/photo-of-elvisjesse-with-his-grandson-benjamin-in-1994/
https://lindahoodsigmonstruth.com/photo-of-elvisjesse-with-his-grandson-benjamin-in-1994-continued/
https://lindahoodsigmonstruth.com/proof-that-the-photo-of-jesse-actually-is-that-of-elvis-with-his-grandson/
The following excerpts are from the letter which Jesse sent  to me in July 1997 accompanying the photo of him with his grandson, Benjamin.  The photo was taken in 1994 when Jesse was 60 and Benjamin was almost 2.
Page #1
Page #2

Page #4

I want to emphasize once more, NO COPY OF THIS PHOTO WOULD HAVE EVER LEFT MY HANDS were it not for the fact that Jesse, himself, told me on the phone to send it to Dr. Hinton.  This photo would not be public now were it not for Jesse's words directly to me.  Hinton did not use discretion at all in the manner with which he treated the photo.  Hinton took the cheapest possible way to publish Jesse's book and by so doing chose to only show the photo in black and white in the book…this was much less expensive than including a color photo.  When I sent the photo to Hinton, I went to great lengths to get the very best color photo to him because Jesse gave his permission for it to be in the book.  After the book came out and I saw that it was only in black and white in the book, I mistakenly believed that I still owned control of the color photo.  So, I kept the original safely locked away. However, I was shocked to see that Hinton had shared color copies with others who were not at all careful in what they did with it.  Were it not for the careless distribution of the photo by others on the Internet, I would NEVER have shared the photo on my own web site.  By the time it became necessary for me to step forward with my own web site, the photo was out there and one woman, B. Lee Rowe, was even using the photo on her slanderous page against me.  What an infuriating irony!!!
<<<<<<<<<<>>>>>>>>>>
Love this song and the man singing it!!!!
Elvis Presley Talk about the good times
<<<<<<<<<<>>>>>>>>>>
SUNDAY, NOVEMBER 16, 2014
I have never seen this wonderful photo before.  It was posted on Facebook…
<<<<<<<<<<>>>>>>>>>>
MONDAY, NOVEMBER 17, 2014
There is a petition being circulated currently to stop the removal of Elvis' two planes from the Graceland premises.  This petition has been extended to encompass the changes which are being made to the names of a number of things formerly known as "Elvis…" to "Graceland…".  I have signed this petition and I hope all of my visitors will visit, read and sign the petition as well.  The removal of the planes is not something which Jesse wants to see take place.
Here is the information for visiting the petition:
Petitioning Elvis Presley Enterprises, Inc. (EPE)
Allow Elvis' airplanes to remain an exhibit at Graceland, stop the construction of an amusement park across from Graceland, and to cease removing Elvis' name from merchandise & advertisements.
Petition by

These changes are detrimental to the memory and legacy of one of the greatest musical artists of all time, Elvis Presley. Millions of Elvis fans the world over have enjoyed the airplane exhibit, which have become a fixture on Elvis Presley Boulevard. The demolition of Graceland Crossing and subsequent construction of an amusement park across from Graceland Mansion will forever ruin the charm, peacefulness and serenity of Elvis' beloved home and final resting place. It is not the appropriate location for such an attraction, and the property should remain as it is with no inappropriate changes. The current trend of the removal of Elvis' name from merchandise, advertisements. buildings. and programs and replacing it with the more generic "Graceland" is not something Elvis fans want to see. We respect and admire the man himself – and he deserved to be recognized. These changes will forever tarnish his image and standing in the passage of time, and revenue for EPE will decrease instead of increase. We as worldwide fans do not and will not support these changes. We WILL support EPE again if these changes are stopped, and Elvis Presley's legacy goes forward in what we feel are these positive ways.
Also, there is a new public group on Facebook, Put Elvis back in Elvis Presley Enterprises.  Here is the link to this group:  
Below is this group's mission statement and pledge:
All the efforts of this group are intended only to support Elvis Presley and his legacy 100% because we are loving, loyal fans.
Put Elvis back in Elvis Presley Enterprises is a group dedicated to keeping Elvis.com, Elvis Insiders Fan Club and Elvis' Lisa Marie and Hound Dog II planes, exactly as they were, intact and with Elvis the focal point. If changes takes place, we are calling for a 100% boycott any and all products from EPE, including Elvis Insiders memberships new or renewed, admission tickets and any in-store or online purchases through Elvis.com
Enough is enough. Respect our Elvis.
Below is our Elvis Fan Pledge:
By being a member of this online group, I am making it known publicly that my membership supports the boycott of any and all EPE Elvis related products including Elvis Insiders memberships new or renewed, Graceland admission tickets as well as any and all in-store or online purchases through Elvis.com, until Elvis has his name back in his official fan club and website titles, as well as within the web addresses. This now also includes the safe keeping, at Graceland, of Elvis' planes the Lisa Marie and Hound Dog II. We support Elvis Presley, and our dollars and spending will cease until these changes have been secured.
Sincerely,
Elvis Presley Fans of the World
Join the cause. Share the page and invite friends.
<<<<<<<<<<>>>>>>>>>>
Well, it appears that things are advancing for the building of the huge hotel near Graceland by Elvis Presley Enterprises…they have applied for a $70 million building permit.
Memphis Real Estate Recap
Elvis Presley Enterprises Seeks $70 Million Building Permit for Hotel
By Amos Maki
Updated 3:43PM
3600 Elvis Presley Blvd.
Memphis, TN 38116
Permit Amount: $70 million
Application Date: November 2014
Owner: Elvis Presley Enterprises
Architect: Hnedak Bobo Group
Contractor: Flintco Inc.
Details: Elvis Presley Enterprises is ready to shake, rattle and roll on its planned hotel near Graceland.
The company has applied for a $70 million building permit through the city-county Office of Construction Code Enforcement for the resort-style Guest House at Graceland, which will be located north of Presley's Graceland mansion in Whitehaven.
Memphis-based architecture firm Hnedak Bobo Group is the architect for the project. Flintco Inc. is the general contractor.
The Guest House at Graceland, the largest hotel development in Memphis in decades, will include a grand stairwell connecting two floors in the lobby that harkens back to the main staircase at Graceland itself. The hotel, scheduled to open in fall 2015, also will include Jungle Room-inspired prints and accents, plus a sports bar and lounge that recalls the design of Graceland's billiard room.
Other design touches include the separation of the hotel façade into three components to give it the feel of three separate residential-scale hotel buildings added over time.
<<<<<<<<<<>>>>>>>>>>
There are some thoughts which I would like to share with everyone tonight…and directed to 3 people in particular.

A very good friend of mine has received a written inquiry regarding if my friend knows that Elvis is alive.  The written inquiry was sent by a woman who has been "out to get me" for years.  I won't print this woman's name…not even initials here.  But, I want this woman to know that I am on to what she is trying to do and it will not work. 
Lisa Marie sells Elvis rights for $100m
Lisa Marie sells Elvis rights for $100m A very good friend of mine has received a written inquiry regarding if my friend knows that Elvis is alive.  The written inquiry was sent by a woman who has been "out to get me" for years.  I won't print this woman's name…not even initials here.  But, I want this woman to know that I am on to what she is trying to do and it will not work.
This same very good friend of mine has been receiving some prying phone calls.  Again, the two most recent were most probably made by two men who also have been "out to get me" for several years.  Again, I won't print the names of the two men…nor their initials here.  But, again, I want these two men to know that I am on to what they are trying to accomplish as well and it is not going to happen.
The goal of the written inquiry and the two phone calls is, undoubtedly, to prove that I have lied on this site about knowing my friend.  They think that by contacting my friend and making her aware that I have mentioned her on here, that they will prove that I do not know my friend and that I have concocted the material etc. which I have displayed.

I want to say here and now "KNOCK IT OFF".  Your games will get you no where.  Jesse and I never want the people, who are good friends to us, to be bothered in any manner.  Nor do I like for lying busy bodies to think that they are smarter than I.  They cannot pull the wool over our eyes.  We do see right through their tactics.
A word to the wise is sufficient.  You are wasting your time trying to get my web site shut down or in trying to find a way to discredit me, Jesse or this web site.
Enough said….????
<<<<<<<<<<>>>>>>>>>>
WEDNESDAY,  NOVEMBER 19, 2014
I would like to invite all of my visitors to my 3 Facebook pages at the following links:
These pages are extensions of my web site.  You will see that my posts on the last two pages are pretty much the same.  Also, most of that which is posted on the bottom two links are normally copies of things from my web site.  The top link is my personal page and on there you may see my Facebook interactions.  The second link was created by Mark shortly after we moved my web site to his company.  I created the bottom link several years ago when the future of my web site was a little uncertain and I created it in order to maintain an Internet presence under the same name as that of my own web site. 
You may not see too much  news on these pages, but I would appreciate your visits and your "Likes" if you do visit and like what you see.  Thank you all so much for all of your interest and support of my web site.
Also, as shown in the menu column, I also have my own YouTube channel.  Everyone is most welcome to visit that as well.  I have videos on there which substantiate my articles on my web site.  I will appreciate your time in viewing them and clicking "Like" if you do.  Several of my videos have been edited by YouTube.  I have created a new copy of one of these movies recently on my Facebook page and I plan to do so with the remaining videos which are not viewable in full on YouTube.
I am so happy to report that my total views on Youtube is now  and
<<<<<<<<<<>>>>>>>>>>
THURSDAY, NOVEMBER 20, 2014
I am sharing below the account of just one of Elvis' countless acts of generosity and sincere caring.  Wanda June Hill prepared the following.   I thank Wanda so very much.  She knew Elvis so well  for 15 years and he got to know, and took a lot of interest in, Wanda's immediate and extended family.  Below, in Wanda's own words, is just one instance of his giving (as a complete surprise) above and beyond anything one would have even thought of asking of him.
Elvis, in talking with me, learned that my grandmother was now living in a nursing home and he asked if she was sick. I said "No" but she just could not continue to live on the side of the mountain in that cabin alone anymore. He had stopped by her mountain side home with his cousin, who she said was a "little boy", on his way home to Memphis once so he knew where her cabin was. So he understood when I explained to him that she could no longer live there alone.

It was too dangerous and she had no near neighbors in case she needed help, etc. and she did not want to "barge in on J.C. and Katy" (his wife). So he asked where she was staying, the name and town etc….it was about 150 miles from where my dad and step-mom lived; so my dad could get there often to visit and check on her. The next thing my dad heard, when he went to visit her, was from the staff who told and showed him all the things that Elvis Presley bought and had set up for the "inmates" as he called them. My grandmother's room wall was lined with photos of Elvis from his films and snap shots too, one with her standing beside him and his Caddy.
Elvis visited her at the home where she had moved to and he noticed that there was no shade and no seating outside in the yard of the home for the "inmates" or their guests to sit outside and have some quiet time together. And so he fixed that. Men had come and set up cement benches that were curved so they fit at two tables of cement that also had a hole in the center to hold umbrellas for shade. He also sent a record player and some of his gospel albums for the home to play for the residents. They almost wore the records out said one of the caregivers to my daddy about 6 months later. So when that was said, Elvis told my dad to go buy more records and to take them out there when he went to visit the next time. My dad bought one of each, I think, and Elvis refunded the money to him.
One year, Elvis found out that my grandma liked the color red when he wore a red jumpsuit on stage and someone gave her a photo of him in it to put on her wall. So, he got a red coral bead necklace from Hawaii and sent it to her. One of the nurses just happened to have some red earrings so my grandma went around wearing the set…her pride and joy! After his death was announced, someone stole her set of red jewelry and she was devastated and angry as a wild boar that got interrupted while eating! She never did find out who took it.
When Elvis passed away a few years later; I heard that the nursing home held a special prayer meeting and ran a movie of Elvis for the residents during that time. They also took up a collection to send an arrangement of flowers to be placed at his grave-site.  I would guess that thousands of people all over the world sent flowers in memory of him.
 I don't have any idea how many people Elvis did things for that never got any public attention, nor did he get much credit for his generosity and kindness. If they gave awards for such things, his would be the size of a very big tree and still not be large enough to represent the many little things which he did that no one but the recipient and he knew about…and Elvis didn't talk. He just went about doing, quietly as he could. In fact, he hated it when the news would pick up on something he'd done and "make a big deal out of it" as he'd put it. "Why can't they find somethin' else to write about?" he would add in a disgruntled voice.
Elvis was a living example of what Jesus Christ came to present to the world…"Do unto others as ye would have them do unto you."…and it is still the best way to live our lives. Elvis said "You don't know what anyone else feels inside, in their deepest heart. They could be bleeding over something awful and keepin' their grief and pain shut up carryin' the load alone. If you come on someone who's sad and looks as if they are grievin', ask 'em if they need help, is there somethin' to be done for them to make things better. Chances are they won't let you, or even talk of it, but just knowin' that someone else cared enough to ask is a blessing and will lighten their load. If you get a chance to step in and help them, it's even better…you get the blessin' and that is a great feelin, really." E P
<<<<<<<<<<>>>>>>>>>>
This appears to be a very good interview with Larry Geller regarding Elvis' spiritual life and quest.  I am listening to it now as I post this.  But, having read all of Larry's books, I do feel safe in sharing it without hearing it all the way through.
I hope everyone will enjoy hearing Larry's account about Elvis.
Discover Elvis Presley's spiritual journey
Lilou Mace  Published on Sep 7, 2014
LILOU PRODUCTIONS, INC
httpv://youtu.be/0Q5GvpZsBE4
<<<<<<<<<<>>>>>>>>>>
Jesse has gotten a phone back in good working order.  He called this afternoon a little after 4:30.  But, Tom and I had gone out for our exercise walk and missed his call.  Needless to say, I am so sad and disappointed that I did not get to speak with him.  He left a message and said that he is doing well and that he hoped he could get a chance to call me again soon.  It certainly was a welcome sound to be able to understand his message after the past weeks of not being able to decipher anything.
<<<<<<<<<<>>>>>>>>>>
FRIDAY, NOVEMBER 21, 2014
SENT TO JESSE THROUGH THIS POINT
<<<<<<<<<<>>>>>>>>>>
 FRIDAY, NOVEMBER 21, 2014

Just a reminder…GRACELAND CHRISTMAS LIGHTING CEREMONY TODAY
Graceland Christmas Lighting Ceremony
Date
Fri Nov, 21 2014 6:45 PM EST — Fri Nov, 21 2014 7:45 PM EST
About
Watch as actor and Elvis fan John Stamos flips the switch at Elvis Presley's Graceland in Memphis on the holiday lights on Nov. 21 at 6 p.m. Enjoy a special pre-show before the ceremony starting at 5:45 p.m.
Links
 <<<<<<<<<<>>>>>>>>>>
SATURDAY, NOVEMBER 22, 2014
A good friend, Deb, shared the following link with me this week on our Messages to Jesse page.  It is completely new to me and so I haven't begun to look the whole site over, but from what I see, I think this site should be of interest to everyone who is a fan of Elvis the image and the man.  Although I don't agree with all of this site owner's links for books, there should be something on this site for just about everyone.  I thank Deb so much for sharing this with me.
<<<<<<<<<<>>>>>>>>>>
SATURDAY, NOVEMBER 22, 2014
I want to let my visitors know that Jesse was finally able to call me on his new phone this afternoon.  The sound quality is excellent…the best it has ever been during all of our years of contact.  I could hear and understand every word he said.  He asked me to let those few people who are able to send things to him know that, if you could, to please try to send some things for little Nick for Christmas.  Nick is 5 years old now and he likes to play with cars, trucks, etc.  As I have written before, Nick has no Mama in his home and Jesse says he reminds him of himself when he was a little boy.  I am so happy for Jesse and Nick that they can share a close friendship.  Jesse was very well today and sounded great.  Jesse mentioned that he loses his train of thought sometimes but that he is in pretty good shape compared to some other guys his age.  I heartily agree.  He sounds wonderful always and one would never guess his age.  He stays young at heart and has a lot of interests in the current music scene, etc.   I believe that I lose my train of thought more often than he does!
<<<<<<<<<<>>>>>>>>>>
SUNDAY, NOVEMBER 23, 2014
John Stamos Lights up Elvis Presley's Graceland

Sporting Elvis Presley-like sideburns, actor John Stamos helped flip the switch Friday on the colorful display of holiday lights adorning Graceland, Presley's home-turned-museum in Memphis.
An avid fan of the King, Stamos joined hundreds of fans who watched yellow, red and blue lights illuminate the large front yard of Presley's former home. Stamos was joined by young patients from Le Bonheur Children's Hospital at the lighting ceremony.
Stamos, perhaps best known for roles on TV shows such as "General Hospital," "Full House" and "ER," told The Associated Press in an interview after the ceremony that he wore the sideburns for his appearance at Graceland. Presley often wore long sideburns.
"It's so funny. I had a beard, and I was like, 'I better shave this and I'll keep the 'burns in tribute," Stamos said.
When asked if he styled his hair a little higher in honor of Presley, who wore a pompadour, the quick-witted Stamos joked, "This is a new wig. I put a special wig on for tonight."
Stamos has close ties to Graceland: His voice is featured on the iPad tour of the home. He remembers dressing up as Presley during an episode of "Full House," and, while visiting Graceland in the 1990s for a TV special, he even got to play one chord on Presley's piano.
"I think the first time I saw him, the word 'supernova' came into my head," Stamos said. "I was just immediately in awe. He had it all. Nobody's had it all. People have good voices, or they're good looking, or their charismatic, or they're good people, but it's the combination."
Stamos said he is appearing in the upcoming ABC musical comedy series "Galavant," which he describes as "a cross between 'The Princess Bride' and Monty Python." He also has worked on pilots for two new TV shows.
<<<<<<<<<<>>>>>>>>>>
MONDAY, NOVEMBER 24, 2014
I came across a video tour of some of Graceland which was filmed with Jerry Schilling and Joe Esposito back in the 80's.  I really enjoyed watching this.  Our first visit to Graceland was in 1985 and I still have fond memories of the way it was then.  This video reminds me of that visit.
Behind The Gates by Schilling in the 80s
Jacquie Ulmo  Uploaded on May 6, 2009
A very rare and interesting video of Graceland in the 80's… narrated by a young Jerry Schilling together w/Joe Esposito… Something to keep in your files for the rest of your days, if you are an Elvis Fan…
httpv://youtu.be/FZzwpduPqEI
<<<<<<<<<<>>>>>>>>>>
Below is an article which I  printed off and saved two years before I began my web site.  I liked this article so much that I have kept it all these years.  I want to share it here with my visitors.
<<<<<<<<<<>>>>>>>>>>
WEDNESDAY, NOVEMBER 26, 2014
Below is an article which details the story behind the 02 Elvis Exhibition which is coming to London and will be opening around the middle of next month.  Also,  here is a link to the official web site for the exhibition:  http://www.elvisattheo2.com/trailer.php
The King and I: The inside story of London's Elvis exhibition, by the Leicester rocker who's putting on the show
Posted: November 25, 2014  | 
As requests go, "Can you look for somewhere to stage an Elvis exhibition?" ranks up there with the most bizarre and unlikely I have ever had, writes Nic Wastell.
I run a company selling rock band and character T-shirts and merchandise, based in Leicester, which is about 4,300 miles east of Memphis and I have put on precisely no exhibitions so far in my life.
I should explain. I used to own the company I run, CID Ltd in Blaby, but sold up to a US firm called NECA about two years ago.
Run by a chap called Joel Weinshanker, they have been especially successful in the past few years controlling all the merchandise rights for large movie franchises, such as Twilight and The Hunger Games, worldwide.
I have known Joel for a number of years. He and a partner bought the rights to Marilyn Monroe's estate a few years back and having had some success realigning her legend, they have subsequently purchased the estate of Elvis Presley (as well as Muhammed Ali).
So where do you start putting something like this together?
Graceland. That was my first stop. I flew to Memphis to meet the team that looks after Elvis's personal possessions. Well, someone had to go and I was glad it was me. It was an amazing experience.
The people there are fantastic and include distant relatives of the King and the leading authorities on all things Elvis in the world – which for a music fan like me was a real treat.
Then we needed a venue. While doing on line research for ticket prices, I read that the exhibition currently in the O2 in London was closing down.
A few calls later (through a contact, you can imagine how strange cold-calling and saying, "I want to put a big Elvis show on" sounds…) we cooked up the idea to stage the exhibition there.
All good, except we only had four months to do it. And the space is huge (26,000sq ft – the equivalent of two Olympic swimming pools).
Then things started to get slightly surreal. Elvis still has magic powers it seems, as all kinds of people, from press agents to concert promoters, TV companies, radio stations, cinema beam back companies, newspapers, record companies all started to get in touch.
Now, having tried for over 30 years to generate interest in my own band (Chrome Molly) with people like this and generally being ignored, it felt a bit strange to suddenly find myself fending off journalists from the BBC, Sky and ITV on a daily basis.
"I can't help you at the moment," I wanted to say, "but can I interest you in a newish CD called Gunpowder Democracy from a little-known rock combo called Chrome Molly…" but didn't.
Next, I had to seriously bone up on my Elvis knowledge. Working with people whose whole lives are wrapped up in Elvis and his legion of fans (who so far have been fantastic and supportive), all of whom can tell you when the King entered the army (1958), when Suspicious Minds was released (1969) and myriad other details, from his parents' marriage date to his daughter's birthday, can be daunting.
I was determined not to mix-up my Hound Dogs with my Wooden Hearts. I have read lots of books and reckon should you ever have an Elvis question in a Leicestershire pub quiz I'm your man(although the official fan club is based here, so I may have competition). The next dilemma might have been how to fill such a huge space with personal artifacts of one man. If that man was me, you could get pretty much everything I own that anyone might want to see into a standard garage attached to a house (I own a car, a couple of guitars and a pair of spandex trousers from 1985, which I would include for comedy value).
However, this is Elvis! Elvis bought cars (by the dozen, sometimes), golf carts, riding stables, he had literally thousands of outfits, lots of jewellery, guitars and there are thousands of photographs and other personal effects.
At Graceland, they have only 10 per cent of his stuff on show and the rest is stored in a 70,000sq ft warehouse. It is the size of a football pitch. Filling the space will be no problem, I am told.
Graceland has a lady who, as she puts it, "gets paid to look after Elvis's stuff". Her name is Angie Marchese and her official title is Director of Archives. What she doesn't know about Elvis and his stuff ain't worth knowing.
Angie is the curator of the exhibition and it has been her job to whittle down the one million documents – yep, one million – 300,000 photographs and hundreds of outfits, dozens of cars and so on, into a selection that can give our visitors an insight  into what Elvis was all about.
Another challenge was to get the best of Graceland over to the UK without lessening the offering over there (they get 600,000 visitors a year).
The most popular things in Graceland are:
• Elvis' black leather suit from the 1968 comeback special (a bit like my spandex trousers but possibly a bit more classy and better modelled).
• The gold suit that his mercurial manager Colonel Tom Parker had made for him at the height of his powers (after Elvis rolled on the floor in the suit and left $50 of gold leaf on the stage, he made him wear black trousers from then on).
• And my favourite, the pink Cadillac that Elvis gave to his mum and dad.
It has been decided that all of these things can visit our exhibition in the UK but for a limited time and, also, one at a time.
There is a ton of technical and boring stuff that needs to be done – arranging builders, lighting, sound, glass cases, permits, tickets, website, advertising campaigns, press, PR, guide book, merchandise to be selected (we are getting hundreds of gift items from the Graceland shop over), a CD to be pressed (for the exhibition) and tunes to be selected for an end of show "live" experience which makes the exhibition something different to what has been before.
There is talk of a big celebrity party on December 15, which Priscilla will attend (hopefully me as well) and – I wish I could tell you more, but I can't, ah, the power – a MAJOR EVENT for next year.
It certainly beats selling AC/DC T-shirts.
Nic Wastell is the bassist in Leicester band Chrome Molly. The Elvis Show is at the O2 Arena from December 12 until August 31, 2015. Admission is from £18.
<<<<<<<<<<>>>>>>>>>>
EDGE Approves Creation of Graceland TIF District
 By Amos Maki
 Updated 5:08PM
A special taxing district to help pay for a massive redevelopment of Graceland came one step closer to reality Tuesday.
The board of the city-county Economic Development Growth Engine approved the creation of a Tax Increment Financing, or TIF, district around Graceland Tuesday, Nov. 25.
The TIF will collect incremental increases in property tax revenue to help pay for major improvements to Graceland and the immediate area around Elvis Presley's former mansion in Whitehaven, including a resort-style hotel.
The Memphis City Council and Shelby County Commission must still approve the creation of the TIF district.
TIFs, in essence, pay for public or private improvements out of future growth in taxes attributed to the project.
EDGE plans on issuing up to $125 million in bonds to fund a series of improvements to Graceland and surrounding area, including the planned hotel, improved attractions and new retail. The funds from the TIF will be used to pay off the bonds. In addition, Elvis Presley Enterprises is seeking the creation of a Tourist Development Zone, which captures incremental increases in sales tax, and was allowed by the state to add a sales tax surcharge on purchases within the district to pay off the debt.
 <<<<<<<<<<>>>>>>>>>>
Let's see any current music videos that can hold a candle to Elvis' from those many years ago.
From the dvd of the same name. Dance routine choreographed by Elvis.
httpv://youtu.be/GxDwzyd8vDk
<<<<<<<<<<>>>>>>>>>>
THURSDAY,  NOVEMBER 27, 2014
I wish everyone a most happy and blessed Thanksgiving day here in the USA.  We, who live here, have so much to be happy and thankful for. 
 <<<<<<<<<<>>>>>>>>>>
My good friend, BlueRose, shared with me the link to the below video.  I loved seeing and hearing what these good people had to say about our Elvis.  Enjoy!!
CMT All-Time Top 40: Elvis Presley
http://www.cmt.com/videos/misc/1102720/cmt-all-time-top-40-elvis-presley.jhtml?xrs=share_copy_email
footnote:  I have been told that some people are only seeing a blank screen for the above video  and it may be because CMT has some sort of block on others using it.  It still plays fine on my own computer.  If you are unable to view it in the "live" video above, please do visit the above link where you may see it on the CMT site.
<<<<<<<<<<>>>>>>>>>>
FRIDAY, NOVEMBER 28, 2014
The following article which contains an account of some events after Elvis "died" is very interesting.  As you will see the narrative is by one of Elvis' maids, the late Mary Jenkins.  This was shared on Facebook.
The late Mary Jenkins, one of Elvis' maids talking about him after he died:
"After Elvis passed away, I wanted to see him. I prayed to see him. But he didn't come. And everyone told me, "You have to stop worrying and pray that you will see him." So I tried to stop worrying as much as I could.
Now, the first time he came, I was at Graceland. There wasn't no one there but myself and his Aunt Delta. She was in her room and I was in the kitchen, sittin' in a big chair. I wasn't asleep; it was around 1:30, 2:00, somethin' like that. We had, you know, them charms that make the doorbell ring. Those things started hittin' up against each other – ringin' and hittin' and ringin' and hittin', and his aunt woke up. She hollered and said: "Mary, Mary! What is that?! What is that?"And I said: "I'm not afraid. I know what it is." It was him – singin'.
Then, the next time that happened, it was around the same time. I heard him walkin' down the steps, just like we would hear him when he was alive, walkin' up and down the stairs.
I heard him comin' down the stairs just as plai-ai-ai-n . . . He walked down to the bottom step and them charms started ringin' again – just started ringin'! But he didn't call me that night; he didn't wake up.
One night, he come to me in a dream. He said, "Mary, I want to come to your house to rest. I wanna rest." He looked just like himself, you know? Like he wasn't dead.
I said: "Well you know you're always welcome! I'll fix a place for you. But, ain't but one thing about it: I don't have a bathroom in that room." He said, "Don't worry about that; The Boys will be with me and they will prepare for that."
So I fixed the room up for him. It's my guest bedroom in the back of the house. I had a bedroom suit in there – well, at that time I didn't have the same bedroom suit that I do have. But I had a king size bed and I had it fixed up real nice – and he moved on in! Then, he came to me in another dream and he was talking about how nice it was and how he liked it and how he could rest in that room.
I don't know why he kept coming like that , I believe he just come back to see about to me. And he could have wanted to tell me something.. we was reeee-eal close. Real close. He would tell me to come up and sit and watch the church programs with him on Sunday. He would enjoy it and I would, too.
Now, the last time it happened, he came down the steps and the charms started ringin' and he stood there, right at the bottom of them steps. I looked up at him, and I didn't say nothing and he didn't say nothing. And then he just vanished away"….that's incredible!
I fully understand that most people are going to accept this is a true fact from Mrs. Jenkins and I don't doubt at all what she says.  But, I do have a different take on her experiences.  Elvis was known to be able to travel outside his body.  He proved this to Wanda June Hill one night when they were friends before 1977 by speaking to her outside her bedroom window one night after he spoke to her of this type thing.  Then he phoned her the next day and told her the exact time that she had heard him speaking to her the night before.  I am sharing this strictly from my memory of her book and so my details may be a bit fuzzy…but the fact of what he did was accurate.
There is also a video of an interview with one of the Memphis Mafia guys who said that he was sitting with Elvis one day and Elvis just completely stopped moving and speaking and had a strange look about him.  This MM guy said that after a while Elvis returned to himself and when asked what was wrong with him, Elvis replied that he had been "across the street". I am also relaying the contents of the interview from my memory so, again, the details may be a little fuzzy but the facts are an accurate account of what the MM guy said. This was told, if I am not mistaken, by Lamar Fike.
When I was friends with Gail Brewer-Giorgio back in the late 80's, she also told me of an interesting happening at Graceland with one of Elvis' maids. I am sorry but I don't recall if she told me the name of the maid or not. Gail had been told that one of the maids had come upon Elvis sitting in the hall of gold trophy room one night. This was AFTER Elvis "died". He was sitting in the floor crying. The maid was so startled, shocked, etc. that she went all to pieces. Elvis calmed her down and told her it was OK that it really was him.
So, the above happenings are the reason that I took an interest in what Mrs. Jenkins had to say.
Also, I wanted to display her photo standing at the marker in front of Graceland because this is the original marker which had Elvis' middle name spelled ARON. The marker was later changed…and I believe the change was only made after Gail's book came out and the uproar was started about the misspelling of Elvis' middle name on the gravestone. Same as the pool house door was "remodeled" after the photo of Elvis sitting in the doorway became so widely known.  Also, Jesse told me, himself, that it really is him in that photo.
Jesse told me that he had the extra A put into his tombstone as a clue and that the extra A stands for Alive.
<<<<<<<<<<>>>>>>>>>>
SENT TO JESSE THROUGH THIS POINT
ON FRIDAY, NOVEMBER 28, 2014
<<<<<<<<<<>>>>>>>>>>
SATURDAY, NOVEMBER 29, 2014
This article will be a followup to my above article regarding Elvis' maid, the late Mary Jenkins.  First of all you may watch a video interview with Mrs. Jenkins in which she relates a little of what was reported in the above article.
Elvis Presley's longtime Graceland cook, Mary Jenkins
 Copyright LindaHoodSigmonTruth.com May, 2009 – 2014  All rights reserved.