THURSDAY, SEPTEMBER 20, 2012
John Edward was fantastic and amazing on the Dr. Phil show day before yesterday.  He will be on an upcoming Ricki Lake show as shown below:
Dont miss John Edward on The Ricki Lake Show Monday, September 24th! Go to

www.therickilakeshow.com

for local times and channels!
Home
<<<<<<<<<<>>>>>>>>>>
SENT TO JESSE THROUGH THIS POINT ON THURSDAY, 20TH
<<<<<<<<<<>>>>>>>>>>
SATURDAY, SEPTEMBER 22, 2012
My good friend, Jan, sent a link to me at which we may cast our votes for the artists to be inducted into the first

America's Pop Music Hall of Fame

next year.  Of course, I have already voted.  You are allowed to choose five out of the 40 nominees.  No, they won't let you just vote for Elvis 5 times…I tried. 🙁 
Here is the link to the site where you may vote:
Please be sure to pass this along to everyone you know so they can cast their vote for Elvis too.
<<<<<<<<<<>>>>>>>>>>
Below is a brief Youtube.com video with photos of Elvis shown along with the audio of an interview done with Elvis in the 60's.  I have this interview included in a set titled

THE ELVIS PRESLEY INTERVIEWS  TALKING WITH THE KING

which was put together by

Geoffrey Giuliano

…this is  a 3 CD boxed set.  I can't recall exactly which interview this was taken from…I am thinking 1962.  This is an excellent boxed set if you should come across an opportunity to obtain a copy.
My copy was given to me by a very dear friend to me and to this web site several years ago.
Elvis interview, E. talks about himself
httpv://youtu.be/n22dUYynyZM
Jesse still speaks in this very same manner.  The only problem is that when he speaks in a conversational tone without making each word distinct, I do have some trouble catching everything he says. 
I thank God and Jesse for the blessing and privilege of speaking with him.
<<<<<<<<<<>>>>>>>>>>
SUNDAY, SEPTEMBER 23, 2012
There is a video on Youtube which alludes to the premise that a person present at the 2007 Elvis birthday celebration may have actually been Elvis/Jesse himself.  Yes this man does indeed resemble Elvis/Jesse…though not nearly so handsome.  I have located many photos of the man shown in the photos in the video and he is actually an actor named Lance LeGault who passed away a few days ago.
He was a stand-in/double for Elvis in some of his movies and also worked on the 1968 Comeback Special with Elvis.
Below is a photo of Mr. LeGault taken in recent years…and yes he does have those blue eyes and white hair…but he's not Elvis/Jesse.  Wonder if anyone ever told Mr. LaGault that he looks like Dick VanDyke? Ha, ha!

Below is a photo of Mr. LeGault when he worked on the 68 Comeback Special with Elvis.
Below is the information for the Youtube video:
Elvis Birthday Special 2007 – YouTube.flv
Uploaded by
TinyHandsSecond
on Aug 16, 2011
httpv://youtu.be/WecgrEi0VKY
<<<<<<<<<<>>>>>>>>>>
The following article is from:
Elvis Australia : Official Elvis Presley Fan Club
Larry Geller

will release a DVD, 'Elvis and Larry: A Journey Shared'. Larry one of Elvis' closest and most trusted friends will take you into Elvis' private rooms at

Graceland

and his other homes, in hotel suites, backstage and in his plane '

Lisa Marie

'. He will reveal to you the heart and soul of Elvis in their most intimate conversations. No matter how much you may already know of Elvis, you will come away feeling that you know him far better for having experienced 'Elvis and Larry: A Journey Shared'. The DVD is over 1-3/4 hours, with photos, of Larry telling his experiences in greater depth, and many are stories he hasn't told before. It was filmed at Elvis' Honeymoon House with a small group of invited fans, and it's very moving and very intimate.
I am most eager to see this release and will certainly buy it the day that I see it offered for sale.  I appreciate Larry very much for the true friend that he has been to Elvis/Jesse.  Unlike others who have continued to make their living off of their association with Elvis by telling lies, exaggerations, and very private things that are the business of no one else.
<<<<<<<<<<>>>>>>>>>>
My good friend, Jan,  has provided me with the following article posted on

EIN – ELVIS INFORMATION NETWORK

.  This article is inane at best.  If they are going to post this evaluation of Jesse's CD, they need to provide the name of their source and also display the official letterhead document from the forensic testing company.
Audio forensics finds voice on Elvis Found Alive releases not Elvis!: EIN was recently provided with the following information:
EIN Comment: That some people are taking the Elvis Found Alive DVD film and CD release as being Elvis is surprising. That the releases have been apparently submitted for audio forensic analysis is even more surprising.
The film is obviously a mockumentary and while the vocalist performing Elvis does a good job, EIN believes most fans will realise it is not Elvis. (read EIN's review of

Elvis Found Alive

)

(April 2012)
My gut feeling is that they are referring to the John Carman test results which I have displayed and about which I have written earlier on this site.   I have also posted the documentation proving Mr. Carman's less than honorable criminal record.
Carman did not provide a verified letterhead document from his testing facility either.  Just a typed transcript of what the company reportedly stated. 
I KNOW that it is Elvis Presley's voice on the CD and an army of 10,000 forensic experts will not change the truth.
I defy anyone to actually prove that it is not Elvis's own voice on the CD.  Because the producer so butchered everything on the DVD…much to Jesse's own dismay…I won't even take up the fight about the DVD.  Jesse has explained about the DVD in his two page letter which is posted on the following page of this site:  
I have provided the means where everyone may play all 15 of Jesse's songs for

FREE

24/7 if they wish.  This should prove to everyone that I am not making one cent off of my friendship with Jesse.  I have spent MANY thousands of dollars in order to keep this site up and to share the truth.  You may take note also that Joel Gilbert has not approached me about this access to Jesse's songs.  He knows how Jesse feels about me and this site as well as what he did to the DVD.  He also KNOWS that Jesse is Elvis.

EIN
has played fast and loose at times in the past.  To refresh everyone's minds, I would not even have this web site today had it not been for their stubborn refusal to remove the lies which Paul Monroe told about me during an interview he did with them.  Paul Monroe has proven time and time again that he is very unstable, dishonest, unreliable and not at all credible.    I was met with rude refusals to even consider removing the lies about me. 
I feel certain that EIN is an EPE approved web site.  They have their own agenda to keep the fantasy story going that Elvis died, etc.  Nothing they say carries any weight with me.
On this site, I just tell the absolute truth and let the chips fall where they will.  My attitude toward

EIN, ELVIS EXPRESS

and other "respected" sites of their ilk is "So what!!!!"
Those who wish to take the word of those sites are asked to please stick to visiting those sites.  This site is presented absolutely FREE to everyone.  However, those who do not believe the content of this site are, respectfully, asked to go somewhere else where you may mingle and correspond with those who are of the same mentality as yourselves.
<<<<<<<<<<>>>>>>>>>>
footnote to the above article about EIN's "forensic" proof that Jesse's CD is not Elvis.
I did just check to be certain and yes,
"The Elvis Information Network has been running since 1986 and is an EPE officially recognized Elvis fan club.

"

Secondly, their original evaluation of the DVD and CD was written up by Nigel Patterson
(
Source:

Nigel Patterson

/EIN, Jan 2012). 
You may access this article on EIN

by clicking on the underlined link in their above current comment. 
Nigel is the person with whom I corresponded numerous times attempting to reason with him to remove the words spoken about me by Paul Monroe.  At first he was very rude and insulting to me; later on he treated me better but would never remove the lies which Monroe spoke about me in that interview.  So actually, in large part, it is Nigel Patterson to whom we all owe the thanks for my web site which shares news and truth from Elvis himself.  Nigel and Barbara Lee Rowe…
It is interesting to note that EIN now says that their commentary on the DVD and CD was published in April, 2012 while the actual report itself states in two places that it was done by Nigel Patterson in January, 2012.  This was very, very early on after the CD came out and really not far enough into the fan's reaction to take the opinion of a few fans that it is James Brown into an honest consideration.

I always knew that nothing that I said, showed or did would ever convince anyone at

EIN

that Elvis is alive and is Jesse now.  So, none of this comes as a surprise to me.  In fact, a good friend told me way back when the DVD first came out that Nigel had written up a review about it and I chose not to even go to read.  I knew with absolute certainty what Nigel's take on it would be because of his former stubborn refusal to even consider my point of view nor any of the facts I attempted to share with him.

So, once more I leave it to the readers of my site to decide if they

hear

Elvis on the CD,

see

Elvis in the pool house door photo, see Elvis in the photo with Benjamin, and if they recognize Elvis Presley's handwriting in the letters to the attorney general of Missouri, to Hinton, and to myself.  If you can say that you honestly do not believe my 80 page web site filled with material and documentation, then I absolutely urge you to go follow

EIN

and

EPE

and others of their persuasion.  You most assuredly should know that

EPE

will

NEVER

condone one of their "official" fan club web sites stating anything which goes against the grain of their money-making machine known as

ELVIS PRESLEY

.
Nigel Patterson wrote (about the CD) the theory that the guy singing on Jesse's CD is James Brown.
The CD Album:

Some fans claim the voice on the album is Belfast

postman James Brown

,

whose two albums using the moniker, The King, were excellent entries in the world of "I sound like Elvis" releases.

  
I vaguely recall that name coming to my attention back months ago and I may have already located a video of this James Brown to share on this site.  I can't recall for certain, so I will go researching now to see if I can find a video, etc. in order that everyone may compare this James Brown's voice to the voice of the

KNOWN Elvis Presley

who is Jesse now.
<<<<<<<<<<>>>>>>>>>>
OK, I have found videos of Jim "The King" Brown on Youtube.  There are a number of videos of him on YouTube.  He even has his own channel.  Yes, he is pretty good…but he definitely

is not

Elvis who is Jesse who sang the 15 songs on the CD.

I apologize that I cannot recall for certain if I have reported on this impersonator before.  As you can see I have added so much information and cannot begin to remember everything.  I have to take a refresher course myself. Ha, ha.  But, in looking at all of this, I do think maybe I did look him up once before.  I believe that a friend told me that someone on the Topix Forum was saying that it is Jim Brown and that I went looking back then.  If I am repeating myself, I apologize.
I encourage everyone who has any doubts about it being the real Elvis on Jesse's CD to please go and listen to ALL of Jim Brown's songs.
I certainly can tell the difference…but it is up to each of you to make up your own mind. 
Unfortunately, none of the songs on Jesse's CD are on there done by Jim Brown.  But, I will make a playlist of one of Brown's songs along with one of Jesse's songs for comparison.  To me it is a joke to even compare this man to Jesse's 15 songs.
Here is the YouTube info about Jim Brown:
JimTheKingBrown's channel
Here is a short blip of him speaking and singing from his web site

.  Just this one clip should tell you that he is

no

Elvis Presley who is now Jesse. http://www.homeoftheking.com/king.wav
A search done on the Internet for Jim "The King" Brown will turn up many results for those who care to track him down and maybe even ask him if he did the 15 song CD

ELVIS FOUND ALIVE

.  I doubt that he even knows that

EIN's

fans are saying that it is him on the CD.  I have nothing against him as he probably is just the one who a few people chose to give credit for Jesse's CD.
Here are the search results for him on the net…so information about him abounds.
Finally, here is the link to a playlist which I have comprised from one of Jim "The King" Brown's Youtube videos and one of Jesse's songs from the cd.  The only reason that people think it may be Brown or anyone else on the CD is because they are stuck in their ignorant belief that Elvis is not alive.
My playlist consists of Jim Brown's song
RETURN TO SENDER
followed by Jesse's song
RECONSIDER BABY
Because I know unequivocally that Jesse is Elvis and because he told me that it is him on the CD, I know that there is absolutely no doubt whatsoever that the listener

should

  hear the difference.  However, for those who choose not to believe that the new CD by Jesse is Elvis…then you are on your own…believe what you will.
<<<<<<<<<<>>>>>>>>>>
TUESDAY, SEPTEMBER 25, 2012
My good friend, Melinda, sent me the location from which to order the Larry Geller DVD which I mentioned recently in one of my articles.  I thank Melinda for sharing this with me as I have been planning to order a copy as soon as possible.  I did just place my order…the DVDs are on PRE-ORDER right now.
Below is the site link and information:
ELVIS & LARRY: A Journey Shared

on

DVD
Official Release September, 2012
Pre-Order NOW and Larry will personally sign the cover of your DVD!

Th
is powerful DVD was
filmed at Elvis and Priscilla's
Honeymoon House
in Palm Springs, California. Larry Geller takes you on a journey into the heart and soul of Elvis in their most intimate conversations. No matter how much you may already know of Elvis, you will come away feeling that you know him far better for having experienced…
"Elvis and Larry: A Journey Shared."
* Includes fascinating booklet specially written for this DVD by Larry Geller.
** Contact us for expedited shipping or for quantities over 3 DVDs.
$19.95
<<<<<<<<<<>>>>>>>>>>
THURSDAY, SEPTEMBER 27, 2012
I want to share with everyone a photo of a birthday gift which my dearest friend, M J, created for me.  She is quite gifted and drew all of the images on this T-shirt for me.  It is just lovely and I thank her, from the bottom of my heart.  Sweet friends make growing older not quite as bad.
Also, I have been foster Mom to another baby squirrel for the past month and she is growing accustomed to the wild on our back deck these days.  She leaves the cage to play for short periods but, so far, always comes back to the safety of the cage and her nesting box which she has crammed with all sorts
of nuts and goodies.  She has been such a joy to care for.
<<<<<<<<<<>>>>>>>>>>
I want to stop to thank every single person who visits my site for making it the huge success that it is.  It could not happen without every one of you nor could it happen without the world wide love which pours in for Elvis who is now Jesse.
I feel that one of the reasons that some of the established Elvis sites make feeble attempts to discredit me and Jesse is because they are jealous and intimidated by the success which my web site enjoys.  The simple fact is that people all over the world are recognizing the truth that Elvis is alive.
Below is a snapshot of my recent visits right now.  Please take note of all of the far away places which are represented in this list.  Especially take note of Russia and China.  This just goes to show what a unifying presence Elvis/Jesse is in this troubled world.
Elvis has always been the one thing about which just about everyone can agree.  Love for him is universal.  But, even now, people can't agree about the truth about his being alive now as Jesse.  I hope and pray that one day everyone will recognize the truth.
Recent visits
| | | |
| --- | --- | --- |
| | San Antonio, TX, USA | a minute ago |
| | Kaliningrad, Russian Federation | 4 minutes ago |
| | Ireland | 13 minutes ago |
| | Swannanoa, NC, USA | 22 minutes ago |
| | Huntsville, AL, USA | 38 minutes ago |
| | Quezon, Philippines | 41 minutes ago |
| | Turnhout, Belgium | 44 minutes ago |
| | Roswell, GA, USA | 53 minutes ago |
| | Coulommiers, France | 54 minutes ago |
| | Covington, LA, USA | an hour ago |
| | Campinas, Brazil | an hour ago |
| | Lynnwood, WA, USA | an hour ago |
| | Turnhout, Belgium | an hour ago |
| | Minneapolis, MN, USA | an hour ago |
| | New Hyde Park, NY, USA | an hour ago |
| | Nanchang, China | an hour ago |
| | Austria | an hour ago |
| | Mamanguape, Brazil | an hour ago |
| | Harrisonburg, VA, USA | an hour ago |
| | Vienna, Austria | 2 hours ago |
Below is the total number of visits right up until this moment.  Wow!!!  Again, thank each of you so very, very much for making this happen.
Total Site Visitors
214584 Total visitors:

You may access the current recent visits at any time by clicking on the image of the map at the upper left menu column.  Once you click on the image of the map, you will be taken to an enlarged view of the map showing the visits on a map of the world.  Once there, you may scroll down on the page and you will see the current recent visits as I have shown above detailing the location of each visit.
I thank Mark so very much for this wonderful plugin for this site.
<<<<<<<<<<>>>>>>>>>>
Yesterday I received a very affirmative message from a friend who is an ETA.  He wrote to state his opinion about the voice of Elvis on Jesse's new CD.  As you will see, he has no doubts whatsoever that the voice on the CD is that of Elvis himself.
Here is Rigel's Facebook message to me:
Rigel Eta
Dear Ms. Linda, this is Rigel, I pray that you and Mr. Tom are doing well and so is Mr. Jesse. I have spoken to a friend of mine, and also other people who I respect in the " ETA " community, and there is NO doubt in their minds that the voice on the songs and film Elvis Found Alive is none other than Elvis himself. These gentlemen, as well as I, have not only studied his voice but also the inflection and "natural " tone , in order to try to do our best in representing him. My friends and I are not "stooges" of EPE who want to perpetuate the myth that Mr. Presley died on 8-16-77. These people only do this because of greed and ,in my opinion, are somehow paid off in some of these "fraudulent" impersonation contests. I regard some of them like professional wrestling, they know the outcome before the end of the show. I have dealt with these people also and have no use for them, because they have not only hurt me and my true friends, but also the memory of a very great man who now calls himself Jesse.
I feel that they are behind so much misinformation and tabloid garbage because they know that Mr. Jesse can't come out, even if he wanted to because of all of the danger that he would face.  He is truly an American Treasure, and if I could I would do whatever it takes so he could let the truth be known to all, even if it meant my life. I don't mean to sound melodramatic, but it's the truth.
Your courageous friendship and loyalty have given everyone who wants the truth your site, and I for one, truly appreciate it. I know millions more appreciate it also.
Rigel
My heartfelt thank to Rigel.
<<<<<<<<<<>>>>>>>>>>
SENT TO JESSE THROUGH HERE ON FRIDAY,   SEPTEMBER 28, 2012
<<<<<<<<<<<<>>>>>>>>>>>>>>>
FRIDAY, SEPTEMBER 28, 2012
Jesse did remember my birthday yesterday with a card and a gift which I received in the mail yesterday afternoon.  He wrote a very brief note and sent me a lovely little sapphire and gold necklace.  He also wrote in the card that he has had surgery since we spoke but that he is doing all right.  Of course, I am very concerned about this and will be eager to hear him tell me that he is all right.  He did write me about the nature of the surgery, but I respect his privacy.  I will say that this type of surgery is usually very successful and not terribly serious.

<<<<<<<<<<>>>>>>>>>>
On a surprising note, I attempted to visit

Elvis Information Network

to see if there was anything more about their "forensic" article on Jesse's CD other than the small segment which I posted earlier this week.  This took place shortly after midnight on the morning of the 26th. When I clicked on their link, their web site came up and then my security system  displayed the following notice of an attempted attack on my computer.  So, their site was still up and running at that point in time.

I was alarmed about this attempted attack and totally forgot about going on to

EIN

.  I had to update my security system and run two total system scans to detect any other harmful content.  This took several hours and so I went to bed.  I had not thought further about going to

EIN

until just a few minutes ago.  I decided to pursue my original effort to make sure that I had not cut them short in the article which I wrote about them.  I was thinking that perhaps they had provided more information about their "forensic" evidence elsewhere on the site.  Had they done so, I was going to provide the necessary documentation to counteract anything else which they may have shown.
Just a few minutes ago when I attempted to visit their site again, after repeated attempts to access their site by various site addresses, I am still getting a notice that their "

Account Has Been Suspended

".  This is rather shocking as they have been there for years and years.
Now I am wondering if the attempted attack on my computer was generated by their site when I attempted to visit.  Perhaps someone had placed a "bug" or something on their site which triggered the attack on my computer and because of this dangerous attempted attack, their web host has suspended their account.
I would like for others to attempt to go to their site and see if you get the same notice of account suspension.  Perhaps it is just my computer that triggers this notice.  Although, I did just attempt access through my laptop and got the same notice.

Here is a screen capture of what I see when I attempt to visit their site…just so everyone can see that I am telling the truth.
I did some research about the attempted attack on my computer when it took place and learned that it, evidently, originated from  a computer in Chantilly, Virginia.   Below is the tracking information on the attacking computer.  I ran up this information shortly after the attack was attempted and therefore did not think that the attack had anything to do with

EIN

…but now I wonder.  The version below is from this afternoon when I repeated the search on the attacking computer in order to display it below.
IP Address: 97.74.144.123
Location
UNITED STATES, VIRGINIA, CHANTILLY
Latitude, Longitude
38.89428, -77.4311 (38°53'39″S -77°25'52″E)
Connection through
GODADDY.COM LLC
Local Time
29 Sep, 2012 01:04 AM (UTC -04:00)
Domain
SECURESERVER.NET
Net Speed
COMP
Area Code
703
IDD Code
1
ZIP Code
20151
Weather Station
CHANTILLY (USVA0140)
All of that being said, I guess that the lies Paul Monroe told about me on

EIN

are gone for the time being. LOL
Perhaps

EIN

will solve it's problems and be back up and running soon.
I am only reporting all of this because I found the series of events to be rather interesting…time will tell.  Perhaps this was some sort of universal karmic debt restitution to me for my birthday. LOL  I am only joking!:-)
footnote added at 2:10 AM Saturday, 9-29-2012
Their web site is now back up and running normally.
<<<<<<<<<<>>>>>>>>>>
SATURDAY, SEPTEMBER 29, 2012
Below is a short film of Elvis from 1965 showing him making a donation to the Motion Picture Relief Fund.  This is new to me and I hope you will enjoy watching it too.
Published on May 21, 2012 by

MrMazins1
On June 24, 1965, while on the set of the movie "Frankie and Johnny" Elvis donated $50,000 to the Motion Picture Relief Fund. Barbara Stanwyck, Frank Sinatra and Bud Abbott represented the film community and accepted the contribution.


Also, some additional footage.
<<<<<<<<<<>>>>>>>>>>
UPDATE REGARDING THE ELVIS INFORMATION NETWORK SITE ARTICLE ABOVE
I clicked on the link for

EIN

a few minutes ago and their site is back up and running normally. Whatever was wrong was corrected. I am glad for them because I know how it feels to have everything just disappear from one's Internet site. It is horrible!!
Thanks to everyone who went to the site and verified what I was seeing.
As Elvis used to say "There are no coincidences…everything has a meaning."  So, the correlation of the attempted attack on my computer when I attempted to visit their site followed by their site being suspended remains a mystery. 
I am sure there is a lesson for all of us in this somewhere.
<<<<<<<<<<>>>>>>>>>>
Below is a very brief interview with Elvis before the Aloha Special.  I haven't seen this one before and hope everyone will enjoy it as much as I.
Aloha Interview Nov 20 1972 Hawaiian Village Hotel, Honolulu
httpv://youtu.be/e7VLlgnU9OY
<<<<<<<<<<>>>>>>>>>>
Below is the title and several excerpts from an article about the recent selling of Elvis's Bible.  The reason I want to share this is because of the attention given to one verse of scripture which Elvis had underlined and held personal meaning to him.  When you read this, please place it in the context of what Elvis decided to do…to give up the world to save himself.
Elvis' Bible auctioned for $95,000
The message may be that an old Bible can hold more meaning than just a keepsake.
FAITH PERSPECTIVES > REV. CHRISTOPHER KEATING
Ladies and gentlemen, Elvis' Bible has left the building….
According to news reports, a Bible Elvis Presley used until his death in 1977 was sold by a British auction firm for around $95,000.
Presley received the leather Bible, which is imprinted with his name, as a Christmas present in 1957. It was his first Christmas in Graceland, and was the year he released such singles as "Jailhouse Rock" and "All Shook Up." It was given to him by his aunt and uncle, and contains notes in Elvis' handwriting.
Bidding for the Bible quickly exceeded and then doubled its stated value. The new owner refused to be identified but was involved a worldwide bidding war.
The Bible shows signs of great use, and may provide insights into the King of Rock 'n' Roll's spiritual life. The pages are inked with his thoughts, and memorable passages are underlined. One of the passages he underlines was

Luke 9:25

, which reads "

For what is a man advantaged, if he gain the whole world, and lose himself, or be cast away?

" (King James Version)
This was published on a site titled "Belief St. Louis"
<<<<<<<<<<>>>>>>>>>>
Below is an article about an Elvis handwritten letter being up for auction.  I want to share this for several reasons.  First of all it helps everyone to see the personal side of Elvis even back in 1958…he was very lonely, sad, and homesick.
Secondly, I want everyone to see how very much his handwriting had changed from this letter in 1958 to the 1970 letter to Pres. Nixon.  One of the "experts" on another Elvis web site posted on a forum (regarding the autographs and letters on my site) that he had seen nothing that looked like Elvis' autograph.  I won't mention this man's name out of respect to him.  But, I would ask this man if he had only seen Elvis' handwriting in this 1958 letter and someone had shown him the 1970 letter, would he not have said it was not Elvis's handwriting? 
Who, other than the forensic experts, would be qualified to say if something written within the past 20 years is Elvis's own handwriting or not.  I don't believe a commentator on a web site would have the qualifications to state that nothing on my site looks like Elvis's handwriting.
Also it is stated in this article that Elvis probably didn't write ten letters in his lifetime.  Once more, this was stated by someone shooting off his mouth without having knowledge of everything that Elvis did or didn't do.  I know for a fact that Elvis wrote a good number of letters in his life prior to 1977.  There are letters shown on the Internet which he wrote to his friend Gary Pepper, he wrote letters to Wanda June Hill, also wrote to Alan Fortas from Germany, wrote to Anita Wood, etc..  Some of these letters are described in the book

Elvis Word for Word

by Jerry Osborne.
Here is a sample of the letter to Pres. Nixon:
I'm lonesome tonight: 'Homesick' Elvis letter written from Germany just after his mother Gladys died emerges for sale 54 years on
The King's note from 1958 will be auctioned in Spain and could be one of only ten he ever wrote
He was on national service and distraught that his mother Gladys had died three months earlier
'I just want to tell you that I miss and love you all very much,' he said
By Daily Mail Reporter
Rare: Elvis wrote the poignant letter in 1958 – while he was on national service in Germany, pictured
He had just lost his mother and was living thousands of miles from home in a foreign country.
So it's fair to say that Elvis was feeling genuinely lonesome the night he wrote an emotional letter to his friends.
Aged 23 and doing his national service in Germany, he sent the rare note home in 1958 telling them how homesick he was and how much he missed his mother Gladys who had died three months earlier.
He also spoke of his frustration at having to postpone his burgeoning singing career for the two years he spent in the US military.
The two-page handwritten letter was addressed to a 15-year-old girl called Frances Forbes, but was meant for a whole group of friends back home in Memphis, Tennessee.
It has been in the hands of a private collector from Hertfordshire for many years, but has now come up for sale.
Richard Davies, of International Autograph Auctions, said: 'Elvis's cousin once said that if Elvis had written ten letters in his lifetime, then that would have been a lot.
'This is the first handwritten letter by Elvis that I have ever come across. They are like gold dust.
'The content of this letter is superb. It is very personal to him and shows him to be quite vulnerable in the aftermath of his mother's death.
Letter: The sad note reflects what the Elvis felt privately while he was in Germany and away from his friends and loved-ones
'He wrote about being lonely and homesick, about his mother's death and about getting home to Gracelands.
More… We have had a lot of interest in it and we expect it to go for more than the pre-sale estimate of £3,000.'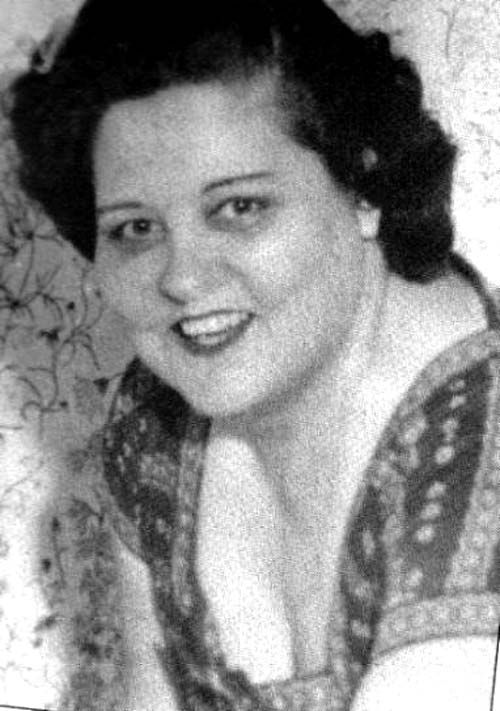 Crestfallen: Elvis was beside himself after his mother Gladys, pictured, died
Elvis's reluctance to put pen to paper was reflected in the opening line of the note.
He wrote: 'Well I don't know what ever made me decide to write a letter but I guess it's because I am so homesick and lonely.
'I just want to tell you that I miss and love you all very much and I am just counting the hours untill [sic] I can return and we will all be together again.
'I can hardly wait till I am back singing and making movies, and above all seeing the old gang again.
'I guess I miss mother more over here than anything because I am just now realizing that she won't ever be here anymore.'
He went on to ask his friends to pass on his regards to 'everybody at Gracelands' and finished by saying: 'I just wanted you all to know that I am thinking of you.'
Although he was eight years older than her, it is thought Elvis had a relationship with Frances Forbes at the time she received the letter in November 1958.
She held on to the note for many years and provided a letter of provenance when it was sold to the English collector.
Although Elvis's loneliness was clear at the time he wrote the letter, it did not last long.
In September 1959, he met Priscilla Wagner, the 14-year-old stepdaughter of a US Air Force officer based in Germany. The pair fell in love and eventually married in 1966.
The auction of the letter takes place in Marbella, Spain, today.
Star: Sgt. Elvis Presley was already a huge worldwide phenomenon – shown speaking at a press conference in 1960 when he returned from national service
Aid: Elvis gets a helping hand from a young woman as he carries his kit bag in Germany
<<<<<<<<<<>>>>>>>>>>
SUNDAY, SEPTEMBER 30, 2012
The Edgar Cayce

Thought for the Day

for today is something with which I really struggle…not holding resentment.  I find
this to be a real hurdle for me in the face of the things done to me by people relating to my friendship with Elvis who is now Jesse.  There are so many who have done irreparable harm to my emotions.  I pray that God will forgive Hinton, Felix-Johnson, EIN, Paul Monroe, Eliza Presley, Barbara Lee Rowe, A. J. Robbins, Mary Smiley, Elvis Express, Patrick Lacey, Cory Cooper, Steven Roberts at Discovering Elvis, to mention a few.  I can only ask that God will instill His spirit of forgiveness within my heart, soul and mind because I cannot over come this on my own.
May God help us all…
Think on This…


For resentments of any nature bring their fruit in the physical. Not that there should be wholly that of passive resistance, but: THY WILL, O LORD, BE DONE IN AND THROUGH ME AS THOU SEEST I HAVE NEED OF FOR MY SOUL

DEVELOPMENT, AND THAT I MAY THROUGH THIS DEVELOPMENT BE THE GREATER CHANNEL OF BLESSING TO MY FELLOW MAN.

Reading 288-37
<<<<<<<<<<>>>>>>>>>>
 I see that the following Press Release was issued one year ago on Sept. 29, 2011.  Does anyone know what became of this book.  I don't find it listed for sale anywhere on Amazon.com, etc.?
Perhaps publishing was cancelled due to Joe's wife, Martha's, illness and subsequent passing?
 Newbury Press will release a new book by Joe Esposito entitled 'Discovering Elvis'.
From the press-release:
A long time coming. A tour through Elvis' life told by the one man who really knew him…Joe Esposito
We all sat in the audience but have you ever been onstage with the greatest performer of all time?
Have you ever been backstage or at Graceland with him?
Discovering Elvis gives you an unprecedented look at the myth, the superhero and human being.
It's taken over 30 years to assemble some of the facts that are contained in Discovering Elvis. Elvis as you never saw him.
 Source; Newburypress.com
<<<<<<<<<<>>>>>>>>>>
Meanwhile this new book is a hoot…they just can't accept the truth which is right in front of their noses…Elvis DID NOT DIE.  No, he was not murdered!!!  As Jesse wrote in his book, Vernon did not know the truth and that is why he suspected murder.  It is also why he could not get an investigation done.
Who Murdered Elvis
It's been whispered about for years in some circles. But now, one man is going public with a provocative theory about what really happened to Elvis Presley 35 years ago today. Steven Ubaney's new book "Who Murdered Elvis" is now available. It's a theory even Elvis' co-star Suzanna Leigh believes.
Presley's father knew he was murdered, but his cries for an investigation were blocked by every level of the government – why? On November 20th, 2008, two years after the government rejected reopening the Presley case with concrete evidence, Elvis researcher Jared Parker was brutally murdered. Parker was going to expose newly uncovered letters written by Elvis implicating Mob and FBI operatives who were threatening his life. Who's behind the cover up? "It seems almost as if the City of Memphis itself does not care to know the truth about the death of it's most famous citizen"
Source:

Various

/ Updated: Sep 28, 2012
Yes, there is a very valid reason why no one can get the truth about the "death" cover up investigated.  That is as it should be…unless Jesse, himself, wants it done.
You may recall that Dr. Nick did an interview with Current Affair in which he said it may have been murder which he thought may have been  perpetrated by David Stanley (though the name was edited out of the interview for obvious reasons).
One has only to retrace the different accounts which Dr. Nick has given over the years to say "Hey, wait a minute!  I thought you said…"
Here is a link to my own Youtube.com video of this interview:
httpv://youtu.be/ibeEvttdqe0
When will they all ever learn to just accept the truth that Elvis had to fake his death to save himself from actual death.
I thank God every day that he was able to do this.
<<<<<<<<<<>>>>>>>>>>
I have constructed a new Current News and Events Page for the month of October, 2012.  Below is the link to the new page: