IF YOU HAVE NOT ALREADY DONE SO, PLEASE DO VISIT THE BELOW PETITION AND SIGN FOR ELVIS' BIRTHDAY TO BE MADE A NATIONAL HOLIDAY.
DON'T FORGET TO VOTE FOR ELVIS AND ONE OF HIS SONGS EVERY SINGLE DAY THIS YEAR 2016
LINKS SHOWN BELOW 


<<<<<<<<<<>>>>>>>>>>
SUNDAY, JANUARY 17, 2016
I am so happy to share with everyone that Jesse did phone me earlier this evening and he is doing very well.  He sounded wonderful and we did have a good visit.  Again, he expressed his thanks to everyone who sent things for him and little Nick.  
<<<<<<<<<<>>>>>>>>>>
WEDNESDAY, JANUARY 20, 2016
This is another good comparison photo of Elvis to Jesse.  This is from Facebook as shown in the credits at the top of the photo.
 
On second thought, I think I have shared the above photo of Elvis before…oh well, it bears repeating…can't get too much of a good thing.
The below photo is also a good match:
<<<<<<<<<<>>>>>>>>>>
The below video tells the story behind the beautiful white suit which Elvis wore in the '68 TV show…"Comeback Special".  I have never heard this before and I thank my friend, Jeannette, who shared this on Facebook.
If I Can Dream Suit: The Untold Story
https://www.youtube.com/watch?v=A5YViOhG3XE
 

<<<<<<<<<<>>>>>>>>>>
This is another beautiful honor for Elvis…
Star for a Star: Celebrating Elvis Presley
Updated: Tue 7:04 PM, Jan 19, 2016
Meridian, Miss. A Mississippi music star was honored with his own star in downtown Meridian Tuesday.
The Mississippi Arts and Entertainment Experience unveiled a star for Elvis Presley along the Walk of Fame. A huge crowd was on hand at the MSU Riley Center for the occasion, and they were ready to celebrate.
It seemed everyone there was cheering, singing and ready to share their own personal experiences with the King of Rock and Roll.
"My mother says the first time he was on TV, on the Ed Sullivan Show, I kissed him," Connie Butler laughs while sporting her Elvis t-shirt. She says she's the biggest Elvis fan in Butler, Ala.
The vice president of the MAEE had his own story.
"He looked at my car tag and said, 'Mississippi!' Paul Ott recounts. "I said, 'Yessir, south Mississippi." He said, 'I'm from north Mississippi.' I said, 'You sure are.'"
Even the

executive

director of the Elvis Presley Memorial Foundation came down to witness the unveiling.
"Elvis had received many awards, but I think this is as special as any of them had been," Dick Guyton says.
But this little star is only the start. Officials say they're getting ready to honor Elvis and so many others at the Mississippi Arts and Entertainment Experience next year
"We've talked that Memphis is trying to steal Elvis, and all the different states try to steal our stars, but this Walk of Fame, and the Hall of Fame and the Mississippi Arts and Entertainment Experience is going to be the crown jewel of Mississippi," Ott says.
http://www.wtok.com/home/headlines/Star-for-a-Star-Celebrating-Elvis-Presley-365830021.html
<<<<<<<<<<>>>>>>>>>>
Alright!!!!  Someone after my own heart.  I love it so.o.o.o.o much.  Way to go!!!!
Powerball Winners Head to Graceland
MEMPHIS, Tenn.–(BUSINESS WIRE)–What do you do after winning $528 million dollars and become one of the winners of the biggest lottery jackpot in U.S. history? Go to Graceland! Just a day after Powerball winners John and Lisa Robinson verified their incredible lottery win with Tennessee Lottery officials, Graceland in Memphis was honored to welcome the Munford, Tennessee couple to Elvis' iconic mansion this past Saturday, along with their friends and family.
"It's awesome. I wish I would have come sooner. I always liked Elvis. I loved his movies and I loved his music."
The couple had never been to Graceland before but it was something that Lisa Robinson had always wanted to do. The couple was looking for a fun activity for their family after returning to Tennessee, following their trip to New York to appear on The Today Show last Friday to announce that they had the lucky lottery ticket with the winning Powerball numbers.
When asked why they came to Graceland so soon after winning the jackpot, Mr. Robinson said, "Well, I've never been here. I just wanted to take everyone out the day after we claimed the prize and verified it. I wanted to have a relaxing day with my wife and my friends." And what did he think of his visit? "It's awesome. I wish I would have come sooner. I always liked Elvis. I loved his movies and I loved his music."
About Elvis Presley Enterprises, Inc.
Elvis Presley's Graceland, in Memphis, is music's most important and beloved landmark, with hundreds of thousands of fans from around the world visiting the historic home each year. Elvis Presley Enterprises, Inc. (EPE) manages the operations of Graceland, its related properties, including The Guest House at Graceland 450-room hotel, opening in October 2016, as well as the Graceland Archives, featuring thousands of artifacts from Elvis' home and career. EPE also produces and licenses Elvis-themed live events, tours and attractions worldwide, including "Graceland Presents ELVIS: The Exhibition" at the Westgate Las Vegas Resort & Casino. Graceland Holdings LLC, led by managing partner Joel Weinshanker, is the majority owner of EPE. In 2015, Graceland was named the world's "Best Musical Attraction" and "Best Historic Southern Attraction" in the USA Today 10Best Reader's Choice Awards and in 2013, voted the #1 "Iconic American Attraction" in the same poll. For more information on EPE and Graceland, visit www.graceland.com.
http://www.businesswire.com/news/home/20160119006545/en/Powerball-Winners-Head-Graceland
<<<<<<<<<<>>>>>>>>>>
SENT TO JESSE THROUGH THIS POINT ON THURSDAY, JANUARY 21, 2016
<<<<<<<<<<>>>>>>>>>>
FRIDAY, JANUARY 22, 2016
This article includes some details which were not included in the earlier article about Elvis' new star in Mississippi.
A Star for 'The King': Elvis joins Walk of Fame
Paula Merritt / The Meridian Star
A Star for 'The King' 1
Mississippi Arts and Entertainment Experience committee members and honored guests, including Tupelo Mayor Jason Shelton, join a small crowd for the unveiling of a star honoring Elvis Presley on the MAEE Walk of Fame in front of the MSU Riley Center Tuesday.
Posted:

Wednesday, January 20, 2016 4:06 am
    A star honoring Elvis Presley was unveiled on the Mississippi Arts and Entertainment Experience (MAEE) Walk of Fame in front of the MSU Riley Center in downtown Meridian Tuesday.
    The king of rock 'n' roll, who died in 1977, was born in Tupelo in 1935. The star was first unveiled there as part of the traditional celebration of his birthday Jan. 8.
    "Elvis was given many awards while he was alive and after he passed away," Dick Guyton, executive director of the Elvis Presley Birthplace and Museum in Tupelo, said at Tuesday's ceremony. "But being honored by his home state is a very special occasion."
    City of Meridian CAO Richie McAlister said the unveiling was "a great example of collaboration between two great cities."
    "This is going to be a wonderful opportunity, not only for the city of Tupelo and the city of Meridian, but for the state as a whole," he said.
    "We have such a tremendously rich musical and arts and entertainment heritage here in the state of Mississippi," Tupelo Mayor Jason Shelton said. "The City of Tupelo is proud to partner with the City of Meridian to continue to tell the story of the famous musicians who put Mississippi on the map."
    "Elvis is unquestionably one of the greatest entertainers I've ever seen," said MAEE Executive Director Marty Gamblin. "And he's probably our most famous Mississippian."
    "It's incomprehensible when you look at what this man accomplished," Gamblin continued, describing Presley's long and varied career. "Today's pop artists have a longevity of about three to six years. Elvis has been gone for 39 years, and according to Forbes, last year alone he earned $55 million dollars, second only to Michael Jackson. He was a phenomenal icon."
    MAEE Vice President Paul Ott recalled Elvis' generosity. He remembered the singer staging a benefit concert to help the city of McComb recover from a tornado in 1975.
http://www.meridianstar.com/news/a-star-for-the-king-elvis-joins-walk-of-fame/article_8e129b52-bf25-11e5-99f7-0743b7b9bd81.html
<<<<<<<<<<>>>>>>>>>>
SATURDAY, JANUARY 23, 2016
Elvis Presley complete album collection due in March
Commemorating the 50th anniverary of the King's signing by RCA Records, Elvis Presley: The Complete Album Collection will be released by Sony Legacy on March 18, 60 CDs that collect titles from Elvis Presley (1956) to Moody Blue (1977). In between are his "Golden Records" hits collections, soundtracks, and most popular live recordings. In addition the set will include three discs of rarities from the 1950s through 1970s, respectively.
All of the discs in the collection will recreate the packaging of the original albums from cover artwork to inserts and will be accompanied by a 300-page hardcover book with recording information and notes from Presley historian John Jackson.
http://www.examiner.com/article/elvis-presley-complete-album-collection-due-march
<<<<<<<<<<>>>>>>>>>>
Memories of Elvis…
Ted Alexander on Elvis' Asheville visit & immortality
MONDAY, JANUARY 25, 2016
I just completed creating a new video.  The video is compiled from photo comparisons of Elvis and Jesse taken from my website.  Also, I have added Jesse's own song "Do You Know Who I Am" as the accompaniment.  I am not a pro when it comes to creating videos…please forgive that some photos are not displaying due to their size.  I am still trying to learn this process which is relatively new to me. I hope everyone will enjoy this video. 
The below is from my own YouTube channel.  You may also view it on Vimeo, Facebook and Pinterest.
<<<<<<<<<<>>>>>>>>>>
TUESDAY, JANUARY 26, 2016
Below is a report of a 1976 and a 1992 interview with Elvis' first cousin, Harold Lloyd.  I met Harold during one of my early visits to Graceland.  In fact, I think that it was during my first visit there in 1985.   He truly was a very kind gentleman who I enjoyed speaking with briefly very much.  He explained to me about his mother and Elvis' mother being sisters, etc.
Details of Elvis Presley's 1935 birth in Tupelo revealed by his first cousin
Eighty-one years ago this week Vernon and Gladys Presley of Tupelo, Mississippi were preparing for the birth of twins. The previous summer, on June 10, 1934, Gladys and Vernon were at church when she felt "enough kicks to suspect she was having twins," her nephew, Harold Loyd revealed in 1977. "As soon as she knew she was pregnant Uncle Vernon, Vernon, and their father Jessie started building that house next door to Jesse."
January 8, 2016 marks the 81st birthday of Loyd's first cousin Elvis Presley. Millions of fans across the globe will celebrate in some fashion to remember the King of Rock n' Roll. To many, the life of Elvis Presley is more than a nostalgic memory in the minds of his family, friends and dedicated fans. To some of the most devoted, it continues to be a fascination, pastime, or even a way of life. For years after Presley's death, surviving relatives would speak of him as if he were sometimes still alive.
"Elvis is good to his family and he is good to his fans," Harold Loyd told this writer in 1992, some fifteen years after his cousin died on August 16, 1977. "He would love knowing that fans still come to Graceland. He loves his fans."
In May 1976, this reporter first met Loyd at the famous musical gates at the entrance of Presley's home, Graceland, in Memphis, Tennessee. Besides being a loyal cousin to the King of Rock and Roll, Loyd was obviously a dedicated ambassador to the fans who came daily to visit where he worked as a security guard.
Loyd was generous with information and praise for Presley as he agreed to sit down at the Graceland gate guard shack for conversation and interviews each evening for a few days. Loyd explained that his mother, Rhetha, and Elvis's mother, Gladys were sisters from a family of eight siblings.
During the interview, Loyd remained protective of Presley and would skirt around his answers to any questions that might place his cousin in a bad light. In 1992, he elaborated on questions and new stories since our 1976 conversations. According to Loyd, the names picked out for Gladys's babies, if they were boys would be named after family and friends.
"Vernon's middle name was Elvis and one of their goof friends, a neighbor who lead the church singing each Sunday was Aaron Kennedy," Loyd offered. "Vernon's father was Jessie and I guess that is why they called the little one (who was stillborn) Jesse Garon."
Dr. William Robert Hunt was paid $15 for delivering the babies at the Presley home. Vernon depended on welfare, with the help of neighbors, church friends and family to help pay the doctor and provide diapers, supplies and provisions that day.
"I don't really remember Elvis being born because I was too young," said Loyd. "But I do remember playing with him with he was just a little one. I can't really remember a time when he wasn't around."
"Not many people know this, but Aunt Gladys was a singer too," Loyd smiled. "She was always doing odd jobs, being a maid and looking after children, so she could buy material to sew clothes for her brothers and sisters. She was always taking care of everybody. She sewed nightgowns for her mother who had to stay in bed all the time with TB."
"But her favorite thing was just to sing and dance," Loyd added. "Grandpa would let Aunt Gladys and my mother go to the dance hall there in Tupelo and everybody tells me could do every dance there was at the time: the Charleston, Lindy Hop, Jitterbug. And her voice was just amazing. She would sing all the time. That is some of my best memories, listening to Aunt Gladys sing and sometime Elvis and I would sing with her. It's no wonder he was the best ever singer."
"When Elvis was in about the first or second grade–it was during World War II– Gladys was pregnant again," Lloyd said. "Vernon had to go away for work with the WPA and one day Gladys had to go to the hospital. She miscarried that baby. That was two she lost because she lost Jesse Garon (Elvis's twin brother, who died during birth on January 8, 1935). We were all real worried about her because she almost died when Elvis was born and they had to take them to the hospital then, too."
"We always said that was why she was so protective of Elvis," Loyd stated. "When those two were together they were so close, they would pet each other and talk a different language that hardly any of us could understand. They were just remarkable in how much they loved and cared for each other. It was about the saddest day when Aunt Gladys died. I rushed as fast as I could to Memphis (from Mississippi) to get to Elvis that day."
When Loyd's mother, Rhetha was burned to death in a coal fire explosion, Gladys brought Harold in to their home. "When my mother died, Aunt Gladys became even more attached to me," Loyd said. "I think it is because I represented and reminded her of the love of her sister."
"She always told me I was her favorite," Loyd laughed. "And Elvis told me the same and I had no reason not to believe them."
<<<<<<<<<<>>>>>>>>>> 
GreenLight Launches Elvis Presley™ Collectible Vehicle Replicas
January 25, 2016
INDIANAPOLIS, IN – (January  2016) – GreenLight Collectibles is honored to announce the launch of their Elvis Presley™ collection of authentic die-cast vehicle replicas. Elvis' famous car collection is brought to life with replicas of his most iconic vehicles including his 1954 Fleetwood Series 60, pink Cadillac. The first collection will be available on April 2016.
Josh Hollandsworth, Media Designer stated, "We can't wait for collectors and fans to see what we have in store for them. Elvis was a phenomenon who continues to inspire today's musicians, artists, and influencers."
Elvis Presley was an avid automobile collector with a collection of nearly 100 cars ranging from Cadillacs to Lincolns to limousines. GreenLight will commemorate Elvis Presley's life-long love affair with cars, as well as his time served in the United States Army, as he drove and serviced military vehicles from 1958-1960 during his musical career. Collectors and fans will be "All Shook Up" over the upcoming models which will be released in various scales include 1:18, 1:24, 1:43 and 1:64.
Elvis Presley vehicle replicas will be available through official GreenLight hobby shops, wholesale dealers, and select mass retailers including Amazon.com, Toys R Us, Hobby Lobby, Wal-Mart Mexico, Hastings and many more. For more information about GreenLight's up-coming releases or the other quality collectibles from GreenLight, visit www.greenlightcollectibles.com
 http://www.actionfigureinsider.com/greenlight-launches-elvis-presley-collectible-vehicle-replicas/
<<<<<<<<<<>>>>>>>>>>
WEDNESDAY, JANUARY 27, 2016 
Jesse phoned me this afternoon and we had a good lengthy visit.  He is feeling pretty well today.  He and I share the same pains in our hands, etc. because of arthritis. Winter is not good for aches and pains.  Jesse realizes that I have lots of chronic pain and he has been telling me for a while that I should cut back because he says I do too much.  I explained to him that most of my extra work involves correspondence with people.  He wanted to be certain that no one is coming at me giving me a hard time and I assured him that it is not the current situation.    So, with Jesse's understanding and urging as well as my increased pain recently,  I will be cutting back greatly on all correspondence.  Please understand and forgive me if you have Emailed me, messaged me, etc.  and I have not responded.  I will focus my more-limited time on the computer to maintaining and adding to my web site.   I will continue to post some updates to my Facebook pages.  
I will continue to monitor the messages posted on this site on the Messages to Jesse page for any undesired material…but won't be responding on there.
Jesse said that he knows that people still expect him to be listening to gospel music the same as he always did in his former life as Elvis.  These days he likes to keep up to date on the current music scene and only listens to gospel once in a rare while.  He reads the magazine publications which carry all the latest news about forthcoming music and movies.  He has not been able to go to a movie theater in so many years.  He enjoys the current movies when they are released on Blu-Ray and DVD.  He really likes to watch documentary movies.  He also listens to many new recordings when they are released on CDs
He and I have not discussed the significance of numbers for a good while now.  Today, he mentioned the fact that he and I share the number 18 in our birth dates. He said that it has been his experience that people who share his birth numbers have proven to be loyal.  So, this absolutely holds true for me.  
I very seldom share anything about our conversations but decided to touch upon our topics today so my visitors can have a little insight into his current life.  These are things which I know he won't mind me sharing.  As I am certain everyone has noticed for the past 6 1/2 years, I NEVER reveal anything of a private and personal nature.  My intention is to always protect his privacy and safety.  I am very protective of his peace of mind.
<<<<<<<<<<>>>>>>>>>>
THURSDAY, JANUARY 28, 2016
A dear friend, BlueRose, shared the following article with me.  I like it so very much and hope that my visitors will enjoy it and learn from it.

Five Influence Lessons I learned From Elvis Presley
May 16, 2011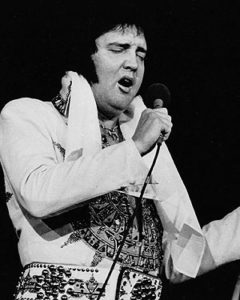 Elvis?
You've got to be kidding.
What could be learned about influence and persuasion from The King of Rock and Roll?  Plenty, it turns out.
On May 5th, the Associated Press reported that for the first time since 1955, Elvis was not one of the 1000 most popular names for newborns in the United States.  Apparently, the Social Security Administration keeps track of such things, and people have been naming babies Elvis in significant numbers in the United States for 55 years.  Think about it this way – that is 13 years longer than Elvis himself even lived!
Names in the popular press and the public eye often become popular names for a short time, but to have the staying power of 55 years warrants thinking a bit deeper.  After all, parents often spend a long time thinking about what to name their children.  Why was the name so popular for so long?
Of course, Elvis could sing well (duh) – but his voice alone didn't influence parents to use his name in large numbers for 55 years.  And if it were just about his voice there would be no reason for me to write about it either.  But reading this interesting fact got me thinking about Elvis and the lessons we as leaders, persuaders, and influencers can take from his life to help us learn more about influence.
Be yourself.  Those who are most influential make it easier on themselves by being themselves.  People are attracted to people who are real, genuine and authentic. By many expert accounts Elvis created rockabilly music. How? By bringing together his own musical tastes and backgrounds – gospel, the blues, country and more. Elvis created something new by being himself. If you want people to be attracted to you and your ideas, be willing to be yourself. Recognize that doesn't mean you have to be perfect, just real. Put your ideas and vision out in the world – allow your uniqueness to be a part of your influence.
Be passionate. Yes, Elvis sang with passion, but the lesson is bigger than that. Elvis was passionate about many things, including close friends and his family. He had a clear vision for many parts of his life and took action on that passion. When you think of people who inspire or influence you, are they operating solely in the logical reality, or do they bring their passion and emotion to the conversation? Where is your passion? Are you allowing it to show through in your work?
Live your values. By all accounts, Elvis Presley loved gospel music. He recorded it throughout his life (selling several million gospel records), and sang with many gospel groups on and off stage. Do rock and roll superstars record gospel? Can you imagine what many would have advised him to do (or in this case, not to do)? Elvis lived those values. Whether you share them or not, you will recognize how powerful that can be.  Remember that influence is in part about creating an attractive force towards you.  When you live your values you are attractive. What do you stand for? Do people know? Can they tell by more than your words? When you connect your vision and your goals to your values, your ability to inspire and influence increases.
Take risks. Gospel was likely a risk. Going off the concert tour to do a movie very early in his career was a risk. Not performing concerts at all for several years, a risk. Going back on tour after so many years off, another risk. I could go on but my point is made. What risks are you willing to take?  If you want to influence people towards something that will benefit them, even if they don't see it now, what are you willing to do to help them see it? Are you willing to be focused enough on them to take risks that might seem, well, risky? If you want to be a powerful influencer of others, you must be willing to take risks.
Embrace those who embrace you. I'm not talking about how or who Elvis may have hugged. Do any reading about his life and you will find as many critics of his performances, music and movies as you will fans. To be influential doesn't mean everyone will agree with you or see your vision (or even like you). In fact if you are trying to do something new, bold or different, not everyone will like you or your ideas. Get over it. Taking the first four lessons into account makes this one more important. If you are being authentic, being passionate, and living your values, the risks you take may lead to controversy. No one is universally accepted, and you don't have to be to be influential.  Focus on those who see your vision, and move forward confidently.
In Elvis' too-short life there are likely as many cautionary lessons as positive ones.  That article is for someone else to write. And however true and accurate those cautions would be, they don't diminish the value of the lessons shared here.
Take the time to consider these ideas. Hold yourself up to these standards.
Then sing along to your favorite Elvis song and think about how you can use his lessons in your life and work.
<<<<<<<<<<>>>>>>>>>>
Elvis Presley hit national TV 60 years ago