Copyright LindaHoodSigmonTruth.com May, 2009 – 2014  All rights reserved.
SATURDAY, DECEMBER 6 2014
This song is going to be

very

special…I have heard the entire song and it is truly fantastic!  It is a beautiful tribute for the 80th anniversary of Elvis' birth.
Hello Music Lovers,
      please click on the link below to watch our new video of my newest worldwide release – the song will be released January 8th, 2015. It is called "A Man So Loved" – the video is "The Making Of – A Man So Loved".
      Please share the video with as many music lovers, and Elvis music lovers, as you can so that everyone will know about the upcoming song. We sincerely hope you enjoy the video!
      Thank you so much!
      Sincerely,.
      Tedd
The Making of "A Man So Loved" – Tedd Graves
Nita Graves

Published on Dec 4, 2014
The making of "A Man So Loved" – A tribute to Elvis for his 80th birthday. Full song release date: January 8, 2015. Happy Birthday, Elvis!

www.teddgravesmusic.com
<<<<<<<<<<>>>>>>>>>>

The above lovely artwork was done by

Zey

who has done

many

beautiful drawings of Elvis.  My heartfelt thanks to her for allowing me to display this for the Christmas season.
<<<<<<<<<<>>>>>>>>>>
WEDNESDAY, DECEMBER 3, 2014
I came across an interesting tidbit which I did not know before.  Thank goodness, they chose not to do surgery on that throat which God made to be a miracle.
Elvis Presley
Elvis Presley was serving in the military during 1959 when he came under the weather. Doctors diagnosed tonsillitis and suggested that the vocalist, then the biggest performer in the universe, have his tonsils removed. Presley, already more trustworthy than most modern performers in his pleasant acceptance of military duty, agreed. The problem was that no doctor nearby wanted to risk operating on the star, fearing that malpractice would leave him without his golden voice, and either a lawsuit or an angry fan could ruin any medical career and/or life. They gave him penicillin instead and fortunately everything worked out.
<<<<<<<<<<>>>>>>>>>>
Below is an article which I printed out in order to save it many years ago… several years before I began my web site.  I loved reading it back then and hope my visitors will also.  We all know that Elvis was a genius at performing…and close personal friends know he was a genius in many other areas as well.  This lady, about whom this article was written, has a clientele list that looks like the Who's Who of singers back in 2006.
<<<<<<<<<<>>>>>>>>>>
Just want to let everyone know that Jesse did phone me for just a couple of minutes tonight.  He sounded wonderful and said that he is fine in response to my question about how he was.  He was in a rush this time and so we only spoke for a couple of minutes.  He had traveled and had just gotten back home.  As always, I was so very happy just to hear from him and know that all is well with him.
<<<<<<<<<<>>>>>>>>>>
A new friend to my web site has contributed a very interesting calculation…Numerology…derived from the time of Elvis' birth until the time of his leaving us.  As has been explained previously by Jesse himself in his book and also here on my site, Numerology has played a very large role in his life as Elvis and continues to be a strong influence in his life to the present day.  So, I want to share the new number calculations which were so kindly shared with me by S K.  My heartfelt thanks to this new friend.
As demonstrated previously here on this site, the number

9

has been an extremely significant and oft repeated number in the name Elvis Presley, in his date of birth, etc..  S K's calculations prove this truth even further.  
S K writes:
Something I discovered a couple days ago I think you may find interesting: The length of time of E's life from his birthday to his retirement day is all 9s when adding up all the digits in the weeks, days, and even the hours, minutes and seconds if it was timed exactly from his minute and second of time of birth to the paperwork of the other.
Tuesday, January 8th, 1935 – Tuesday August 16, 1977
2223 weeks = 9
15,561 days = 18 = 9
373,464 hours = 27 = 9
22, 407, 840 minutes = 27 = 9
1,344,470,400 seconds = 27 = 9
The following is a handwritten calculation which I worked up a long time ago.  In fact, I have shared this on my site before.  But it bears witness to the prominence of the number

9

in Elvis/Jesse's life.
<<<<<<<<<<>>>>>>>>>>
THURSDAY, DECEMBER 4, 2014
Below is an excellent photo taken during Elvis' very last concert on June 26, 1977 in Indianapolis.  This one is new to me and I loved seeing it, so want to share with my visitors.  Below is the link to the site from which I copied this photo.
http://www.elvis.com.au/presley/biography/elvis_presley_events_1977.shtml
Speaking of rare photos…I would like to share the following gorgeous photo which was shared with me by Wanda June Hill sometime ago.  Wanda said that this photo was taken during his first show in Vegas which was done after his return to onstage performing following the 1968 Comeback Special.  Wanda said he was having trouble with the lights being in his eyes and was, so gently, asking that the lights be adjusted or repositioned.  My heartfelt thanks, as always, to Wanda for everything she does and shares.

FRIDAY, DECEMBER 5, 2014
I continue to be so very happy with the number of visits to my site…my heartfelt "thank you" and WELCOME to all of the people who stop by to learn the truth about Elvis who is now Jesse.  One recent day, when I took a look at the most recent 20 visits, I was so impressed with the fact that so many of those 20 visits were people from so many foreign locations.  I want to share the view of those visits here for everyone to see…but, most of all I want to include that list for Jesse to see how widely his truth is being spread and how so many people from all over the earth care about him and are still interested in him and supportive of him.  I have shown the foreign locations bold print.
Recent visits
| | |
| --- | --- |
| Leamington Spa, United Kingdom | 7 minutes ago |
| Hilversum, Netherlands | 7 minutes ago |
| Coventry, United Kingdom | 24 minutes ago |
| Canada | 35 minutes ago |
| Norfolk, VA, USA | 43 minutes ago |
| Hicksville, NY, USA | 50 minutes ago |
| Winnipeg, MB, Canada | 54 minutes ago |
| Romania | 54 minutes ago |
| United Kingdom | an hour ago |
| United Kingdom | an hour ago |
| Russian Federation | an hour ago |
| Waterloo, ON, Canada | an hour ago |
| Morristown, TN, USA | an hour ago |
| Bulgaria | an hour ago |
| Beirut, Lebanon | an hour ago |
| Lima, Peru | an hour ago |
| Lakeland, FL, USA | an hour ago |
| United States | an hour ago |
| Cerritos, CA, USA | 2 hours ago |
| Oslo, Norway | 2 hours ago |
 Again, my heartfelt thanks to everyone who visits.

Here is the direct link to the visitor map which is shown at the top of the left menu on every page.  You may view the last twenty visits by scrolling down below the display of the map. 

http://pulsemaps.com/maps/967298328/
<<<<<<<<<<>>>>>>>>>>
SENT TO JESSE THROUGH THIS POINT ON FRIDAY, DECEMBER 5, 2014
<<<<<<<<<<>>>>>>>>>>
SATURDAY, DECEMBER 6 2014
Hello Music Lovers,
      please click on the link below to watch our new video of my newest worldwide release – the song will be released January 8th, 2015. It is called "A Man So Loved" – the video is "The Making Of – A Man So Loved".
      Please share the video with as many music lovers, and Elvis music lovers, as you can so that everyone will know about the upcoming song. We sincerely hope you enjoy the video!
      Thank you so much!
      Sincerely,.
      Tedd
The Making of "A Man So Loved" – Tedd Graves
Nita Graves

Published on Dec 4, 2014
The making of "A Man So Loved" – A tribute to Elvis for his 80th birthday. Full song release date: January 8, 2015. Happy Birthday, Elvis!

www.teddgravesmusic.com
httpv://youtu.be/QoaYud6Hr30
<<<<<<<<<<>>>>>>>>>>
SATURDAY, DECEMBER 6, 2014
Jesse just phoned me tonight.  He is fine.  We had some "Christmas things" to discuss.  He is busy getting things done and stayed up last night doing some Christmas things.  He had just gotten up when he called me tonight.  He reaffirmed to me that he is NOT going to come out.  He said that he knows what I am going through.  I told him that I had just seen on Facebook yet another page by someone claiming to be in touch with Elvis.  Also, a friend sent me a post from some other page about Elvis being in the hospital because of his heart claiming they are in touch with one of Elvis' body guards.  These pages are all fraudulent.  Jesse is not in touch with anyone on Facebook and has no use of any device on the Internet at all.  He said that he is comfortable and content and has NO plans to appear publicly at all.
I feel kind of sorry for the fans who get taken in by and caught up in these webs of deceit which only lead to dead ends of disappointment when the people behind these frauds get tired of their games and close down their presence on Facebook or some other social media.  I just hope that no one places themselves in danger because of their connections with these charlatans.  There are a number of pages on Facebook as well as on YouTube.  So, I caution everyone to be on guard.
<<<<<<<<<<>>>>>>>>>>
SUNDAY, DECEMBER 7, 2014
A rare treat…
Elvis Presley – If I Can Dream Acapella (Vocals) 1968
Whitney Fans

   

Published on Dec 6, 2014
Hd remastered vocals of presley song "if i can dream" taken from take 5. Listen to Elvis in his plea for justice and equal rights. Same vocals which you will hear in the Elvis in concert 35th and 25th anniversary. All rights from Elvis Presley Inc.  

http://vk.com/whitney___houston
httpv://youtu.be/gH3uHcW3i3g
<<<<<<<<<<>>>>>>>>>>>
<<<<<<<<<<>>>>>>>>>>

The above lovely artwork was done by

Zey

who has done

many

beautiful drawings of Elvis.  My heartfelt thanks to her for allowing me to display this for the Christmas season.
<<<<<<<<<<>>>>>>>>>>
I saw the following quote on Facebook last night and so I share it here as a message to my critics:
Linda Sigmon shared Trina's photo.
Just saying…
<<<<<<<<<<>>>>>>>>>>
MONDAY, DECEMBER 8, 2014
This from Facebook…I am so sorry to learn of this…prayers that she will recover quickly.
I have just been informed that long time high voice singer for Elvis and was in That's The Way It Is, Millie Kirkham, has suffered a stroke. She is alive and in the hospital. Please keep her in your prayers. We will keep you posted.
Duane (admin)
<<<<<<<<<<>>>>>>>>>>
TUESDAY, DECEMBER 9, 2014
There is more sad news to share:
Mary Ann Mobley, Miss America Turned Actress, Dies at 77
4:28 PM PST 12/09/2014 by Mike Barnes
The Mississippi native appeared opposite Elvis in a pair of 1965 films and was a regular on TV
Mary Ann Mobley, the dark-haired and wholesome Miss America who went on to a successful acting career highlighted by two starring turns opposite Elvis Presley, has died. She was 77.
Mobley, who was married to the late actor and TV host Gary Collins, died Tuesday morning in her Beverly Hills home after a battle with breast cancer, execs with Warner Bros. Television said.
The following article excerpt was shared with me on Facebook by a friend, Doris.  This was the first that I heard of Mary Ann Mobley's death.  My thanks to Doris for letting me know about this.
Actress Mary Ann Mobley has died
She worked in two movies with Elvis and recalled him fondly in an August 7, 2008 interview on the Elvis Australia website, stating: "Elvis and I felt a common bond, coming from Mississippi. He thought I understood him. He didn't have to put on airs with me, and I wasn't after anything. This is an odd thing to say about Elvis Presley, but it was like I was working with my brother. We never dated. We were just two people from the same state. The first day I came on the set of 'Girl Happy,' in 1964, Elvis got up and he came to me, and he said, 'Hi, I'm Elvis'. Like I didn't know! Elvis said, 'Where is Mary Ann's chair?' All of a sudden a chair appeared with my name on it. That was the beginning of our friendship."
<<<<<<<<<<>>>>>>>>>>
WEDNESDAY, DECEMBER 10, 2014
I recently became aware of a group on Facebook which has titled itself "

The Return of Elvis

".  A friend sent me copies of two of the items being published by this group a few days ago.  These items were alarming about "Elvis" and were absolutely untrue.  After becoming aware of this, I viewed their list of friends and was sorry to see that several of my own friends and people who have, in the past been very supportive of me, Jesse and my web site, joined that group.  In response to seeing these familiar "friends" involved in that group, I posted a statement on my Facebook pages regarding that group and the involvement of some of my acquaintances. 
One woman has begun harassing me on Facebook because of my statement.  Last evening, she posted comments in response which were very antagonistic toward me.  I responded to her as calmly as I could; she sent a "friend" request to me which I declined; she continued to post comments which I ultimately responded to by telling her that she would be banned from my Facebook page.  I thought that was the end of it, but I just now found that she has begun sending me private messages on Facebook.  I am now going to post below a screen capture of her comments to me which will not make sense to others because I had banned her and thus deleted her earlier comments to me.  I am posting this here to expose her as a means of putting an end to her contacting me.
As a result of this type behavior, I have decided to just "unfriend" everyone in the "The Return of Elvis"  group who are mutual "friends" to me and to that group.
F

ROM

HERE ON OUT

, any time I see a group spreading total untruths about Elvis which are in direct contradiction to the truth which is fully displayed on my web site, I will

IMMEDIATELY

"unfriend" those mutual friends.  I am sorry to do this.  However, anyone who is a visitor to my site and is following me outside of this group, who still subscribes to something which is false and negative will be viewed as an insult to me, Jesse and this web site.
I apologize to my visitors for bringing this problem onto my site…but this is the most public manner in which I can expose the needless harassment taking place on Facebook.
Below is the initial article which I posted on Facebook.
It has come to my attention that there is a Facebook group called "The Return of Elvis" to which a number of my own "friends" and visitors to my site belong. This group is so far off base in what they are saying that it is infuriating to me.
Please know that I am only mentioning this one Facebook group…but there are a number of other pages and groups who are doing the same type of thing. I don'
t mean to single out just "The Return of Elvis" group. But since something which they are perpetrating currently is indicative of the foolishness which I see going on all the time, I set them up as an example.
I understand that they have, within the last few days, been spreading the lie that someone there is in touch with one of "Elvis' bodyguards" and that Elvis was taken to the hospital because of his heart. Then more recently there was an update stating that he is still in the hospital but is doing better.
This is an out and out lie. Jesse phoned me on Wednesday night and again last night and he is perfectly fine. When he called Wednesday, he had just gotten home from a trip and was fine. When he called me last night, we had a wonderful visit and discussed several topics of importance to us. He had stayed up a good bit of Friday night doing some Christmas stuff.
He told me that he knows what I go through and am up against. I told him that I had just come from Facebook where I had seen that there are people impersonating him and claiming that he is going to come out. He reaffirmed to me (again) that he has NO intention nor desire to ever make a public appearance. He said he is comfortable and content with the life he has now.
May I suggest that those who are regular visitors to my site and have requested to be my "friend" on Facebook are INSULTING to Jesse and myself when you frequent and join in with web sites or Facebook pages which are publishing things which are in direct contradiction to the truth which is shared by Jesse and myself. I do see a lot of this taking place.
I state as clearly and firmly as is humanly possible this: Jesse does NOT use any computer, or any other electronic device to read nor contribute anything on the Internet. PERIOD The ONLY things on the Internet which he has recorded and authorized to be presented on the Internet are the 15 songs on my site which are FREE to everyone to listen as often as desired.  Any other recording which is claimed to be him AFTER 1977 is a fraud. YouTube is full of imposters and frauds.
Thank you for your time and understanding of this truth.
Linda Hood Sigmon
Footnote:  I have just visited my Facebook pages and posted the following notice:
As a result of some unnecessarily aggressive responses to my recent article regarding the group "The Return of Elvis",  I have posted a lengthy article on my web site.  In this article I stated that IMMEDIATELY all people who are mutual friends to that group and myself will be removed from my friends list.  I apologize for this action.  The material being published by this group is in direct contradiction to the truth which is displayed on my web site…thus is insulting to Jesse and me.
This will be my final word regarding this situation.  Anyone posting further discussion of this topic will be removed from my contacts…both on Facebook and from the registered members of this web site.
<<<<<<<<<<>>>>>>>>>
SATURDAY, DECEMBER 13, 2014
A nice friend, Nita, wrote me about the fact that Mother Delores Hart was going to be on the Bill O'Reilly TV show "The No Spin Zone"…however it was on this past Wednesday night and I didn't see her message in time.  She has so very kindly located the video to view on the Internet.  I thank her so very much for doing this for me.  I thought that everyone would enjoy seeing it.  She rarely does an interview in which she is not asked about Elvis.  So, that was why I wanted to see it.  It is very good.
Here is the link to view this interview:
Mother Dolores Hart enters the 'No Spin Zone'.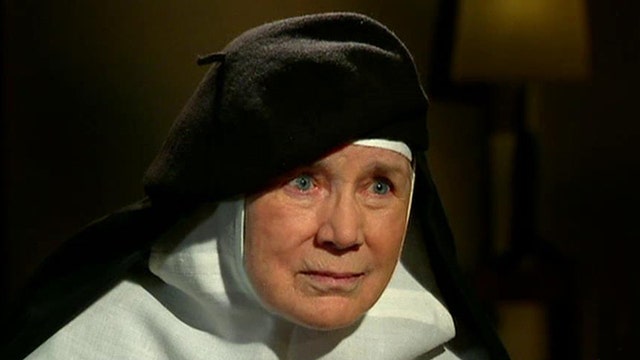 http://video.foxnews.com/v/embed.js?id=3935402922001&w=466&h=263
Watch the latest video at video.foxnews.com
<<<<<<<<<<>>>>>>>>>>
 SUNDAY, DECEMBER 14, 2014
A new friend, Zey, who is a most gifted artist has given me permission to display any of her beautiful works of art on my site.  She loves Elvis just as we all do and many of her works are of him.  Today, I am going to share another of her Christmas/Elvis drawings.  I just love this one…so true to his caring and generosity toward all people.
Also, I am sharing a link to Zey's gallery where you may view a large collection of her work.
My heartfelt thanks to Zey for allowing me to share her work with the visitors to my web site.
 
I haven't asked Zey, but it appears to me that the above is a drawing of Elvis' hand with little Lisa Marie's hands.
<<<<<<<<<<>>>>>>>>>>
A new friend, Shawn, has shared with me recently some very insightful information which I have enjoyed very much.  Below I want to share with my visitors an amazing Numerology analysis of  house numbers and how our lives, or at least my own, certainly do have a correlation to where we are in our lives and our activities while residing at these house numbers.  I encourage everyone to work out your own house address and check the meaning of that number in the below material.
We all know that Elvis was, and Jesse is, very much aware of the numbers in his daily life.  Anyone who has not studied Numerology and does not believe in the relevance of Numerology, will be in for some eye opening information once a study of Numerology is begun.  I, myself, began studying Numerology because of Elvis'/Jesse's adherence to it.  The thing that convinced me of the validity of Numerology was a study of the numbers in Elvis' life from the moment of his birth…his name numbers, his birth numbers, the events in his life which lined up perfectly with the meaning of dates, ages, etc.  He could be God's "poster child" for Numerology.  I don't know as much as I should nor as much as I would like to about Numerology.  I do keep a copy of

Cheiro's Book of Numbers

on my desk where I have it within easy reach though.
An example of Jesse's adherence to it came up years ago when he was getting ready to move and he had his people looking for a house with a #9 address because I and someone else in our little group had #9 addresses.
I think you will be very intrigued when you read the below house numbers material:
(To calculate your house numerology just add all numbers to a single digit unless it adds to master numbers 11, 22, 33 )
example : 2576 Simpson St = 2+5+7+6 = 20 …. 2+0= 2 …House numerology is a #2)
One
Essence of One. Independence; new beginnings; oneness with life; self-development; individuality; progress; creativity.
A home with a One vibration is excellent for a person who wants to embark on an individual creative venture. A person living in a One house will learn from experience rather than instruction and advice from others. A One house is conductive to someone who wants to follow their own instincts and express individuality with creativity and originality. Strong emotions can sometimes be felt in a One house, especially if there are several strong individuals sharing the home. But the emotions are healing and can even spur inspirational creativity. A One house is not a house that will always be neat, as sometimes minor details are secondary to the creative process. If you have been a caretaker for others and have come to a place where you need to be number one in your own life, then move into a One house. You will feel more assertive, independent and willing to take risks in this home.
Challenging aspects of a One home. Sometimes in a One house you may feel isolated and alone, even if there are others around you. Others may view you as selfish, but you are only isolating yourself so that you can make the decisions that you know are right for you.
Two
Essence of two. A balance of the yin and yang energies of the universe; polarities; self-surrender; putting others before yourself; dynamic attraction one to another; knowledge comes from the balance and marriage of opposites.
A home with a Two vibration is an excellent home for two people who are going to share space as close roommates, lovers or as wife and husband. Two vibrations could be likened to lighting two candles from the same source; they are separate yet share the same light. People living in a Two house can be as connected as peas in a pod. You will be strongly tuned into the energies and feelings of the others with whom you share your home. Living in a Two home you will have a strong desire for peace and harmony through diplomacy. You will often find yourself standing back and tuning into situations rather than advancing your point of view. You'll find that you can fully and lovingly understand the perspectives of others. Gardens, music, art and magic all flourish in a Two home. You will develop your gentle nature and a desire for harmony. This is a perfect house to explore and develop your psychic and intuitive abilities. It is an excellent house for a marriage or partnership to grow
Challenging aspects of a Two home. Because the Two vibration can expand your sensitivity, you may find a tendency to sometimes become oversensitive or to care too much about the feeling of others. Should this happen just take time to be still and listen to your inner voice. Also the energy of a Two home may sometimes seem to exclude others because the occupants of the house can be very self-contained.
Three
Essence of Three. The Trinity: Mind, Body, Spirit; the threefold nature of Divinity; expansion; expression; communication; fun; self-expression; to give outwardly; openness; optimism.
A home with a Three vibration is a home where you can feel and be positive about your life. It is also a home where you communicate with flamboyance. This is a home where you can expand your vision for your life. Positive thinking produces positive results. A Three house fans your enthusiasm and enhances your warm nature. It is a great house for parties and entertaining. Three houses can be conductive to generating sexual/spiritual energy. Move into a Three house and find your social life expanding. It is a home where people from different cultures and different backgrounds can meet and relate to each other with warmth and love. The power of the Trinity is strong in this house as well as the energy of the triangle and the pyramid.
Challenging aspects of a Three home. There can be a tendency in a Three house to expand too quickly, scatter your energies and spread yourself too thin. Be careful about finances because in a Three house there is a tendency to enjoy now and pay later. Also sometimes there can be a tendency to be overly optimistic. But certainly the fun that you will have in a Three house can make up for any challenges.
Four
Essence of Four. Security, four elements and the Four Sacred Directions, self-discipline through work and service; productivity; organization; wholeness and unity.
 A home with a Four vibration is a stable and secure energy. Four represents the four walls or boundaries that provide security. It symbolizes solid foundations and protection. If you have been experiencing instability and uncertainty in your life, move into a Four house. You will find your practical, secure, earth nature coming forward. A Four house is very grounded and very connected to Mother Earth. It is in this home that you can find your roots and plant the seeds of your dreams. In this home you will find certainty, stability, and strength. You will also be able to relish the fruits of your labor. Kahlil Gibran says in The Prophet "Work is love made visible". Your work can offer you satisfaction and can be a source of security. A Four home lends itself to steady employment and building foundations for the future. Often those who are drawn to a Four house will be involved in areas of service to others, such as nursing. This is an excellent house for a group of people to live in who are working together toward common goals. For example, groups of people working to help Greenpeace would find a Four vibration house conductive to their common goal. Call the assistance of the Four Elements, the Spirit of Air, Water, Fire and Earth, into your home. Ask for the sacred winds from the four directions to further enhance the Four vibration of your home. If you are interested in gardening and connecting with the earth energies, a Four house will suit you.
Challenging aspects of a Four home. Sometimes living in a Four home can feel like work, work, work and no play. If you find this happening, take a day to be madcap and carefree. Be silly. There can also be a tendency to hard or to be stubborn. Remember, there is always enough. Loosen up! Life is not as serious as it sometimes seems.
Five
Essence of number Five. Feeling free; self-emancipating; active; physical; impulsive; energetic; adventurous; resourceful; well-traveled; curious; excitement; change.
A home with a Five vibration is vibrant, alive and ever-changing. Hold on to your hat if you have moved into a Five house. If you feel that you are stagnating in life this is the perfect house for you, for five is activity, movement and change. Life becomes a merry-go-round of going to meetings, answering the phone, attending parties, out-of-town trips. It is all exciting and adventurous. This is a good house to move into if you want to increase your communication skills. A Five house is all go, go, go with lots of people coming in and out. Five houses tend to be hubs of activity. Five energy lends itself to mental stimulation, gathering information and experiences and sharing it concisely and quickly. This is a great house for a journalist who works at home. A Five house lends itself to having experiences from a vast variety of areas. You might also think of a Five house as a place for Wine, Women(Men) and Song. If you are planning on being celibate this is not the house for you. Your sexual appeal will increase in a Five house and this is a good house for romance.
Challenging aspects of a Five home. Sometimes living in a Five home can make you feel that your life is a whirlwind. Slow down. Take time to smell the daisies. Also, there is sometimes a tendency to make snap decisions. Usually your instincts are right in a Five home. But if it is a very important decision, take second breath and deliberate carefully before you decide.
Six
Essence of number Six. Self-harmony; compassion; love; service; social responsibility; beauty; the Arts; generous; concerned; caring; children; balance; community service.
A home with a Six vibration is a center for harmony and balance. This is an excellent vibration to have for a family especially when there are children in the home. Living in a Six house can contribute to feelings of community service and wanting to help others less fortunate than you. It is an excellent house for someone wanting to develop their artistic abilities. A very good home for a counselor who works at home, for the energy of Six is nurturing and caring. And a counselor working in a Six home will find it much easier to go directly to the heart of the matter with their client, but in a compassionate caring way. The sense of family is all-important in a Six vibration. Close loving relationships with your partner, roommates, friends and family come to life in a Six house. Also the beautifying of the home, as well as the surrounding area, will be important in a Six house.
Challenging aspects of a Six home. Because a Six vibration is so geared toward giving, sometimes there might be a tendency to give too much of yourself. Seek a balance between giving to others and taking care of your own needs. Sometimes the comfort of a Six house can make one inclined toward being reclusive. If this happens, push yourself to get out and see the world.
Seven
Essence of number Seven. The inner life; a mystical number symbolizing wisdom; Seven chakras; the Seven Heavens of the Hawaiian Kahunas; birth and rebirth; religious strength; sacred vows; tendency toward ritual, particularly spiritual ritual; the path of solitude; analysis; contemplation.
A home with a Seven vibration is a sanctuary for contemplation and retreat. It is a place where you can analyse past experiences and present situations, with an emphasis on spiritual development. A Seven house is perfect for someone who lives alone who wants to retreat and meditate and seek divine inspiration. It can be a bit difficult for more than one person to share Seven space, unless others in the home compliment your contemplative mood. This is an excellent home for a student or a researcher, in that a Seven vibration lends itself to focused investigation. Seven vibration contributes to intuition, dreams, visions, telepathic experiences, philosophical and metaphysical studies – all helping find your path in life.
Challenging aspects of a Seven home. This is not a home for those who want to advance in the material world. The energy is focused on the spiritual rather than worldly goods. Also if you are desiring a relationship a Seven house isn't the best to live in, since there is a tendency toward being alone and even aloof in this vibration.
Eight
Essence of number Eight. Infinity; material prosperity; self-power; abundance; cosmic consciousness; reward; authority; leadership.
A home with an Eight vibration is abundance in all areas of life; abundance of friends and family and material possessions. If you want to get the material side of your life in order, move into an Eight vibration. Eight contributes to organisational and managerial skills which contribute to growing material success. Through discipline and hard work you can achieve a position of power. If you find that you have been working too hard on your spiritual and emotional development and you just don't seem to have it together in the material world, this is the home for you. Power and financial abundance are all possible in this vibration. Awards, honors and public recognition are possible here. Eight is the vibration of wholeness. Your relationships can develop more than just one aspect – they can embody physical, spiritual and mental characteristics. You can command respect and equality.
Challenging aspects of an Eight home. You must be careful to consider the welfare of others and be wise with your finances, otherwise an Eight house will mean that you are always having to deal with abundance issues.
Nine
Essence of number Nine. Humanitarianism; selflessness; dedicating your life to others; this is a number of completion and of endings; release; universal compassion; tolerance; wisdom.
A home with a Nine vibration is a home to reap and harvest from past efforts. It is a home where your love and compassion for humanity expands. This vibration allows you to see beyond your own boundaries. You give to others freely because you recognize how much you have gained in your own life. You can develop a breadth of wisdom that can even be prophetic in a nine vibration. Because you know that you are part of a universal family, you have the ability to release the small things in life – you won't take offense easily. Old friendships are important and you might hear from people from your past while living in a Nine house. You will find people drawn to you because of your compassion and wisdom. This is a good home to live in to tie up loose ends in your life. Live your truth because you will be an example for others.
Challenging aspects of a Nine house. In your effort to be aware of what the greatest good is for the greatest number of people, you may fail to see the needs of the individual. In addition you may fail to see the particular need of one aspect of yourself as you are overly concerned with the overall picture for your whole self. For example, you maybe be aware that candy is not good for your overall health, but you may fail to see that the inner child inside you needs the comfort of candy now and then.
Master Numbers
Master numbers can be reduced to smaller numbers (Two, Four, Six, etc.) and carry the energy of the smaller numbers. However, in metaphysical traditions the following numbers are thought to have a special power and significance of their own:
11

    Especially good for developing intuition, clairvoyance, spiritual healing, and other metaphysical faculties. This would be a good home for someone who wanted to develop these capacities.
22 

   Unlimited potential of mastery in any area, not only spiritual but physical, emotional and mental as well.
33 

   All things are possible.
I believe that every moment our life is guided, and I believe that wherever we live is one part of a greater plan for our life and evolution. We often have no choice in the home we live in or the subsequent numerological vibration. However, every vibration has its own beauty and will give you what you need at the time. For example, you may think that you want to be alone and develop spirituality, and then you find that you have to move into a Three vibration house, which is the energy of communications, expression and expansion.
Even though this might not seem like what you want at the time, I would suggest that this is exactly what you need. I don't believe that there are accidents in where you are living. You chose a vibration that you need at the time for your spiritual growth. However, if you want to offset the numerological vibration of your home, add a letter to it (only in the accordance with your local postal authority's regulations, of course) and include that new address in all your correspondence. Although the vibration of the old address will still affect the overall energy of your home, you can mitigate the original energy through personal choice and change.
Denise Lynn (from her book 'Sacred Space')
<<<<<<<<<<>>>>>>>>>>
WEDNESDAY, DECEMBER 17, 2014
Below is a very special interview with J. D. Sumner.  It was conducted in Nov. 1998 just 4 days before J. D. passed away.  I especially want to share this on here in order that I will be reminded to place it on my weekly DVD to Jesse because I know he will love seeing it. 
Jesse told me that he was in touch with J. D. until J.D's passing.  One Saturday night, Jesse called me and said to me "I just got off the phone with J. D. Sumner and we were talking about you."  I was so honored but I explained to Jesse that I didn't think that J. D. knew who I was and Jesse said "Yes, he does.  He described you to me."  I did meet J. D. two times but I was just one of the fans who went to speak with him and get a photo with him after two concerts which he performed here in my home state after 1977. 
However, when I was publishing my newsletter, one of my subscribers, who was also a good friend, introduced me to a young man who had a very interesting account to share regarding a friend of his who perhaps died because he knew the truth about Elvis.  That young man did a lengthy interview with my friend which was shared with me to offer on tape to my subscribers.  I published an article explaining the topic of the taped interview, etc.  The odd thing was that, after my publication of his story and out of the blue,  J. D. Sumner came to him and offered him a very good job.  The young man did go to work for J. D. and as far as I know worked with him for years.  He had not ever contacted J. D. to apply for a job, had never even considered contacting J. D. for any reason.  This led me to believe that somehow J. D. got wind of what I published about the young man.  I still have the tape of that interview and, of course, copy of the article which I published.
Below are some photos which my husband took at J. D.'s concerts which we attended and with me after the shows.
In the bottom photo above, I had just told J. D. how much I appreciated him going on the Geraldo show to debunk the lies which Dee Stanley was getting ready to publish in her book.  Jesse told a good friend of mine and his that "

T

here will be no book forthcoming

." and sure enough, her nasty book just vanished even though it was already done and was being promoted…thus the Geraldo show featuring her claims in her book.
JD Sumner's Last Gospel Interview
Chad Medford

  

Published on Dec 10, 2014
John Daniel "J. D." Sumner (November 19, 1924 – November 16, 1998) This interview was shot November 12, 1998 just 4 days before his death. This is the last interview that J.D. Sumner did. He died 4 days later in Myrtle Beach, SC at an Elvis tribute concert. The interviewer in the video is Jim Bishop.
httpv://youtu.be/6R6OVwlLUAg
<<<<<<<<<<>>>>>>>>>>
MONDAY, DECEMBER 22, 2014
A photo of some of our little Rascal's cousins sharing the secret that Elvis is Jesse now…

Current photos of Rascal and his Mama…


Sorry folks, this is what we do on a slow news day.

 

Ha, ha
<<<<<<<<<<>>>>>>>>>>
TUESDAY, DECEMBER 23, 2014
The anniversary of Elvis' meeting with President Richard Nixon in the White House just passed.  The following article is interesting.  I am so very proud of Elvis and all he did for others…including our country.
The story behind the oddest White House summit ever
by
The secret meeting was brief at the White House, and it involved a U.S. President and a King, of sorts. And even today, it generates more interest at the National Archives, in terms of image requests, than the Constitution or the Bill of Rights.
So why are people so obsessed with what happened in December 1970, when presidential aide Egil "Bud" Krogh walked Elvis Presley into the Oval Office to meet Richard Nixon?
The seemingly spontaneous appearance at the White House on December 21 had stunned Nixon staffers earlier in the day, when the rock legend appeared unannounced at the White House's gates. Presley and the leader of the free world chatted for a few minutes, posed for pictures, and then Presley, his two aides and Krogh grabbed lunch at the White House dining room, in front of a bemused crowd.
The King soon left after getting a special badge from Nixon. The story was kept quiet for 13 months, at Presley's request. But columnist Jack Anderson broke the story nationally, and since then, the Nixon-Presley summit has become a legend.
One of the photos taken from the session has also achieved iconic status. It is available from the National Archives in various formats. (Unfortunately, the coffee mugs and T-shirts are out of stock online at the National Archives web store.)
There have been a few books written about the summit, one comedy movie filmed about it, and a new movie starts shooting this winter with Kevin Spacey starring as Nixon.
The whole idea of people popping into the White House was common back in the early 1800s. In one incident, Thomas Jefferson held an open house on New Year's Day in 1802, which so inspired him that he finished a document called the Danbury letter that defined the separation of church and state in constitutional law. Another open house involving Andrew Jackson in 1829 ended up in a drunken riot of sorts.
But New Year's Day receptions had ended in 1932 and the time had long past when someone could show up at the White House gates and request to see the President – unless you were Elvis Presley.
Jerry Schilling was with Elvis on that fateful day, and it recounted it in 2010

in a panel discussion at the National Archives

with Krogh. Schilling was a former Presley employee who was working at Paramount studios.
Apparently, Schilling said Elvis had a disagreement with his family in Memphis over the number of Christmas gifts he was buying, and on a whim, he grabbed an American Express card and jumped on a plane to meet Schilling, after a brief detour to Washington.
"Jerry, I need you to come to Washington with me," Presley told Schilling. Schilling arranged for the day off, called Graceland to tell Presley's family he was safe, and the two grabbed a red-eye flight. Schilling didn't know why they were flying to Washington.
On the flight, Presley bumped into Senator George Murphy, and he sat back down with Schilling. Presley wrote a handwritten note on American Airlines stationary, addressed it to President Nixon and requested a meeting at the White House.
At 6:30 a.m., Presley walked out of a limo and went up to the White House's northwest gate, and handed the letter to the guards, who recognized Presley in his purple outfit.
Krogh said he then got a call from Dwight Chapin, Nixon's scheduling secretary, saying, "the King is here." Chapin had called Krogh since Krogh was working on drug policy issues for Nixon and Presley wanted to help President Nixon solved the illegal drug use problem. Krogh's response was, "what King, there aren't any kings on the schedule."
Chapin sent the letter to Krogh, who called Presley's hotel to confirm it was really Elvis who wanted to see President Nixon. Chapin also sent a memo to Bob Haldeman, who responded, "you must be kidding." Nevertheless, Haldeman approved the summit.
Presley, Schilling and Presley's bodyguard, Sonny West, then met with Krogh at the White House. Presley spoke about how he wanted to be made a "federal agent at large" and help in the war on drugs.
Krogh wrote talking points for the meeting, called Presley's team and asked them to come over at 11:45 a.m. The Secret Service then took possession of a gift of a gun from Presley to Nixon when it screened the visitors.
The meeting happened at 12:30 p.m., with just Nixon, Presley and Krogh in the Oval Office, along with a photographer. Presley showed Nixon some family photographs and his collection of law enforcement badges.
Krogh took notes as the two men spoke. Presley talked about how anti-American the Beatles had been recently, his study of Communist brainwashing techniques, and his desire to get a Narcotics Bureau badge. After Nixon agreed to get the badge for Presley, he surprised everyone by hugging President Nixon.
Nixon then agreed to meet Schilling and West briefly, and more pictures were taken. Presley and his friends received some cufflinks as a gift from Nixon. The summit ended, and the Presley entourage went to the White House mess.
Krogh said jaws dropped in the dining room as Presley entered and sat down to eat as they waited for the badge to be delivered. Then Elvis left the building after receiving the badge.
Several years later, Nixon recalled the meeting in a 1990 TV interview.
"He was very flamboyant. I didn't know much about him except what I read. He was a very shy man. Flamboyance was covering up the shyness," Nixon said, who called Presley a "very sincere and decent man."
Schilling summed up the appeal of the brief summit. "I saw the most powerful man in the world, … and I saw in a meeting the most popular person in the world. "
"The two connected and I think they really got the loneliness of their positions in the world," Schilling said, adding that Nixon and Presley kept in touch after the meeting.
"If there is ever a true American story, I think that is one at the top."
Scott Bomboy is the editor in chief of the National Constitution Center.
I have previously shared the following YouTube video of Jerry Schilling and Bud Krogh detailing their memories of that amazing day in December, 1970.  I am sharing it again for new visitors who perhaps have not viewed it previously.
We Were There When Nixon Met Elvis
US National Archives  
Uploaded on Jan 25, 2010
In commemoration of the 75th birthday of Elvis Presley, the National Archives presented a discussion about the meeting between Elvis and President Richard Nixon at the White House on December 21, 1970. Timothy Naftali, Director of the Richard Nixon Presidential Library and Museum, hosts a discussion with Egil Bud Krogh, Assistant to the Counsel to the President, and Jerry Schilling, veteran music industry professional and long-time friend of Elvis Presley. Krogh and Schilling were present in the Oval Office and now offer their eyewitness accounts of the meeting, along with on-screen projections of related photographs, memos, and correspondence in the holdings of the National Archives.
To see the latest expert lecture, book signing or rare film screening, check our calendar at http://www.archives.gov/calendar/. You can also watch events you've missed on our YouTube channel at http://bit.ly/LZJ2Jx.
httpv://youtu.be/ZaMyHw6NeXo
<<<<<<<<<<>>>>>>>>>>
SENT TO JESSE THROUGH THIS POINT
ON FRIDAY, DECEMBER 26, 2014
<<<<<<<<<<>>>>>>>>>>
FRIDAY, DECEMBER 26, 2014
Christmas came one day late for me tonight when Jesse called.  I was very concerned about him when I hadn't gotten my Christmas phone call.  He could not get hold of our go-between to get his call patched through last night.  He is just fine.  He asked me to post on the site that he is so grateful to everyone for the gifts which you sent to him and little Nick.  He said that was one happy little boy…who had never had that many toys before.  Jesse said again that he is like a little kid himself when he receives something.  I started to explain something to him tonight about a box which I sent out to him today and he said "

Don't tell me what's in it!

"  He really enjoys getting surprises.  It makes me so happy to play a small part in making his Christmas very special.  He sent gifts to Tom and me which we received a few days before Christmas.  So, he made our Christmas  really special as well…plus many other friends.

I had gotten Jesse a gift for Christmas which was related to the football team,
The New England Patriots
. 
That is my favorite team simply because I have taken notice of them for many years due to their logo which clearly shows the face of Elvis.  I have called this to Tom's attention every time I see them playing when I walk by while he is watching a game.  Jesse and I mentioned my gift tonight and I said I couldn't resist getting him something with that logo on it.  I told him that for the longest time I had not known that it really is Elvis' profile on their logo.  I discovered when looking up the merchandise for their team a few years ago that it is actually referred to as "The Flying Elvis" logo.  So, Jesse said he did not know that and that he would have to start pulling for them to win.  He was very pleased to learn this.  I had shown the logo to Jesse several years back, but at that time, I had no idea that the logo was known by Elvis' name.  Silly me, I thought I was the only obsessed Elvis fan who noticed this. Ha, ha!  This is so very fitting because we all know how patriotic Elvis was known for being.
Here is their logo for those who may have missed this:
Credit: New England Patriots.com
I have learned that their logo used to be different…not good looking like this at all. Ha, ha!  But then they wised up.  Quoting from an article which was published back in July, 2014:  "It's true that the Patriots never won a Super Bowl title until they switched to the current

Flying Elvis

logo and then they won three championships and nearly won an additional two titles."   
I've known all along that nobody ever loses with Elvis!

Here is a quote from another article explaining about the choice of their current logo:
The New England Patriots changed to the "Flying Elvis" logo on March 31, 1993. The so-called "Flying Elvis" logo features a streamlined head of a minuteman with a red, white and blue hat.
The New England Patriots first used a simple tricorner hat as a logo in the 1960 season. This was soon replaced by a drawing of a Revolutionary Minuteman in 1961 who is depicted to be hiking the ball. Nicknamed "Pat Patriot," it remained as the team's logo until it was replaced in 1993. The nickname Pat Patriot became the name of the New England team mascot. Along with shifting to the "Flying Elvis" logo, the team's primary official colors were also changed in 1993 from red to blue.
Also:
It wasn't until 1993 that the NFL commissioned a Californian designer to create a new logo, giving birth to the Flying Elvis.
Since 2000, this logo is in use by the New England Patriots. It demonstrates a silver patriot with naval blue shadow and hat with red stripes. This Patriots logo is known to Boston sports fans as the "Flying Elvis", due to the Minuteman's sideburn and pout. Not much changes were made to the logo except making the blue shades more deeper.
A fact that has been empowering the Patriot logo is that it has been always using a color scheme matching the American flag. This color palette has not only made the logo one of the most recognized sports symbols of the world but also reflects the determination and strength of the team. Undoubtedly, the logo portrays The Patriots as one of the most elusive and challenging teams of the world.
<<<<<<<<<<>>>>>>>>>>
TUESDAY, DECEMBER 30, 2014
West Virginia president Gordon Gee left two tickets for Elvis
 

By: Nina Mandell December 29, 2014 9:20 am ET
West Virginia is playing Texas A&M in the Liberty Bowl in Memphis on Monday, so just in case Elvis is alive — or perhaps just in a gesture to reach his spirit — the university's president left two tickets to the legendary musician.
http://ftw.usatoday.com/2014/12/gordon-gee-elvis
<<<<<<<<<<>>>>>>>>>>
Oye! English Mainstream
Published on Monday, 29 December 2014 10:22
Written by Stephen Pate
Scotty Moore And The Guitars That Changed History
By Stephen Pate – Scotty Moore turned 83 yesterday alive and well.
Featured image – Scotty Moore, Elvis Presley and Bill Black 1954
Someone tried to spread a false rumor that he passed away. "On Sunday (December 28) the guitarist's reps officially confirmed that Scotty Moore is not dead. "He joins the long list of celebrities who have been victimized by this hoax. He's still alive and well, stop believing what you see on the Internet,"

they said."
Scotty Moore in 2007 in one of his last public performances
We were trying to decide what to watch on the TV Christmas Day and I suggested

Elvis – The Great Performances (3 DVDs)

. My wife is a big Elvis fan. For me Elvis is the King.
When I was 8-years-old, my older brother convinced me to spend my allowance to buy Elvis Presley's 45 single "

Hound Dog

" then go to see "Love Me Tender." The rest is history. My brother bought the LPs and I bought the Elvis singles.
Elvis had a one-in-million voice. He could rock the house and his ballads made women swoon. I learned every Elvis song by heart and when I learned guitar it was Elvis I wanted to play.
There was Elvis on the DVD player singing the song that changed history.
"Hold it, let's get real real gone for a change."
"Well, that's all right, mama that's all right for you
That's all right mama, just anyway you do
That's all right, that's all right
That's all right now mama, anyway you do"
All at once in that change of rhythm and feeling, Elvis Presley created rock and roll from country, blues and R&B.  Getting "real gone" meant giving over their self-control to uninhibited expression of the rhythm on music, just like the R&B singers in the black juke joints and bars. And for a white country boy, Elvis did a great job of "getting real gone."
Rolling Stone Magazine

said that "That's All Right Mama" recorded by Elvis Presley on  July 5, 1954 was the first rock and roll song.
"Presley and those who knew him felt that he was the catalyst for a profound transformation, not only in music, but in the American culture that the music both reflected and impelled," said author

Grant Maxwell

in his book on the three major influencers of rock and roll –

How Does It Feel?: Elvis Presley, The Beatles, Bob Dylan, and the Philosophy of Rock and Roll

.
Scotty Moore, the man and guitar behind Elvis
Standing beside Elvis was the diminutive guitar player Scotty Moore playing a huge guitar. We all know Scotty Moore's guitar licks because they are famous after 60 years of rock and roll. Keith Richard of the Rolling Stones said while everyone else wanted to be Elvis, he wanted to be Scotty Moore.
Scotty Moore was creating history with his lead guitar. Elvis was supposed to be playing rhythm guitar but he was too far gone singing to add much to the mix. They call Scotty's guitar "the guitar that changed history."
Scotty Moore's 1954 Gibson L5 (Photo H. Mozart from Scotty Moore Website)
Later after the show finished I wondered what ever became of Scotty Moore? On

Wikipedia

, I learned that Scotty Moore (born December 27, 1931)  had a long association with Elvis, playing on his records and appearing in movies and the 1968 Come Back Special on TV. I can remember seeing Scotty in Elvis' movies.
Scotty Moore was 83 yesterday. Happy Birthday Scotty Moore! Awesome!
Elvis Presley died August 16, 1977 at 42 years of age. Bill Black died on 1965 at the age of 39 after a post-Elvis career as a recording studio owner.
But Scotty Moore didn't play a Wes Montgomery guitar, which is a

Gibson L5

.  The L5 is a rhythm guitar that Wes Montgomery played with his thumb and no pick or plectrum. Scotty played jazz and country music before Elvis and used a pick for his leads.
Scotty Moore had started playing a

Gibson ES-295

. The guitar that changed history was the Gibson ES-295 but that's not the guitar associated with Scotty Moore.
Scotty Moore's 1956 Gibson Super 400 (Photo Scotty Moore / H. Mozart)
In July 1955, Scotty bought a Gibson L5 but with Elvis success decided to upgrade to the guitar that we associate him with, the largest guitar Gibson makes, the Super 400.  On January 8th, 1967 Scotty bought his first Super 400 CES, a 1956 model from Chicago Musical Instrument Co. for the princely sum of $735 including a case.
During the 1968 Come Back Special you can see Scotty playing his Super 400 which he loans Elvis for one song. That show was the last time Scotty and Elvis played together or reportedly saw each other.
Scotty Moore has had a long and fruitful life. He played guitar on many of Elvis' hit songs and albums. He was in many of Elvis' movies and later became a recording engineer and producer.
Take a few hours and read his interesting website

Scotty Moore The Official Website

. You can spend hours learning about Elvis, Scotty and other members of the band like Bill Black and DJ Fontana. It contains quite a lot of information and rare photographs.
Footnote – while Elvis said "Hold it, let's get real real gone for a change" the DVD did not show that since the only record is the audio recording at Sun Records.
<<<<<<<<<<>>>>>>>>>>
Linda Sigmon

,

Jan 8th

Elvis Birthday Proclamation Ceremony

Thursday, January 8th, 2015 at 10:15 AM EST on

ElvisPresleyGraceland

Watch the official Elvis Birthday Proclamation Ceremony live from the front lawn of Elvis Presley's Graceland in Memphis. The ceremony will feature a birthday cake cutting, proclamation of Elvis Presley Day by Memphis and Shelby County officials, special guests and more.
<<<<<<<<<<>>>>>>>>>>



TUESDAY, DECEMBER 30, 2014
SPECIAL NOTICE AND REQUEST:
I would like to request that everyone send Jesse a special greeting this week for his 80th birthday on January 8th.  You may do so by visiting our Messages for Jesse page here on this site @

https://lindahoodsigmonstruth.com/messages-to-jesse/

.

 

You may also send a private message to Jesse via the Email address which I have devoted to only messages to him.  That Email address is:

MessagesforJesse@AOL.com.
The cutoff time for these messages will be this Friday morning at 11:00 AM EST.  The package which I send out this week will be the last mail that will arrive to him before his birthday.
I know it will mean a lot to Jesse.  Thank you very much.
<<<<<<<<<<>>>>>>>>>>
WEDNESDAY, DECEMBER 31, 2014
"HAPPY BIRTHDAY JESSE!…"
I wish that I could convince every Elvis fan "out there" that this is really him.  That this supposed "con game" that has been going on for over the past 22 years now, is the truth.  That Linda Hood Sigmon has been in touch with the REAL Elvis Presley, "Jesse", since receiving that first postcard from him in April of 1992, all resulting from Linda's simple, loving newsletter, "Notes For The Record", which ran from July '90 'til March '91.  Jesse had been receiving copies of Linda's newsletters thru a 3rd party and after a whole year went by after Linda's last newsletter, Jesse wanted to reach out, to say thank you to Linda, for her being a fan, for her believing in him, for her friendship in her newsletter.  Not just to an image, but to the man behind the image.
The years have shed further light on the man, thru the book, "The Truth About Elvis Aron Presley" In His Own Words by Donald Hinton M.D. with "Jesse".  Letters from Jesse, that have been examined by a forensic graphologist have been shown to be written by Elvis' hand.  A photo of Jesse taken with his grandson Benjamin sitting on his lap, taken in 1994, has been discussed and pondered by Elvis fans the world over.  And yes, both photographic images of Jesse and Benjamin compare favorably to known photos of Elvis and Benjamin.  How Jesse matches Elvis, the slanted collarbone, the broken finger.  Eye pupil comparisons.  Those cheekbones…
Linda, by way of her website, has shared photos of gift upon gift received by her and her husband, Tom, from Jesse.  Linda has uploaded all 15 songs off of Jesse's CD, "Elvis Found Alive" unto her website so visitors can hear Jesse's voice "TODAY".  Proof, be it photos, handwriting, even voice, have all been offered up, and still no one has stepped forth with proof that Jesse is NOT Elvis.  I wonder why?  Maybe because this is the truth.  Elvis IS Jesse. 
That being said, Jesse is having a Birthday.  A BIG one. He turns 80 years young, on January 8, 2015.  1/8/15.  Let other websites, other fans, family and friends pay tribute to Elvis' memory, by honoring him on his 80th Birthday.  Let us, "the non-believers", as we are called, wish Happy Birthday not to the image, but to the man, behind the image.  The image, unfortunately, overshadowed the man.  Jesse IS that man.  The man who still has thoughts and tears, joys and fears.  The man who still appreciates getting mail.  That mail being the print outs from the "Messages to Jesse" page that Linda lovingly prints off and forwards to Jesse every week as she has done over the past 5 years.
If you love the man, not just the image, not just the brand, not just the jumpsuit, not just the blue black hair and sideburns, then please, won't you stop for a minute and send that man, Jesse, a Birthday Greeting, a Birthday Wish?  Tell him that yes, you loved Elvis, you were his biggest fan.  But tell him too, that you love HIM, the man.  Jesse.  That you wish him all the best.  The best and happiest, and healthiest of Birthdays and years to come.  If you believe that Elvis is now Jesse, or if you have ever thought, would he, could he, did he… is he still alive (the answer is yes, by the way), wish him, wish Jesse that same Beautiful, Happy, Healthy Birthday and Year to a Beautiful man, simply a man, not an image, on this, his 80th Birthday…   Send Birthday Wishes to the image that was, but more so… to the man who still is…
With Love,
MJ
<<<<<<<<<<>>>>>>>>>>
SENT TO JESSE THROUGH THIS POINT ON FRIDAY, JANUARY 2, 2015
<<<<<<<<<<>>>>>>>>>>
SATURDAY, JANUARY 3, 2015
I have created a new Current News and Events page for the month of January, 2015
Below is the link to the new page:
Copyright LindaHoodSigmonTruth.com May, 2009 – 2015  All rights reserved.