SUNDAY, FEBRUARY 3, 2013
A friend posted a link on our blog page for an article concerning the fact that the current owner of Elvis's former Trousdale home in California plans to demolish the house to build something new in it's place.  Many people are very sorry to hear about this.  The article contains 30 photos of the property…both inside and outside.  It is a beautiful place.
There are too many photos for me to include them here individually, but I do suggest that you visit the site on which the article appears and scroll through the slideshow.
Hard Rock Founder Tearing Down Elvis's Old House in Trousdale
<<<<<<<<<<>>>>>>>>>>
SUNDAY, FEBRUARY 3, 2013
Elvis Presley: unseen photographs
Alfred Wertheimer had never heard of Elvis when he got the call to come and photograph the singer. As we publish these candid, previously unpublished shots, he talks here about the young man on the cusp of fame.
Sean O'Hagan    

The Observer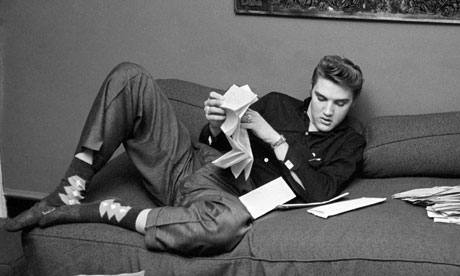 'I love you…': Elvis takes a break between the rehearsal and the live taping of Stage Show at CBS's TV Studio 50 in Manhattan. He's reading some of that day's fan letters. Photograph: Alfred Wertheimer
On 10 March 1956,

Alfred Wertheimer

, then 26, was working in his darkroom in New York when he was called to the phone. It was a representative of RCA Victor records, who asked him if he was available on 17 March to shoot some publicity shots of a young man that they had just signed called

Elvis Presley

. "There was about 15 seconds of silence from my end," says Wertheimer, laughing, "Then I said, 'Elvis who?'"
That awkward phone conversation was, as the 82-year-old Wertheimer now puts it, "the moment that changed my life". He went along to the CBS TV Studio 50 in Manhattan, where Elvis was waiting around before a performance on Stage Show, hosted by big band leaders the Dorsey Brothers. There, Wertheimer was ushered into a backstage room and introduced to the young singer who had travelled from Memphis to New York to appear on the show.
"He grunted an OK without even looking up at me," recalls Wertheimer. "He was sitting, feet up on a table, his Argyle socks showing, looking intently at his finger, while this middle-aged man hovered awkwardly. This went on for a while, then I realised the other guy was a jewellery salesman and that he had just delivered a ring Elvis had ordered. That's my abiding memory of the moment, that Elvis was oblivious to anything other than the ring. He had that ability – you could call it a gift – of being totally absorbed in what he was doing to the exclusion of everything else. That was one of the reasons he was so wonderful to photograph."
So began a relationship that was to define Wertheimer's working life and help define the young Elvis Presley in the public eye as the first rock'n'roll icon. Wertheimer was lucky enough to catch Elvis at a pivotal moment. The previous November, the singer had left Sun Records in Memphis to sign a new contract with RCA. Just a week after Wertheimer and Elvis first met, the

singer's debut album

for the major label was released. It became the first rock'n'roll album to reach number one in the Billboard charts and marked the start of Presley's dramatic entry into the mainstream. As music critic

Greil Marcus

later noted, other pop performers changed music, but Elvis changed the world. Or, as John Lennon famously put it: "Before Elvis, there was nothing."
The previously unpublished photographs printed here are from Wertheimer's new book, Elvis and the Birth of Rock and Roll, published by Taschen. They capture Elvis at two very different times: the first extended over several months in 1956 as the singer's fame took hold; the second comprised a single day – 22 September 1958 – while he prepared to set sail from America to Germany as a newly conscripted soldier in the US army. They add up to an extraordinary archive of a time, a place and the single person who defined it. Their fly-on-the-wall intimacy is testament, too, to the convergence of two relatively shy individuals.
"My initial impression was that offstage he was a shy person, but he also permitted closeness," elaborates Wertheimer. "I didn't say much either so we got along just fine. Elvis seemed to instinctively understand the process I was involved in, which was to get as close as I could using a small camera and available light."
Soon after their first meeting, Wertheimer travelled to Memphis to shoot Presley in more relaxed surroundings with his family and close friends. "He was just more at ease with people he knew." Did it soon become apparent that he was photographing someone who was changing the course of culture? "Well, he certainly had a style of his own, which was pretty flash, and, in profile, he did almost look like a Greek god. I have to say, though, he did have a few pimples and maybe even a boil on his back. But he didn't care. As a photographer, you want people to be involved in what they are doing and not in what you are doing. He was involved in what he was doing to the point of obliviousness. It was extraordinary."
Did Wertheimer notice a change when they met again in 1958? "Oh, for sure. He was a different guy. He'd had his hair cut. His mother had died. He was being pulled out of his environment for two years and who really knew if he would still be a big star when he returned? It was a strange moment for him."
It was a sad moment, too: 22 September 1958 would be the last time they met. "That day at the Brooklyn port of disembarkation was the last time I saw him alive," says Wertheimer, "And, for 19 years I didn't receive a single call requesting a photograph of him. Then, Time Warner rang me on 17 August 1977, the day he died. And the phone hasn't stopped ringing since."
Elvis and the Birth of Rock and Roll is out this month (taschen.com)
To view a slide show of ten photos, please visit this link:
<<<<<<<<<<>>>>>>>>>>
THURSDAY, FEBRUARY 7, 2012
I have done a little more research into the topic of the Orion (the singer) records which were released by Shelby Singleton on the Sun label after he purchased the rights to the Sun label from Sam Phillips.
As many of you have read earlier on this site, there was and is quite a controversy over the Orion songs.  Jimmy Ellis has claimed that those songs with Jerry Lee Lewis were overdubbed using earlier recordings by Jerry Lee.    However, I have found documentation that Mr. Singleton's original explanation about the first of the controversial songs was totally different from Jimmy's and even his own later releases.
As you will see, I have recently purchased an original 1978 copy of the very first song SAVE THE LAST DANCE FOR ME. 

As you will read, from the back cover of this record,  Mr. Singleton in 1978, after the first time that he released this song, made the statement that 

"

I assume it was cut in 1960 or '61

."    He went on to say that he was only saying that it is Jerry Lee Lewis on the song and that he would let the public decide who the other voice is.  Later on, the other voice, was analyzed and authenticated as being that of Elvis himself.  RCA believed it was Elvis, the writer of the song believed it was Elvis…enough said?

This statement by Mr. Singleton totally obliterates Jimmy Ellis from the picture regarding this song…Jimmy Ellis was not even around in the music field back in the early 60's.  However, he later re-released this on an album which came to be packaged together as part of the Orion recordings.  Then Jimmy said that the songs were over-dubbed.  Also, in regard to the "over-dubbing"…why is it that at the end of the song "

What'd I Say?

", you may clearly hear Jerry Lee say "

Man, you're with it tonight, ELVIS"

?  If it was overdubbed by Jimmy, how could Jerry Lee be talking to ANYONE at the end?
I wish to offer the following images to further document the cover-up in regard to the fact that some of the Orion songs are Elvis. 
Please do bear in mind that Jesse has personally confirmed to me that "YES" I am correct in my belief that some of the Orion songs are done by him.
As I have previously stated, James Bacon the famous Hollywood journalist wrote in his column, after this record came out, that Elvis and Red West both told him that Elvis recorded this song with Jerry Lee Lewis to help him out.

Save The Last Dance For Me – front record cover
Below is the back cover of this record:
Below is a YouTube video of this song so that everyone may hear what all the commotion was and still is about.  There are a number of videos of this song on YouTube…most of them labeled Jimmy Ellis or Orion…they just don't know the true facts.
Elvis Presley &

Jerry Lee Lewis

– Save The Last Dance For Me.mpg
Uploaded on Jul 2, 2010 by collezione paolo De vincentis
httpv://youtu.be/nOuJVoRMZZc
I have several pages devoted to the topic of

ORION

.  I believe you will find them interesting if you have not yet visited those pages.
Here are the links:
Below is an excerpt from my 2nd Orion page for which I show the link above:
These two pages (above
and below) are from Gail Brewer-Giorgio's book "Is Elvis Alive?"

This is the article about James Bacon stating that Elvis, himself, as well as Red

West told him that Elvis recorded "Save The Last Dance For Me"

to help Jerry Lee

out.







<<<<<<<<<<>>>>>>>>>>
SUNDAY, FEBRUARY 10, 2013
My friend, Bettyjean, shared the following YouTube video with me.  It is a beautiful tribute to J. D. Sumner.  I shall copy this on a DVD to send to Jesse next week.  My heartfelt thanks to "Bets" for finding and sharing this with us.
herecalico
uploaded this video to YouTube.
Remembering J.D. Sumner..
httpv://youtu.be/02-NYgi1CrI
<<<<<<<<<<>>>>>>>>>>
Here is the true story about the why and how of Jerry Lee Lewis' well known appearance at the gates of Graceland with a gun.  Here you will hear him say that Elvis

was depressed

those last years as "Elvis".
Elvis Jerry Lee Lewis Graceland Invasion
 Doug Maet uploaded this video to YouTube.
httpv://youtu.be/TUtlcwVriGM
<<<<<<<<<<>>>>>>>>>>
My good friend, Jan, wrote today about a new TV series scheduled to air this summer.  The title and the synopsis are ver.r.r.r.ry interesting, indeed!
Here is the article describing the upcoming series: 
From the acclaimed creator of White Collar, Jeff Eastin, comes a new one-hour drama about a diverse group of

undercover

agents from the Drug Enforcement Agency (

DEA

), Federal Bureau of Investigations (FBI) and U.S. Customs whose worlds collide while forced to live together under the same roof of a seized beachfront mansion in Southern California called "

Graceland

." No matter what agency they're from, the residents all operate by the house's unofficial motto: "

When you work for the bureau, your lies are your life.

"
The series begins with Mike Warren (Aaron Tveit), a by-the-books rookie who graduates at the top of his FBI class and is thrown into an unconventional assignment at Graceland, rather than the administrative DC job he requested. Once there he encounters the legendary Paul Briggs (Daniel Sunjata), the house's senior FBI agent whose Zen approach to life doesn't match his credentials as the Bureau's ace agent. The series also stars Vanessa Ferlito as DEA agent Catherine "Charlie" Lopez, Brandon Jay McClaren as U.S. Customs Agent Dale Jakes, and Manny Montana as FBI agent Joe "Johnny" Tuturro.
Scottie Thompson guests as Lauren Kincaid, a loyal and determined DEA agent dealing with the repercussions of her wounded partner, along with Courtney B. Vance as Quantico Section Chief special agent Sam Campbell and Jay Karnes as DEA group supervisor Gerry Silvo.
From Twitter:
Graceland
@GracelandTV
A New USA Original Series. Coming Summer 2013.
I just watched a brief preview in which one of the agents asked the other (referring to the mansion) "Why do they call it Graceland?"  The other agent responds that "It belonged to some drug lord who was a huge Elvis fan."  So, that explains the title.
<<<<<<<<<<>>>>>>>>>>
MONDAY, FEBRUARY 11, 2013
Here is an interesting article regarding what is thought to be Elvis' earliest known signature…a library card when he was 13. 
However, his written name in the front of the little

The Lone Ranger

book which he gave to Tom predates this library card…so wonderful to have it!!  It will have to be pried from our cold dead hands.  :laugh:

Library Card Signed by 13-Year-Old Elvis Presley, the
Earliest Known Signature of the King
 February 10th, 2013
Courtesy of the

Chicago Public Library Tumblr

, we have the library card signed by Elvis Presley in 1948, when the rock icon was only 13 years old. Because it's believed to be the earliest known signature of the King, the autograph

fetched $7,500 at auction last summer

, more than twice the original asking price. As for what was young Elvis reading, you're wondering? It's The Courageous Heart: A Life of Andrew Jackson for Young Readers.
Below is his name which he wrote in the little book

The Lone Ranger

which was published in 1935.
I expect that he wrote this soon after he learned cursive writing.
Here are the two signatures together for comparison:

You may see my full article about this topic on my Current News and Events Page for January, 2013
Below is the news article from August, 2012 regarding the auctioning of the library card.
King's touch: Elvis Presley's library card fetches thousands at auction
Published: 15 August, 2012, 17:37
Elvis Presley's library card fetches thousands at auction
A library card bearing the signature of a 13-year-old Elvis Presley was sold at auction for $7500, doubling estimates. The autograph is believed to be the earliest signature of the King of Rock and Roll.
­The auctioneers did not expect much from the library card signed to borrow a copy of "The Courageous Heart: A Life of Andrew Jackson for Young Readers" from Humes High School in Memphis in 1948.
The card was discovered during a library inventory in the book about US President Andrew Jackson, one of the founders of the Democratic Party. The book was sold at auction along with the autograph.
Other Presley-related items up for sale including pill bottles, a trench coat and a signed high school yearbook, the Daily Mail reported.
"Elvis remains one of the most popular and durable figures in American Pop Culture," Margaret Barrett, Director of Entertainment & Music Memorabilia at Heritage Auctions, told Art Daily. "This auction, our second event totally dedicated to Elvis, is a celebration of his amazing life and legacy."
The auction was held to mark the 35th anniversary of Presley's death.
Here is the link to the above article.
*************************
Several other links to past auctions of Elvis memorabilia:
­
Bite this: Elvis jaws up for sale
(Please note that this auction was held a year ago)
Published: 16 February, 2012, 18:53
Elvis Presley's jaws up for grabs (image from omegaauctions.co.uk)
Buying someone's mouth mould does not sound like a salubrious pastime, but things are different if it belonged to the King of Rock'n'Roll. Omega Auctions is set to sell a mould of Elvis Presley's maw, and expects to fetch a jaw-dropping $16,000.
Dentist Henry Weiss, who did all Presley's dental work up until 1971, made the mould and kept it for all these years. He also prepared a porcelain crown for one of the singer's front teeth, as Presley cracked his old one on a microphone while performing in Las Vegas in 1971.
The unusual lot has already received an appropriate nickname – the King's Crown.
Omega Auctions believe the odd items will score much interest among the star's fans. Besides, according to the auction house's statement, the plaster mould with porcelain tooth crown is the only one in existence.
The lot comes with five letters of authenticity from the dentist's wife and sons, and Presley's road manager Joe Esposito.
The London auction

was

scheduled for February 25, 2012.
Here is the link to this article:

*************************
Warhol's Double Elvis to fetch double price at auction?
Published: 16 March, 2012
(Please note this auction was also held almost a year ago.
Andy Warhol's 1963 Double Elvis work to fetch up to $50 million at Sotheby's
Warhol fans, prepare your wallets. The Pop art king's 1963 "Double Elvis" painting is up for auction for the first time in almost twenty years. Sotheby's expects it to fetch between $30 million and $50 million.
The monochrome picture features two figures of Elvis dressed as a cowboy – one clear and one blurry, more like a shadow. The twinned Presleys are pointing revolvers at the viewer, ready to shoot from the hip.
Elvis was a live incarnation of fame for the great 20th century artist. Warhol produced a total of 22 Presley images when the singer was at the height of his popularity. Nine works in the series reside in museum collections, including MoMA in New York.
The artwork will be displayed in Los Angeles, London and Hong Kong before going under the hammer at Sotheby's contemporary-art sale in New York in May.
Here is the link to this article where you may view the image: 
<<<<<<<<<<>>>>>>>>>>
TUESDAY, FEBRUARY 12, 2013
I am so very appreciative of the work that the owner of this video has done to substantiate that Jesse is Elvis.  I know I have shared this before…but it bears repeating.  My heartfelt thanks to L Griffiths.  I am not acquainted with this person, but he or she deserves so much recognition.
ELVIS IS ALIVE – Photo evidence examined.
L Griffiths
httpv://youtu.be/FQoc68yKklo
<<<<<<<<<<>>>>>>>>>>
THURSDAY, FEBRUARY 14, 2013
Sony Legacy to Reissue the Elvis Presley Classic Aloha from Hawaii via Satellite
February 13, 2013 
View
By

Chaz Lipp

, Contributor
Hot on the heels of last November's Prince from Another Planet, a CD/DVD box collecting Elvis Presley's 1972 Madison Square Garden concerts, Sony Legacy will unleash another must-have set for fans of the King of Rock and Roll.
Aloha from Hawaii via Satellite: Legacy Edition is a two-disc set due for release in March of this year. Though there aren't any previously unreleased tracks from the vault, the release will mark the first time Presley's January, 1973 Honolulu International Center concerts have been assembled in this configuration. It has been 40 years since this historic performance was broadcast around the world (though the U.S. didn't see it until April 4, 1973, roughly three months after it was recorded). Disc one contains the original quintuple platinum-certified Aloha from Hawaii album that topped Billboard's album chart in '73. This album consists of the second of two shows, taped January 14. That's the one which was actually used for the record-breaking satellite broadcast.
The second disc features the so-called "dress rehearsal" show from January 12. This one didn't surface commercially until 1988 as The Alternate Aloha. It had, in fact, been recorded as a safety in case there were technical problems with the live satellite broadcast. These tracks have been completely remixed from the original multi-track tapes by Steve Rosenthal and Rob Santos. Augmenting the second disc are five bonus tracks that were recorded, sans audience, immediately after the January 14 show (at the ungodly hour of approximately 3:00am). These tracks were intended to be used exclusively as part of the eventual U.S. broadcast of the show and eventually saw the light of day split between two album releases: A Legendary Performer Vol.2 in 1976 and Mahalo from Elvis in 1978.
The 1973 Honolulu concert marked the first-ever global satellite broadcast of a complete concert, guaranteeing its historical value, even regardless of the quality of the performance itself. The booklet for Sony Legacy's commemorative release will feature rare photos and an extensive new essay focusing on the Hawaiian concerts written by musician and producer Stuart Colman. Aloha from Hawaii via Satellite: Legacy Edition will be available in stores and via online retailers March 19, 2013.
Below is the link to this article: 
<<<<<<<<<<>>>>>>>>>>
This is a "Did'ja know?" fact:
Amazon has displayed a list devoted to the spiritual books which were read by Elvis and some of those which were his personal favorites.   Below is the introduction to this list of books.
Elvis Presley's favorite spiritual books

A Listmania! list by Bruce

The list author says: "Elvis was undoubtedly the most popular entertainer of the 20th century and since his death in 1977 he is still considered the King. What most people don't know about Elvis though is that the flashy and macho image he projected on stage was just one side of his personality.

Those who knew him well (Larry Geller, Jerry Schilling, and Priscilla Presley to name a few) say that Elvis was a deeply religious man who spent hours reading books on spirituality, meditating and praying. And although Elvis remained a lifelong Christian he respected other faiths. This spiritual side of Elvis is an often overlooked.

So what books did Elvis Presley read? The following are some of his favorites and they were chosen primarily from page 342 in "If I Can Dream: Elvis' Own Story" by Larry Geller, Spector and Romanowski. These 10 books will give you a better understanding of who Elvis was and you will see a side of him most fans never saw."
The list author says:

"Larry Geller says that Elvis loved "The Impersonal Life" second only to the Bible. Elvis gave away hundreds of copies. Not one of my favorites as I found it a bit repetitive and the language old-fashioned. I know what the author is getting at but I prefer the works of Eckhart Tolle."

Used & New from: $15.75
2. Autobiography of a Yogi by Paramahansa Yogananda

The list author says:

"Another of Elvis' favorites. A great book! In the "Seeker" chapter of the "Elvis by the Presleys" DVD, Jerry Schilling and Priscilla Presley reveal that Elvis was attracted to the "Self-Realization Fellowship" and spoke often with Daya Mata."

$7.60 Used & New from: $1.24
The list author says:

"One of my wife's and Elvis' all-time favorites. A brilliant philosophy on love, marriage, children, joy, sorrow, time, and friendship."

$10.20 Used & New from: $0.01
The above is only an excerpt from the list provided by the list maker.  Below is the link to this list on Amazon.
<<<<<<<<<<>>>>>>>>>>
SENT TO JESSE THROUGH THIS POINT ON THURSDAY, FEBRUARY 14, 2013
<<<<<<<<<<>>>>>>>>>>
SATURDAY, FEBRUARY 16, 2013
There is a fairly good price on a copy of Jesse's book on Ebay now for those who may be interested:
One-day shipping available

Returns: Accepted within 14 days

Free shipping

Time left:Time left:5d 15h 10m
Here is the link to this listing: 
<<<<<<<<<<>>>>>>>>>>
MONDAY, FEBRUARY 18, 2013
A very good admonition for us all…
Think on This…


Know that whatever experience ye have in the material sojourns for a purpose. Know that it is not by chance that ye are in a material or earthly consciousness in the present. For know that all activities of the mind, of the body, must be based upon SPIRITUAL things.

Reading 1754-1
 <<<<<<<<<<>>>>>>>>>>
TUESDAY, FEBRUARY 19, 2013
I've located another copy of Jesse's book on Ebay.  This one has a starting bid of just $30.00 with free shipping.
I continue to post these links as there may be some visitors who are looking for more affordable copies of the book.  It is selling for exorbitant prices on Abebooks.com and Amazon.com.
Here is the link to this item on Ebay: 
<<<<<<<<<<>>>>>>>>>>
TUESDAY, FEBRUARY 20, 2013
From Facebook…
Bernice M Moulton

shared

Carol Pugh

's

photo

.
Forever Timeless!
Ain't it so!!!!
<<<<<<<<<<>>>>>>>>>>
WEDNESDAY, FEBRUARY 20, 2013



Several people have been questioning me about a Facebook entity calling himself "Lee Presley". 
This man is making all sorts of claims about knowing Elvis and that he is making a movie to be released in 2014.  He has a mish-mash of photos on his Facebook page which he insinuates and/or states that they are really photos of Elvis.  I know for a fact that a number of these photos are those which have been passed around on the Internet for many years and which have been proven to be other people.  I have disproved one of these photos here on my site…proving that the man in the photo is really a man who went by the name of Fabulous Fonzarelli…who has since passed away. 
Another of the photos is of Elvis looking through the fence at an impersonator by whom he is amused.  This photo has been around for

many

years.  It has been reported that the impersonator was a man named Larry Blong. 
I gather that Lee Presley is insinuating that one of the men (in the above mentioned photo) is Jesse who did not die at birth.  I have not read enough of his site to be certain but I gather that is the story that he is promoting.  He shows a group of photos…photos we have all seen before of Elvis.  He is asking people to pick out which of the photos is Elvis and which is Jesse.
I forgot to ask Lee Presley who the man Rich Gainer is…is this really him or an associate of his?
Because I have been made aware that a number of people who I believed to be loyal to Jesse and to my web site are following and communicating with Lee Presley.  I have decided to confront him.  Below is a private message which I just sent to him on his Facebook account.
I have held off addressing this person on Facebook and would have continued to do so, if not for the fact that it has come to my attention that he has taken one of Jesse's songs from the CD and "remastered" it in their "studio" and is claiming that it is done by an "impersonator" (not Jesse). I hope to draw the attention of Mr. Gilbert to this situation and make him aware of this total disregard for his copyright and for the truth which Jesse himself has shared with me and this site.
I do not intend to turn this into a war of words with this man nor with anyone else regarding this situation.  So, please

DO NOT

contact me at all about this article.  I

shall not

respond to any Emails or messages regarding this topic. 
If I have any further communication with this Lee Presley, I will make it public here on this page.  There will be no further discussion of this situation with me by anyone else. 
I will say only, as I have stated so many times, you may look at Lee Presley's Facebook page and read all 85+ pages of this site and decide for yourself who is telling the truth.
Hi:
I see that you have developed quite a following with your story.
Have you visited my web site? Have you read the truth about who Elvis is now in his own handwriting on my site?
I take great offense at some of the nonsense you are propagating. I have some people asking me questions because of the false statements which you are making on here. So far, I have only said that I have never heard of you.
Can you show me a photo taken of you with Elvis at any time…either before or after 1977? Can you show anything he has written to you…ever?

I have his own personal word that the songs on the CD ELVIS FOUND ALIVE are by him. I also have a two page handwritten letter from him explaining how the DVD and CD came to be and his displeasure with the way in which Joel Gilbert produced and published the DVD.
 I have known and been in contact with Elvis, who is now Jesse, since 1992. He has proven to me time and time again that he really is Elvis.
Having said this, if you continue to publish information which contradicts that which Jesse himself has stated and done, I shall publish an article about you on my web site discrediting you.
Furthermore, I feel certain that Joel Gilbert can take legal action against you for tampering with the song "The Dance" from his CD.
You, I feel certain, are running a scam which, in the end, will be very emotionally damaging to the fans who are falling for your story.
Please do take time to read all 85+ pages of my web site which has been in existence for almost 4 years, has more than 276,000 visitors to date and which is in existence with the full permission, approval and support of Elvis Presley himself.
If you are legitimate at all, I will be glad to ask Elvis/Jesse if he knows you and if there is any truth to anything you are publishing. If you want me to discuss you with him, please give me your real name as I know that Lee Presley is a pseudonym.
I shall post a copy of this message on my web site in order to make this an open issue. I shall also post any response from you on my site.
Linda Hood Sigmon




LHSig@

…
 <<<<<<<<<<>>>>>>>>>>
Here is the link to an interesting magazine interview with Lisa Marie:
<<<<<<<<<<>>>>>>>>>>
THURSDAY, FEBRUARY 21, 2013
Encouragement for this day…
Think on This…


Know that ye are going through a period of testing. Remain true to all that has been committed to thee, and know that each day is an opportunity, and an experience. Speak a word for thy ideal. Not as to force an issue but ever constructive. Sow the seed of truth, the seed of the spirit. God will give the increase.

Reading 3245-1
<<<<<<<<<<>>>>>>>>>>
I am making some headway in getting the information removed from Facebook regarding the fraudulent material posted under the Facebook account of Lee Presley. 
I am continuing my efforts to get the Rich Ganier channel closed on YouTube.  Below is a complaint report which I filed with Youtube this morning against the fraudulent use of Jesse's song "The Dance" by this person.   Last night, I sent a message to Hwy. 61 Ent. notifying them of the copyright infringement of their CD by Jesse.
I have also written to Rich Ganier detailing my message to Lee Presley and my article here on this site.  So far, he has removed the links on his YouTube account to Lee Presley's page on Facebook (which has been closed since I wrote to Lee Presley) as well as the link to the Facebook page for their "movie" ~ http://facebook.com/elvising.

  This page has also been closed on Facebook since I began writing.
If anyone else would like to file a complaint against this Youtube account, please do so.  You can do that by clicking on the

FLAG

and then choosing the option of 

SPAM OR MISLEADING TEXT

.
Below is my Youtube complaint which I filed this morning:
Rich Gainer
·
Report this video
Abuse of our legal form may result in the termination of your YouTube account
Thank you for submitting your report. Here is the information we received from you:
Thank you for your submission. You should now be taken to the Reporting Center.
Please provide additional details about:
Spam or misleading > Misleading text
Additional details:
This is a scam and is fraudulent text content. This person has taken a song from a copyrighted CD and "remastered" it and is publishing false information about the recording artist on the song. Also, attempting to advertise a fake movie which will not come to fruition. I am personal friends with the person who actually recorded this song and have handwritten document from the actual artist on the original CD. I have reported this person to the owner of the copyright.
This whole thing is just one of those nuisance type situations.  It will run it's course and fade away because of it's fraudulent content…but, nevertheless, this is wrong and should not exist in the first place.  We have encountered this type of junk in the past, i.e. ELVIS WHAT IF, etc. 
As Jesse told me years ago about the

Truth About Elvis

(Adam Muskiewicz) movie…"

Don't worry.  They won't get anywhere with it.

"
<<<<<<<<<<>>>>>>>>>>
Jesse did phone me earlier tonight.  We did have a good visit.  I am sorry that there is no real news to share on the site again this time.  We just talked about several close mutual friends and various things of interest to each of us.  He spends a good deal of time alone and enjoys watching DVD's which I send to him every week.  He is still friends with little 3-year old Nick and is still putting together a little coin collection for him.  He is looking forward to Springtime and hoping to be able to get out some then.  I am sorry that I haven't anything special to share.  But, I always feel that each of you would enjoy knowing that he is all right and that I have spoken with him.
<<<<<<<<<<>>>>>>>>>>
FRIDAY, FEBRUARY 22, 2012
Boston Internet Radio 

has told our friend, Bettyjean, that they will be airing some of the songs from Jesse's CD this evening beginning at 6:30 and running until 8:00 P.M. eastern time.   I hope that many of us will be able to tune in and listen. 
Bettyjean introduced Brian, who is the DJ, to the truth about Elvis, who is now Jesse, and my web site about a month ago.  She arranged  for me to send them Jesse's CD so that they could listen and hopefully play it on the air.
I am certain this will be a treat as I expect there should be some listener feedback coming in.  I have not listened to this broadcast before, so I am uncertain of the exact format of the show.
Below are the links which Bettyjean sent for the Boston Internet Radio:
HERE ARE TWO LINKS. THIS ONE SHOULD
GET YOU RIGHT TO THE MUSIC.
THE OTHER IS THE FRONT PAGE. YOU WOULD
CLICK ON THE ABOVE LINK AT THAT PAGE THAT
SAYS "RADIO TIME."
<<<<<<<<<<>>>>>>>>>>
SENT TO JESSE THROUGH THIS POINT
ON FRIDAY, FEBRUARY 22, 2013 @ 12.53 PM
<<<<<<<<<<>>>>>>>>>>
Revision to the above article:  The show on

Boston Internet Radio

will air tonight from

6:30 PM until 8:00 PM

rather than the times which were originally stated when I posted the article yesterday.  I have revised the times within the article, however, I want to call everyone's attention to the correct times.  I just tuned in an heard Brian doing the promo for his show.
<<<<<<<<<<>>>>>>>>>>
The Boston Internet Radio show tonight with Brian West was fantastic.  He surprised me by devoting a good bit of time to explaining a little about Jesse and my web site.  He played 5 of the 15 songs on Jesse's CD and they sounded great.  No offense to anyone else, but in my opinion, Jesse's songs sounded better than those of other contemporary stars whose songs were also played in the show.  I'm not prejudiced…No, NOT MUCH!!!!! LOL
Bets tells us that Brian's show will air each evening at the same time for the next week until he airs a new show next Friday night.  So, if anyone missed this show tonight, I do think you would enjoy hearing it when it re-airs for the coming week.
<<<<<<<<<<>>>>>>>>>>
SATURDAY, FEBRUARY 23, 2013
Something extraordinarily beautiful to meditate upon…for all ages
Starry Starry Night, Secrets of Old Age
Uploaded on YouTube by biarritz59
httpv://youtu.be/FgBF3sIPm4c
<<<<<<<<<<>>>>>>>>>>
There is a new DVD with book coming out in March.  I became aware of this through the email news from Elvis Australia today.
Below is the Facebook information.  The book of unpublished photos looks gorgeous.  The video preview from the DVD is fantastic.
I don't know how to pre-order…guess they will give us ordering information when it becomes available.
From their Facebook:
Elvis : He Didn't Come Back We Did : TTWII + On Tour DVD / Book
You will enjoy the video preview very much, I am sure.

Elvis : He Didn't Come Back We Did DVD & 100 page Book is a special DVD and photo Book presentation that will be released in March 2013 in very limited numbers. The DVD contains nearly 100 minutes of further outtakes from the movies 'That's The Way It Is' and 'Elvis on Tour'. The DVD contains further unreleased material from both concert documentaries as well as some we have had before but with different camera angles and also for first time in original widescreen. The disc is accompanied with a hardback book containing over 100 pages of rare and unpublished photographs.
Here are the links to the article on ElvisAustralia.com and the link to the above Facebook page:
Elvis Australia : Fan Club Newsletter : February 24, 2013
Elvis : He Didn't Come Back … We Did is a special DVD and photo Book presentation that will be released in March.
The DVD contains nearly 100 minutes of further outtakes from the movies 'That's The Way It Is' and 'Elvis on Tour'.
The DVD contains unreleased material from both documentaries [as well as some we have had before but with different camera angles] and also for first time in original widescreen. The disc is accompanied with a hardback book containing over 100 pages of rare and unpublished photographs.
https://www.facebook.com/video/video.php?v=504437482931057
Photos of the covers of the book and DVD:
<<<<<<<<<<>>>>>>>>>>
A little more information on the "Lee Presley" saga of misleading and totally false information about Elvis, himself, and their so-called upcoming movie.  The below is from the Facebook page of Rich Gainer who has "Lee's" photo on his Facebook page as shown below and who operates the YouTube video channel on which the propaganda about their "movie" is shown.  A friend on Facebook has told me that she believes that his real name is Don Lee from Hawaii.  Rich Gainer also is supposedly from Hawaii and the title of their "movie" is supposedly going to be "Elvising in Maui". 
Does anyone really believe that the photo below is of a man named "Lee Presley"…the same Lee Presley, who

immediately

closed down his lengthy Facebook page the very first time that I confronted him about his lies?
Rich Gainer, on the other hand, has cut all ties with "Lee Presley" on his YouTube channel but still has not been persuaded to remove the so-called trailer to their "movie" in which he says that they have "remastered" the song The Dance from Jesse's CD while claiming that it is an impersonator.  Some of these imposters seem to go on forever…bolstered by the attention from the poor misguided Elvis fans who fall for their lies and manipulations.
Below is the photo which Gainer displays as being his friend "Lee Presley" in 1989:
Rich Gainer

I only hope that not too many people will be taken in by this scam.

<<<<<<<<<<>>>>>>>>>>

SUNDAY, FEBRUARY 24, 2013

Below is the link to an Elvis blog run by Phil Arnold.  I think you may find things of interest on this blog as it encompasses many topics.  Phil Arnold has been around in the Elvis world for many years.  Although he has been rude to me personally, he still has some good information about Elvis on his blog. 

Mr. Arnold was one of those "Elvis world experts" who thought that my web site, telling the truth, could not be a success unless I had the endorsement of those old-school Elvis web sites.

I liked the following quote from his current blog article which I just saw today.  I have not been visiting his blog until today when the link came up in one of my news alerts about Elvis.

Here is a one paragraph excerpt:

Linda Thompson quote seems to dispute reports that Elvis knew he would die young. "I think it's terrible for people to say they couldn't imagine Elvis growing old. Everybody has that right, even if they are a sex symbol. He wanted to live to be an old man."

Mr. Arnold closes his article by saying "And, we sure wish he had.".   I close my own article by saying:  I am

so

happy and thankful that he DID!

Here is the link to Mr. Arnold's blog:

<<<<<<<<<<>>>>>>>>>>

MONDAY, FEBRUARY 25, 2013

I must advise everyone that I am being forced to cut back on my one- on-one contact with the visitors.  As the web site has grown and more people are attempting to correspond with me personally via the blog page, Jesse's message board, my 3 Email accounts, Facebook, YouTube, phone calls, etc., I am coming to just feel overwhelmed.  I have a busy personal life and I like to devote a good bit of my time to doing things for Jesse himself and preparing letters, etc. to send to him.  Also, the correspondence is cutting into the time that I have to learn new information and prepare new articles of interest to post on the site.

Therefore, I want to sincerely apologize and explain why I may no longer respond to individual contacts.  I will be glad to read these contacts…but I must cut way back on the time that I am spending in responding.    I was up until 4:30 AM Sunday morning  just taking care of Emails alone.

I hope everyone will forgive and understand that there is only one of me.  I have a number of health problems which compound the problem of trying to keep up with everything.

I appreciate every visitor more than I can say and I also appreciate the interest and caring which those who write and/or call are expressing to me.    Please know that I do return your feelings of love, respect and support.  My visitors are so vitally important to me.

With much love and appreciation always,

Linda

<<<<<<<<<<>>>>>>>>>>

Think on This…


All are in that position of being able to be used, if they will but recognize their opportunities day by day in their choices of dealings with their fellow-men. What is the choice? That as creates love, hope, faith, patience, kindness, gentleness in the experience . . .

Reading 1992-1

<<<<<<<<<<>>>>>>>>>>

A really good article from Rolling Stone….we all

KNOW

why Elvis

IS

the King…

The 30 Greatest Rock & Roll Movie Moments

30. Elvis Presley, 'C'mon Everybody' in 'Viva Las Vegas' (1964)

And this is why Elvis is the King. Not because he made dozens of these movies, most of them total cheese. Not because they're all full of corny scenes where he can just stroll into the local gym and get begged to do a song like this. ("C'mon Everybody" is no relation to the Eddie Cochran rockabilly classic of the same name, except they're both awesome.) No, he's the King because of the superhuman confidence he brings to every moment. That's also why he brings the seductively leotarded Ann-Margret to an orgasmic frenzy with just the quiver in his voice. He makes her Sweden-sired hips undulate right next to his, for the ultimate cinematic hip-shake battle royale. And what a battle it is – though Elvis would be the first to admit that even the King can't outwiggle Ann-Margret.

httpv://youtu.be/TTBeYcP2y5Q

Read more: http://www.rollingstone.com/movies/pictures/the-30-greatest-rock-roll-movie-moments-20130221/30-elvis-presley-cmon-everybody-in-viva-las-vegas-1964-0867544#ixzz2LwfHnFxf

<<<<<<<<<<>>>>>>>>>>

Our friend, Melinda, sent me the link to this fantastic home recording of Elvis singing "The Fool".  One of the commenters on YouTube posted that this was recorded when he was in Germany in the summer of 1959…and that Elvis was playing the piano.   It is a rare and beautiful find.  Thanks to Melinda.

httpv://www.youtube.com/watch?v=dv-cAuDa0FU&feature=share

This video was:

Uploaded on Sep 10, 2008 by traderfiles


The Fool – Elvis Presley – Rare home recording

<<<<<<<<<<>>>>>>>>>>

TUESDAY, FEBRUARY 26, 2013

Below is an article which I just enjoyed reading.  Those who have never been to Graceland may find this of interest.

Hitting The Road — Graceland

Posted: 02/26/2013 7:40 am

After a motorcycle crash injured my leg, it was time to re-boot my life. The day of December 31 was Hasta la vista day to 30 years of practicing law. Fortunately, I was blessed to be in a position to see where my interests might lead. On January 8, I hit the road west. I've made the cross-country dash twice but this time three days of jail-break driving from Virginia to Arizona was not on the agenda. I-40 west runs through Memphis and the first place my interests took me was Graceland.

I hit town right after morning rush hour and found that engineers put a highway merger immediately before the exit for Elvis Presley Boulevard. A wall of speeding traffic nixed that exit. I took the next one and found my way to the visitor center, bought my ticket and boarded the bus for the ride across the street to Graceland.

A guide welcomed our group and led us between a pair of white lions and four tall white columns. The tour began in the entry with the living room's white sofa and chairs, white carpet, white Christmas tree and stained glass peacocks framing a grand piano and a TV console. Not exactly rock n' roll.

The white carpet on the stairs to the second floor was flanked by two rows of red poinsettias. Upstairs was off limits. She said it was for privacy. I'm thinking, unmade beds? Underwear on the floor? Elvis living in Howard Hughes-like seclusion? Then it hits me. We don't want people jammed up in the hallways and falling down the stairs.

That's All Right, Mama, lead on.

The formal dining room had another TV sitting on the floor, a silver punchbowl on top and a table set for a holiday gathering. A green Christmas tree stood at the far end of the table. Next we slipped past the carpeted kitchen with a TV on a counter, an iron skillet on the stove. Downstairs was a gem — a yellow bar with matching leather stools, gleaming black walls, glass shelves with pewter tankards and white coral, a mirror ceiling and a strange pair of glass clowns. The yellow bumper along the edge of the bar cried out to be caressed but the black and white sign said Do Not Touch. Beside the bar was Elvis' media room, also in black and yellow, with three TVs in the wall where Elvis could watch all three networks at once like the network anchors did in the 1960s.

Then came the famous Jungle Room. This is a room of shadows, with green carpet on floor and ceiling, wood paneling, animal hide seat coverings and heavy, dark wood furniture carved with primitive faces and designs. It's the perfect refuge from the strictures of a formal living room.

No home or psyche is complete without one.

We moved on to rooms and buildings with old photographs, awards, movie posters, videos and other reminders of Elvis' family and career. It was the day after his birthday and the morning rain continued to fall. I didn't know if it was the date, the weather or all the reminders of Elvis, but when people talked, they talked quietly, as if we were in church or the King's chambers, which we were. Graceland wasn't a huge mansion intended to impress people. It was Elvis' home and it felt like one.

After passing through halls filled with gold records and movie costumes, photographs and posters, we came to Elvis' racquetball building. I thought, how much more could there be? Workout clothes? Favorite headbands? Racquets? Then I walked into a room with a ceiling a good two stories high. Concert costumes stood in glass cases. Dark walls were covered floor to ceiling with awards, records and other signs of his musical achievements. I wasn't the only one with my mouth hanging open.

It was the Sistine Chapel of Graceland.

If you didn't realize what a star Elvis was after seeing the collection in this room, it was never going to happen for you. People lingered in groups of two or three, trying to take it all in.

I stepped out of that wondrous room into a light rain and followed the path back to the house, the swimming pool and the small memorial garden by the pool where Elvis is buried. It seemed impossible that he was only 42 years old when he died. Flower arrangements from fans around the world filled the memorial garden. Buried between his grandmother and his parents, Elvis' grave marker is a reminder that even if fame isn't fleeting, life is.

After the ride back to the visitor center, I poked around in the gift shops, unable to leave until the spell of Graceland wore off a bit. I ate a cheeseburger and fries at the visitor center café and bought a CD of hits spanning Elvis' career. When I crossed the Mississippi on I-40 and said good-bye to Memphis, Elvis was singing Blue Suede Shoes from my CD player. It was hard for America to let him go. Years after his death, we kept him alive with Elvis sightings reported front-page in the tabloids. I guess we don't need those rumors anymore. He left us more than enough, but he left us wanting more.

Thank you, Elvis, wherever you are.

<<<<<<<<<<>>>>>>>>>>

Below is the link to a wonderful interview with D. J. Fontana.  It is wonderful to hear him recalling the early days on the road with Elvis. 

During one of our visits to Graceland, don't recall which one, we saw a beautiful floral arrangement in Meditation Garden near the "grave".  The ribbon on it was inscribed "KING OF THE WHOLE  WORLD

". 

That floral arrangement was from D. J. Fontana.

D. J. Fontana Talks About His Years With Elvis

dan4456 uploaded this video to YouTube on Feb 22, 2012

"D. J. Fontana played drums behind Elvis in concerts, on TV and in the movies for fourteen years. In this 1999 interview, he reveals some aspects of his Elvis years that have not been told before or since. His descriptions and attitude about Col. Tom Parker and the Memphis "Mafia" are telling in the context of the times. Life for the original musicians, Scotty Moore, Bill Black and D. J. should have been different had they been treated properly or, at the very least, paid for the caliber of work they produced. Sure, Elvis was great, but without that original band would he have made it out of Memphis? We will never know – we just thank God that "Big Bang" of musicians hit it at just the right time."

httpv://youtu.be/RAIYHXG8TVg

<<<<<<<<<<>>>>>>>>>>

Brian West of

BOSTON INTERNET RADIO

and I have been in contact via Emails.  He is going to call me one day this week to do a lengthy interview.  If this does work out, he will be airing the interview and playing songs from Jesse's CD on one of his shows.  He informs me that it will take a little while to get the interview and songs ready for the show to air and that it will probably be sometime next week.  He will let me know when it will air and I will post a notice on here so that everyone can tune in.


His show from last Friday evening is re-airing every night this week from 6:30 until 8:00 PM.


I feel confident that my chat with Brian will go very well as he is most kind and respectful.

<<<<<<<<<<>>>>>>>>>>

There is a new "graphic novel" about Elvis coming out currently.  Below is an article with all the details:

Submitted by

Bluewater Productions

Mon, 02/25/2013 – 5:28pm

Elvis Presley & Robbie Williams

Chart toppers Elvis Presley and Robbie Williams get the comic book treatment this week in two new releases, "

T

he Elvis Presley Experience

" & "Fame: Robbie Williams."

  (The embedded link will take you to the Amazon order page for the book.)




"The Elvis Presley Experience" is both scholarly and dramatic in its graphic recreation of the King's remarkable life story. Though the series was among the best selling contemporary biographic comics of the 1990s, the individual issues have been out of print for over ten years and for the 1st time together in this collection.

This 200-page graphic novel features art by future Marvel and DC star Aaron Sowd (Wolverine), with a story co-scripted by Babylon 5 TV vet Patrick McCray. Azim did the cover.

"The Elvis Presley Experience" is available in print at Amazon or wherever books are sold. The graphic novel will be released digitally for the 1st time on ITunes, Nook & Kindle.

"FAME: Robbie Williams", the bad boy of boy bands. The number 9 of pop. The big "R." Mr. Let Me Entertain You is back! The Brit sensation Robbie Williams is back with a vengeance in this 4th wall breaking bio comic. Follow Robbie through his life from his early days in Take That! To soaring solo success– all with a little touch of the Robster himself!

"Fame: Robbie Williams" is written by Steven Stone and drawn by Jill Lamarina. There will be two covers for this issue, one by artist Jill Lamarina and one by Michał Szyksznian. Both will be available in print.

To order "Fame: Robbie Williams" exclusively at Comic Flea Market in print for $3.99 please click here.

Download the comic to your e-reader from iTunes, Amazon, Barnes and Noble, Kobo, ComiXology, Google Books, DriveThru Comics, Wowio, iVerse, and more.

The company produces three lines of biography comics: Female Force, Political Power and Fame. Each line has produced comics that have sold out of their original runs at a time in which independent comics companies are struggling to gain an audience. Upcoming comic book biography titles are Adele & Paul McCartney.

Still available in print and digitally are the graphic novels of "The Beatles", "Pink Floyd" & "Led Zeppelin"

Bluewater's biography comic book series has been embraced by the media and featured on television news outlets including The Today Show and on CNN. The series has also been featured in many publications such as The Los Angeles Times, Billboard, MTV, Time magazine and People magazine.

http://www.gratefulweb.com/articles/elvis-presley-robbie-williams-graphic-novels-out-week

<<<<<<<<<<>>>>>>>>>>

THURSDAY, FEBRUARY 28, 2013

This Week in Texas Music History

Elvis Presley at the Astrodome

Posted by

Haley Howle

on Feb 25, 2013

This Week in Texas Music History, we'll recall when a superstar illuminated the Astrodome.

From February 27th through March 1st, 1970, Elvis Presley performed six shows at the Houston Livestock Show and Rodeo. Elvis had earned his reputation as a dynamic entertainer during the 1950s with his energetic live shows. However, since leaving the Army in 1960, he had rarely appeared outside of Las Vegas. His electrifying performances at the Astrodome in 1970 before a combined audience of more than 200,000 helped re-establish his position as the "King of Rock and Roll."

The spectacular Houston kickoff to Elvis's 1970 national tour reflected a long relationship between Presley and the Lone Star State, a place he had visited frequently before becoming a national icon.

<<<<<<<<<<>>>>>>>>>>
FRIDAY, MARCH 1, 2013
Yesterday, Brian West with

Boston Internet Radio

phoned me and we did a lengthy interview covering many topics related to Jesse and this web site. 
Brian has advised me this morning that the interview show will begin airing tonight.  The interview will start playing today on the radio at 5:30 PM est thru Sunday. Then again at 3:00 A.M. est Saturday thru Monday…this is for overseas listeners.
I do feel that everyone will enjoy and learn from our interview.  I am so grateful to Brian for this opportunity to present the truth and details regarding why Jesse had to leave in 1977, etc.
Please do tune in and pass word of this to anyone you know who may have an interest in this.
Here is the link to the Internet radio site of

  BOSTON INTERNET RADIO:
My thanks to everyone for your loyalty and support.
<<<<<<<<<<>>>>>>>>>>
Brian West has requested that we join in a group of prayer warriors for two precious little girls who are very ill.  All they ask of anyone is to please go to their Facebook pages and click on like and leave them a little message saying that you are thinking of them and praying for their return to good health.  Brian says both of these little girls are so special.  They each have life threatening conditions and yet they smile and are being so brave. 
Please do join Brian and me in remembering them in your prayers daily. 
Below are the links to their Facebook pages as well as their YouTube videos.  The videos will better acquaint you with Baylee and Michalea.
Baylee Wheelers Facebook page is



Baylee is 5 years old
The Video Link For Baylee is
——————————————————————————-



Michaela Swindle is 9 years old and her link is
 

The video link for Michaelea is
<<<<<<<<<<>>>>>>>>>>
 SENT TO JESSE THROUGH THIS POINT ON FRIDAY MARCH 1, 2013

 <<<<<<<<<<>>>>>>>>>>
I HAVE BEGUN A NEW PAGE OF CURRENT NEWS AND EVENTS FOR THE NEW MONTH OF MARCH, 2013
BELOW IS THE LINK TO THAT PAGE: